In recent years, healthcare companies and medical organisations have been opting for state-of-the-art, AI-powered chatbots to help them provide the best possible service to patients and customers.
While the juxtaposition of healthcare and chatbots may seem counterintuitive to many, it has helped healthcare professionals provide the best care to patients over the past few years.
Many people who have autism, for instance, have found talking to digital assistants such as Siri, Cortana, and Alexa therapeutic. We infer two things from this observation, first, that the AI-based bot interacts with all humans the same, replacing the human tendencies of generalisation and stereotyping, with consistent politeness, literal speech, and patience. Second, it tells us that chatbot is making life better in the health sector, and the doors for betterment with the help of bots have been opened.
Some of the common problems customers face when dealing with healthcare brands and organisations, such as frequent delays, lack of personalised attention, inefficient patience service, and a disconnect between online and offline experience can be remedied with the help of effective healthcare chatbots.

Role of WhatsApp Chatbot in Healthcare
In many industries, WhatsApp chatbots have become as important and indispensable as oxygen. The idea of a chatbot for healthcare has been around only for a few months, as the healthcare industry has been relatively slow to pick up the trend and incorporate it into their day-to-day operations.
However, there is no better way to grow your healthcare services and satisfy your customers than to combine the benefits of healthcare chatbots with the reach and power of the world's most popular messaging app.
WhatsApp has over 1.5 billion active users living in 180 countries across the planet, making it the unrivalled global market leader in the domain of instant messaging. Healthcare businesses can leverage the power of WhatsApp to connect with their clients and patients in an organic and timely manner. And the simplest, most cost-effective way to leverage the humongous reach of WhatsApp is through the judicious use of WhatsApp healthcare chatbot.
Small and large businesses operating in the healthcare space can enhance customer satisfaction and accessibility by making appropriate use of the WhatsApp Business application and WhatsApp Business API to send quick, automated replies at scale to customers and clients based around the world.
WhatsApp has over a billion daily active users, with over 65 billion messages sent per day on the platform, which makes it the largest messaging app on earth.
WhatsApp Business API can help healthcare companies access this vast community of users in a cost-effective manner through chatbots built for the purpose of instantaneously addressing queries and concerns from customers around the world. Hence, healthcare chatbots on WhatsApp can enable businesses to increase their reach by having automated conversations at scale with clients and potential clients at all hours of the day.
These automated conversations typically mimic regular one-on-one interactions between human beings and hence bring about a sense of personalization that is valued by customers and clients. A WhatsApp chatbot for healthcare can be trained to better understand user behaviour through well-designed algorithms and continuous practice, which will, in turn, allow the chatbot to deliver a richer and more personalized customer experience.
Use Cases of WhatsApp Chatbot for Healthcare
With the widespread adoption of WhatsApp chatbots, the healthcare sector has undergone a massive surge in efficiency and cost-effectiveness. By 2022, chatbot-related tax savings in the healthcare sector are expected to reach $3.6 billion annually, having risen from just $2.8 million in 2017.
This is because new-age chatbots are capable of delivering personalized care to patients at a relatively low cost. Some use-cases for WhatsApp healthcare chatbots include: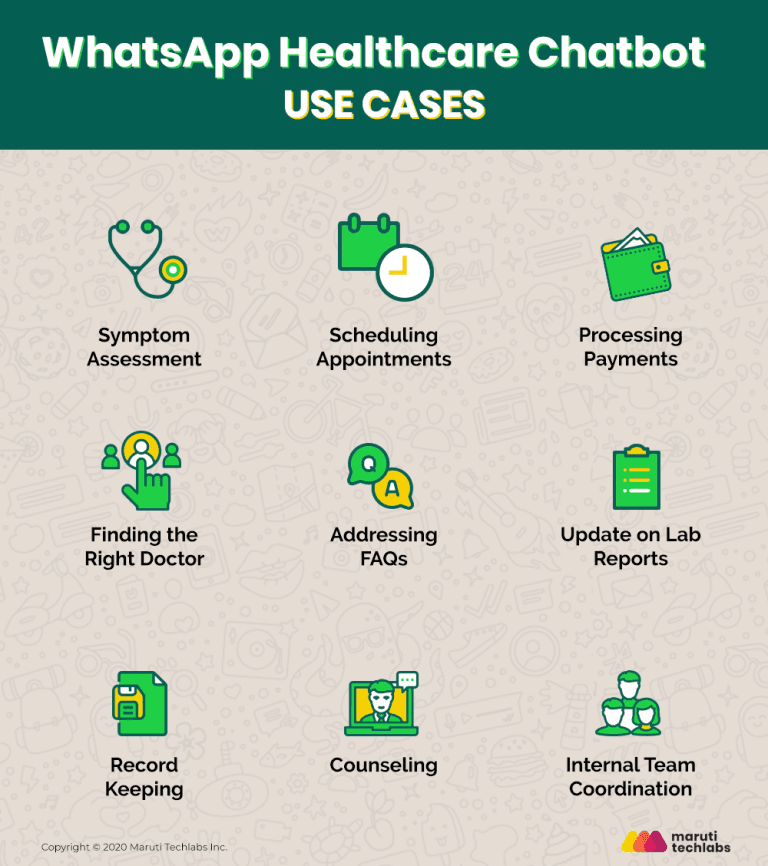 A patient can easily open the WhatsApp app on their phone and report their symptoms to the healthcare chatbot. Based on the symptoms, the bot can direct the patient to the relevant specialist.
WhatsApp chatbot for healthcare can easily schedule appointments with doctors based on their availability. With third-party integrations, the bot can also keep track of follow-ups and visits of particular patients.

Patients can easily keep a track of their pending medical reports using WhatsApp chatbot for healthcare. Locating nearby pathological and testing centers, finding out the price range of different tests can also be done using the bot, at any point of the day.
WhatsApp chatbot for healthcare can easily send daily health tips like exercising, maintaining hygiene, having a balanced diet to promote overall good health and eating habits. This will also help enhance your brand value.
A medical chatbot trained to answer repetitive but important queries from patients is instrumental in improving the patient experience and at the same time saving ample time for the physician/medical staff.
A WhatsApp chatbot for healthcare can be customized to effectively answer frequently asked medical questions, such as how to get a prescription or how long a person would be infectious after a bout of viral fever. Instant responses and smooth, two-way conversations, without the need to call up the clinic or the company for support, will help inspire brand loyalty among customers.
WhatsApp chatbot for healthcare can be used as an effective tool to remind patients to take their medicines on time.
Mental Health Counselling
A chatbot can aid people in mental distress by holding conversations with the patients. Using NLP and proper training, chatbots can also augment the therapist's work with context-based responses.
Health Insurance Guidance
Insurance means hoards of documents, receipts, and queries. Patients can now easily get their queries addressed using WhatsApp chatbot. Necessary documents can also be submitted by scanning and uploading them in the chat itself.
Internal Team Coordination
WhatsApp chatbot for healthcare can also make life easier for the hospital staff. Information like availability or status of equipment, wheel chairs, oxygen cylinders, etc. can be easily fetched through a simple query in the WhatsApp chatbot.
Patients can also make use of the bot to make the payment online while booking a visit to the doctor, further simplifying and streamlining the multi-step process that once used to be cumbersome and tedious for patients.
The exponential growth in healthcare chatbots has ensured that changes in technology pop up every few weeks or even days. Typical use cases now focus on facilitating conversations between patients and medical specialists.
In the future, it is expected that sophisticated artificial intelligence and smart dialogues will be common features of healthcare chatbots, able to provide answers to nuanced and advanced questions by looking into an encyclopedia or making use of the internet. Such an artificial cognitive system is set to completely reinvent the interactions between humans and computers.
For instance, sophisticated healthcare chatbot can quickly search through electronic medical records and literature, providing physicians with comprehensive and evidence-based treatment options in a speedier and more efficient manner than would be manually possible.
Ease of use of WhatsApp healthcare chatbot ensures that patients are met with relevant and instant answers 24*7. Simple use cases can be automated using WhatsApp chatbot for healthcare, taking some of the burden off doctors and other members of the hospital staff and enabling them to focus on treating patients with patience.

Let us understand further how WhatsApp chatbot for healthcare can benefit the healthcare sector.
Benefits of Whatsapp Healthcare Chatbots
Some of the primary reasons why healthcare businesses around the world are rapidly adopting WhatsApp's chatbot technology have been listed below:
Instant Resolutions
With the WhatsApp chatbot, healthcare companies and institutions can provide instant resolutions to the queries and concerns of each and every client, regardless of what time of the day it is and where the person is located. Medical advice, health monitoring data, and other vital information can be provided to clients at a moment's notice with the help of a WhatsApp healthcare chatbot.
These personalized, speedy responses help engender a bond between the healthcare company and its customers, which can, in turn, lead to higher rates of customer satisfaction and brand loyalty. WhatsApp also provides complete protection to the data and identity of all parties through two-factor authentication, end-to-end encryption, and business verification.
Record Keeping and Speed
One of the major benefits of healthcare chatbot is the record-keeping feature which allows doctors, specialists, and caregivers immediate access to all relevant patient information. Through integrations with third-party tools, WhatsApp chatbot for healthcare can be configured to store data related to a patient's history to the database. Doctors and surgeons may not be able to make the right medical decision if they do not have all the relevant information about the patient in time. Therefore, WhatsApp healthcare chatbots help provide speedy and timely access to vital data such as allergies, prescribed medication, and past checkup reports.
Informed Decisions
The information collected by the chatbot can then be quickly delivered to healthcare professionals in order to help them make informed decisions about the care and treatment of the concerned patient. The interactive and visual medium of communication provided by the WhatsApp healthcare chatbot would also make patients comfortable enough to talk about their health problems freely, thus improving customer satisfaction.
Easy Notifications
Healthcare institutions can also use the chatbot to send broadcasts or notifications to patients and clients at scale. This can be done to remind patients of future appointments or inform them about a new healthcare product or service that they can make use of through the medical institution or company.
This makes scheduling visits easier, as the patient can always check his or her WhatsApp messages and get a reminder of the upcoming appointment. Furthermore, this allows for effective lead generation for healthcare businesses while at the same time helping patients book appointments and schedule visits.
Bot-to-Human Handover
Our seamless chatbot-to-human handover feature ensures that complex queries or concerns can be addressed by the customer support executive as and when required. This will help save time and maximize efficiency, allowing physicians to attend people who have specialized query, instead of spending hours answering routine questions that do not require them to think or strategize.
A WhatsApp healthcare chatbot, when properly programmed and customized, can also share appointment status and other important details with clients. It can remind clients about scheduled appointments, confirm bookings, and store digital copies of prescriptions for easy retrieval by the patient. This helps lower the number of repetitive calls that customer service executives have to answer while at the same time improving customer service by a vast margin.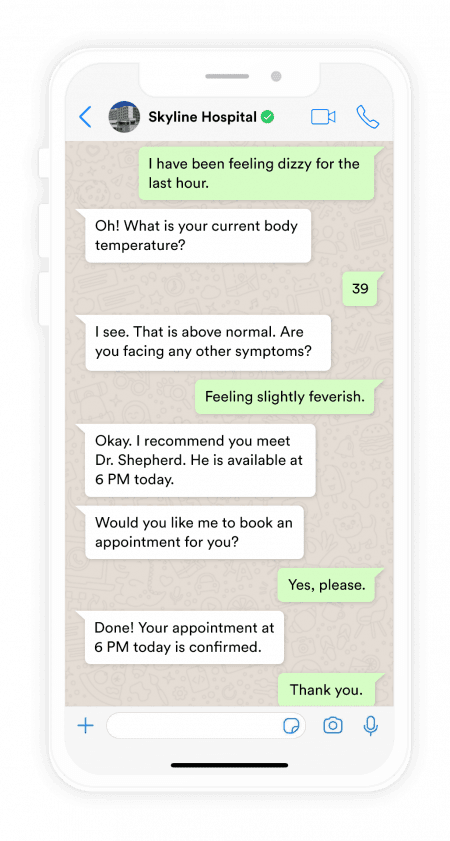 In Conclusion
The healthcare space is replete with scenarios that need to be automated to make care-providing better and more efficient. WhatsApp chatbot for healthcare enable your brand to be accessible to your patients 24*7, making your healthcare center synonymous with round-the-clock care. Continuous interaction with your brand as per their need also results in satisfied patients who feel cared for.
At Maruti Techlabs, we have worked with leading healthcare providers by deploying WhatsApp chatbots and virtual assistants that address medical diagnosis, appointment booking, data entry, in-patient and out-patient query addressal, and automation of customer support.
Simply reach out to us here to see how WhatsApp chatbots can help your hospital/clinic grow and serve your audience in the best possible way!