Whether you're a real estate agent, broker or property consultant, buying or selling a property is a harrowing process that involves tons of calls, emails, and a lot of follow-ups. With a WhatsApp chatbot for real estate, you can easily handle all such mundane stuff without much hassle.
Chatbots have been one of the biggest technology disruptions in the world of marketing over the last few years. In the real estate business specifically, chatbots are revolutionizing the way companies buy, sell, and rent properties.
Problems faced in the Real Estate Industry
Valued at a whopping US$ 120 billion and expected to grow to US$ 1 trillion by 2030, the Indian real estate market is growing by leaps and bounds. However, the high cost of a potential purchase makes property closing deal a very long and time-consuming process.
Furthermore, the customers usually have a lot of questions regarding the house and the surrounding infrastructure such as where is the nearest school or a pharmacy. And if they do not get all the required information or enough attention, they end up going to your competitors.
Another significant challenge faced by the real estate sector is ineffective lead communication. Real estate agents struggle to manage time with listings, past clients, goals, while at the same time address queries of potential buyers. However, it is important to cater to as many leads as possible to stand strong and be successful in the real estate sector. This is where WhatsApp chatbot for real estate comes in.

How WhatsApp Chatbot for Real Estate Can Help in Better Conversion
WhatsApp chatbot for real estate is designed to give users a seamless experience by responding to their queries instantly and at the same time save resources for your business.
A real estate WhatsApp chatbot is essentially a computer program specifically developed and designed to assist the property buyers and sellers with their queries regarding availability, location or prices.
With a large number of property units under their purview, real estate companies receive a lot of enquiries. Not only can real estate WhatsApp chatbot instantly address such queries, a support agent can also jump in seamlessly to address the complex queries. This helps to improve both the overall response time and quality of support provided to the customer.
Some of the other key objectives accomplished by WhatsApp chatbots:
24×7 support to customers
Interactive marketing of real estate properties
Automatic lead generation
Qualifying leads round the clock
Multilingual Support
Assistance in facilitating buying, selling and renting properties
Better time management
11 Top Use Cases of WhatsApp Chatbot for Real Estate
With 1.6 billion monthly users, WhatsApp is the most popular messaging app in the world. It is no surprise that it has become a crucial tool for businesses in providing superlative customer service and converting more leads. If you are also a part of the real estate sector and wondering how chatbot technology can help you drive more business, here are some of the most important use cases for real estate WhatsApp chatbot you need to know about.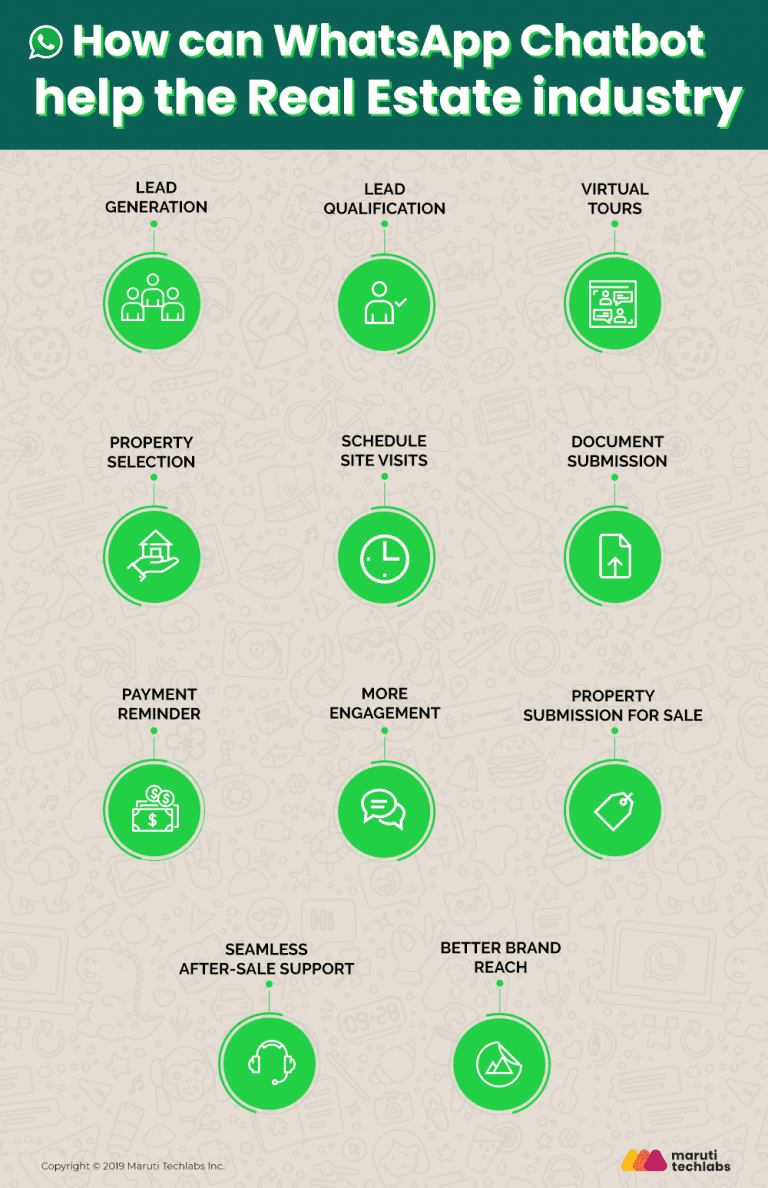 1. Lead Generation
Generating quality leads for a real estate business can be quite exhaustive considering the cutthroat competition. On top of that, losing a prospective lead due to ineffective communication means that a business opportunity is lost. From greeting your visitors and offering details on multiple property listings based on budget, geography, and amenities to answering customers' inquiries, the WhatsApp chatbot for real estate does it all.
Using a WhatsApp Chatbot is a great way to connect with customers on a platform they are already familiar with. It allows real estate agents and companies to collect lead details like name, phone number, email ID, budget, number of rooms, location, etc. Once they've generated the lead, they can simply continue the conversation on the same WhatsApp thread and enhance their chances of converting them to a sale.

2. Lead Qualification
After a lead generation, the next step is the lead qualification. Chatbots for WhatsApp can help ask targeted questions that allows the company to easily segment the customer. Lead qualification also helps them identify high-value customers they can service selectively.
A conversational WhatsApp chatbot can easily handle multiple customers simultaneously without having them to wait for a live agent to handle their queries. This kind of automation combined with instant response allows the real estate firms to lower the operational costs and increase customer satisfaction.
3. Site Visit and Confirmation
When the real estate chatbot qualifies the lead as a potential buyer for the property, customers can easily schedule a site visit via the bot. Besides this, chatbots can also help you with fixing a meeting with potential clients. They can do this by first providing essential information about the agent/company assigned to the property that the visitors are interested in exploring and then asking them for a convenient time to schedule the appointment.
Further, the bot can make a note of the date and time and redirect the customer to an actual real estate agent whenever needed for more detailed communication. Additionally, companies and agents can also enable the chatbot to send automated follow-ups to all potential customers via their preferred medium such as email or SMS.
4. Automated Scheduling
Coordinating site visit is an important step after generating and qualifying a lead. Whatsapp chatbot for real estate allows you to get away from the hassle of unlimited chain of emails and back & forth calls to the customers. Not only can it schedule visits on WhatsApp but companies can also send them reminders on or near the date of the visit.
5. Virtual Property Tours
WhatsApp chatbots for real estate can be used to give the prospective leads a virtual tour of the property. This is particularly valuable to accommodate foreign clients or long-distance leads who can see the properties from anywhere around the world. WhatsApp bots also allow real estate companies to save time by showcasing unfinished properties to help pre-book under-construction properties. The prospects can easily enquire based on city, pin code or neighbourhood.
6. Document Submission
Document submission is an extremely cumbersome and complex process in real estate property dealings. Using WhatsApp chatbot, it becomes super simple to submit a complete set of documents without having the customer to take the hassle of waiting in a queue or running after the property agents to submit and get them reviewed.
7. Build Lasting Customer Relationship
One of the important aspects of real estate business is offering great service and building relationships with the customers. With the help of a real estate WhatsApp chatbot, companies and agents can communicate with their customers in the language they want to speak. It allows companies to start building a relationship with the customers from the get-go in a much more friendly, knowledgeable, and attentive way and help them find the property in the area they are searching for.
Further, chatbots can help you with directing the attention of your website visitors or social media followers to a particular CTA (call to action) by asking them to follow you on social media, subscribe to the newsletter or contact your property agent thus making the entire experience more interactive.
8. Track Conversations
This is a great advantage of WhatsApp chatbots over the usual phone and email conversations. They log all the conversation that happened between the user and the chatbot. This gives an invaluable advantage to the company when an actual human takes over the lead to close the sale. It allows them to read through the entire log, understand the complete conversation, and service the customers better.
9. Property Submission
The importance of WhatsApp real estate chatbot is not just improving the buyer experience but sellers' as well. Apart from answering some of the basic questions, real estate companies can use a chatbot to let sellers submit all the essential information and resources needed for customers to advertise and sell their property. This allows real estate companies to substantially reduce the time spent manually collecting all the important information, thereby increasing their ROI through cost savings.

10. Payment Reminder
Another use case of WhatsApp chatbot for real estate is sending out payment reminders. Customers can be sent easy reminders for various property related processes such as pending payments, EMI's, and maintenance. Real estate chatbot templates for WhatsApp makes it possible to easily integrate the API with the company's existing financial system and send automatic reminders if any of the dues haven't been paid on time. It is an effective way to gently remind customers to clear their dues and also ensure that you don't have to chase them manually.
11. Seamless After-Sale Support
WhatsApp chatbot for real estate is an effective tool to offer exceptional after-sale service at a minimal cost. There are a number of queries and issues ranging from help for finding the local amenities to recommendations for a plumbing service that the new owners or tenants might have even after the sale is closed. WhatsApp chatbot for real estate can easily address such issues and questions in a friendly manner. You can either choose to automate the entire process or allow the bot to transfer more complex queries to be taken over by humans. Without a doubt, the real estate WhatsApp chatbot enhances customer satisfaction.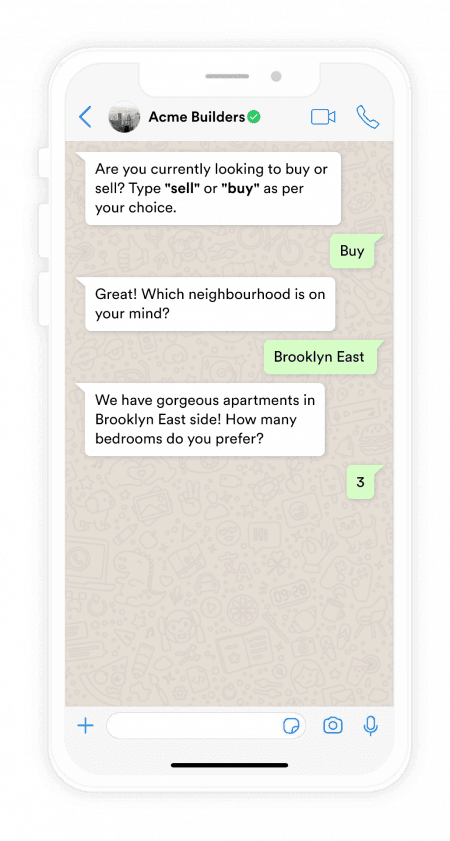 In a nutshell
In today's technology-driven world, customers expect personalized and convenient customer service from the businesses they interact with. WhatsApp chatbot for real estate can be used as an active customer support tool to answer general user queries, generate genuine leads, and book customers' appointments with the agents for property visits and related queries. It can prove instrumental for companies and agents who want to reduce the cost related to customer support, generate more qualified leads, and increase the overall ROI of the business.
The choice and complexity of the WhatsApp chatbot template for real estate should largely depend on the individual business needs of the company. For e.g., developing a scripted bot is best for a business that requires chatbot to be available 24/7 to answer simple queries/questions that their customers have. Whereas, custom AI or a platform-based chatbot is good to have for the company who want their bot to perform more complex tasks, such as follow-ups on leads, lead validation, and offering personalized recommendations to customers.

At Maruti Techlabs, we have worked with leading property aggregators in the real estate industry and developed bespoke chatbot solutions that have resulted in pre-qualified leads for their sales team, while at the same time addressing FAQs and customer support.
Lastly, the question that remains is how long are you willing to continue with the outdated methods of lead generation that barely give results? It is time to bot-o-mate your real estate business and enjoy the benefits of conversational marketing. Drop us a note at hello@marutitech.com and our bot development experts will guide you the process of leveraging conversational marketing for your real estate business.