"In some countries, WhatsApp is like oxygen." – Jan Koum.
And WhatsApp chatbots have become no less than oxygen for businesses, big and small alike. Let us explore the what and how of WhatsApp Business, the benefits of WhatsApp chatbot, and why your business should be on the most popular messaging app.
With over 1.5 billion monthly active users spread across 180 countries, Whatsapp has emerged as the global leader in the area of messaging. Even though it initially started as a platform for users to connect with their friends and family, a section of it has slowly evolved into a potential medium for businesses to engage with clients.
In fact, the rise of Facebook messenger and chatbots for facilitating business-customer interactions birthed the idea of WhatsApp Business API and WhatsApp Business application. WhatsApp Business is an application developed by WhatsApp, dedicated to small business owners enabling them to connect with their customers. WhatsApp Business API, on the other hand, is for medium and large businesses helping them connect with customers from around the world and send automated quick replies at scale.
What is WhatsApp Business App?
Announced in 2018, WhatsApp Business is the business version of the popular messaging app. It allows small businesses to freely get in touch with their customers, who are using the regular WhatsApp application. It is important to note that the customers are not required to install any special app to connect or be connected with businesses. Further, as WhatsApp Business accounts are listed as businesses, users will know that they are being contacted by a business account rather than a regular account.

Key Features of WhatsApp Business App
In the words of the WhatsApp team, "WhatsApp Business app is built with the small business owner in mind." It is packed with features to help the small business owners reach their customers and showcase their products. Let us have a look at some of the features:
1. Availability of Business Profile
Through a WhatsApp Business profile, you can make important information easily available to the customers. This includes your:
Business hours,
Store/business address,
Corresponding location pin,
Email ID,
Website links,
Contact details, and
Brief business description
This not only makes your business highly accessible and discoverable but also adds transparency.
How to Add a Business Profile:
Open the WhatsApp Business app.
Navigate to 'Settings' and tap on 'Business Settings'.
Tap on 'Profile' and add the necessary details against the fields available.
2. Smart Replies and Messaging
Save frequently sent messages as templates and save time with the Quick Replies feature. For example, typing "/thanks" will deliver the message "Thank you for your business! We look forward to working with you again." to your customer. These messages can be customized as per your preference.
You can even set up an "away" automated message if customers contact you outside of business hours. Along the same lines, you could also set up a greetings message, that introduces the customer to your products or services when they initiate a chat with your business.
How to Set Up Quick Replies:
Enter your WhatsApp Business app settings.
Tap on 'Business Settings' and select 'Quick replies'.
Tap on the "+" symbol on the bottom-right corner.
Enter the message or select media and input its corresponding shortcut and keywords (keywords are optional).
How to Set Up Away Message:
Open your WhatsApp Business settings.
Tap on 'Away Message'.
Toggle the 'Send away message' on and edit or create your away message.
Set up a schedule during which the away message will be sent.
You may also select the contacts that will receive the away message.
How to Set Up Greetings:
Navigate to the Settings of your WhatsApp Business app.
Select 'Greeting Message'.
Edit the existing greeting message or create a new one.
3. Labels
WhatsApp Business app allows businesses to create and allot labels to active chats. As a result, you can categorize different customers and sort through conversations using the labels as filters to respond to their requests.
How to Create and Add a Customer Label:
Open the client's chat page.
Tap on more options indicated by three vertical dots⋮.
Select 'Label Chat' and choose the label.
If the required label does not exist, tap on 'New label' and create it.

4. Vital Messaging Stats
Messaging Statistics is an incredibly handy feature of WhatsApp Business. It provides you with an insight into how many messages were sent, successfully delivered, and read by the clients. Studying these metrics can drastically improve how you conduct business.
How to View Messaging Stats:
Navigate to WhatsApp Business Settings and choose 'Business Settings'.
Select 'Statistics'.
5. WhatsApp Web
With WhatsApp Web, you can make your WhatsApp Business account available on the browsers of other devices such as desktops and laptops. As a result, if you have multiple teams maintaining a single account, they can easily work in co-ordination without having to fight for resources.
How to Access WhatsApp Web:
Tap on the More menu (as indicated by the three vertical dots on your home screen).
Select 'WhatsApp Web' to open the QR scanner.
Open the WhatsApp web link on your browser to access the QR code.
Scan the QR code.
WhatsApp in Numbers
The vastness of WhatsApp is seen in the huge number of users the app has, which makes the app the most popular messaging app in the world. Let us have a look at the numbers: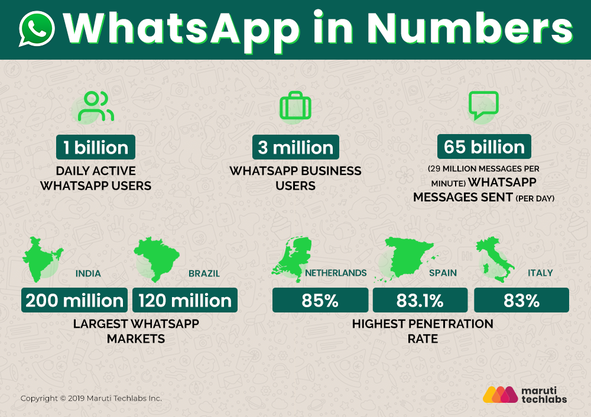 Daily active WhatsApp users: 1 billion
Largest WhatsApp markets: India (200 million users) and Brazil (120 million users)
Highest penetration rate: Netherlands (85%), Spain (83.1%), and Italy (83%)
WhatsApp Business Users: 3 million
WhatsApp messages sent (per day): 65 billion (29 million messages per minute)
What is WhatsApp Business API?
WhatsApp Business API is available for medium and large-sized business owners so that they can reach out to customers from around the world at scale. With the help of WhatsApp Business API, WhatsApp business chatbots are built to instantly address customers' queries at scale and increase your brand reach.

WhatsApp business chatbot involves holding an automated conversation with the customers, which mimics a regular human interaction. With well-designed NLP algorithms and training, it gets a hold of the user behavior and can offer a richer customer experience.
Businesses are increasingly using WhatsApp business chatbots to increase their engagement rate, brand visibility, and provide stellar customer service.
Benefits of WhatsApp Chatbot
WhatsApp, in the form of WhatsApp business chatbots, offers businesses the golden opportunity to reach out to a wider set of audience and provide them the best customer service that keeps them coming back to you. Elucidated below are different benefits of WhatsApp chatbot for different stakeholders involved:
1. For Clients
Clients can gain the following benefits of WhatsApp chatbot:
With chatbots, clients can not only initiate conversations with businesses but also have instant resolutions to their queries.
Getting instant replies means that they can have a two-way conversation with businesses.
Round the clock support means higher client satisfaction rates.
AI-powered chatbots are capable of personalizing conversations, which will add to the value and quality of the interaction.
End-to-end encryption, two-fact authentication, and business verification offer users' data and identity protection.
Businesses are available over an already-available platform rather than downloading a different app.
Additionally, users are already accustomed to the layout and functioning of the app.
2. For Business Owners
For business owners, here are some of the benefits of WhatsApp chatbot:
The platform is available to all, be it small, home-run businesses or large enterprises.
WhatsApp chatbots offer a richer customer experience that helps with customer retention and engagement.
Builds brand awareness and brand loyalty while enhancing customer relationships.
Makes your business available over multiple channels.
Ability to send broadcasts and outbound notifications to clients.
Facilitates businesses to connect with customers through an interactive and visual medium.
Global availability of WhatsApp (barring China), which allows you to develop a customer-centric chatbot catering to international audience.
3. For Marketers
For marketers, WhatsApp business chatbot brings the following opportunities:
WhatsApp chatbots can carry out the bulk of the repetitive work that marketers need to carry out, freeing them up for more strategic work.
It helps to set up an effective channel to generate and contact leads.
It allows the team to direct and navigate the customers down the marketing funnel.
Personalized chats allow chatbots to offer attractive discounts to frequent users or potential leads.
Various formatting options and inclusion of multimedia allows the marketing team to be more creative with their skills.
Make use of Broadcast Lists to execute your marketing campaigns.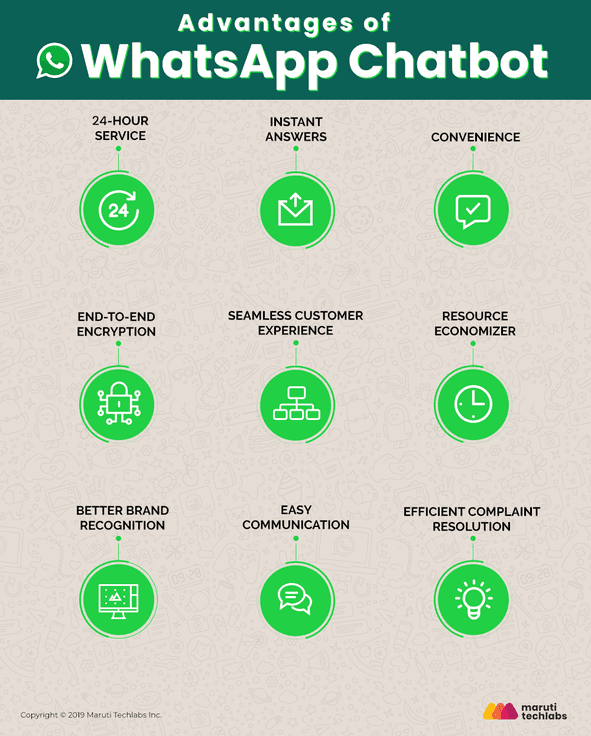 4. For Sales Executives
Once the marketing team has generated leads, the sales team can enjoy the following benefits of WhatsApp chatbot:
Leads the customers down the sales funnel.
Chatbots can help customers make any decisions related to sales. From locating products to directing to payment gateways – chatbots can carry out a major chunk of the conversation on its back.
Run promotions for leads that are growing cold.
Share updates on customer orders and other relevant notifications.
The 24-hour WhatsApp Status feature is a great way to announce deals and flash sales.
Quick replies will keep your customers engaged during the purchase journey.
Allows your business to up-sell by recommending relevant and suitable products (along with images and purchase links)

5. For Customer Care and Customer Support Executives
Here are the main WhatsApp business chatbot benefits from the customer support angle:
WhatsApp chatbots can be customized to deal with frequently asked questions.
Customers will receive instant responses from your business, and this two-way conversation adds to brand loyalty.
Complex queries can be automatically handed from the bot to the customer support executive using chatbot-to-human handover.
If unable to provide a satisfactory resolution, chatbots can also suggest nearby stores or service centers and even share their location pins.
Chatbots can share ticket status and important details with clients. For example, a WhatsApp business chatbot representing a travel agency could share check-in details, live flight status, itinerary, etc.
Through WhatsApp chatbot, organizations can set up and collect surveys from clients. This can help with the enhancement of their products and services (and even chatbot workflows in some instances).
How Brands Made Customers Reach Out To Them On WhatsApp
As a business, to be able to reach out to your customers on WhatsApp, you need to get them to opt in for the same. A WhatsApp opt-in is when customers agree to receive WhatsApp messages from your business by providing you their contact number through a different channel. Another way to send them updates and notifications is by having them reach out to you first. While this is easier said than done, some companies have successfully ran creative WhatsApp marketing campaigns resulting in a boost in product sign-ups and overall brand engagement. Here's looking at some iconic WhatsApp marketing campaigns that garnered a lot of eyeballs and leads for the business.
1. Hellman's
Hellman, a renowned mayonnaise brand, became a viral sensation through its WhatsApp-based marketing campaign – WhatsCook. Brazilian users could share images of the items available in their pantry and refrigerator and have Hellman's chef instruct them on how to create delicious dishes with the ingredients at hand.
The campaign attracted over 13,000 sign-ups and received 99.5% users approval. Needless to say, it was a huge success, and similar models were replicated in Chile, Argentina, and Uruguay.
2. Absolut Vodka
Absolut Vodka is another brand that successfully executed a smart WhatsApp marketing campaign. During the launch of its limited-edition "Absolut Unique" vodka, the company announced that two tickets of the launch party would be available to the general public. Those interested in the offer were asked to interact with Sven, the virtual doorman available over WhatsApp, and convince him to give them the tickets. The users came up with some of the wittiest, quirkiest, and most creative messages that included voice notes and videos.
Within a span of 3 days, Absolut Vodka registered that Sven had interacted with over 600 users and received more than 1000 videos, images, and audio clips.
Wrapping it Up
Businesses today understand the importance of reaching out the customers where they already are. One of the greatest advantages of WhatsApp Business and WhatsApp Business chatbots is that it can help build a stable and long-term relationship with your customers without them having to seek you out on different channels. Upon the development of a user-friendly chatbot, businesses can enjoy the benefits of a loyal audience base and higher engagement offered by WhatsApp. With the right chatbot platform, customer care operations can be streamlined and your customers can enjoy better customer service than your competitors.

WotNot, by Maruti Techlabs, is one of the few chatbot platforms that not only provides access to WhatsApp Business API, but also designs effective bot conversations tailor-made for your business needs. Ready to reap the benefits of WhatsApp chatbots? Simply drop us a note at hello@marutitech.com to see how WhatsApp chatbots can help you take your business where your customers are!