One of the world's most popular messaging apps, WhatsApp is used by more than 1.6 billion people on a monthly basis to stay connected with acquaintances and loved ones. Being secure, fast, and highly intuitive to use, WhatsApp messenger has created a huge niche in the market for itself. Excellent design sensibilities, interface, and end-to-end encryption as focus areas, make WhatsApp the most popular messaging app.
Over the last couple of years, WhatsApp has launched a suite of new and exciting product features; from end-to-end encryption to payment facility. However, the feature that has created the most buzz in the industry is the company's daring step towards the future – chatbots!
The company now offers the platform as a new model for businesses to help them engage with their customers from across the world. Chatbot for WhatsApp business means businesses of every size can now make use of virtual assistants to engage with customers on the world's largest messaging platform.
Launched as a beta test run of bots on the platform by WhatsApp Business, WhatsApp chatbots have more than 3 million users now. The application offers organizations the convenience of online business on WhatsApp by allowing them to connect with customers on the most widely-used messaging app.

SO WHAT EXACTLY IS A WHATSAPP BUSINESS CHATBOT?
Simply put, a chatbot on WhatsApp is a software program that runs on the WhatsApp platform and is powered by a defined set of rules or artificial intelligence, in some cases. It is essentially a software designed to have a conversation with humans over chat.
These chatbots are configured to answer customers' queries instantly on behalf of your business. The primary advantage of a WhatsApp Bot is, in fact, the ease it offers in terms of interacting with business customers and managing their issues in real-time.
Using the service, you get to provide your customers with much-needed support on a platform they use most frequently. This not only helps you better engage with your customers, but it also enhances your customer experience and helps you retain customers in the long run.
BENEFITS OF CHATBOT FOR WHATSAPP BUSINESS
We are living in a time where we can find chatbots everywhere – in apps, on websites, and on Facebook pages. So why do we need yet another channel, you may ask?
For starters, WhatsApp, undoubtedly, is the world's largest messaging platform with more than 450 million daily users. It's design sensibilities, and simplistic layout make it a huge hit across geographies.
When it comes to marketers and advertisers chasing customers to various platforms, WhatsApp tops the list, followed by other platforms like Facebook, Instagram, etc. Chatbot on WhatsApp translates to enabling businesses of varying sizes to get the maximum out of this hugely popular communication platform by deploying virtual agents.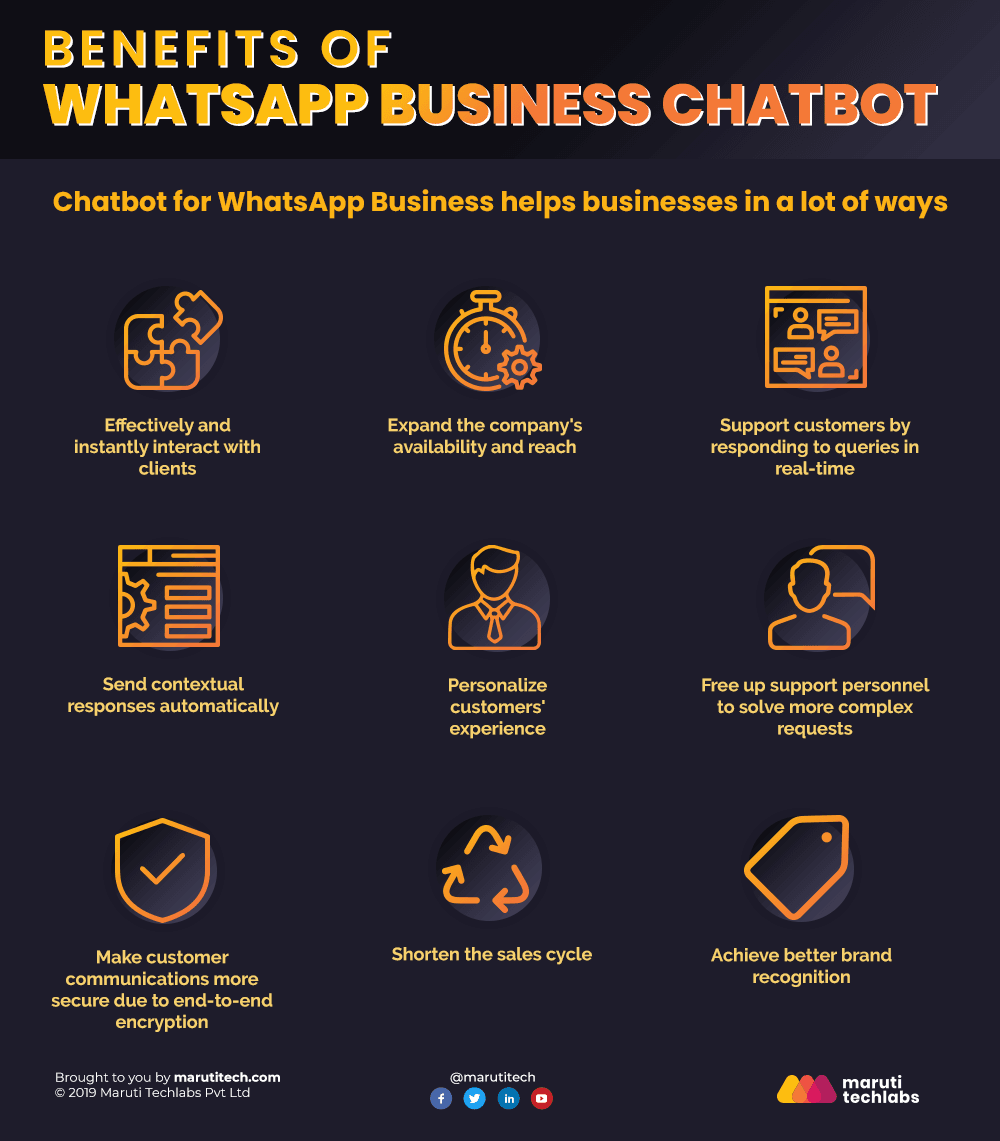 Imagine the convenience your customers would enjoy if they wouldn't have to undergo the painstaking process of reaching out to a helpline only to wait several minutes before getting to talk to a customer care executive. With WhatsApp business solution, your customers just need to send a WhatsApp message for getting the support they need from you. Not just that, you can send targeted notifications such as invoices, reminders, and other important updates to your customers.
Chatbot for WhatsApp Business is, in fact, an exciting feature that helps businesses in a lot of ways:
Effectively and instantly interact with clients
Expand the company's availability and reach
Support customers by responding to queries in real-time
Send contextual responses automatically
Personalize customers' experience
Free up support personnel to solve more complex requests
Make customer communications more secure due to end-to-end encryption
Shorten the sales cycle
Achieve better brand recognition
Additionally, WhatsApp chatbots offer the advantage of being accessible 24×7. The WhatsApp business chatbot can take care of the commonly asked questions, while customer support agents can address complex issues which require human input. With the WhatsApp business chatbot running 24×7, your business remains accessible to customers worldwide, even outside operational hours.

TYPES OF WHATSAPP CHATBOT MESSAGES
WhatsApp chatbot lets you connect with your customers in two main ways – solving customer questions and sending important updates. Businesses can also use WhatsApp notifications to send well-targeted and timely messages to delight their users.
Some examples of WhatsApp chatbot messages are listed below here-
Updates and information on products that users are interested in and their availability.
WhatsApp chatbot messages can be sent in the form of direct and instant communication regarding purchase orders, tracking, and delivery information.
Messages on payments, returns, and other billing-related issues that customers need a resolution for.
WhatsApp bots can also be used to send messages about inbound requests that require urgent resolution, for example, misplaced package, lost or stolen credit card reports, etc.
Messages to communicate purchase transaction alerts or sending urgent warnings such as credit limit, the fee charged, or irregular credit card transactions.
To enquire about seat selection, upgrades, payment/billing questions, or any such information travelers need.
Travel confirmations & alerts
To inform clients about flight cancellations/delays/confirmations, check-in confirmations, and sending boarding passes.

HOW TO SET UP YOUR OWN WHATSAPP BUSINESS CHATBOT – STEP-BY-STEP GUIDE
The popularity of WhatsApp Business chatbot for bridging the gap between consumers and businesses has been on an all-time high. Here is a step-by-step procedure to create WhatsApp chatbots for your business –
Step 1 – Begin with applying for WhatsApp Business API
The first step in the process of creating a WhatsApp bot is to apply for the WhatsApp Business API as either an end client or a solution provider.
You need to submit an application containing different pieces of information, such as the name of your company, location, website address, and the details for the company representative. You can either directly apply to WhatsApp or one of its solution providers. Post the review and approval of the application by WhatsApp, you become authorized to operate the
Step 2 – Choosing the right chatbot platform
It's extremely essential to pick the best chatbot platform which will set up and integrate the chatbot with the WhatsApp Business API. You can choose from many different chatbot platforms available in the market, so that you do not have to start from scratch. With WotNot chatbot platform, your business will enjoy the following benefits:
Step 3 – Creating a proper conversation flow
Thinking and creating the appropriate dialogue flow that the chatbot will have with your customers is one of the most crucial steps of creating a WhatsApp bot. This also includes considering the kind of questions customers will have and how the bot will respond to questions it can't answer. Your chatbot service provider will design a suitable chatbot conversation with your inputs on some of the following points:
What is the real purpose of creating WhatsApp bot for your business?
Whether the dialogue that the bot will have with customers should be free-flowing or guided one?
What should be the tone a bot must have while it talks about to the customers?
Some important things to keep in mind while working on the chatbot for WhatsApp are:
It should help accomplish the objectives set by the organization
Defining the Where, What, and How of chatbot functioning
Robust planning and execution to work on the WhatsApp chatbot
Step 4 – Final testing of WhatsApp chatbot
The aim of setting up a WhatsApp Business chatbot is to enhance the customer experience.
To be able to achieve this goal and build a high-quality WhatsApp chatbot, it is necessary to test it by asking similar questions which the customers may ask the chatbot, identifying the problems followed by fixing them immediately and then rerunning it for best functionality.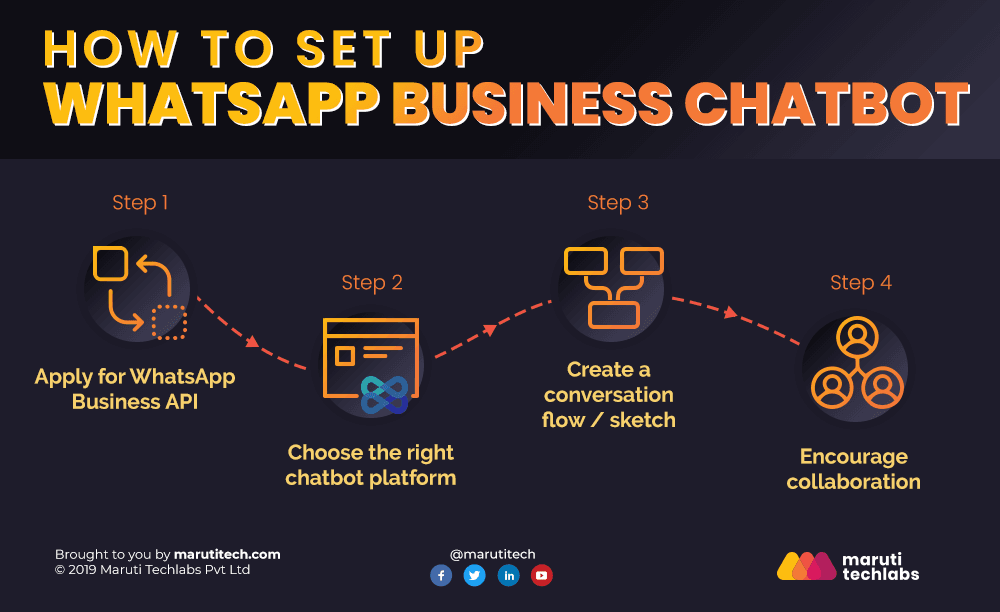 DESIGNING THE WHATSAPP CHATBOT CONVERSATION FLOW
It is crucial to design the WhatsApp chatbot conversation in such a way that the conversation feels intuitive and human. Elucidated below are a few points that one needs to keep in mind while designing the conversation flow for WhatsApp Business chatbot-
Menu
A concise menu, containing the top functionalities of a chatbot, at the start of the conversation is a must. The items listed on the menu should be clear and easy to understand for the user.
Further, there can be two ways to choose one of the options in the menu-
Customers can either type the menu item, for e.g. payment mode details.
Similar to an IVR system, customer can type the number corresponding the option.

Questions
Questions are another excellent way to take the conversation in the right direction. It is important to remember here that the questions selected by the chatbot should be both intuitive and relatable to help keep the conversation going on WhatsApp.
Some examples of question types are discussed here-
a. Yes/No Questions
These are the questions that trigger a yes/no response from the user and are an easy way to understand the user's need clearly and take the conversation ahead.
E.g. – Would you like to learn more about the product?
It is important to note here that a user can say Yes or No to answer this in many different ways like Ya, yeah, ok, alright for giving assent, and nope, not really, not interested, etc. to show dissent. The bot needs to be trained using NLP and deep learning algorithms to understand and map out the meanings of the words to be able to handle such questions.
b. Suggestive Questions
These kind of questions imply a certain answer from the user and direct the conversation onto the desired answer.
E.g. – Wouldn't you be interested in voice bots?
Bot Errors
Bot errors or bot breaks are the error messages and need to be worded with extra caution. To navigate bot errors effectively –
Make sure to acknowledge that the bot is unable to resolve a particular type of query
Take efforts, then, to redirect the user into the conversation
You can either redirect the user to the main menu or into a different conversational flow at this stage.
Tips
Offering tips to users throughout the bot conversation is a must. Remember that for a smooth two-way interaction on WhatsApp, the user needs to be aware of how to interact with the bot properly.
Some of these tips could be –
Type 'Menu' to view all the options once again
Type 'Go back' to see the previous set of options
Please type in your query, if you have any
WHATSAPP BUSINESS CHATBOT – IMPORTANT POINTS TO KNOW
WhatsApp chatbots surely enable businesses to have a robust online business presence on WhatsApp and seamlessly communicate with customers for better business outcomes. However, it is also important to know a few things before building WhatsApp chatbots-
WhatsApp does not allow enterprises to start chatbots in certain specific fields such as suggesting medicines.
As a business, if the initial message you send is promotional in nature, users might report it as a spam account.
It the customer has shown interest in product offerings and shared their details with you, then you are free to send them messages with regard to that particular promotion, discount or offer.
WhatsApp does not have any access to the backend, i.e., storing the data, and will be provided by the company giving you access to the API.
Companies need to ensure that message template designs are precise and once they are approved, there won't be any changes allowed.
FINAL TAKEAWAY
Organizations today understand the significance of chatbots and conversational marketing in providing customers convenience, thereby making the brand successful. WhatsApp Business chatbot is a convenient enabler to achieve this goal. It helps enterprises in nurturing leads, drives higher brand recognition, and builds strong customer loyalty in the long-run.

WhatsApp chatbots allow you to streamline your business operations by dealing with incoming queries in real-time – which is crucial in the current market scenario to gain an edge over your competitors.
If you also wish to grow your business by targeting the right set of customers and by segmenting your audience with an all-inclusive integrated marketing solution to enjoy better conversions, develop and deploy a WhatsApp chatbot for your business today and enjoy the host of benefits that comes with it. We, at Maruti Techlabs, have helped organizations across industries tap into the power of chatbots and multiply their conversion rates.
Write to us at hello@marutitech.com to see how WhatsApp chatbots can help your business grow and retain customers in the long run!