Are you tired of the cheesy and corny sales emails that land in your inbox daily? Do you feel cornered by marketers and salespersons over buying a product? If you said, "Yes!" you are not alone.
Like you, several other people want a no-strings-attached human conversation with the company representative before making a purchase, filling out a form, or starting a subscription.
That's where conversational marketing comes in. It puts the human element into marketing.
Conversational marketing is a new way of thinking about how you talk to your customers and prospects. It's more human, less transactional—and more effective than traditional marketing channels at creating customer loyalty and driving sales.
Let's dive deeper into conversational marketing strategies your business can implement to engage more prospects and convert leads better.
What Is Conversational Marketing?
Conversational marketing is a process of interacting with website visitors and converting leads via dialogue-driven activities. This inbound marketing style focuses on consumer interactions, not simply one-way communication by the brand.
Sales and marketing professionals constantly strive to beat the algorithms and drive traffic and revenue. So it gets strenuous for them to provide leads and customers with a personalized experience among all the bustle.
Over the last few years, conversational marketing emerged as the perfect solution for sales and marketing worldwide.
Conversational marketing strategy orchestrates conversations with customers wherever they are in their buying cycle (or lack thereof). As a result, you don't have to wait for long hours or days to get a response to a ticket you raised or a form you have filled out. With conversational marketing, the lines between human-to-human and human-to-computer conversations get blurred through chatbots, live chat, and targeted messaging.
Conversational Marketing Vs. Inbound Marketing
Conversational marketing is a subset of inbound marketing. As the word "conversational" suggests, your message aims to engage people in conversation.
Inbound marketing brings leads to your website, and conversational marketing ensures they get value from it. Both strategies must align to achieve results.
7 Latest Conversational Marketing Trends You Need To Know
It is a good idea to see how chatbot technology has fared so far and the conversational marketing trends that we can expect to see at present and beyond –
1. Messaging Platforms
Interacting on messaging applications is as convenient and straightforward as communicating with a friend. According to a survey, 73 trillion messages have been sent by people via chat applications. As per Business Insider, Apple handles about 40 billion iMessage notifications per day worldwide.
Interactive messaging platforms like WhatsApp are leveraging chatbots because an interactive environment encourages continuous engagement with real-time interactions.
You can expect a vast number of conversational messaging applications to be launched to promote conversational advertising.
2. More Businesses Will Adopt Chatbots
Chatbots are very useful in squeezing the ROI from your marketing efforts. Chatbots are quite helpful in turning anonymous traffic into a prospect by identifying potential leads, initiating their interest in products, and cultivating customer and brand relationships. As per the survey, companies that used chatbots have increased the visitor-to-lead conversion rate by 10%.
Chatbots will be responsible for converting more visitors into potential leads. Among the reasons why businesses are betting high on bots – chatbots are available round the clock, provide instant responses to inquiries, and answers to simple questions. In the current times, we are seeing businesses deploying NLP based chatbots that bring more human-like capabilities to the chatbot.
3. Customer Experience will be Highly Optimized
Earlier, companies used to train their sales representatives to convince customers to buy that company's products. It is found that 46% of customers abandon a brand or product if they are not valued enough or are not happy with the customer service experience.
We have come very far in marketing. Today, priorities for companies have moved towards providing the best customer experience.
4. Growing Demands for Voice-Driven Interfaces
Siri and Alexa have taken over the market over the last couple of years. Juniper's research states that there will be an increase of 1000% in the usage of voice-driven interfaces in the next five years. Voice-enabled chatbots work similarly to traditional text-based chatbots. The only difference is instead of typing your question or entering your input, you speak directly to the chatbot.
5. Artificial Intelligence
As per Techgrabyte, artificial intelligence will be one of the sectors that will open up vast opportunities for companies over the next few decades. AI and machine learning can analyze the customer's behavior and search patterns. An intelligent chatbot is one of the examples of AI in practice. In the coming years, AI-backed conversational marketing will be the driving force of customer acquisition and retention for many businesses.
6. More Focus on Customer Data
A formulaic question-and-answer scenario has prevailed for a very long time, but this approach does not provide customer satisfaction and often lacks in solving customer's problems at hand.
Conversational AI can assist businesses to reimagine the overall user engagement process, even in absolute basic transactions, and collect data to assist in future interactions.
For example, a chatbot for an airline can help find hotels and transportation for a customer's trip and provide suggestions for future travel.
7. Network of Knowledge
Knowledge is an inherent value of AI. It gives the ability for individual bots to learn from experience. Marketers and customer success teams can deploy AI to harness repositories of knowledge to provide absolute personalization for the end-user. With bots being interconnected and having access to vast data pools, businesses can deliver personalized engagement in real-time that connects with the user to provide real value.
What Are The Benefits Of Chatbot And Conversational Marketing?
Did you know that according to research by Drift, 86% of consumers choose chatbot overfilling a website form?
That is because humans are naturally drawn to a two-way communication that is feedback oriented, like chatbots. Messaging is fast, easy, efficient and feels much more natural and intuitive than a static form on a website. Hence, conversational chatbots and live chat platforms are some of the best ways of scaling up your company's marketing game beyond 2022.
Below are a few more benefits of chatbot and conversational marketing that every business owner, marketer and salesperson must know.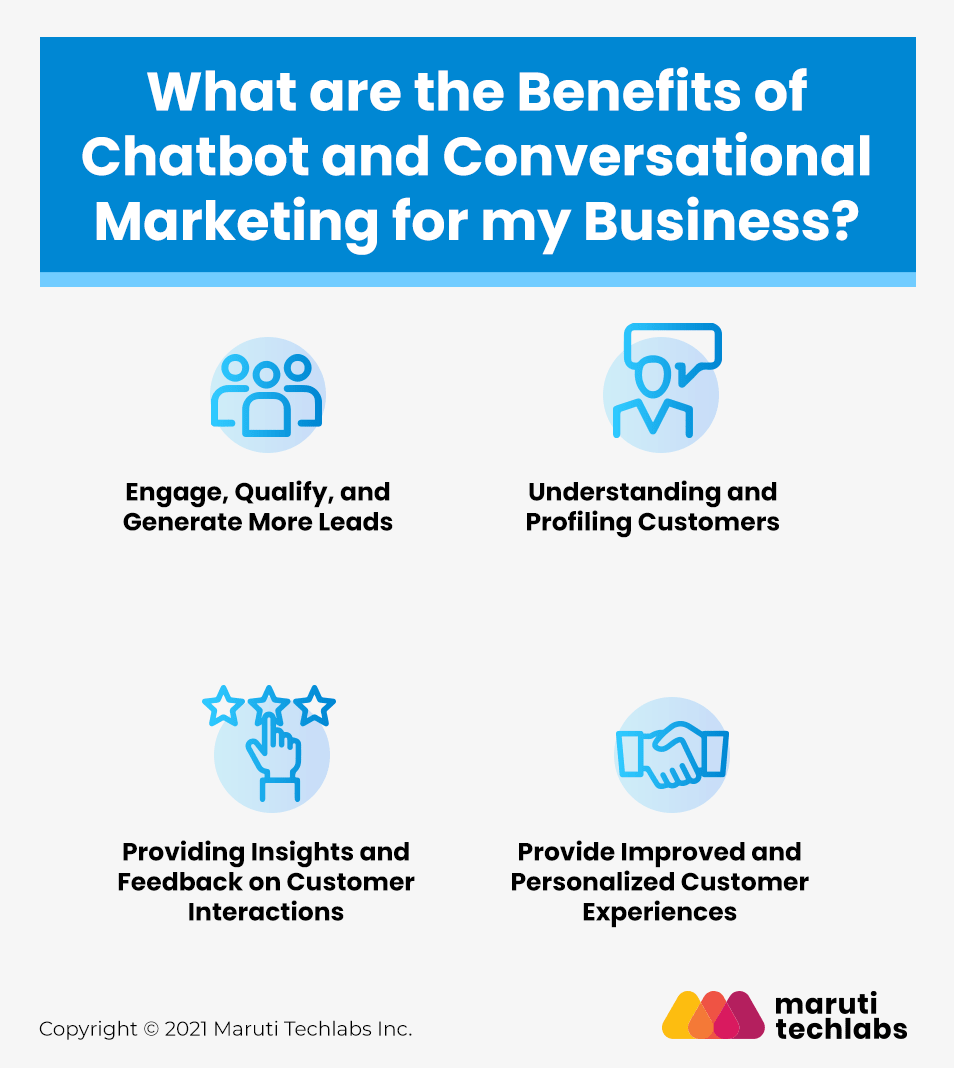 1. Engage, Qualify, and Generate More Leads
Businesses are often prompted to hire more people to optimize conversion funnels and close more deals. Thus, increasing operational costs, cost per lead and/or diluting profits! With chatbots, you can leverage the advantages of natural-sounding human language without increasing headcount at your workplace.
Furthermore, the application of chatbots is not limited to customer support but extends to converting leads, closing sales, generating leads and more!
For example, a chatbot can bring in leads from social media and qualify them as Marketing Qualified Leads (MQLs). Then the chatbot can convert MQLs into Sales Qualified Leads (SQLs). Thus, the need for a person to qualify MQLs to SQLs is eliminated.
2. Understanding and Profiling Customers
Understanding prospects and customers are critical for a business to curate high-ROI marketing strategies. Therefore, the conventional method is to gather information manually.
With chatbots, businesses and websites cannot collect vast amounts of data on auto-pilot. This data is then collated intelligently by Machine Learning (ML) systems and neural engines to create accurate customer profiles without any human intervention! Visitors can provide their data or indulge in mini-surveys through chatbots before actively engaging with the brand.
Brands can use these customer profiles to effectively segment their audience and create marketing strategies based on these segmentations. Thus, increasing their overall conversion rates and Return on Investment (ROI).
3. Provide Improved and Personalized Customer Experiences
Conversational marketing and chatbots provide an experience to online customers and website visitors that is unique to them.
For example, if you have an online store, a chatbot can assist a customer in making a buying decision, just like how humans would assist walk-in customers in a physical store in the real world.
Chatbots can greet new visitors when they enter the website and do so much more—providing a humane experience unlike anywhere else in the digital marketplace!
4. Providing Insights and Feedback on Customer Interactions
Chatbots can profile the customers intelligently and gather other quantitative and qualitative insights from them, like what they think about your products, website design, and more.
You can use these insights to tweak your website such that a more significant percentage of customers are willing to return and your churn rate decreases.
Additionally, chatbots communicate to the customers of any potential website updates, policy or maintenance schedules.
Conversational Marketing Strategy
Conversational marketing is about understanding your audience's needs and starting conversations with them. Your conversational marketing strategy should focus on being personable with customers.
Choose Apt Channels
An important conversational marketing strategy is choosing proper channels. Understanding your customers and their demands may help you decide what channels you need and for what reason, whether it's to answer general FAQs, give information about your products or services, aid in the finalization of a transaction, or promote gated content or demonstrations.
The channel of communication should be decided based on the presence of your target audience. The type of questions and answers your bot covers should be determined by the information your sales team requires to qualify a lead.
Personalize Your Conversations
A vital part of a successful conversational marketing strategy is to personalize conversations. Customizing your dialogues according to your client's behavior and stage of the customer journey allows you to present them with the correct material through the right channels at the right time.
People like it when they see relevant and timely information and can participate in real-time. It would be best to constantly optimize your marketing dialogues to make the most of your approach.
Complete Conversation Journey
Conversations are about nurturing relationships, not just closing sales. It is about building trust and loyalty. That's why it is essential to take care of how conversations begin and end - the tone of the messages, should your conversations point to any landing page, etc., are some points to keep in mind to better frame these conversations.
Loose-ended conversations are a waste of time for your company and your customers. Each conversation should have a defined start and a clear call to action as a part of your strategy.
What Are Some Conversational Marketing Use Cases To Drive Sales In 2022?
2022 has brought about several new scenarios where chatbots and conversational marketing can be used effectively. Let's look at a few conversational marketing trends here.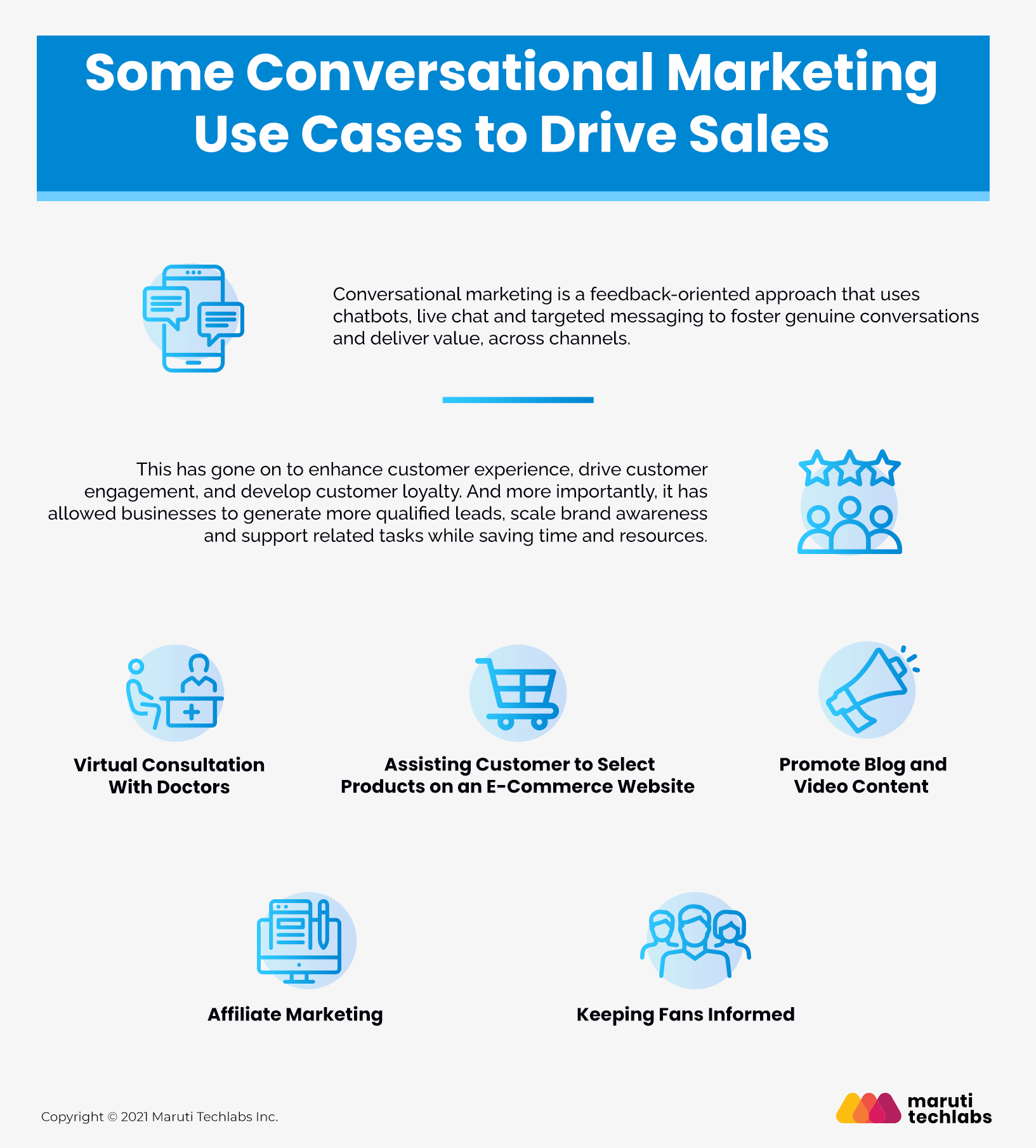 1. Virtual Consultation with Doctors
As the coronavirus pandemic rages, the healthcare sector is tremendously stressed, and the hospitals are filled to the brim with little room for less severe ailments like flu and dry cough. Hence, virtual consultation with doctors has become the norm.
However, the initial screening of patients like temperature reading and heartbeat measuring does not require a medically qualified expert as long as proper measuring equipment or instructions are available.
Chatbots can assist doctors by screening the patients beforehand. Hence, all the information about the patient is readily available to the doctors even before the two interact. Therefore, a lot of time and resources are saved.
2. Assisting Customer to Select Products on an E-Commerce Website
Customers are easily overwhelmed when shopping online because of the abundance of options but no way to get close to the products in reality before making a purchase.
Take the example of an online clothing store. Customers may not know what kind of jeans would be the best for their unique size, height and weight. Chatbots can solve this problem by asking customer-specific questions like their favourite colours, weight and size before providing options of jeans tailored for them.
3. Promote Blog and Video Content
Often, website visitors land on the website to learn something about your brand's niche.
Maybe they are there to learn how to make noodles from your noodle shop instead of ordering a pack. In such cases, conversational marketing can market your blog posts on videos on making noodles to these customers, thereby increasing rapport and brand engagement.
4. Affiliate Marketing
In the era of large and micro-influencers, affiliate marketing is taking giant strides. If you are an influencer, marketing a product to your followers may consume a lot of time.
With chatbots, influencers can automate responding to basic queries from their fans and jump in for consultations through the bot only in particular scenarios.
5. Keeping Fans Informed
Sports teams like the football club Manchester United have millions of fans across the globe. Attending all the messages of their fans on social media and websites in real-time is not practically possible. Hence, they use chatbots to naturally converse with their fans and keep them updated on all events. However, can chatbots really help make your event a huge success? Find out the answer in our detailed blog.
How Maruti Techlabs Is Using Conversational Marketing
Conversational marketing is about improving the relationships with your customers and prospects and adding value to your business.
Maruti Techlabs has been one of the pioneers in the conversational marketing industry, with a no-code chatbot platform of our own. We have helped companies across the globe foster personal buying experiences for their customers, establishing loyal relationships and boosting revenues. Here's how we helped one of our clients-
The Challenge
Our client in the healthcare space was struggling with a common issue that organizations face. Due to finite resources, the client struggled to manage administrative operations like booking appointments, answering FAQs, etc.
The result was a high workload, overworked and stressed administrative staff, and poor patient management.
The Solution
To solve the challenge, our team decided to deploy chatbots across different channels. For this, we chose the no-code chatbot platform - WotNot, so that non-tech folks from the hospital could easily manage the bots.
We deployed bots across two channels:
WhatsApp

Facebook Messenger.
The chatbot helped automate and optimize booking an appointment with a specific doctor. It also answered FAQs, informed patients about various health packages, and sent targeted notifications to remind them about reports and appointments.
The chatbot reduced the turn-around time on appointment booking by 80% and increased the sale of health packages by 65% within three months of implementing the bot. It also facilitated the round-the-clock availability of information and helped enhance the brand's image.
Conclusion
Conversational marketing can be extremely beneficial for you and your customers at every stage of the online customer journey.
Whether they're a visitor interested in learning more about your brand, a prospect looking for information on your products, or an existing customer needing support with a new purchase, conversation marketing can help move them through the buyer's journey faster and shorten sales cycles. Plus, it's a great way to build trust and develop stronger customer relationships.
At Maruti Techlabs, we help businesses of all sizes improve customer engagement and automate business processes with chatbot development services. Write to us at hello@marutitech.com, or see how you can leverage channels like WhatsApp for conversational marketing to start speaking with your customers.