The way customers engage with businesses has changed monumentally over the last few years. Today, customers expect seamless service and easy accessibility from the businesses they interact with. As Mark Zuckerberg had said, "We think that you should just be able to message a business in the same way you message a friend. You should get a quick response. And you shouldn't have to install a new app."
Customers are no longer ready to wait for weeks or days before an employee reaches out to assist them. Customers want to make informed decisions and expect the information at their fingertips, without having to wait. As a result, organizations are rapidly leveraging chatbots for conversational experiences to attract and retain customers.
Chatbots are computer programs, more like virtual companions, that communicate with us through text messages, using artificial intelligence. Chatbots are integrated with websites or messaging apps to help businesses automate their regular tasks. Chatbots can be programmed for different platforms like Facebook, Twitter, Slack, WhatsApp, SMS etc as well.
Chatbots hold conversations with potential customers, addressing their queries and guiding them through the buying journey. This minimizes friction and offers a seamless experience, thereby easing customer on-boarding and retention.
Challenges of the Event Industry
Where can I buy the tickets?
How do I rent a booth in the exhibition?
Who will be the next keynote speaker?
Where can I park my car?
What will be the time of the event?
Where is the loo?
What is the WiFi password?
Answering these questions from thousands of participants of an event is easier said than done. From volunteers and speakers to exhibitors and attendees, event organizers are always flooded with heaps of questions from the stakeholders.
Getting the questions answered lies at the core of making any event a success, as it is through these queries that people get to know more about the event, decide how they want to be a part of it and thus proceed to buy tickets or make a reservation for the same.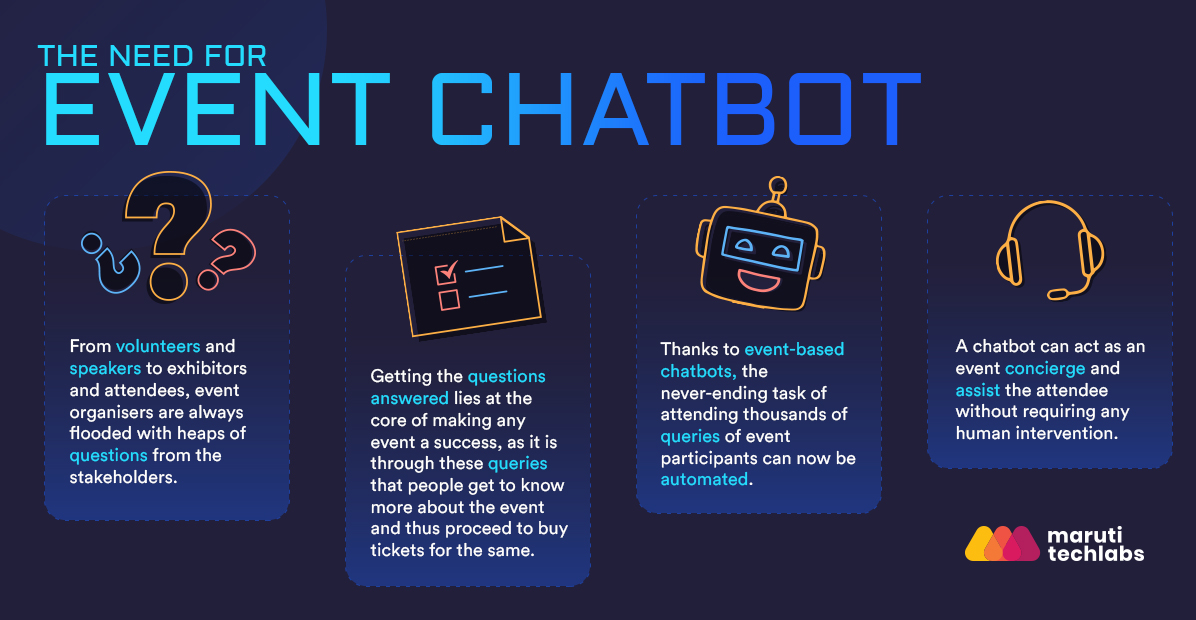 Thanks to event-based chatbots, the never-ending task of attending thousands of queries of event participants can now be automated. A chatbot can act as an event concierge and assist the attendee without requiring any human intervention. Not just answering questions, an event chatbot can make the life of event organizers easier in many other ways.
How Can Chatbots Solve The Inefficiencies In Event Planning
Helpdesk
The type of information a speaker is looking for will be different than the type of information an exhibitor needs. Different participants of the event have different needs. Catering to thousands of queries of different attendees every time is a tiresome and never-ending task.
Instead of having a team of people answer the phone for queries of different attendees over and over again, you can have a chatbot automate the entire process. Not only can chatbots answer frequently asked questions, they can do so by segmenting the user according to their role (attendees, exhibitors, volunteers, sponsors, etc) and thus guiding the user through all the information relevant to them.
Hundreds of queries ranging from the entry fee, registration fee, timings, list of exhibitors, event highlights, schedule, etc can be addressed via the bot itself. Chatbots powered by Natural Language Processing and Machine Learning can be used to assess the intents of the queries and provide a relevant answer. Over time, intelligent chatbots can improve the responses for every single interaction and generate context-based replies.
The most crucial benefit of automating the helpdesk of an event is the ability to respond to queries in real-time and provide round the clock assistance. According to a study, 37% of Americans say they would use a chatbot to get a quick response in an emergency situation.
Bookings & Registration
Chatbots can aid in booking tickets or making seat reservations. Chatbots eliminate the need to fill tedious forms and replace that with an engaging conversation that attendees enjoy.
With third-party payment gateway tools being integrated with chatbots, the user can easily book tickets straight through the bot. Including ticket booking in the chatbot flow increases the chances of onboarding a user as it acts as a one-stop solution — providing all event-related information to the user, clarifying their doubts and then facilitating ticket booking through the same conversational interface.
Multilingual Events
As the event industry is getting global, event bots can help you keep up. Events that have a footfall from around the world can leverage chatbots to make conversations in the visitor's preferred tongue. If need be, chatbots can relay the conversation to a human representative who belongs to the same nationality or speaks the same language.
A multilingual event chatbot can eliminate the need for a global team of representatives to be available round-the-clock to answer queries.
E(vent)-commerce
Chatbots can also be used to promote your event's merchandise by facilitating the purchase of goodies through the event chatbot. If your event has a large Facebook following, a Facebook Messenger event bot can be leveraged to prompt users to purchase popular goodies right through the bot.
If your website is not optimized for e-commerce particularly, people find it difficult to navigate through the complex buying process. According to a report by Point Source Global, 49% of customers shop more frequently and 34% spend more when chatbots are involved in the loop. A chatbot can come in handy in such situations by simplifying the buyer's journey and helping them make a purchase right through the user-friendly conversational interface.
Attendee Engagement
With an event bot, you can create meaningful engagements with attendees. Conducting polls and surveys to make the event memorable and engaging can be done through the chatbot. With engagement activities through a chatbot, you can gain insights about popular sessions, know more about popular opinion, and hold real-time contests while reinforcing the two-way dialogue between attendees and experts at the event.
A leading event tech company reported a whopping 58% engagement rate with the chatbot during the event. The users had sent over 1,300 messages to the bot which helped the organizers identify various customer service questions that were promptly updated by the event staff. Consequently, the event coordinating team also reduced direct customer calls by 20%.
Navigation Assistance
Events are often spread across a large area, if not multiple venues. Navigating from one spot to another for different highlights of the event is often confusing and difficult. Attendees either have to roam around asking for directions or have to go through the task of finding the available directions at the event venue.
The chatbot can help with directions by providing details of the location where an event is taking place. Chatbots can act as a navigation assistant by answering questions such as "Where is Jay-Z's concert taking place?" or "Where is the loo?". Chatbots can also be integrated with Google Maps to help navigate between multiple venue-points.
Alerts & Reminders
Event notifications about day-to-day activities, schedules and more are usually sent via emails to the participants or require them to download a new app solely for the event. Usually, people do not prefer downloading an unfamiliar app for an event and not everyone reads event emails or printed media.
Instead, chatbots can be used to send reminders and alerts via SMS. Mass and segmented notifications can be sent to the attendees for event reminders, feedback requests, and personalized schedules. Chatbots can also send alerts in case of any change in the venue or last-minute changes in the event line-up.
Event Improvements
You cannot improve what you cannot measure. Chatbots can be used as a tool to measure and derive insights and thus improve your event. Chatbot conversation can be analyzed using chatbot analytics to measure how engaging your event chatbot has been.
Different KPIs like top queries, average chat duration, drop-off points in the conversation, etc can be effectively used to derive insights. How the attendees used the chatbot, which part of the event garnered the most attention, which queries the bot wasn't trained for, what type of information was requested the most from the chatbot, and more such insights can be used to improve the events and the bot as well.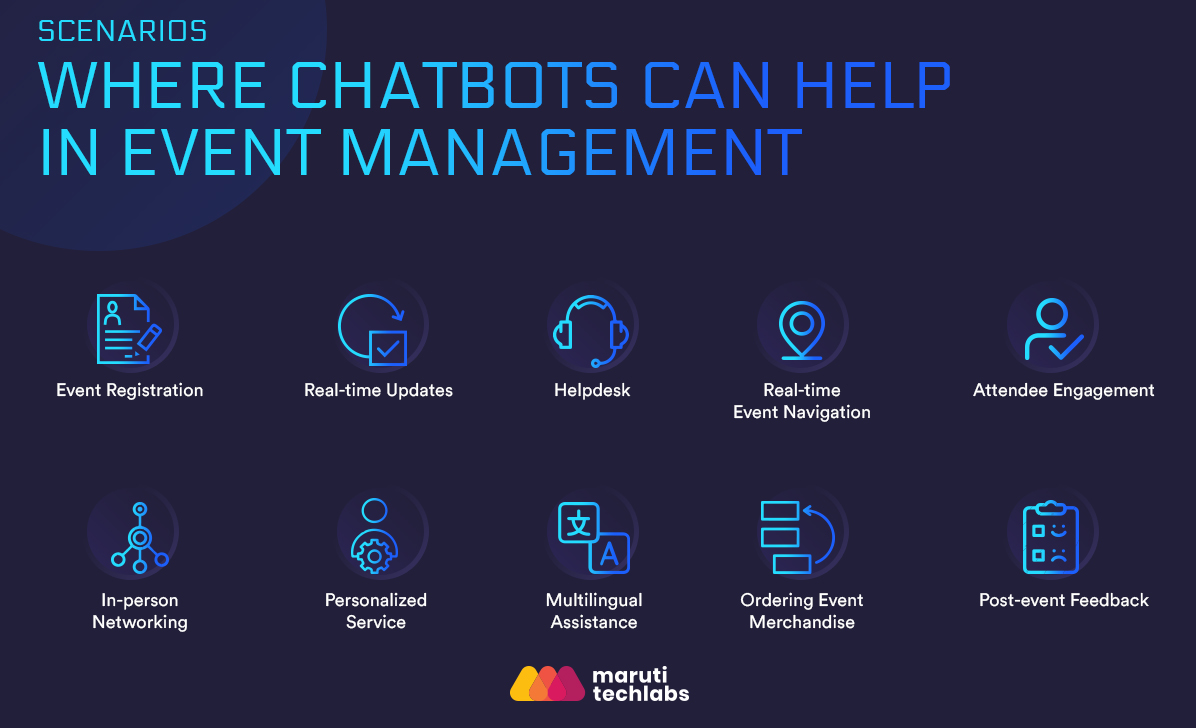 Benefits of Event Chatbot
Create a chatbot from scratch or get one configured from a reliable chatbot platform. Here's how you stand to gain from implementing an event chatbot:
Reduce friction with personalized conversations that lead visitors into taking action. The attendees, sponsors, and speakers at any event all have different needs. A chatbot can personalize the communication for each.
Make your event a top-of-the-mind affair for everyone involved, by scheduling greetings, reminders, feedback requests, and more. Continuous dialogue makes visitors look forward to your event and share their excitement over social media.
Your event bot can be the extended version of your brand voice and messaging. Use a consistent tone and voice to interact with attendees and maintain brand image.
Garner instant, real-time feedback from attendees, without having to wait for the event to wrap up.
Save time, effort, and resources by eliminating manual data management, support, or registration management. Event bots can help you slash operating costs and thereby improve profit.
The events industry needs a way to streamline the process of setting up and executing an event successfully. Needless to say, massive management goes on behind the scenes to make any event a huge success.
Chatbots can automate redundant parts of the process and free up time for you to focus on strategic and decision-making activities. According to a study conducted by Ubisend, 21% of consumers believe chatbots are the easiest way to contact a business. Event bots are helping event managers and creators make the entire process hassle-free and efficient.
We, at WotNot, have worked with several businesses across verticals to develop customized chatbots tailor-made to suit the requirements of our clients. Have a look at our event chatbot designed specifically for event-booking here.