The role of technology in reducing human intervention in repetitive tasks, enhancing productivity and speeding up service delivery cannot be emphasised enough. Irrespective of the niche or vertical, rapidly evolving technologies are becoming critical in enabling streamlined automation of processes and workflows.
Banking & FinTech is one of the most benefiting domains from digital transformation enabled by progressive technology and advanced communication standards. A Deloitte 2019 study also emphasises the importance of digitisation in the sector as FinTech continues to grow, and retail banking is rapidly embracing mobile-centric customer experiences.
The Power of WhatsApp
When it comes to marketing and customer service in banking, WhatsApp Business solution is one of the most effective channels, as the app is actively used by 1.5 billion people in over 180+ countries to stay connected.
From automating tasks such as conversations with users, facilitating customer service with real-time alerts, account balances, latest transaction records and payment transfers, to efficiently conducting researches and surveys, WhatsApp chatbot in banking can help the industry offer a seamless customer experience by minimising manual efforts and increasing efficiency.

What Exactly is WhatsApp Chatbot for Banking & FinTech?
Simply put, a chatbot on WhatsApp is a software running on the messaging app WhatsApp. The chatbot is powered by a defined set of rules or artificial intelligence, in some cases. WhatsApp chatbot is basically designed to have a conversation with humans over chat. WhatsApp bots can be used by banks & FinTech companies to generate leads, offer support, and deliver assistance on the world's most popular messaging app.
In a fiercely competitive banking & FinTech space, where consumers often complain of the lack of clear accessibility to decent customer service and resources, WhatsApp bots can be a real game-changer which can facilitate easy interaction with your prospects and existing customers through the app that they use most.
Primary Applications of WhatsApp Chatbots in Banking & Finance
Banks and FinTech firms using WhatsApp chatbots enjoy a greater chance to engage their customer, which primarily revolves around three main areas:
Customer service
A study conducted by Gartner suggests that 85% of banks and businesses will be interacting with customers through chatbots in the near future. Another study by Juniper Research shows that chatbots can help save banking & FinTech players save billions of work hours through automation and implementation of various conversational tools.
WhatsApp business chatbot for banks offers an ideal channel to provide customer support as customers don't need to wait for hours/days to get their simplest of queries resolved.
Your WhatsApp chatbot can answer all the common support queries instantly. In case the bot does get stuck and is unable to answer a high-level query, it can easily direct the query to a human customer support agent, within the easy & convenient setup of WhatsApp.
Alerts and Notifications
One of the constant struggles that banks and FinTech companies face is in getting their notifications and alerts seen by the customers.
Sending notifications through the WhatsApp API allows the banks to significantly boost their chances of customers opening the notifications sent by them.
Whether it is to send a cheque deposition notification or a reminder to make the upcoming bill payment via a FinTech app, WhatsApp bot does it effortlessly allowing the banking & FinTech firms to be more efficient in their processes.
Promotions and Direct Marketing
Using a WhatsApp bot, banks and FinTech firms can directly market to a large number of users by sending direct WhatsApp messages, which functions as an automated conversation. For example, banks can send a special promotional offer to a user and enjoy the benefit of automatically initiating the sign-up process using the bot.
This reduces the risk of losing the prospects due to unsatisfactory service experience or the hassle of convincing the user to visit a website.

Put simply, WhatsApp bot allows banks to build better customer engagement by offering more immediate and responsive support.
Apart from these, WhatsApp chatbot is a smart investment for banking and financial institutions because-
It allows you to maintain consistency with every user through automation.
WhatsApp bots can work round the clock with minimal human intervention.
End-to-end encryption feature of WhatsApp API makes it completely secure and easy to use when it comes to sending and receiving confidential banking data.
With 100% deliverability and a high response rate, WhatsApp bots offer a seamless performance always.
Top 11 Use Cases – WhatsApp Chatbot for Banking & FinTech
Here are some of the important use cases for which WhatsApp API solutions have proved to be extremely effective in banking & FinTech sector.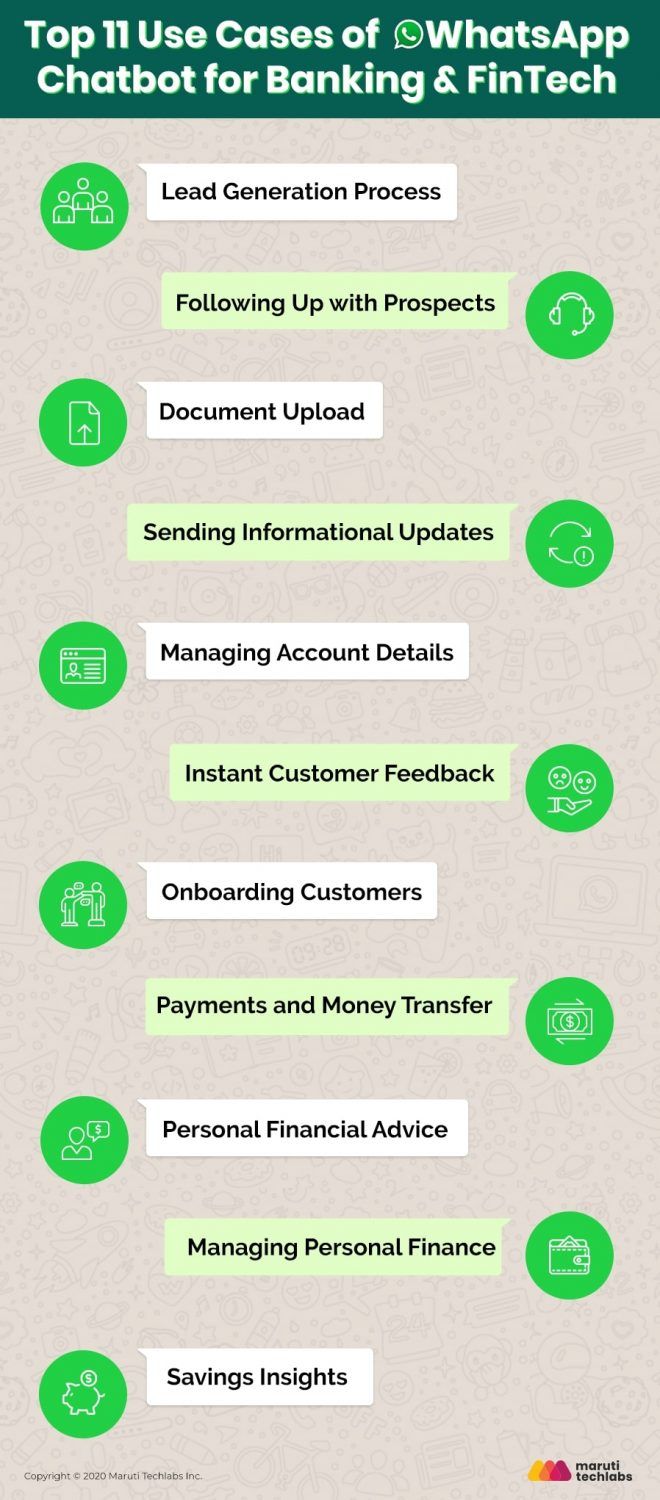 1. Lead Generation Process
WhatsApp chatbot for banking & FinTech can be an excellent way to generate high-quality leads. Adding a simple click-to-chat feature on the most preferred chat app, companies can engage their prospects through WhatsApp bot.
As soon as the customer begins the conversation, their name and phone number are automatically picked up. The user familiarity with WhatsApp API further helps the banks & FinTech firms to engage them much faster, thus pushing them further down to conversion.
2. Following Up with Prospects
Once you have collected the contact details of your prospective leads, they can now move to the qualification stage. A simple nudge and a push via WhatsApp bot can help boost your conversion rates substantially.
3. Document Upload
When it comes to banking and FinTech onboarding, document submission, including KYC and other eligibility validating documents is one of the most important steps. Typically, a lot of customers drop off at this stage due to varied reasons such as cumbersome process, inefficient channel management or something similar.
WhatsApp chatbot for banking and FinTech allows you to simplify the document submission process wherein all that the customer needs to do is send a copy of the required document via Whatsapp message. This makes the entire process of document submission simple, fast and efficient.
4. Sending Informational Updates
WhatsApp chatbots for banks can also be used to send real-time requests and information to the customers. Among these updates are –
Automating FAQs – (Did my cheque/transaction clear? What documents do I need to submit and where? How can I apply for a loan?)
Troubleshooting help
An excellent example of this could be a WhatsApp chatbot for banking and FinTech sending all the relevant information such as account details, links to services offered, and google location of the nearby ATMs to the newly onboarded customer.
5. Managing Account Details
WhatsApp bots for banking can help customers to simplify the process of managing various details of their accounts and facilitate different account-related requests in a single WhatsApp conversation.
The bot is equipped to retrieve customer account information, including account balances, recent transactions, due dates of payments, and other related details. Account bot for banking can be deployed either as a standalone bot or as part of a personal financial management bot that helps customers manage their finances better. It can handle queries such as user authentication, automating the necessary tasks matching the customer intents and adding intelligence to the WhatsApp conversation by accessing the information requested.

6. Instant Customer Feedback
After rendering your banking services, you can ask customers to rate you immediately via the same WhatsApp bot conversation. This will ensure real-time updates and a high-response rate, which is something extremely critical to banking and FinTech.
The fact that WhatsApp is a frequently used and convenient app, enhances the chances that the customer responds to feedback surveys or messages. You can then leverage this feedback data to understand and serve the customers better.
7. Onboarding Customers
WhatsApp chatbot for banking can be used to start a conversation with potential customers while they are applying for a loan or visiting the website. You can offer the required help and onboard them eventually.
8. Payments and Money Transfer
Facilitating easy peer to peer payments, WhatsApp chatbot for banking and FinTech can assist your customers in making bill payments and transferring money without a hassle. By linking their bank or PayPal accounts to the bot, customers can easily shop, check their current financial balance and pay bills much faster.
9. Personal Financial Advice
WhatsApp chatbot for banking and FinTech can also be used to provide personal financial advice. Companies can analyse a person's transaction history by their spending behaviour, followed by predicting future actions. This allows an AI-powered WhatsApp chatbot to serve as a financial assistant and make recommendations beforehand.
10. Managing Personal Finance
Thanks to WhatsApp chatbots for banking & finance, customers can check their balance and transaction history with just a couple of messages. They can also track their daily and monthly expenses and get spending insights similar to a personal financial manager, making it much easier for them to keep track of their personal finances.
Using WhatsApp bots, banks & FinTech companies can also help their customers set a fixed budget and send reminders to stick to it.
11. Savings Insights
Using WhatsApp chatbots, FinTech firms can offer smart saving insights to their customers. The bot can be used to calculate and inform the total savings customers can make. Based on the usage of their accounts, WhatsApp bot can be used to inform the customers of different schemes available.
How Can Your Customers Get Started With WhatsApp Banking
For customers to use your WhatsApp banking services, they need to provide their consent to be contacted via WhatsApp by your bank.
For this, the customer can either give a missed call to the registered mobile number available with the bank, or fill out a form provided by your bank seeking their consent for the same.
The bank then sends a welcome text message from the bank's WhatsApp chatbot.
To avail various banking services, customers then need to follow the on-screen instructions.
Examples of Banks Using Conversational Chatbot
Some of the excellent examples of WhatsApp chatbots used by banks and FinTech companies include –
a) DBS Wealth Chat
DBS, a leading financial services group in Asia, offers DBS wealth chat – a service that allows the firms' wealth clients to easily interact, share ideas and transact with their relationship managers (RMs) via the popular instant messaging platform – WhatsApp.
The platform was developed in partnership with FinChat, a regulatory technology start-up. Leveraging the robust digital technology, DBS wealth chat allows clients to use WhatsApp messaging to access DBS wealth services while maintaining all the regulatory compliance standards.

b) Axis Direct's Virtual Assistant on WhatsApp
Axis Direct is the stockbroking and financial services subsidiary of Axis Bank. The company has launched a WhatsApp-based virtual assistant offering personalised market information to customers.
The features of the WhatsApp bot-based service includes the offering of research ideas, personalised alerts, and market updates on WhatsApp. The bot is also equipped to offer information on stock quotes, live portfolio values and answering all sorts of investor queries on WhatsApp chat.
c) EVA by HDFC Bank
HDFC Bank's EVA (Electronic Virtual Assistant) is a great example of an AI-powered banking assistant built with the objective of providing superior customer service.
EVA utilises Natural Language Processing (NLP) to understand user queries related to branch addresses, interest rates, IFSC codes, etc. and finds out the requested information within no time.
d) Erica by Bank of America
Erica, an AI-driven virtual financial assistant, has been introduced by Bank of America, a leader in the U.S. banking industry.
The chatbot effectively caters to the bank's customer service requirements such as providing balance information, sending notifications to customers, providing credit updates, facilitating payments and helping customers with other simple banking transactions.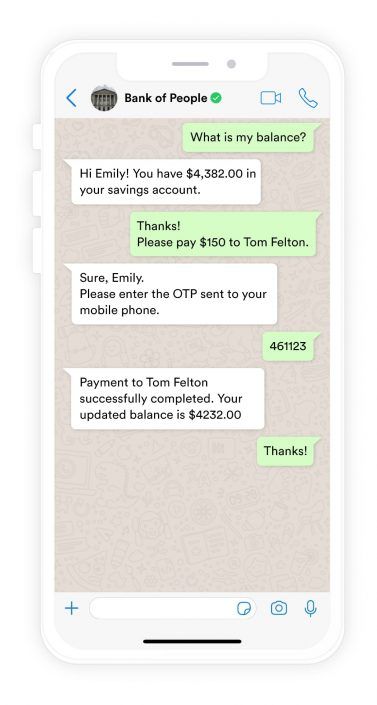 To Conclude
One of the primary reasons for banks to lose customers is poor customer service. As a result, the banking sector is now gearing towards a paradigm shift in the way customer communication takes place.
WhatsApp chatbot for banking and FinTech makes your banking services more accessible to the customers. This not only helps you retain your customers, but also attract new ones to become loyal customers.

With ever-growing reach and brand awareness of WhatsApp, the finance space enjoys an excellent opportunity to leverage this popular messaging app for everyday transactional needs and streamlining payment and transfer solutions.
If you also wish to gain a competitive edge in the market by providing superior and hassle-free customer service, simply reach out to us here.