The world is relishing the advent of chatbots, and there's no need to mention the reason. Many industries have chosen to automate the process and expand the reach of services. It will provide an error-free banking experience. We have seen a tremendous evolution in the banking sector since the year 2000. That is when the introduction and growth of smartphone industry happened. There's so much more to it.
Evolution of Banking Industry
The introduction of smartphones was just the beginning. Moving further in time, the world noticed the innovation of mobile banking and the following trends and statistics:
According to a report, it is expected that there will be around 1.2 billion mobile banking users worldwide by the end of 2016.
Source: Statista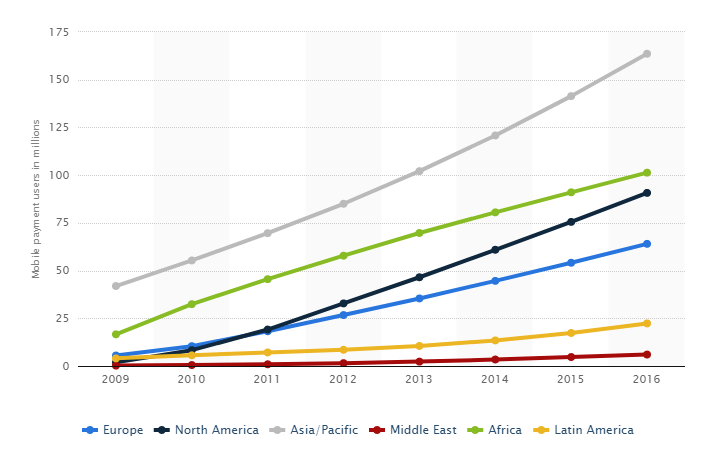 By choosing to focus on customer satisfaction, many sectors have been attracting their target audience. It is only natural that the banking industry does the same.
Banking Chatbots and their saga
Chatbots indeed have the potential to replace the tasks of humans to a lot of extents. Due to Artificial Intelligence, chatbots can pursue and continue a conversation. That is the beauty of modern innovations.
According to a report released by Juniper, chatbots will be responsible for over $8 billion per annum of cost savings by 2022. The same website also shares that on an average, a chatbot inquiry saves more than 4 minutes in comparison to traditional call centres. So the virtual assistant plays an important role.
Banking industry can offer advice on a large scale and with better impact by using AI chatbots that can learn about user habits. According to a report released by Gartner, consumers will manage 85% of the total business associations with banks through Fintech chatbots by 2020.
Who's in the intelligent Chatbot Banking?
Here are the top 5 banks globally that have adopted chatbots: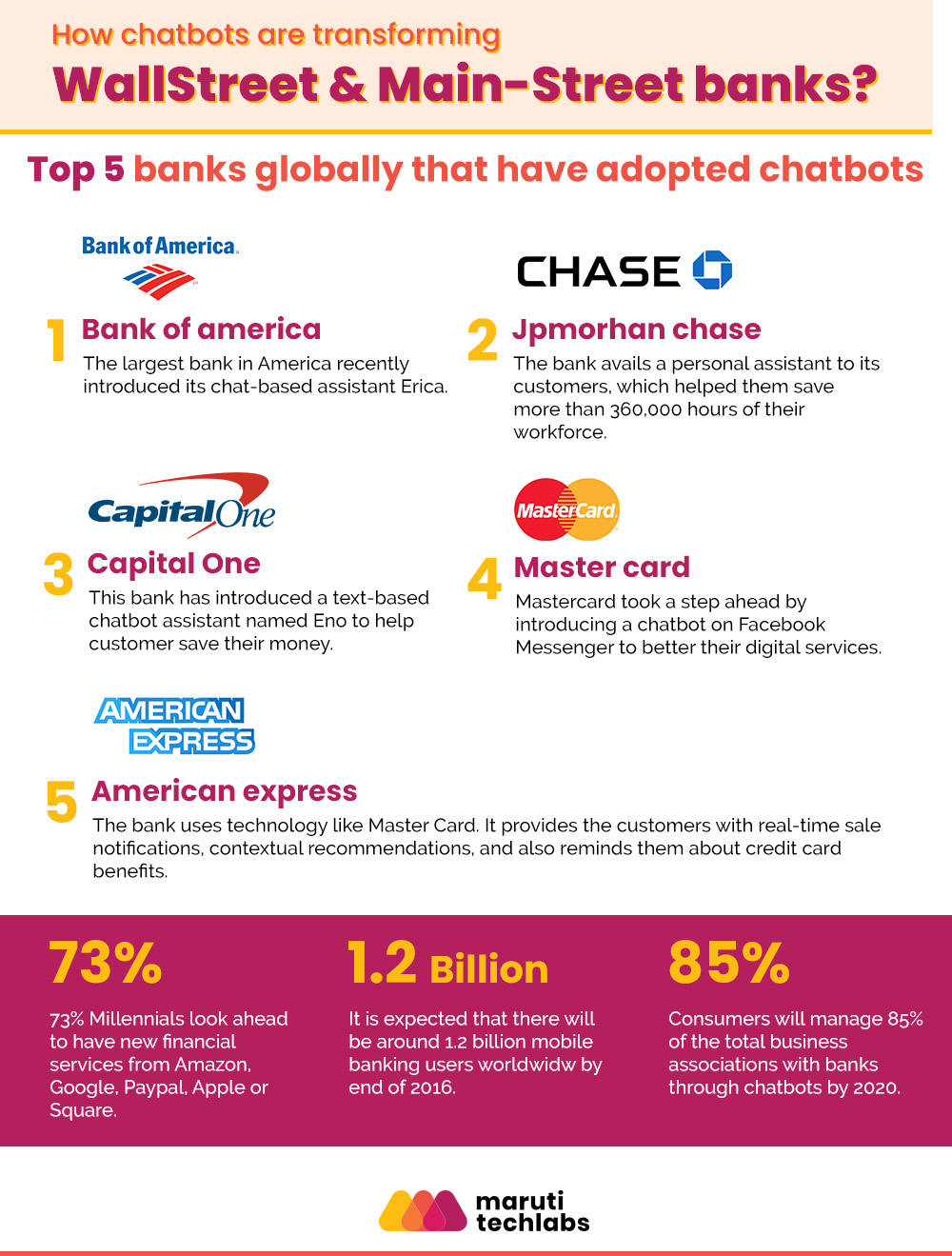 1. Bank of America: The largest bank in America recently introduced its chat-based assistant Erica. The assistant is designed to send notifications to customers, update them on their FICO score, identifying and acknowledging the areas where they can save money, and pay their bills.
2. JPMorgan Chase: The bank avails a personal assistant to its customers to add ease to its back office operations. By integrating this, they have managed to save more than 360,000 hours of their workforce.
3.Capital One: This bank has introduced a text-based chatbot assistant named Eno. The artificial assistant helps a customer to save their money.
4. Master Card: Mastercard took a step ahead by introducing a chatbot on Facebook Messenger to better their digital services. Customers can reap the benefits of the bots in reviewing their purchase history, spending habits, and account balance.
5. American Express: The bank uses technology like Master Card. It provides the customers with real-time sale notifications, contextual recommendations, and also reminds them about credit card benefits.
These were a few out of the many banks that are offering benefits to their customers with the help of chatbots. According to a surveyreport, 73% Millennials look ahead to have new financial services from Amazon, Google, PayPal, Apple or Square.
The increased demand indeed points toward the bright future of AI-based chatbots.
Understanding Artificial Intelligence based Chatbots and their Benefits
The chatbots have made life simpler for humans. The way they are designed, today they are capable of assisting us with almost everything. Saying that they can be your friend, philosopher, and guide won't be wrong. We can notice chatbots marking their presence around us. While some of them are simple in their design, few are complex enough to surprise even a tech savvy individual with their capabilities.
They have the expertise to avail your services and guidance like a professional. And yes, with no physical existence. But let's not go with random verdicts and try to understand the benefits offered by Artificial Intelligence based chatbots: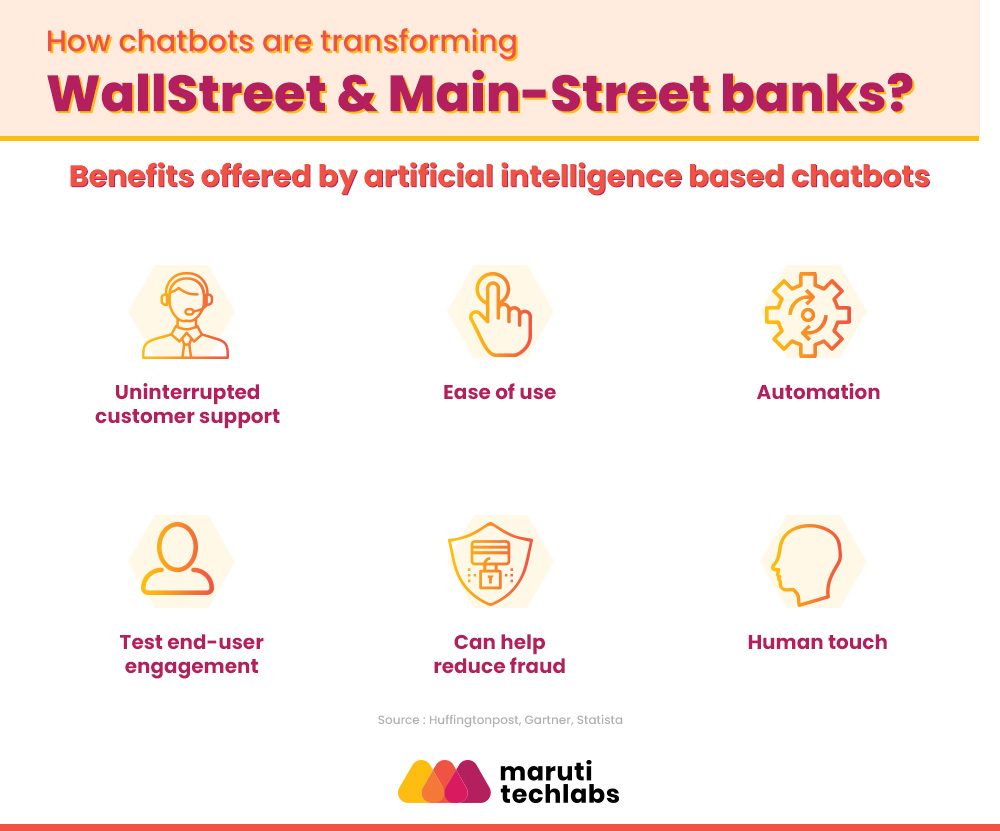 1. Uninterrupted customer support: Today, serving your customers in the most personalized way is the key to growth. Without ensuring customer satisfaction, no organisation can expect to sustain for long in the competitive market. The same is the case with the banking industry.
With the advent of chatbots, it is possible to provide the customers with a 24*7 support system. They can help you with the tasks like customer KYC, resolving queries, and acknowledging them about your new products and services. With this, you can ensure better customer satisfaction, by resolving more questions in less time. Besides this, organisations often spend a good sum of money over deploying call centres for customer support. With the help of these AI based chatbots, you don't have to make any extra investment on employing human resources and also allotting a designated place for them to work. In fact, if used wisely, chatbots can help you reduce your spending by approximately 14%.
2. Ease of use: It has been noticed that customers often flee away by going through the online authorization process. They have to fill up details again and again to ensure the system about their authenticity. The AI chatbots are smart enough to help you with it.
Let us suppose that a user, who has a messaging app, is trying to get in for a query. If he/she gets his messaging app associated with the bank account, the individual won't have to fill the details again and again. By doing this, you didn't just make things convenient for them but also earned their loyalty. Brands often spend millions over various strategies to gain customer loyalty.
3. Automation: Chatbots aren't just an excellent tool to interact and help your clients. In fact, they have proven their expertise in fraud detection, fetching analytics, and data capture. Prevention of frauds is a critical policy for every bank. According to a report released in 2014, credit cards of 31.8 million US customers were breached. This is 13% of the entire adult population of the US.
Here chatbots can extend the helping hand by sharing a notification. The automatic notifications about the transactions made can keep users updated with the account activities in real-time.
Apart from this, their ability to understand a customer's pain points and needs can empower them to assist in a much better way. This empowers them to share the data obtained, which can eventually help you in finding the areas of customer dissatisfaction. Besides this, AI based chatbots can also assist you with accumulating vital information that can work as a centralised database, empowering you to eventually analyse the same to avail crucial insights and suggest actions to improve services, customer satisfaction, and product offerings.
4. Test end-user engagement: Banking industry has an array of goods and services for its clients. It has been seen that not all the customers are aware of these products and services. Chatbots can be a beneficial resource to spread this message to your end users. They can send not only the details about these products and services but also test the user engagement on them. With this, it moulds itself and shares only the details which interest the customers. This eventually increases your chance of taking a step ahead in the competition. Also, as we all are aware that Bots are not humans, but a machine that behaves like people. They can be easily stopped by a customer through a simple text if they are bothering them.
5. Can help reduce fraud: This is currently used by almost all the financial organisations. Remember, the last time you swiped your card, and you received the message acknowledging you about the activity? Well, that was ChatBot. You can reply to these messages with a pre-customized command to stop the transactions if in case it wasn't you. Reducing fraud is very important for the banking industry. It is not only the customer's loss of money but also your goodwill. If chatbots are well planned and implemented, they can be a very helpful resource for the same.
6. Human touch: The chatbots are an inevitable contribution to science by the humanity. They are adorned with a human touch, which commendably enhances the bond we share with technology. Chatbots won't let your customers feel like they are interacting with a machine. They ensure that you solve your customer's queries in the shortest period and flawlessly.
Conclusion
The introduction of IoT and the AI has worked like a charm for many corporations. The advancement in technology has served almost every industry in an unmatched and flawless manner. Their behavior and ability to build a firm command over analytics and consumer behavior not only make them stand ahead in the competition but also your organisation.
At Maruti Techlabs, we have worked with a wide range of clients from the Banking industry and developed AI based chatbot solutions to assist in answering FAQs, automate customer support, and reduce fraud.