In the face of growing competition in the insurance sector, insurers are finding it difficult to attract and retain customers due to extended waiting times. Every day, the insurance industry handles millions of queries about policy terms and conditions, account updates, claims to process, and a lot more.
Delivering excellent customer experience and communicating real value to each and every customer becomes very difficult as the customer support team can only cater to so many queries at a time. As a result, customers have to wait for extended time periods thereby leading to prospects and customers dropping off or switching to competitors.
Insurers are increasingly implementing WhatsApp chatbots in order to streamline their customer experience and automate many service offerings. As WhatsApp is widely used by your customers and your agents alike, WhatsApp chatbots for insurance can make a world of difference in improving the overall customer experience. Let us see how.

Why do we need WhatsApp chatbot for Insurance
The over-crowded insurance sector today is grappling with many issues such as mounting pressure to speed up processes, cycle times, improve customer experiences, and at the same time reduce expenses.
On top of that, heavy dependence on manual work, constant overflow of routine back-office operations, legacy systems and outdated methods make it extremely challenging for insurance companies to achieve the goal of efficient processes and enhanced customer satisfaction while maintaining competitiveness in the industry.
Almost every industry today is leveraging chatbot development technology to interact with their consumers and enhance their customer experience. And the one that is benefited most among these in terms of quality, efficiency, and transparency offered to customers is the insurance sector.
Simply put, WhatsApp chatbot for insurance facilitates customers to get their queries answered, discuss issues, and make claims via the WhatsApp messaging app.
Right from assisting customers with standard query resolution to serving as an extension of the customer service contingency plan, WhatsApp chatbot for insurance is completely transforming the client experience for the better.
Top 11 Use Cases of WhatsApp Chatbot for Insurance
Customers can not only interact with chatbots at any given time but also find policy details and make claims, renewals whenever needed. Their 24-hour availability and easy reach through the most preferred app have made chatbots the best tool for automation in the insurance sector.
The fact that the insurance sector practically works 24/7 further makes chatbots a great tool for not just the prospects, but also the existing policyholders at the time of need. With WhatsApp chatbot for insurance, both insurance agents and policyholders can save time while having a better experience working together. Let us see how: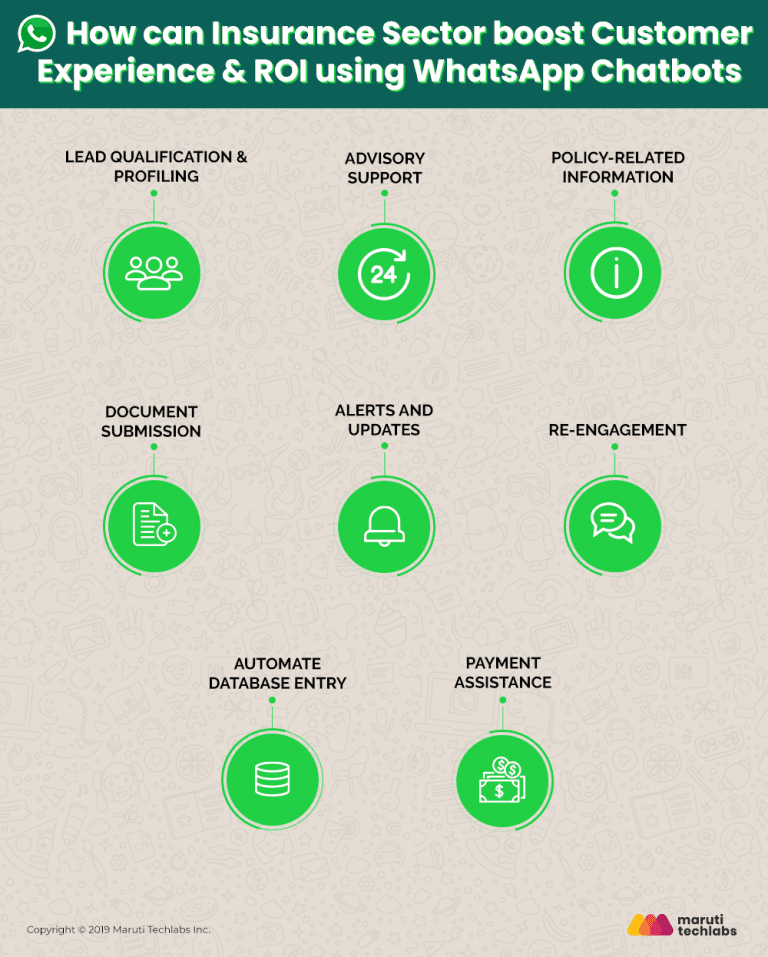 Lead Generation and Qualification
WhatsApp chatbot for insurance is an easy and quick way to generate sales leads by collecting important information such as customer's name, phone number, email, etc.
It not only helps you keep your prospects interested but also educates them about insurance needs & benefits, thereby increasing the chances of converting them into high-quality leads.
Further, WhatsApp chatbots for insurance allows you to automate the process of lead qualification based on information such as monthly salary and preferred premium amount contribution, so company reps have accurate and actionable items to close the leads.

Finding Policy-related Information
To browse through an entire website to find specific information is extremely time-consuming for customers. By integrating WhatsApp chatbot API, insurance companies can ensure that policyholders have easy access to the information they're looking for. Further, with the bot taking care of frequently-asked questions, human agents can focus on more complex queries.
Selection of Right Insurance Policy
WhatsApp chatbots assist clients in making the choice of the right insurance policy by collecting large amounts of data and offering all the support required for the clients to understand each product. Chatbots help consumers select from top policies on the basis of their risk profiles and coverage needs.
Further, chatbots not only explain the details of the policies to clients but also display quotes and help them choose the best. Customers can also pay premiums from within the WhatsApp chatbot itself.
Conversational Advisory Support
To a consumer who is not familiar with the insurance space, navigating through different policies and confusing jargon is very overwhelming.
WhatsApp chatbots for insurance can be used by insurance companies to reduce the ambiguity and interact with consumers in simple language. What's more, your consumers can also get their FAQs answered in the language they are comfortable with using multi-lingual WhatsApp chatbot for insurance.
Policy Document Submission
WhatsApp chatbot for insurance makes it easy to collect all the documents required (income documents, address proof, ID proof, etc.) for policy buying or renewal. All that the customers need to do is send a scanned copy of required documents to the insurance company using WhatsApp. This simplifies the process of document submission. WhatsApp's end-to-end encryption also ensures that sensitive information stays secure and safe.
Claim Processes
Insurance claim settlement is generally a long and cumbersome process. Customers often complain about the delay in processing and unsatisfactory services. WhatsApp chatbot for insurance ensures that every claim that is filed is taken care of in the quickest way through easy document submission and instant confirmation of claim status.
Database Entry
Insurance companies deal with a massive amount of data on a daily basis. Whether it is logging the policy or filing a claim, it requires gathering data and entering it into a database through an extremely time-consuming and manually cumbersome process. Furthermore, such repetitive tasks increase the chances of errors and inconsistencies in records.
With WhatsApp chatbots for insurance, the details entered by leads and customers can directly be fed to the backend system or CRM, thereby limiting errors and saving a lot of time.

Alerts and Updates
Consumers often forget the due dates of payment of premiums. Further, these alerts regarding premium payments, policy maturity details, the dividend declared, and updates about policy claim filed, etc. sent by insurance companies via SMS or emails often get lost. WhatsApp chatbot for insurance automates the process and makes it easier to reach out to customers.
Follow-ups & Sales
A high volume of insurance leads is often lost due to ineffective follow-up and lack of response from customers via usual channels such as SMS/email. WhatsApp chatbots, on the other hand, are a highly effective way to engage customers by reaching out to them on the platform they already use.
Policy Cancellation
If your customer wishes to opt-out or cancel your policy, they can easily do so via WhatsApp Chatbots for insurance. Eliminating the hassle of reaching out to the agent via call or email, they can simply convey their need to the WhatsApp chatbot. Using bot-to-human handover, a human agent can seamlessly jump in and take control of the conversation and do the needful.
Customized Services
Similar to any other financial product or service, insurance products also needs to be pitched in a personalized way as per the specific needs of the customers.
WhatsApp chatbots for insurance interact with the customers and inform them about insurance policies that suit their needs and preferences. The preferences and information collected by the bot can also be used to design specific insurance offerings.
Further, insurance chatbots can facilitate communication much faster to enhance the success rate. This also allows insurance service providers to build trust among customers, as they generally prefer service providers with customized options and seamless communication.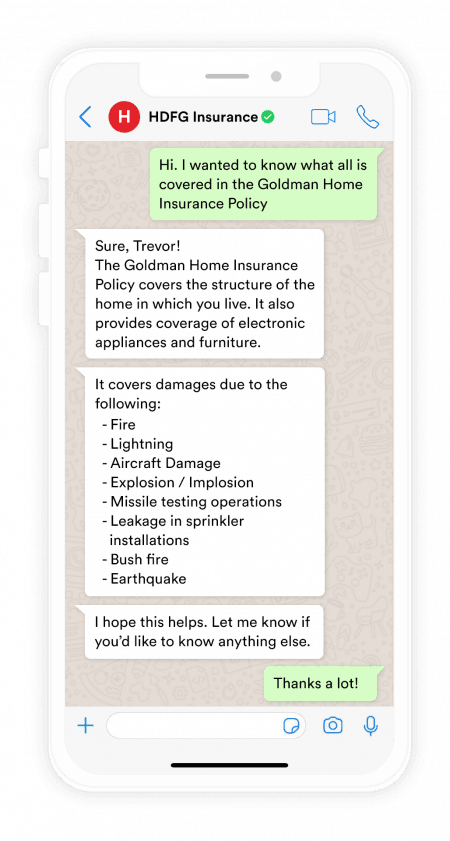 Key Benefits of WhatsApp Chatbot for Insurance
Reducing customer confusion
People usually dread interacting with insurers because of the difficult and confusing jargon associated with the insurance industry. A chatbot can help reduce confusion by simplifying the complex terms into more straightforward language and walking customers through simple steps.
Handling customer queries effectively
Whether it is buying, renewing or canceling insurance, customers generally have a number of queries they need an answer to. However, due to high volumes, customer care executives find it difficult to handle all of them effectively. Insurance chatbot on WhatsApp which functions 24*7 makes it super simple for insurance service providers to deal with all the customer queries in a quick and effective way.
Scalable
Your customer support team can handle only so many customer queries at once. But WhatsApp chatbots are automated tools and hence can address thousands of customers at once.i
Analysis
You can monitor the overall performance via chatbot analytics and figure out what is working and what is not. Unlock insights from data to create the right conversational experiences for customer service. Chatbot analytics continually analyzes conversational experience, uncovering gaps, and suggesting fixes.
In the case of complex queries, a human agent can instantly jump in and take over from the bot, and address the concerns of the customers. Agents can also monitor the bot conversation history allowing them to jump in with the context. This ensures smooth customer-experience resulting in happy, satisfied customers.

Conclusion
Intense competition, complex market scenario, and the emergence of disruptive technologies have made it crucial for the insurance sector to look at options for optimizing costs, improving overall accuracy, and maximizing returns.
With the help of intuitive WhatApp chatbots, insurance companies can drive their brand engagement, easily explain complex products to their customers, and enhance their sales and distribution. This will allow insurance companies to shift their focus from mundane tasks to value-added functions to be able to move closer to achieving larger organizational objectives.
With customer preferences rapidly changing to self-service and round the clock availability, it is only logical to implement WhatsApp chatbots in your business to gain a competitive edge and provide superlative customer experience.
At Maruti Techlabs, we understand the complexity of the insurance space and deliver a chatbot solution that is tailor-made to suit the use-case of your organization. Interested in exploring the possibilities? Simply drop us a note at hello@marutitech.com and we'll take it from there!