What is the best marketing strategy of all time? "Care", says Gary Vaynerchuk. Not many marketers will disagree with this answer. Treat your customers like the extraordinary beings they are, and you're likely to see them again very soon. The age-old secret to retention in sales and marketing holds the same importance in this day and age as well.
As of today, the insurance industry faces a myriad of challenges not often seen in other sectors. With the world becoming more digital by the day, policyholder and consumer expectations change. They now shop for insurance policies online, compare quotes before speaking to an agent, and even self-service their policies. As consumers now have the ease of quick access to information, the insurance industry will need to look for ways to overhaul its processes to ameliorate the relationship between policyholder and provider.
Meanwhile, consumer and policyholder expectations for 24/7 self-service continues to grow every passing day. They no longer prefer to use web forms and are shifting from phone calls to mobile apps and messaging.
Today, digital marketing gives the insurance industry several channels to reach its potential customers. However, what happens if a customer were to knock the door of an insurance company and return unattended? If an agent isn't available to offer relevant information (could be in the form of a quote or even servicing a claim), the potential customer goes on to find another provider.
With chatbots and multi-channel integrations coupled together, insurance providers can genuinely have a solution in place to bridge the expectations of their consumers and switch from the traditional transaction into a two-way interaction.
This is essentially where automated insurance agents, or insurance chatbots, come into play. A website or landing page with proper conversational AI implementation provides an all-encompassing, guided buyer experience which, significantly reduces the points of friction for prospects and converts more than 5X the run-of-the-mill insurance lead generation form. Beyond just lead conversion, chatbots can assist in delivering faster and more efficient claims management and underwriting process via automation.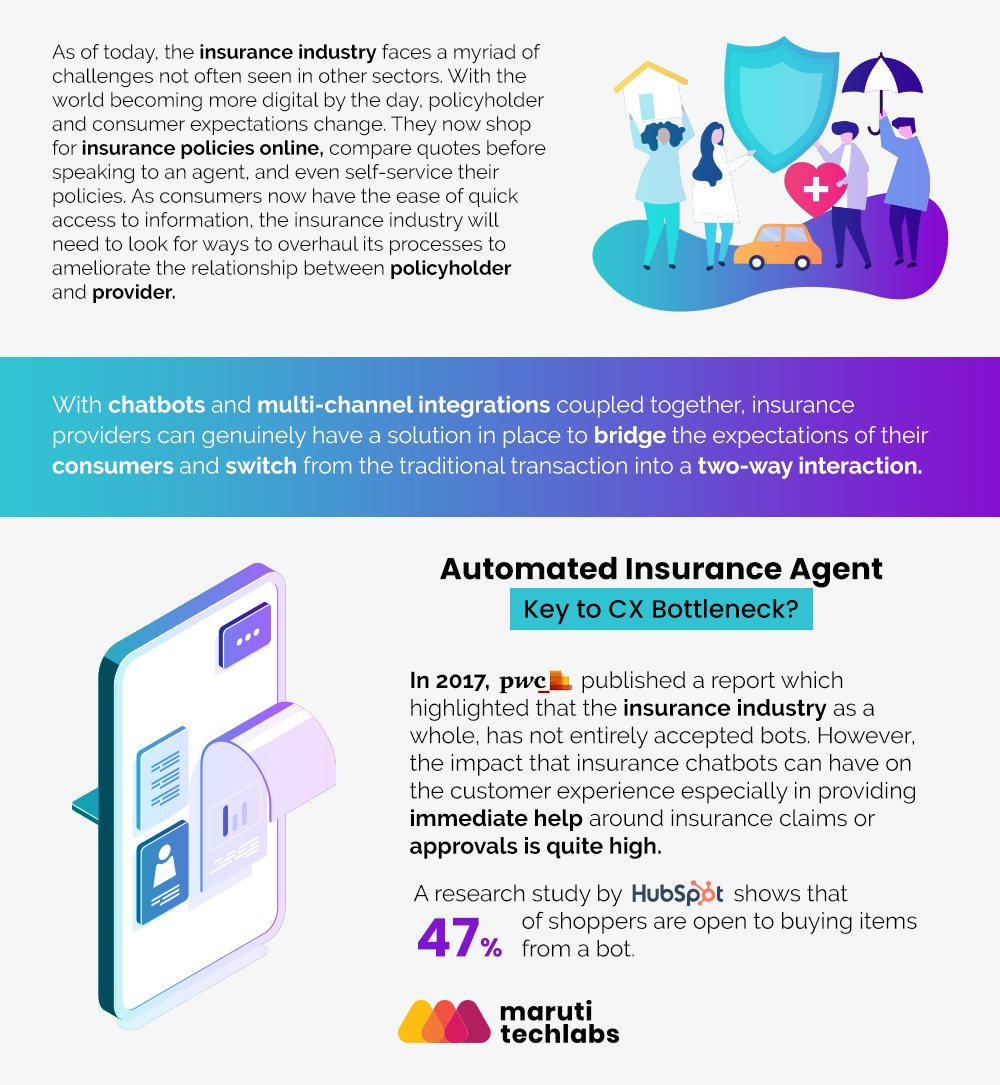 Plain Content isn't Enough
There are times when you want the content on your page to prompt the user to take the next step. For example, if the web page copy is written with an intent to educate the consumer, you may think a chatbot isn't really needed. However, just plain content rarely converts. More and more websites are now banking on conversational AI to attract, activate, and retain customers. Similarly, a chatbot is recommended for a pricing page, to not miss out on potential prospects because of their last moment second thoughts.
Conventional Methods No Longer Work
Don't be under the impression that every user wants to express themselves form. Depending on the purpose, traditional methods may no longer prove to be more useful. For example, a drop-down list isn't the best way to make users browse through the different insurance plans under a category. Similarly, a form with fields isn't the most convenient option for users to get access to information on various insurance plans and their benefits.
Automated Insurance Agent – Key to CX Bottleneck?
Technology has truly transformed the way marketing, and customer success is executed by leaps and bounds. Be it the 'promotions' tab of our inbox, or the friend suggestions on Instagram and Facebook; we are likely to see an array of brands lined up, all vying for our attention. In a world full of clutter, where brands are brutally competing against each other to be a part of our lives, chatbots stand out. Because of the sole reason that they give the user exactly what they're looking for. Nothing more. Moreover, AI enables them to be smart enough to remember the user's past choices and accelerate the process for them. For example, if a customer is a frequent traveler, then an intelligent chatbot should suggest the most suited travel insurance plan to them.
In 2017, PwC published a report which highlighted that the industry as a whole, has not entirely accepted bots. However, the impact that insurance chatbots can have on the customer experience especially in providing immediate help around insurance claims or approvals is quite high.
A research study by Hubspot shows that 47% of shoppers are open to buying items from a bot. This is because bots enable user-prompted transactions for ordering a new jacket, sending flowers to your beloved, or paying your insurance premium, thus adding to the convenience of the user by cutting down on time spent on additional redundant steps.
However, at the same time, you need to be wary of the thin line between customer experience and sales. A chat with the user shouldn't be straying towards an insurance sales pitch when they're more interested in filing an insurance claim. Here's a really good resource on designing effective chatbot conversations.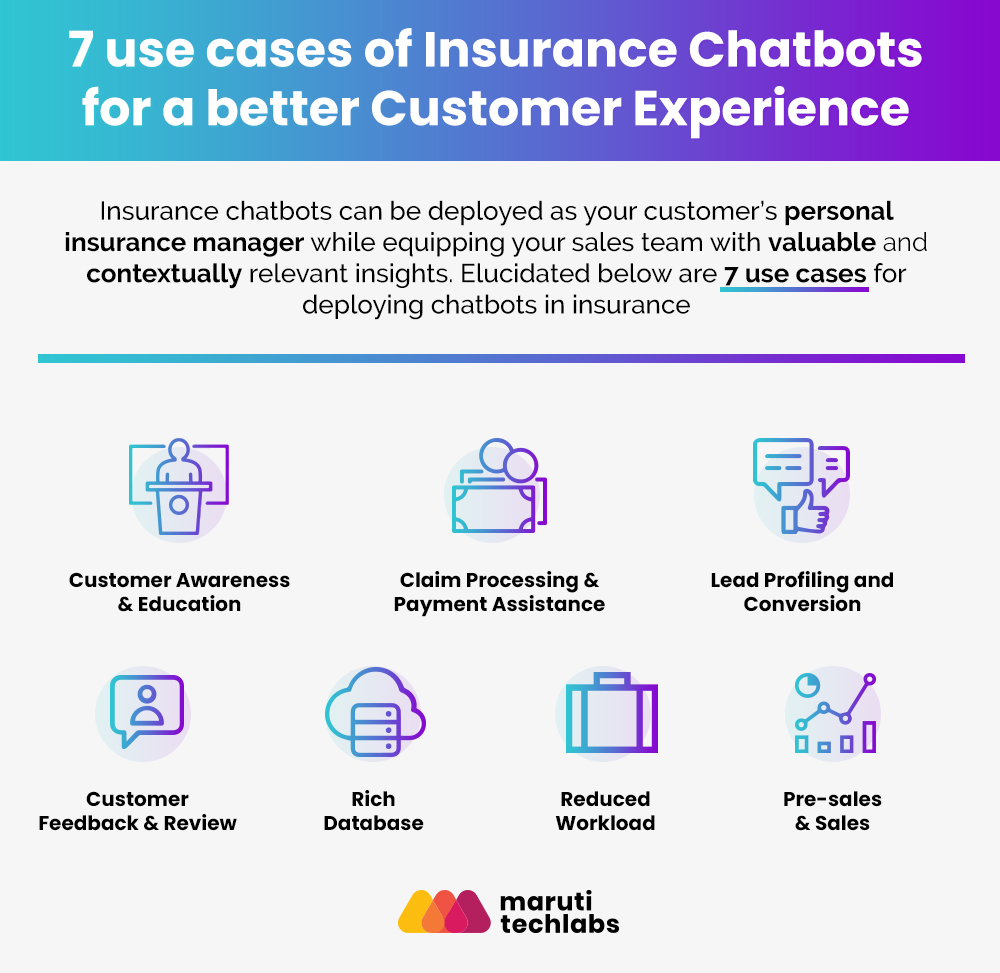 Use Cases of Insurance Chatbots
Insurance chatbots can be deployed as your customer's personal insurance manager while equipping your sales team with valuable and contextually relevant insights. Elucidated below are some of the many use cases for deploying chatbots in insurance –
Customer Awareness & Education
Chatbots in insurance can educate customers on how the process works, compare as well as suggest the optimal policy, from multiple carriers, based on the customer's profile and inputs. That apart, it can engage and interact with every visitor, either on your website or any other channel, thereby increasing conversions.
Claim Processing & Payment Assistance
Bots can be programmed and configured to address your customer's insurance claims and also follow up with them on the existing ones. It can also prompt them for upcoming payments as well as simplify the payment process across the customer's preferred channel.
Lead Profiling and Conversion
Based on the different queries and inputs provided by the users, the bot can segment different and provide them with relevant quotes and information. This data can be instrumental for the sales team as they have the full context of what a potential customer is looking for and proceed accordingly.
Research shows that if a customer query is not responded to within 5 minutes, the odds of converting them into a lead decreases by over 400%. In such situations, the presence of an insurance chatbot not just increases the chance of lead conversion, but also gratifies the user with an instant reply.
Customer Feedback & Review
Research suggests that 73% of customers are more likely to respond over live chat than e-mail, and 56% of users are more likely to contact the business through a message rather than a call. This is because people are used to seeing websites as a static medium, so any kind of engagement happening on the medium makes for excellent customer experience. That apart, they can also encourage customers to drop positive reviews and collect their feedback.
Rich Database
Every business wants to grow its e-mail contact list, and the companies within the insurance space are no exception in this regard. Mostly, all chatbots are programmed to collect the contact details of users interacting with them. These contact details can be added to the user database for social media updates, e-mails, and newsletters.
Reduced Workload
Perhaps the most significant advantage of technological intervention in the insurance industry is automation with not just chatbots, but also RPA. Deploying RPA in Insurance has provided support to help insurance companies in automating a multitude of whole work processes and streamlining a significant number of back-office processes. Similarly, the work-load on the sales and marketing team is considerably decreased through an insurance chatbot, as they are spared from the hassle of individually having to respond to every query, and can focus on converting leads into sales.
Pre-sales & Sales
According to a survey, 53% of consumers are more likely to end up purchasing online if they can message the business directly. One of the benefits of an insurance chatbot is that it can not only bridge the gap between potential customers and your brand by building a relationship, but also distinguish the customers based on their purchase intent. Based on initial conversations, the leads that lie further down the purchase funnel can be assigned higher intent scores, before being passed on to the sales representatives as qualified inbound leads.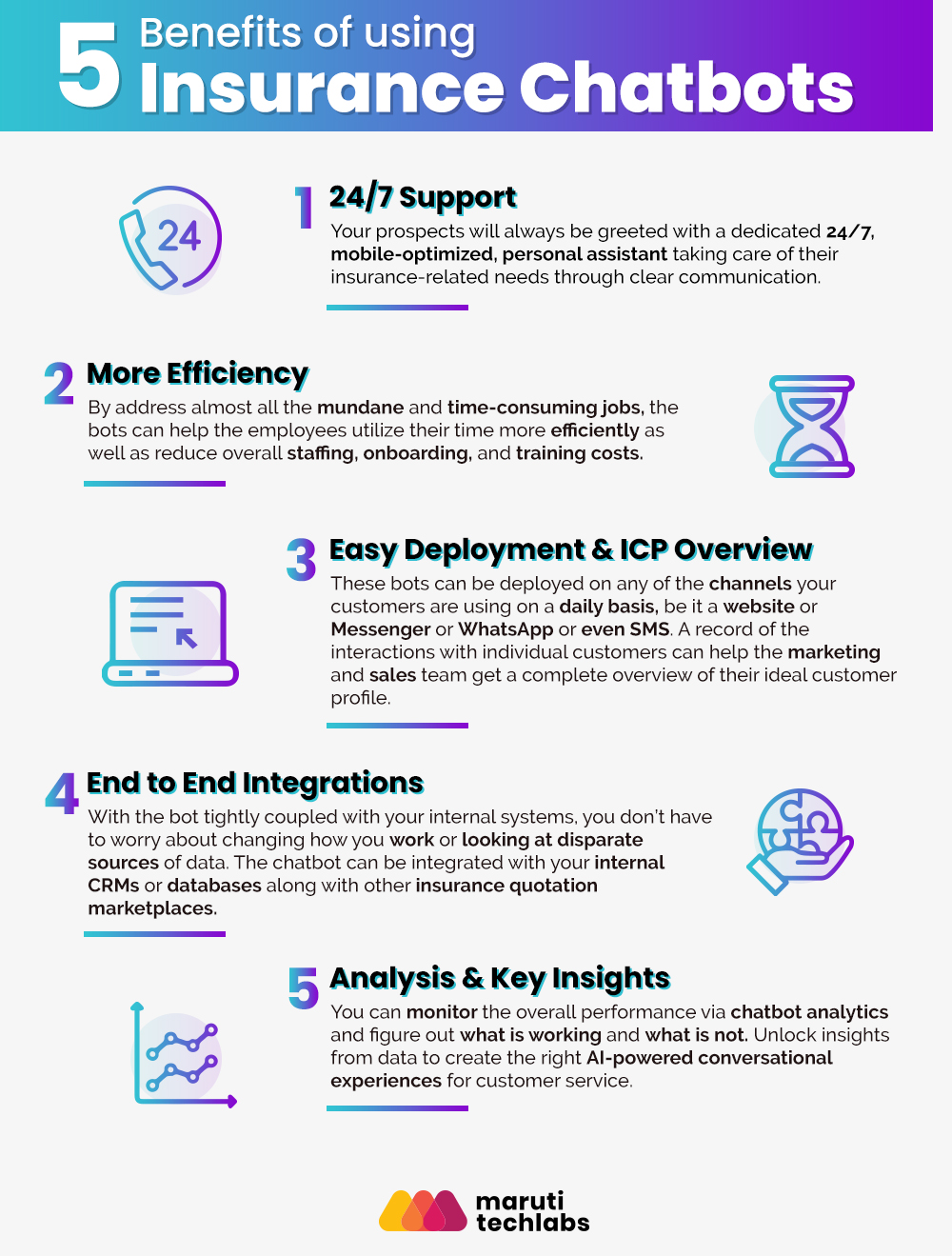 Benefits of using Chatbots for Insurance
24/7 Support
Your prospects will always be greeted with a dedicated 24/7, mobile-optimized, personal assistant taking care of their insurance-related needs through clear communication.
More Efficiency
By address almost all the mundane and time-consuming jobs, the bots can help the employees utilize their time more efficiently as well as reduce overall staffing, onboarding, and training costs.
Easy Deployment & ICP Overview
These bots can be deployed on any of the channels your customers are using on a daily basis, be it a website or Messenger or WhatsApp or even SMS. A record of the interactions with individual customers can help the marketing and sales team get a complete overview of their ideal customer profile. This organized profiling can help you design contextually relevant and highly personalized marketing campaigns.
End to End Integrations
With the bot tightly coupled with your internal systems, you don't have to worry about changing how you work or looking at disparate sources of data. The chatbot can be integrated with your internal CRMs or databases along with tools such as Health Sherpa, CompuLife, Ninja Quoter, eHealth, and more.
You can take a look at the complete set of chatbot integrations here – https://wotnot.io/integrations/
Analysis & Key Insights
You can monitor the overall performance via chatbot analytics and figure out what is working and what is not. Unlock insights from data to create the right AI-powered conversational experiences for customer service. Continually analyzes and optimizes virtual agents or any other conversational experience (whether voice or text), uncovering gaps, and suggesting fixes.
Conclusion
In 2019 and beyond, consumers are looking for –
Better Engagement
Instant Gratification
Relevant & Contextual Service
24/7 Availability
Ability to Self Serve
The end goal for every insurance chatbot is to make every interaction as human, as personalized, and as native to the parent site, as possible. Something that holds true for a top insurance agent as well.
How great would it be? To have that one employee that interacts with EVERY SINGLE PROSPECT on your website or social channels, and extended help with either sales or customer support, round the clock. Our chatbots, are those employees.
At Maruti Techlabs, we have deployed AI chatbots for the insurance industry through our own chatbot development platform – WotNot. These bots have been distributed across the following types –
Health Insurance
Auto Insurance
Property Insurance
Travel Insurance
Rental Insurance
Homeowner Insurance
If you'd like to develop a chatbot for insurance, drop us a note on hello@marutitech.com or just 'Get In Touch' with us. We'd be happy to chat, learn more about your use case and build an interactive chatbot that can assist you in increasing conversion and customer retention with the power of conversational AI.