Every day, the insurance industry deals with overflowing amounts of monotonous clerical jobs which result in reduced customer satisfaction and serious time sinks. In the course of handling day-to-day insurance operations like underwriting, claims processing, policy servicing, etc., insurers are flooded with overwhelming levels of routine, repetitive and operational tasks. This has contributed to rising costs and stalled growth in the insurance space. RPA in Insurance is well and truly touted to be the technology that significantly positions the industry as a whole to become more efficient and customer focused.
Robotic Process Automation (RPA) is one such emerging technology trend which can empower insurers in building a high-growth responsive business while optimizing cost. RPA (or software bot) emulates transactional, administrative tasks which are repetitive, rules-based and require no decision making or strategizing. It takes the robot out of the human, as stated by Leslie Willcocks, the well-known professor of technology, work and globalization at the London School of Economics.
RPA can accomplish repetitive tasks more quickly, tirelessly and more accurately than humans. This, in turn, frees them up to focus on those tasks that require human strengths such as reasoning, judgment, and emotional intelligence, thus creating more value for their organizations.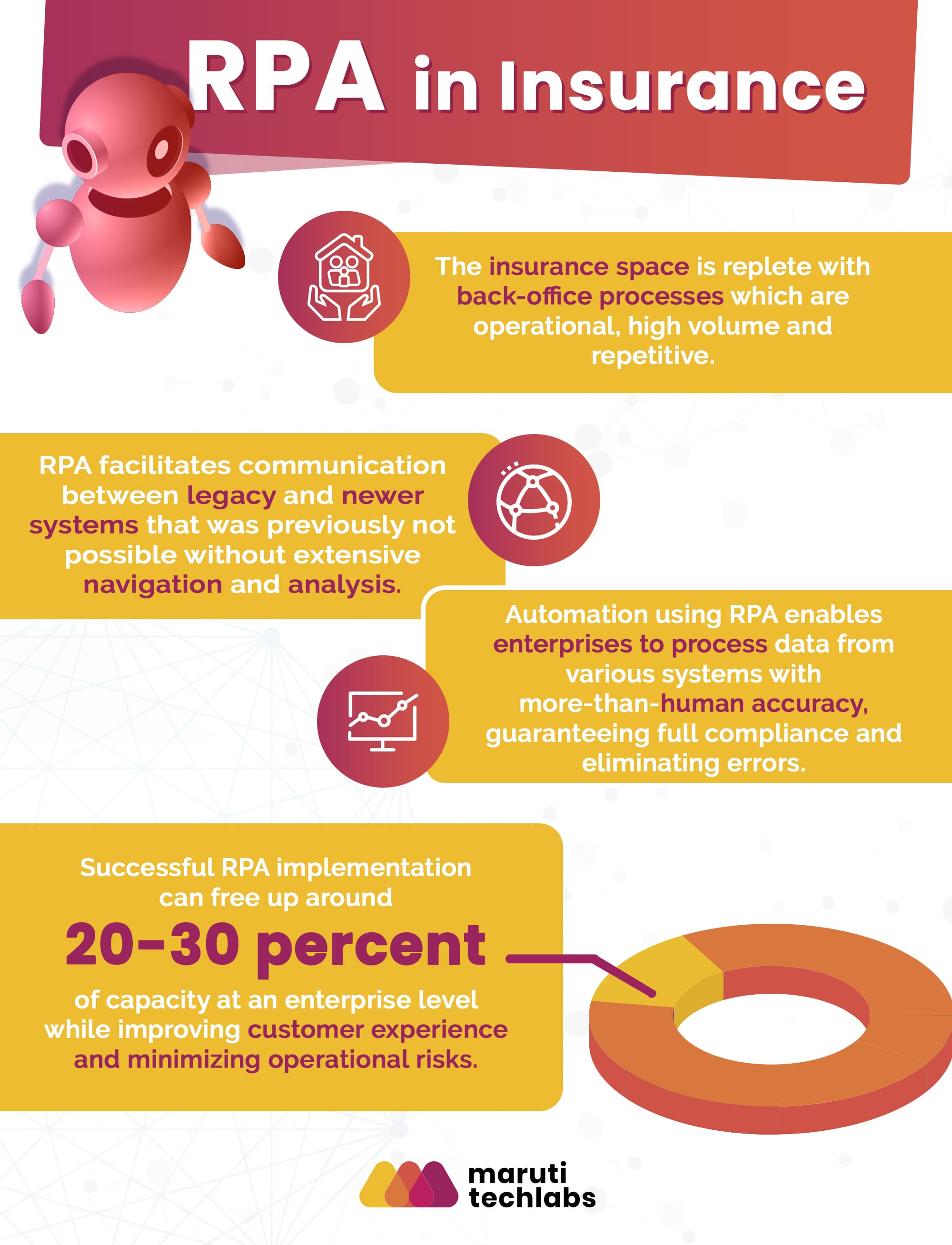 What makes RPA in Insurance industry a natural fit, is the fact that it can automate the end-to-end process lifecycle by integrating new front end technologies with back-office environments. Let us have a look at some areas of the insurance industry where it can be implemented –
Claims Registration and Processing
Claims processing require companies to gather a vast amount of information from a number of sources, creating exhaustive quantities of data. Current claims systems lack functionality as well as flexibility and have reached their practical limits which has resulted in excessive levels of manual processing. In turn, this has inhibited efficiency and flexibility, thus slowing down service and negatively affecting the customer experience. We are now starting to see AI being inculcated within the claims management process extensively to cut down on processing time.
RPA in Insurance makes it possible to integrate all the different claim processing information from multiple sources. Robotic Process Automation has a myriad of business benefits, however, within the context of an insurance industry, it can automate the manually intensive processes like extraction of data, complex error tracking, claim verification, integration of claim relevant data sources and more; consequently speeding up the process and creating a better customer experience.
Underwriting requires the evaluation of risk and exposures of clients. This involves gathering information from various sources and assessing the risks associated with the given policy. A great deal of data scrambling, analyzing, and determining the risks involved before landing on a conclusion takes more than 2-3 weeks on an average.
Robotic Process Automation automates the process of data collection from various external and internal sites, thus considerably reducing the time taken for underwriting. It can also be used to populate multiple fields in the internal systems with relevant information and produce a report or make recommendations while assessing the loss of runs, thus automating the process which forms the basis for underwriting and pricing of products.
The insurance sector faces strict guidelines for documenting work and creating audit trails. Regulatory scrutiny of the insurance space has never been more acute than it is today. With a multitude of tedious and error-prone processes in insurance, the risk of a regulatory breach increases multifold.
Automation is instrumental in helping companies improve regulatory processes as it essentially replaces the need to devote significant staffing to go through operations to enforce regulatory compliance manually. Validating existing customer information, regulatory report generation, sending out account closure processing notifications are a glimpse of the scenarios which RPA in Insurance can automate.
Process and Business Analytics
Insurance companies can improve and serve customers better only if they can measure what they are doing. The vast number of operational and paper-intensive processes make it difficult to track and measure operational efficiency or identify areas of improvement.
With automation processes in place, the tasks performed by software robots can be tracked easily, without involving manual efforts and a number of transactions processed while exceptions encountered can be effortlessly measured using RPA in Insurance. The audit trail provided by RPA helps with regulatory compliance which further supports process improvement. Therefore, claims and customer service response times are improved, and customers are benefited with streamlined applications.
Policy Admin and Servicing
From quoting, rating, underwriting to distributing customer services – policy administration links all the functions of an insurer. Current policy administration systems that have been around for decades are expensive and high-maintenance. They cannot scale quickly enough to meet the growing demands of customers or support business growth.
While current management softwares & systems have saved us a lot of time and labor, they have also introduced extensive navigation through multiple applications which in turn gives rise to operational inefficiency.
RPA in Insurance allows all key players within each process or each silo to accomplish a plethora of operations easily without involving vast navigation across systems. It essentially automates transactional and administrative parts of activities such as accounting, settlements, risk capture, credit control, tax, and regulatory compliances.
The insurance space is replete with back-office processes which are operational, high volume, repetitive and time consuming in general. According to Accenture, a successful RPA implementation can free up around 20-30 percent of capacity at an enterprise level while improving customer experience and minimizing operational risks.
Freed from mundane and routine tasks, back-office staff can be redeployed into front-office roles where they can focus on complex customer demands and generate growth. Let us have a look at some other scenarios where RPA in insurance can make the processes more efficient.
Form registration is a redundant, but necessary task in the insurance space. RPA can automate and assist process completion in just 40% of the actual time taken, with half the workforce required.
Policy cancellation involves many transactional tasks such as tallying cancellation date, inception date, policy terms, etc. With RPA in Insurance, policy cancellation can be carried out in just one-third of the time.
RPA can ease the challenging and daunting task of sales and distribution in insurance. Creation of sales scorecards to push notifications to agents, conducting compliance, legal and credit checks are some of the processes that can be automated and established.
RPA systems can perform clicks, keystrokes, pressing buttons, template auto-fill, copy-pasting information, field-entries and more, thereby automating a significant portion of daily bank reconciliations and minimizing transactional expense as well as policy-cost footprint.
Integration with Legacy Applications
Insurance companies still rely heavily on legacy applications for business processes handling and implementing ERPs or BPM systems is truly quite challenging as it requires integration with legacy apps. RPA can very well fit into the existing workflow of the insurance companies and what's better is that a well-planned RPA implementation can comply with any type of available system.
One of the significant advantages of Robotic Process Automation in Insurance is that it is scalable given that any number of software bots can be deployed as per the need of the insurance company. What's more? Additionally deployed RPA bots can be rolled back as required, at no extra cost!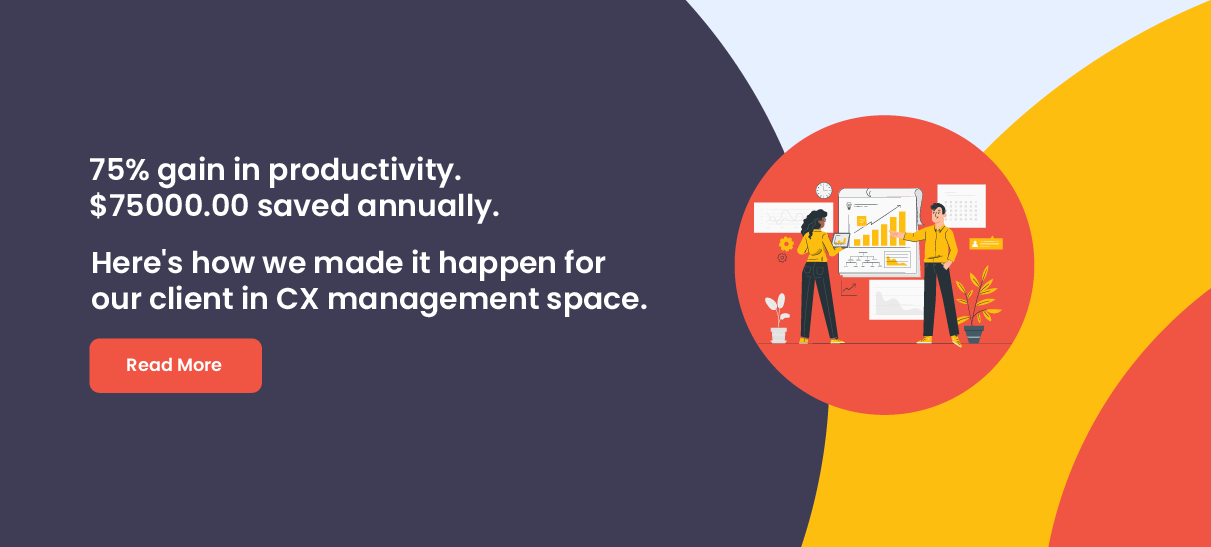 Scaling RPA in Insurance with Bots
The urgency of digital innovation within the insurance space is very well reflected by Scott Simony, Head of Industry at Google who says, "Insurance is a highly regulated industry and it is not easy to move quickly, but the fact is consumers are moving at exceptional rates. So the companies that will stand out are the ones that are going to find ways to move a bit faster, at the pace of the people they're insuring."
Insurers can move at the pace of their customers using RPA given that it facilitates easy collection of policyholder's details, collecting information from previous years' claims documents with other relevant data, thus enabling insurers settle insurance claims expeditiously.
Besides reducing operational costs and enhancing productivity levels, these applications provide growth opportunities and increase business efficiency.
Using RPA bots, following functions can be automated:
Data entry into key systems
Download policyholder data from multiple sources
Read and scan data
Data compilation from multiple systems
Verify insurance period
Flag mismatch/errors in data
Generate follow-up alerts
Provide quick approvals
All-round view of available data to customer support staff
Foundations of a Successful RPA Plan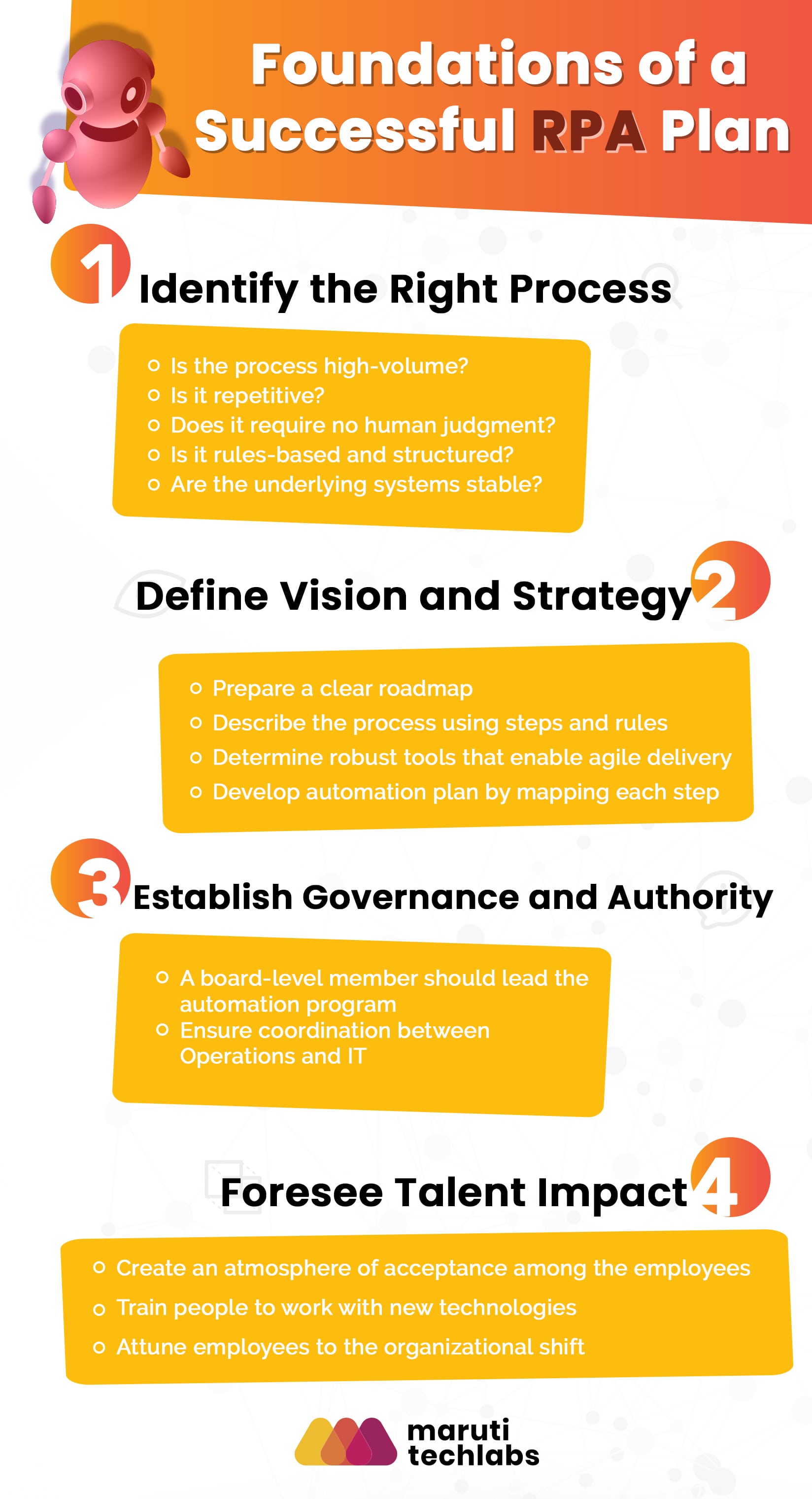 The insurance industry tackles a wide range of paper-intensive and monotonous jobs, which makes it an ideal prospect for automation. However, the practical implementation of RPA in Insurance industry is far more complicated and the impact is multi-dimensional. Hence, it requires effective planning and impact prediction on various departments of the organization. Elucidated below are some steps that are essential to ensure successful a RPA implementation –
Identify the right processes
To identify opportunities which are best-suited for the implementation, it is essential first to conduct a top-down diagnosis of end-to-end processes. Questions like whether the methods need to be standardized or re-engineered before getting automated have to be addressed during the course of this step.
Define vision and strategy
Establish a clear strategy and roadmap to gauge RPA implementation. Important checkpoints in defining the strategy are a) describing the process flow using steps and rules b) determining robust processes/tools that enable agile delivery and c) developing automation plan by mapping each step of the process.
Establish governance and authority
Ensuring that a C-suite member is leading the automation program goes a long way in securing timely checkpoints. There should also be coordination between the IT and Operations department to maintain Business As Usual (BAU).
Foresee Talent Impact
This happens to be perhaps the most overlooked aspect of RPA implementation projects. Impact of automation on traditional roles and ensuring stakeholder buy-in is essential and cannot be bartered. A disciplined approach is critical in ensuring the best way to engage the workforce and as an organization, it is vital to create an atmosphere of acceptance among the employees. As mentioned before in this article, insurers need to focus on redeploying talent to support front-office activities. This way, RPA programmes are more likely to be seen in a positive light by the employees.
RPA Success Stories
In an insurance company studied by Leslie Willcock, a particular process used to take two days to handle 500 premium advice notes, which now takes only 30 minutes. Leslie goes on to say "In the longer term, RPA means people will have more interesting work. For 130 years, we've been making jobs uninteresting and deskilled."
One global insurer, after implementing RPA, was able to shorten a reporting process from three hours to three seconds. Another global consultancy firm was able to save 54,000 hours of work annually while reaching 85% accuracy improvement, using RPA.
According to a report from Capgemini, productivity increases an average of 50% in business units where insurers apply RPA. Companies in highly regulated industries like banking and insurance are finding that automation is a speedy and inexpensive way of applying superior capability to the trouble of compliance checks and documentation.
The same report (stated above) also estimates an 80% reduction in turnaround time for service delivery. Also, besides improved accuracy and security, regulatory compliance reaches 100% when the right coding is applied to appropriate processes. Regarding costs, investment recovery is typically seen within the first six to nine months of implementation.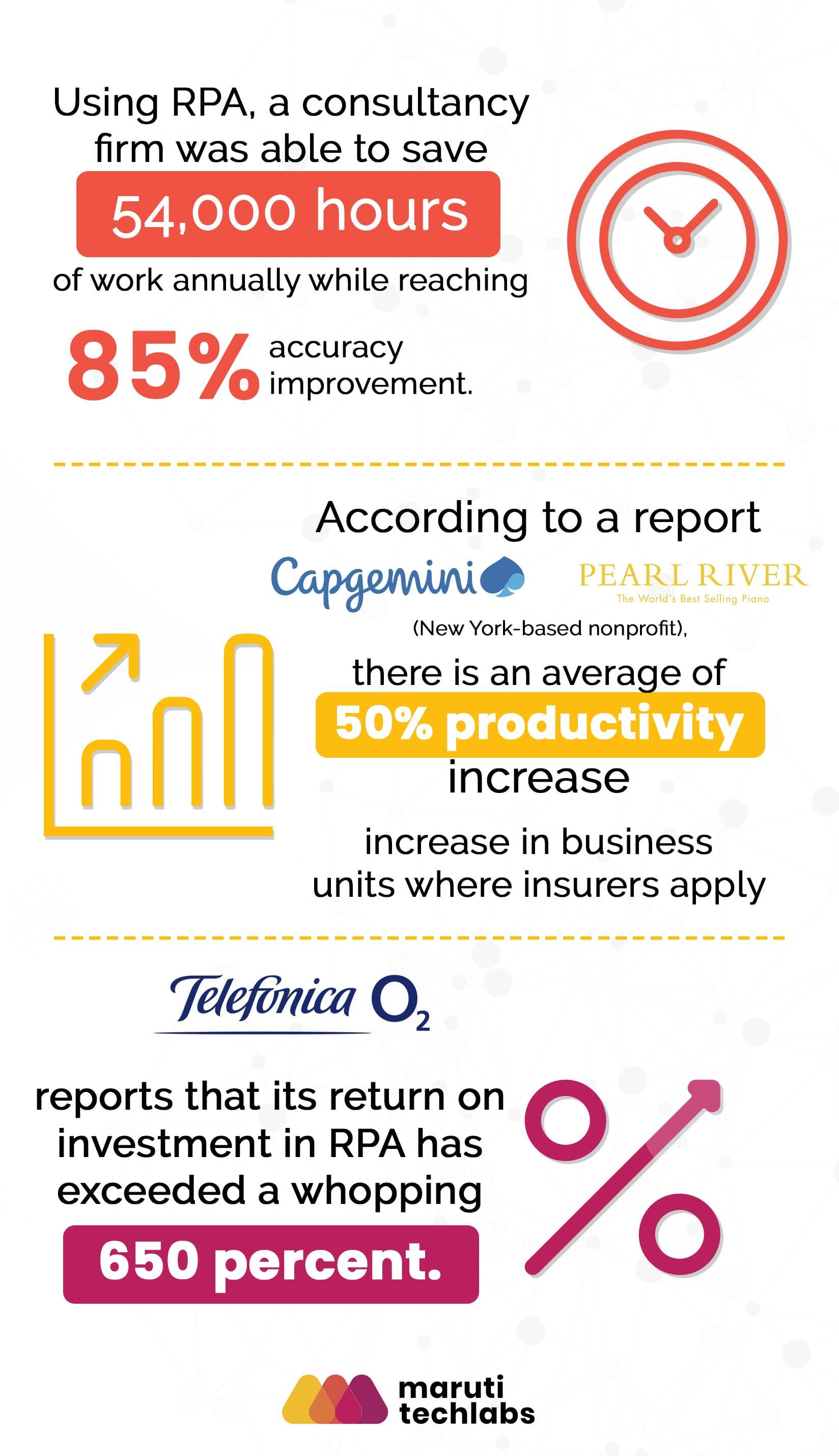 44 percent of insurance attendees at FSARCF (Financial Services Audit and Risk Committee Forum) believe that the insurance industry business model will change dramatically and 'most existing insurers will not survive in their current form'.
PwC also reports that the growing adoption of automated processes and AI by leading insurance players has resulted in heightened participation by outside investors who see promise in the industry's future.
RPA enables established governance of compliance reporting and overall processes, providing 100% transparency into processes that otherwise went unmonitored. With RPA in insurance, more and more insurers are now able to reduce costs and improve processing time for their policies, resulting in delighted customers and improved organizational productivity.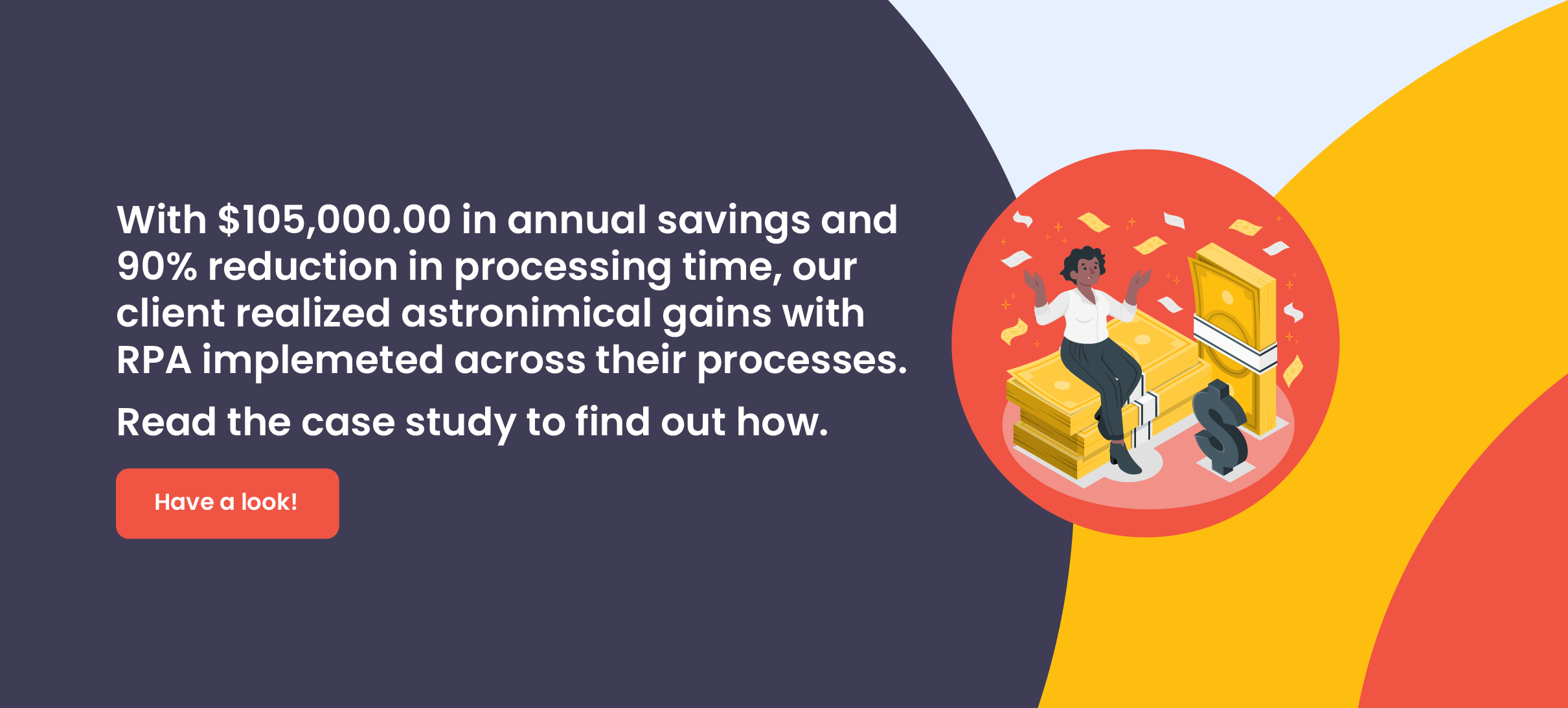 Conclusion
Insurers continue to be challenged by quickly evolving customer needs and heightened competition. With the insurance industry being highly dependent on the efficiency of the back-office processes, insurers have started adopting RPA to automate transactional, routine, rules-based operations so that capital and talent can be repurposed for more complex and strategic tasks. Robotic Process Automation is being used to promote lasting success opportunities and a productive marketplace.
RPA can help insurers achieve elevating profits, better compliance, lasting company growth, and top-notch customer service, while lowering costs and minimizing customer dropout rate. Citing the flexibility and benefits that automation can deliver, its adoption by insurance sector is only expected to become inevitable.
We, at Maruti Techlabs, provide end-to-end RPA solutions specific to your organization. We use RPA as a broader strategic tool to help you get more out of it. Right from assessing the feasibility of a proposal for a business unit to developing a scalable program to implementing solution across your business, we walk the extra mile with you. We fully support you in analyzing the best automation opportunities that bring quick results while propelling your business to the next level.
Choose the right people to reap the extensive benefits of RPA in Insurance. Drop us a note at hello@marutitech.com, and we'll take it from there.