Robotic process automation (RPA) is an incredible tool for businesses (of any size) due to its ability to increase innovation, enhance productivity, and help companies deliver a much better customer experience. RPA, in the last few years, has become a powerful automation technology used across businesses. Using software robots to communicate with business applications, it not only reduces the burden on employees but also streamline processes.
Sounds interesting? Well, it definitely is.
But, businesses still want to be sure if an RPA solution will be worth the initial advantages it offers. There are several effective tools available today for measuring the impact of process automation, which companies can leverage to arrive at a decision, in order to implement more effectively.
However, convincing stakeholders that process automation is indeed a competitive advantage requires much more than listing the benefits of this same.
Importance Of RPA ROI Metrics
RPA performance metrics are absolutely essential to make a convincing case for automating business processes as it offers a transparent and quantitative demonstration of its operational as well as financial impact on the business.
Proving that RPA will be instrumental in enhancing productivity, innovation, customer experience, and cost control, companies get the advantage of increasing buy-in across the enterprise while ensuring the success of their initiatives.
The process of using ROI as a benchmark can be broken down into three primary phases:
Initial phase – Before implementation, project managers can use ROI data and parameters (from other implementations) to build the case for RPA.
Interim phase – With the progress of the RPA implementation project, organizations need to understand and collect ROI data, including customer experience, as it helps in both validating initial assumptions as well as identifying areas for improvement.
Ongoing phase – As RPA technology continues to evolve, it has been applied to a growing number of business processes. Businesses should, therefore, continuously track the ROI of RPA implementation and look for more areas that could benefit from automation.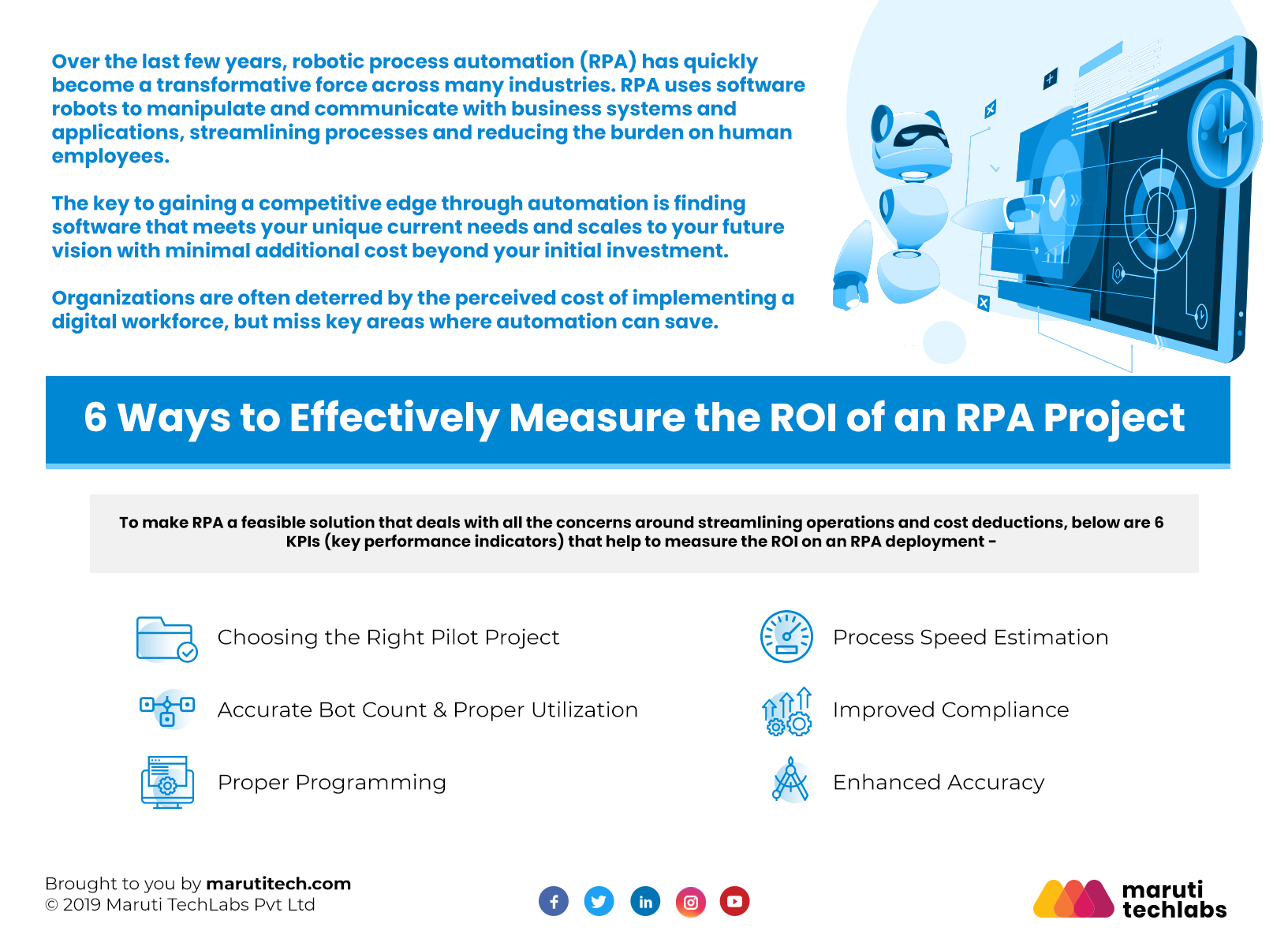 6 Ways to Effectively Measure the ROI of an RPA Project
Although there are several metrics available to assess the qualitative benefits of RPA, tracking the ROI of Robotic Process Automation also allows you to plan for the future automation journey towards company-wide use accurately.
To make RPA a feasible solution that deals with all the concerns around streamlining operations and cost deductions, below are some of KPIs (key performance indicators) that help to measure the return on investment of an RPA deployment.
1. Choosing the right pilot project
It is essential for businesses that they choose the right processes for automation. Picking up processes that are either repetitive in nature or prone to errors leads to a significant increase in ROI.
2. Accurate bot count and proper utilization
Often, businesses wonder why they aren't able to achieve the expected business value even after deploying a multitude of bots. The need here is to focus on proper utilization of bots keeping in mind both the short term & long term business goals with the aim of achieving higher ROI.
3. Proper programming
Businesses need to understand the fact that software robots are programmed to follow instructions, and will only perform the tasks assigned to them. In order to achieve more significant automation ROI, the bots must be appropriately programmed for efficient and faster completion of a myriad of tasks.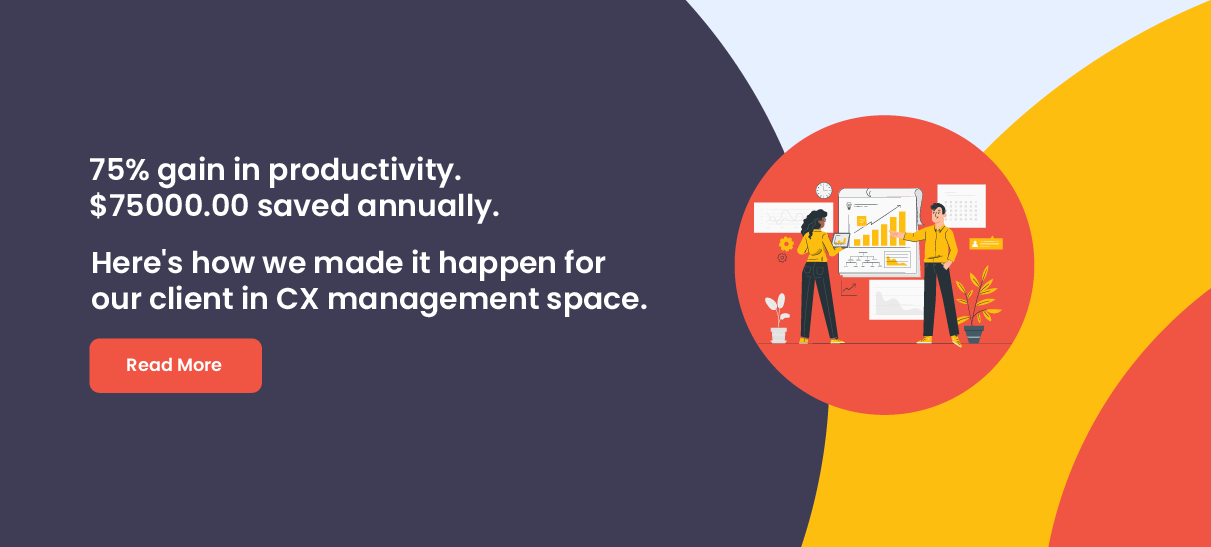 4. Process speed estimation
Estimating process speed is yet another vital metric to measure the ROI of your RPA deployment, especially for back-office processes. It is absolutely essential to compare the total time taken from input to output once the bots are deployed for the completion of a particular task to assess the overall increase in process velocity. The fact that software robots work continuously without needing breaks, tasks associated with the processes are bound to be completed much faster.
5. Improved compliance
Robotic process automation can be instrumental in managing the compliance hassles usually faced by businesses. By ensuring that you include automatic compliance check-ups in the workflow, all the compliance & regulation criteria can be easily dealt with. Moreover, robots are also equipped to handle the task of regulatory reports production, thus improving the speed as well as the accuracy of the processes.
6. Enhanced accuracy
Accurate and faster outputs indicate increased productivity of the business. E.g., robots reduce the manual workload substantially, which can be evaluated by output quality and compliance improvement as well. It is, therefore, safe to say that the rise in productivity is a combined measure of the improved outcomes obtained via robotic process automation deployment.
Deep Dive into the Pricing and Cost of an RPA Deployment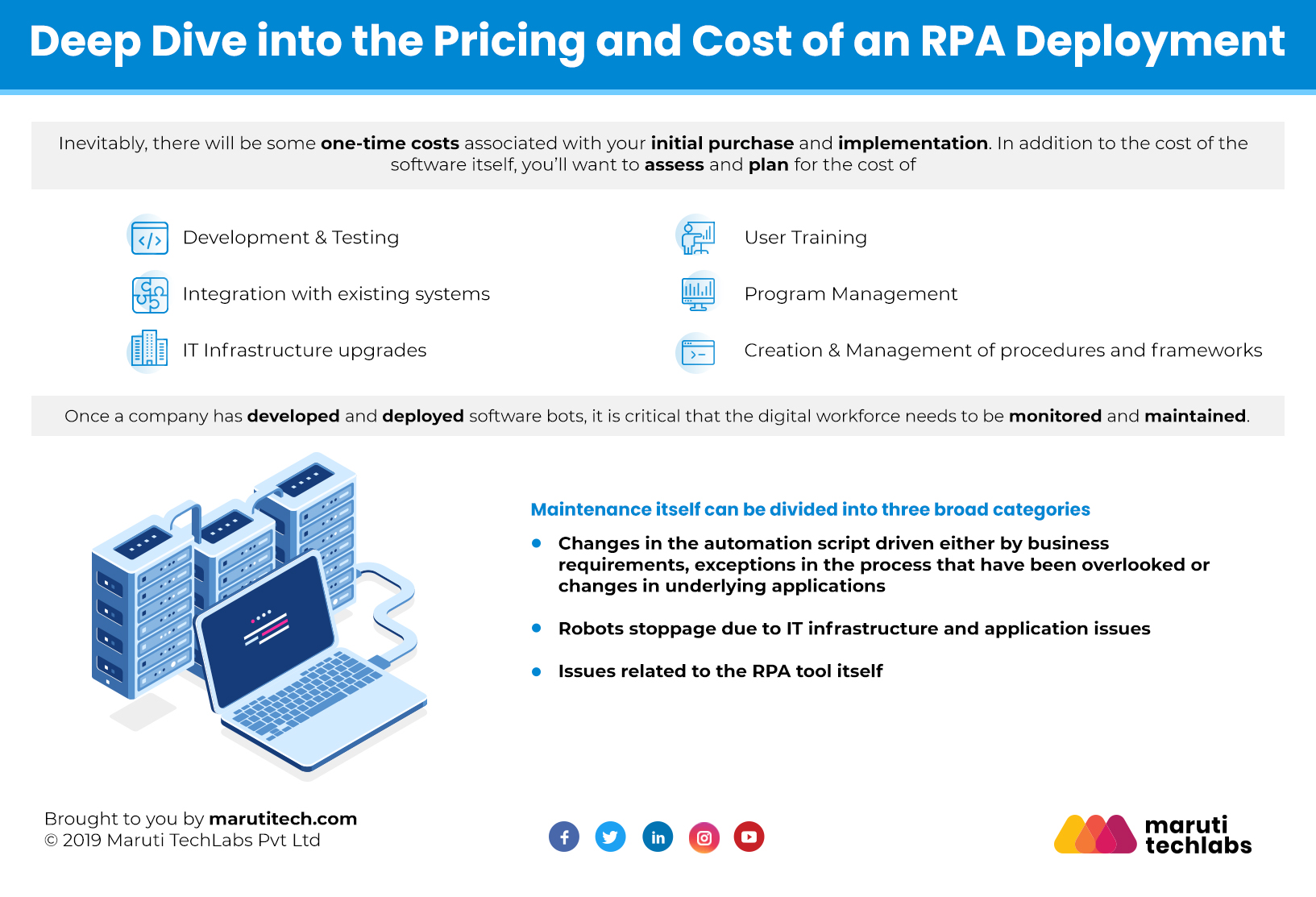 Apart from tracking the apparent business benefits of RPA, such as reduced costs of implementation and the cost savings in the form of fewer paid holidays to the employees, it is also crucial to understand the overall cost of owning/deploying an automation solution in the first place. The cost can primarily be broken down into –
Development and Testing cost
The development and implementation costs associated with RPA deployment do not have to be significant. In general, they are relatively low, allowing businesses to achieve a positive ROI quickly.
In fact, a well-defined RPA solution can be implemented in much lesser time as compared to other contemporary technologies allowing businesses to see benefits much faster. However, making the choice between developing and implementing automation solution in-house or have it custom-developed by an experienced RPA implementation partner can have a significant impact on the ROI of the RPA project.
Apart from the initial development & implementation costs, there can be recurring costs associated with a successful RPA implementation. Among these include labor, licensing, and management. It is pivotal that the companies must optimize and monitor these costs to make sure that they are maximizing the return on their automation initiatives.
Cost associated with change
The fact that new-age technologies are continually evolving/changing makes it mandatory for businesses to ensure that they're making the most of these technologies to deliver on customer expectations. RPA solutions must also be adapted, keeping such changes in mind. It is essential to factor in the cost associated with such modifications to the RPA project estimates.
Although the expense for managing the RPA scripts isn't huge initially, it increases gradually as your business or need for additional process optimization goes up. This is the stage when different departments, such as HR, Finance, and Operations, need to deploy their own RPA scripts to drive efficiencies as a team.
The primary objective of this management team is to manage as well as evaluate the continued necessity of each of this RPA script, in order to save cost and increase productivity. For businesses considering RPA, it is crucial to consider all these costs before initiating their automation journey.
Calculating ROI of an RPA Project? Be Realistic
It is important to have realistic expectations and a practical plan with well-defined targets and milestones while calculating the impact of an automation deployment. This section aims to highlight the key considerations that companies need to take for the same –
1. Setting Expectations and ROI Goals
To ensure that the RPA project delivers a positive ROI, it is essential to focus on value delivered at every step of the process. Setting proper expectations, goals, and detailed strategies for implementation together helps in accomplishing this.
Some of the questions you need to answer here include –
What is the intended outcome of the project?
What are the benefits of automation and its overall impact on the organization in terms of processes, technology, resources, and end-users?
2. Make ROI-focused estimates
To justify the RPA initiative and lay a roadmap for success, companies need to make estimates which are ROI-focused, including efficiency benefits, capital & operational expenses from processes, people & customers.
3. Developing an Operating Model
If companies need to ensure that the RPA project they are planning to implement is just not a one-time investment and delivers a return continuously, it is essential to develop a well-defined RPA operating framework. Training employees to manage and optimize end-to-end automation deployment plays a key role in accomplishing this objective.
4. Creating a Center of Excellence
Having a Center of Excellence (CoE) that aims to build a strong culture of continual monitoring and improvement within existing processes is something that companies need to focus on for successfully measuring automation ROI. The idea of this CoE is to develop use cases that can be used for other standardized structured processes.
5. Targeting the Right Processes
If you wish to build robust support for the future automation projects of your company, it is important to achieve a positive ROI early in the automation journey. Automating mundane processes will allow companies to see the benefits of RPA sooner and also prove that it can deliver a positive ROI in the future. Not only does this offer deep insights into improving future processes, but it also helps to develop a business case for a successful RPA implementation.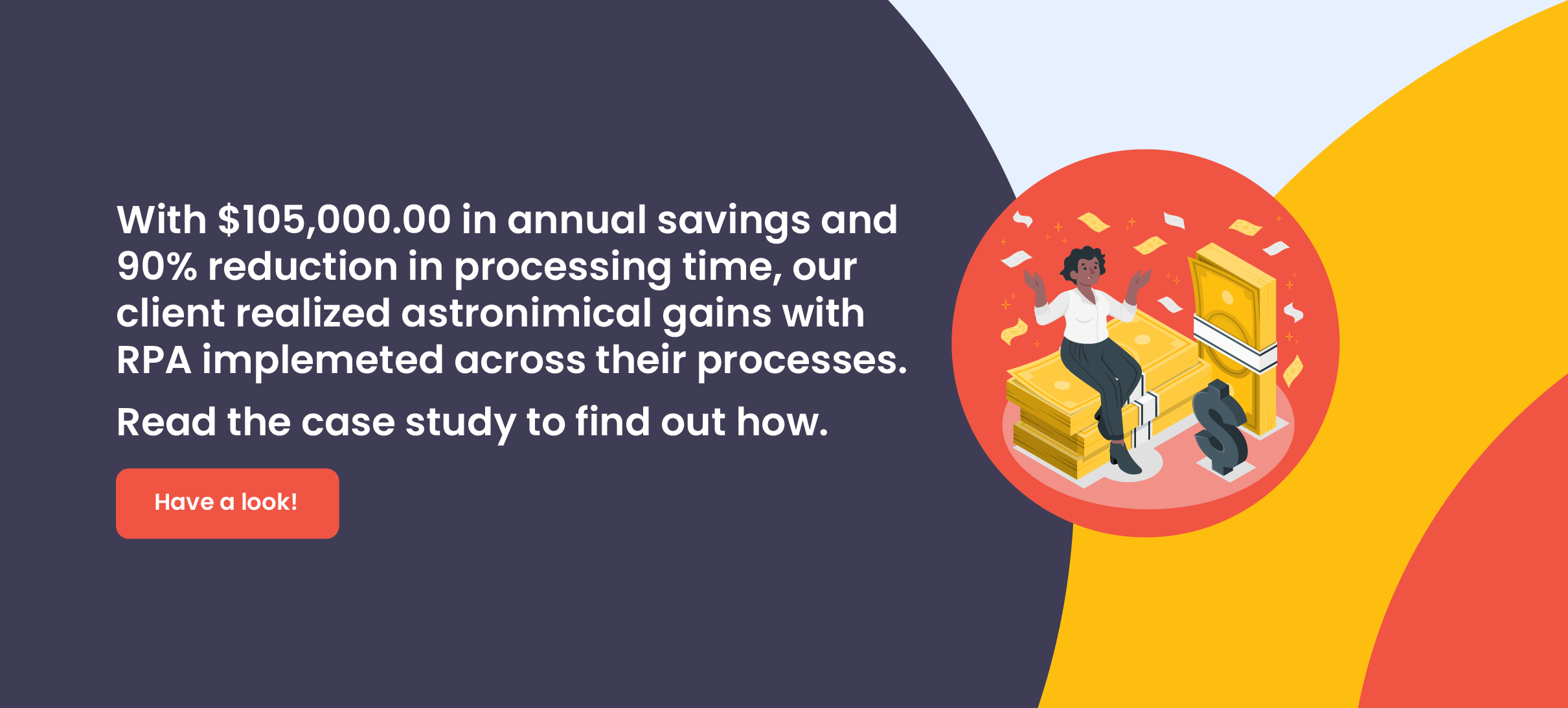 To Wrap Up
There is no denying the fact that RPA solutions offer the advantage of efficient processes and significant cost-savings to companies. However, businesses looking to adopt robotic process automation services need to understand the key performance metrics to measure the ROI of RPA accurately as well as to take into account various costs associated with deploying the project.
With a detailed and thorough understanding of an expected automation ROI, companies will not only able to make effective decisions about automation technology but also justify the investments to the stakeholders.
If you wish to deploy RPA effectively in your organization, it is imperative to make ROI a significant focus during different stages of deployment -planning, implementation as well as governance.