Robotic Process Automation (RPA) continues to garner significant attention from businesses for a multitude of reasons. Not only does it boost your profit, but it also makes your employees more productive. RPA also works wonders for your business efficiency.
Despite the positive impact of RPA on business, many entrepreneurs are still apprehensive about this technology. This post aims to educate you on the business benefits of Robotic Process Automation, which will help you embrace RPA.
Towards the end of this post, you will realize that implementing RPA in business is definitely worth your dime. RPA is all about automating repetitive and monotonous tasks so that your employees can divert their complete attention towards more fundamental ones.
Read on to understand the advantages of using RPA in business and its usage in different industries.
How Does RPA in Business Help?
Ever since its inception, Robotic Process Automation has revolutionized the way businesses work. Companies in all sorts of industries or markets utilize RPA to automate mundane tasks that require little or no involvement of human beings.
Thanks to RPA, you can:
Invest your resources in core business operations
Encourage employees to learn and take up more critical functions
Save huge costs by automating mundane day-to-day functions
Minimize chances of error
Increase the overall efficiency of your organization
Benefits of RPA in Business
Listed below are the 12 significant benefits of RPA in business processes, explained in detail: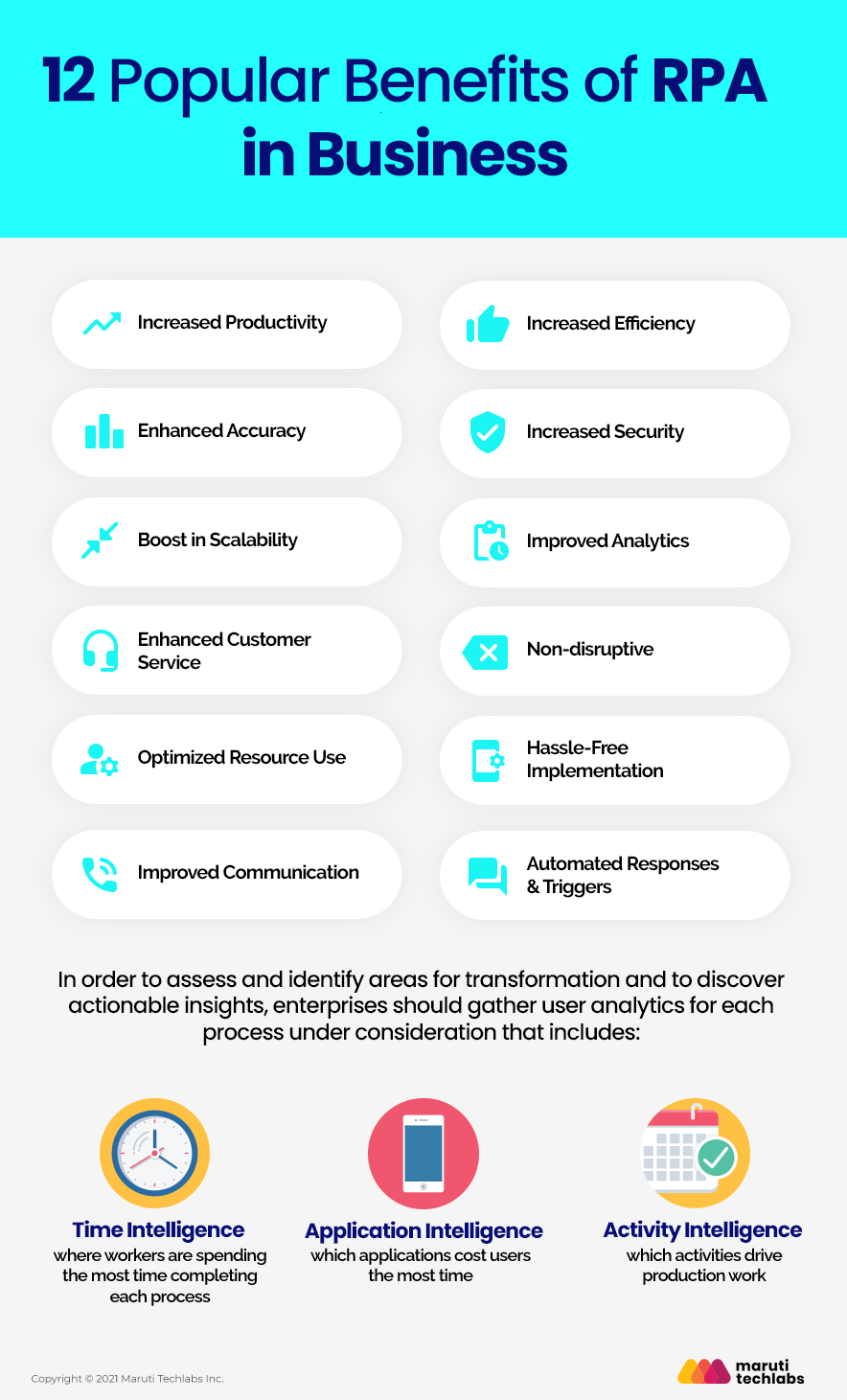 1. Increased Productivity
Most RPA robots are designed to focus on performing specific routine tasks. Let's take an example. If a human employee takes four hours to report, RPA allows the same employee to finish the report in 20 minutes.
Think about the cost and time you would save. As established with the example, RPA has not replaced human beings. The technology assists them in completing the same amount of work in less time. It means that your employees will be more productive if they work with RPA.
After implementing RPA in business, you need to train your employees to leverage the technology to their advantage.
2. Increased Efficiency
Next on our list of business benefits of Robotic Process Automation is efficiency. Human efficiency is limited because they can dedicate only x number of hours in a day. The variable x here depends on individual capacity.
However, RPA software does not need a break. Neither does it need sick leaves or vacation. You can use it to your advantage 24/7 and 365 days a year. Generally speaking, one RPA robot can perform as many tasks as 2-5 full-time employees can achieve manually.
We have highlighted how RPA can execute the same amount of work in a lesser duration with an example below. RPA robots can complete more volume of work in that same duration.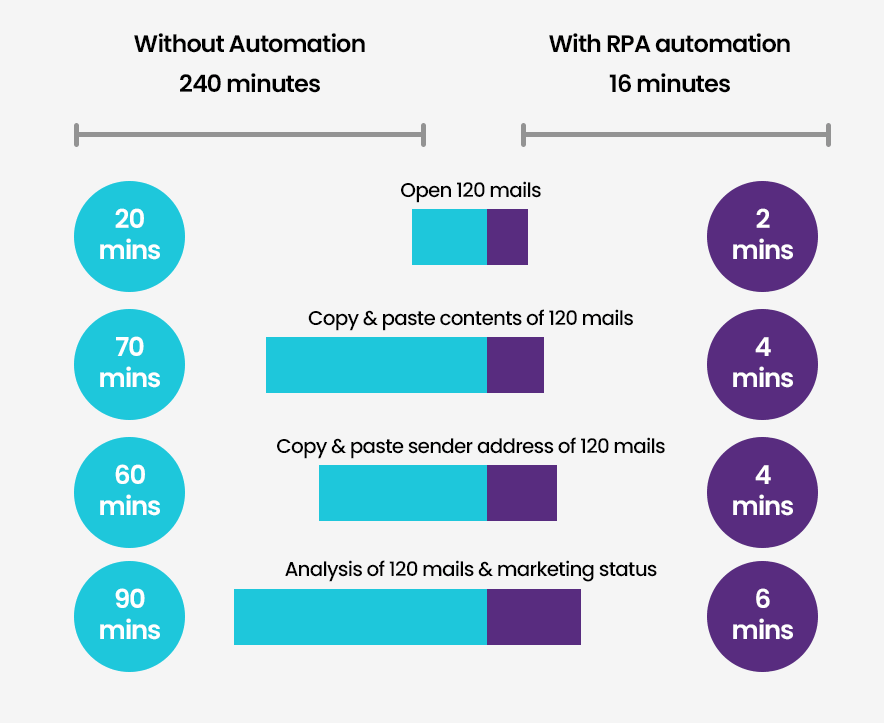 3. Enhanced Accuracy
It's only human to make mistakes. However, even mirror mistakes may cost you a lot when you have a business to run. Not to mention the time it takes to rectify those mistakes manually. The good news is that by implementing RPA in business, you can eliminate processing errors. According to Deloitte Global RPA Survey, 85% of respondents report that RPA met or exceeded their expectations for benefits such as accuracy, timeliness, and flexibility.
That said, RPA needs to be thoroughly tested. Therefore, you need to be careful while mapping and optimizing business processes using Robotic Process Automation. And you will need training and governance to realize its potential fully.
That way, you won't have to worry about bots making human errors.
4. Increased Security
As mentioned earlier, RPA bots are designed to perform specific tasks. Because of this very fact, we have one more advantage of incorporating RPA in business – security. Since Robotic Process Automation operates on a granular level, there is no risk of data leaking from one facet to another.
All data accesses are fully documented and controlled. The impact of RPA on business is often misunderstood. There's a common misconception that this ground-breaking technology will replace human employees.
However, the truth couldn't be a more polar opposite. The fact is RPA implementation necessitates a workforce that can manage (and control) both people and machines. As with any new technology, it creates more jobs than it takes away.
The solution is to train your valuable employees to embrace the change, learn new skills and job roles. That's the only way they can use RPA to their benefit.
5. Boost in Scalability Opportunities
When your business expands, so do your responsibilities. Entrepreneurs often find themselves at crossroads when they finally want to take their business to the next level. Their business often lacks the flexibility to adjust to the increasing number of tasks or functions.
Hence, despite great incoming demand, they collapse due to a lack of flexibility. This is where RPA comes into the picture. It can support any number of business functions to help you achieve your objectives.
Not just numbers, you can also adjust any type of routine tasks that your business expansion endeavour necessitates. That gives smaller businesses a level playing field in the sense that they can manage unpredictable market demands easily with the help of RPA.
6. Improved Analytics
One of the most concrete business benefits of Robotic Process Automation is improved analytics. Businesses can gather valuable data using RPA, which can then be applied to make more informed decisions. Cycle times, work volume patterns, errors, and exceptions are some examples.
Therefore, improved analytics allows you to enhance your product/service for the target market. Besides, it also helps you further improve the very process you're automating.
Thanks to RPA gathering and differentiating data in separate fields, you can enhance decision-making at the macro and micro levels. In other words, RPA allows you to streamline your business processes further to achieve optimum efficiency.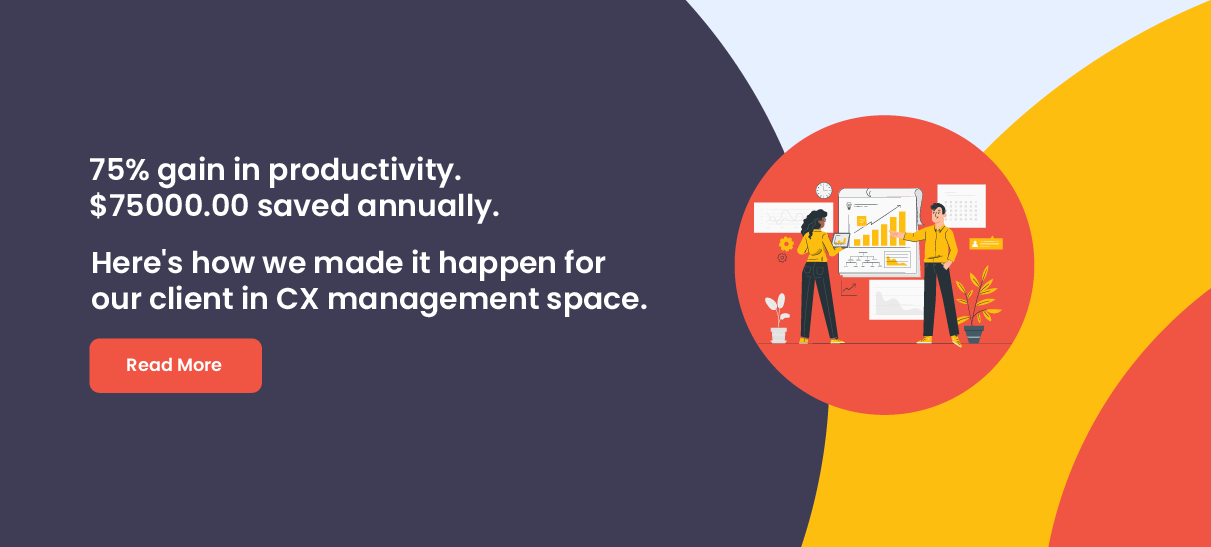 7. Enhanced Customer Service
Meeting customer demands is no easy feat. Just one mishap is enough to break their trust in you and drive them towards your competitors. On top of that, customer demands tend to fluctuate over time, making it harder for you to satisfy them.
But when dull, repetitive tasks are assigned to bots, your employees have more time at their hands to attend to customer queries. You need proficient customer service representatives to solve problems that cannot be solved with automation.
Besides, the impact of RPA on business has been felt on the customer service front as well. RPA can help generate automated reports to help you understand and address the needs of your buyers.
8. Non-disruptive
Most business owners feel hesitant to change or upgrade their legacy systems due to three main reasons:
Cost of replacing the legacy systems
Business downtime that can occur temporarily
The complexity of IT infrastructures
The benefits of using RPA in business processes extend to your legacy systems as well. It can automate daily operations and lengthen the lifetime. RPA bots interact with legacy systems at the UI end of the presentation layer (similar to humans).
Robots cannot use their passwords and user IDs. Therefore, adopting Robotic Process Automation does not need to be disruptive or complex. Your core tech program remains intact.
9. Optimized Resource Use
Repetitive and tedious tasks carried out by humans are often prone to errors. The risk of errors needs to be removed to achieve high efficiency in business operations. RPA can easily automate routine business processes. This frees up employees from taking up the boring, repetitive tasks, and they can focus more on the strategic activities that are worthy of their time and effort.
10. Hassle-Free Implementation
RPA implementation is easier than you think. Implementing RPA does not require API setup and also requires little technical expertise. This, in turn, saves huge costs and time for businesses. RPA has its own Graphical User Interface elements and sets, which are easier to read.
RPA systems can perform the same operations humans do, such as clicks, keystrokes, pressing buttons, and so on, through the same UI.
11. Improved Communication
With the help of triggers and procedures, RPA can automate the task of document creation and modifications. This frees up the employees from the pressure of manually updating and keeping track of tiny updates from time to time. Robotic Process Automation can ensure that business processes and operations are carried out timely, and on-field workers and end-users receive the latest information.
12. Automated Responses & Triggers
Typically, every RPA system has scheduling capabilities and even though it operates way beyond the scope of a scheduler, it assists managers with completely automated and semi-automated scheduling. The former scenario only triggers and responds when a particular event occurs- primarily a human activity such as a click.
In unattended automation, the trigger does not need to be a human action but can be anything such as an email or a document. Businesses can identify specific areas in their operations that can be wholly or partly automated using triggers and responses.
Applications of RPA in Various Industries
Owing to the notable impact of RPA on business, the adoption rate has grown swiftly in recent years.
Several sectors like healthcare, retail, telecommunications, manufacturing, financial services, and banking are experiencing the positive effects of Robotic Process Automation.
Below we have covered the major industries that have been positively affected by this impressive technology:
1. Finance & Banking
Listed below are prominent uses of Robotic Process Automation (RPA) in financial services & banking:
Automate data validations
Data migration between different banking applications
Customer account management
Report creation
Form filling
Loan claims processing
Updating loan data
Backing up teller receipts
2. Manufacturing
These are the applications of RPA in the manufacturing industry:
Automation of logistics data
Data monitoring
ERP automation
Product pricing comparisons
3. Retail
Here are the primary uses of Robotic Process Automation (RPA) in retail:
Extracting production data from websites of manufacturers
Updating online inventory automatically
Updating product information automatically on websites
Importing email sales
4. Healthcare
Following are the primary use cases of RPA in healthcare:
Patient data migration and processing
Reporting for doctors
Medical bill processing
Insurance data automation
Insurance claim processing
Claim status and eligibility automation
Patient record storage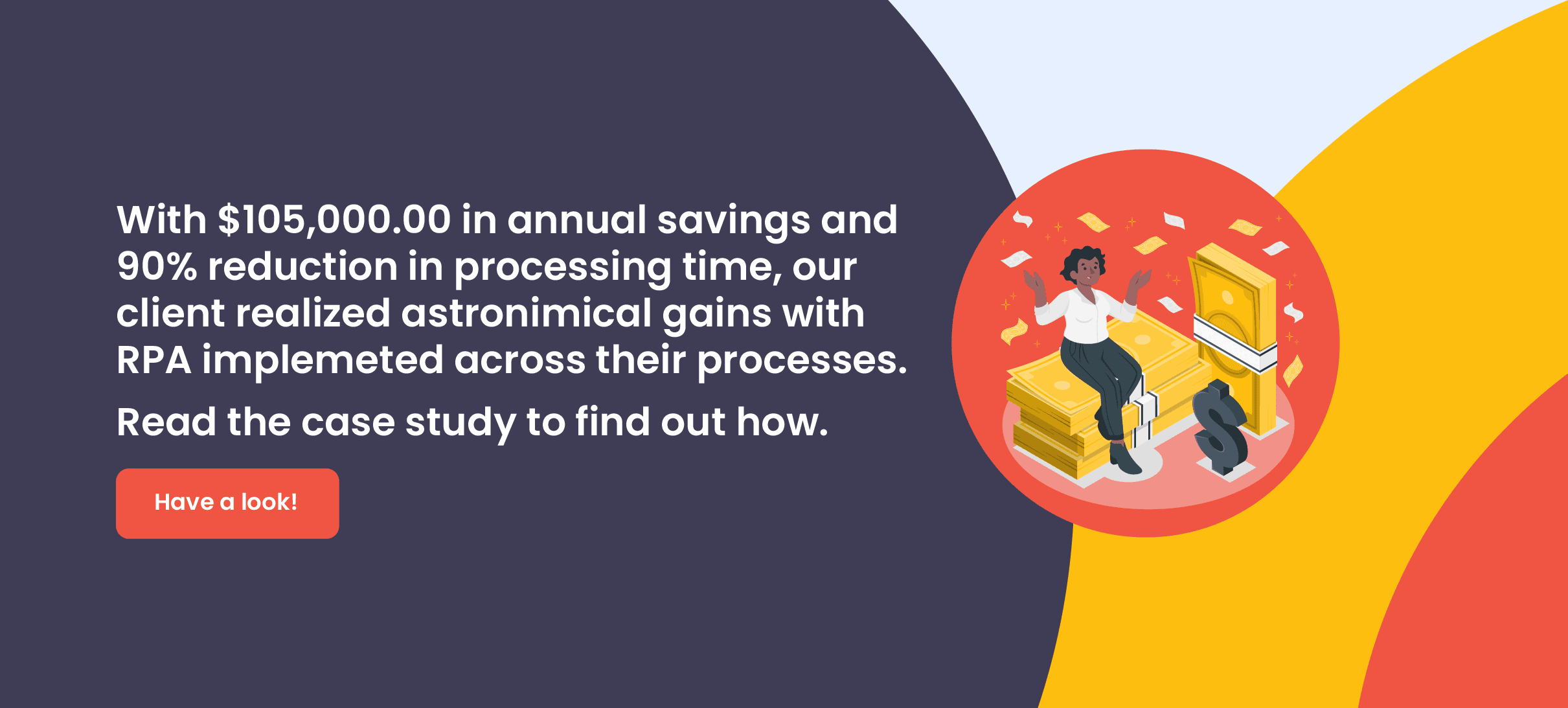 5. Telecommunications
The telecommunication industry has greatly benefited from Robotic Process Automation in the following areas:
Extracting data related to competitor pricing
Backing up client information systems
Collecting and consolidating client's phone data
Uploading data
The non-intrusive and flexible architecture of RPA has allowed its application in numerous use cases. What's more, it promotes effective management of the labour market.
Conclusion
Before embarking on a mission to incorporate RPA in business, see which processes can be automated to give you the most benefits, brainstorm with the right RPA partner to figure out the impact of Robotic Process Automation on people, procedures, and policies.
Check for various departments and functions that would do better with automation. You may want to consider human resources, finance and accounting, sales, and supply chain management for adopting RPA.
Along with the research of internal business factors, take your time in selecting the best RPA provider that would offer a holistic solution to your business needs. You can do so by listing the strengths and weaknesses of each vendor and then making an informed decision. Only then should you plan and strategize the implementation of RPA.
Still on the fence when it comes to bot-o-mating your process and tasks? Get in touch with us to learn more about how the implementation & benefits of RPA in business can give you the competitive advantage needed to get ahead in your industry.