As paradoxical as it sounds, RPA in HR is helping put back the human in human resources. By implementing robotic process automation, organizations can streamline the transactional HR tasks so that the HR team can focus on more valuable and strategic activities. How? Let's find out.
Robotic Process Automation (RPA) is one of the recent technologies that have completely revolutionized the way we look at routine and repetitive tasks. A recent survey conducted by Deloitte confirmed RPA as a viable and proven solution with over 74% of the respondents planning to explore the technology in the coming years, and almost 22% of them having already piloted or fully implemented RPA.
Automating the administrative and operational tasks of the human resources frees up a great deal of time and resources that could be spent in more productive and strategic actions such as giving face-to-face time to your employees or resolving issues.
In this post, we're going to discuss all you need to know about RPA in human resource and payroll, including the benefits, use cases, and best practices of implementing RPA in HR.
What is Robotic Process Automation in Human Resources?
Robotic process automation (RPA) is an excellent way to drive improved data management capabilities for HR. RPA is software bots that automate rule-based, highly transactional processes in the HR department that require little or no human intervention.
RPA in HR operations primarily works by having a software robot perform high-volume, repetitive operational tasks from HR employees. These include tasks such as onboarding of new hires, processing payroll, benefits enrollment, and compliance reporting that require a significant amount of manual and repetitive labor. Apart from increased accuracy and speed of data processing, RPA can be instrumental in bringing down the overall HR-related costs.
Benefits of RPA in HR and Payroll
In general, the HR department in any organization plays a critical role in supporting employees and enhancing the overall workplace environment to ensure that employees perform their jobs effectively. But, considering the massive amount of data management – form filling, updating & validating records, and a continuous influx of request processing, drown the HR managers in repetitive admin tasks.
Implementing Human Resource Automation, organizations can dramatically compress the mundane processes by automating the most repetitive tasks and allow HR managers to focus on other productive and more strategic tasks important for the company's growth. The focus of RPA in HR operations is primarily on the micro-tasks, thus integrating all the processes that the big legacy systems did not or were not able to address.
RPA carries a huge potential to revolutionize the entire HR industry by bringing in better efficiency and a quicker return-on-investment. As a completely non-invasive technology, RPA can work in the background without any need for human attention. There are several benefits of using RPA in HR and Payroll which include:
Accuracy and increased productivity
RPA uses pre-coded technology, minimizing the margin of errors. Further, by allowing staff to focus on more high-value tasks, the technology contributes directly to the overall strategic goals and productivity of the company.
With RPA in the background, HR departments can expect tasks to be completed at a consistent level without any hassle. RPA is, in fact, created for perfect replication and error-free performance, eliminating any kind of output variations during an operational term.
The cost per task or effort on RPA is considerably low when operated at scale and can be easily ramped up and down as per the requirements. This leads to minimal wastage of effort or downtime for the overall system.
With no human intervention and absence of any leaves, efficiency increases manifolds since bots work 24×7, with consistent performance.
RPA solutions are extremely flexible and can follow programmed procedures irrespective of the deployment environment.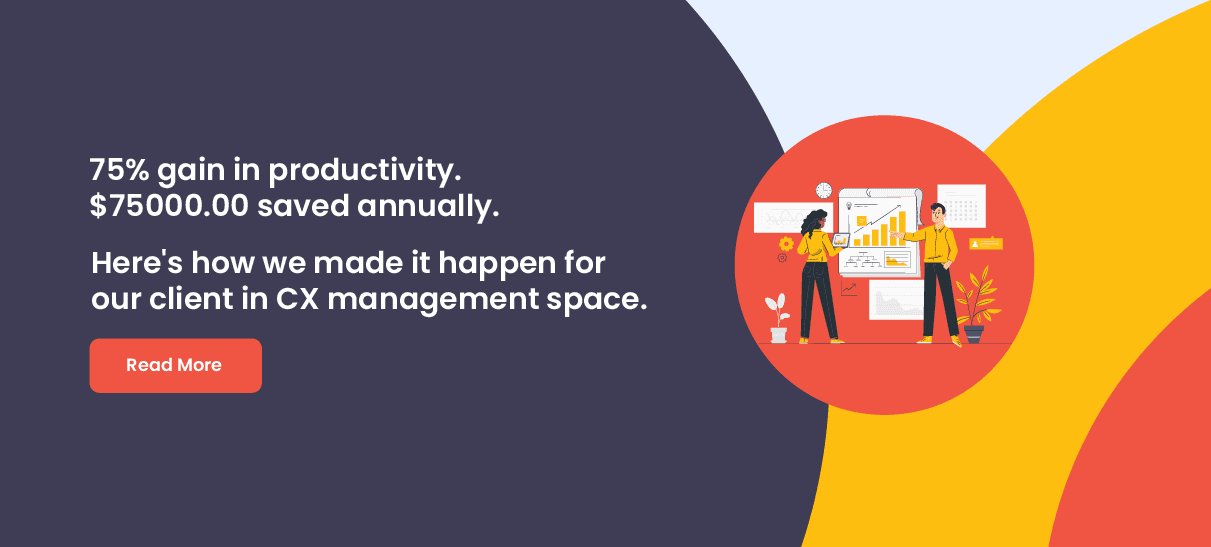 Use Cases – RPA in Human Resources
The HR department of almost every organization is usually burdened with tons of manual processes and repetitive administrative tasks. This makes HR an obvious starting point to introduce RPA into your organization.
RPA offers a large number of specific and measurable benefits to organizations and their HR departments. Some of the most important ones are discussed below-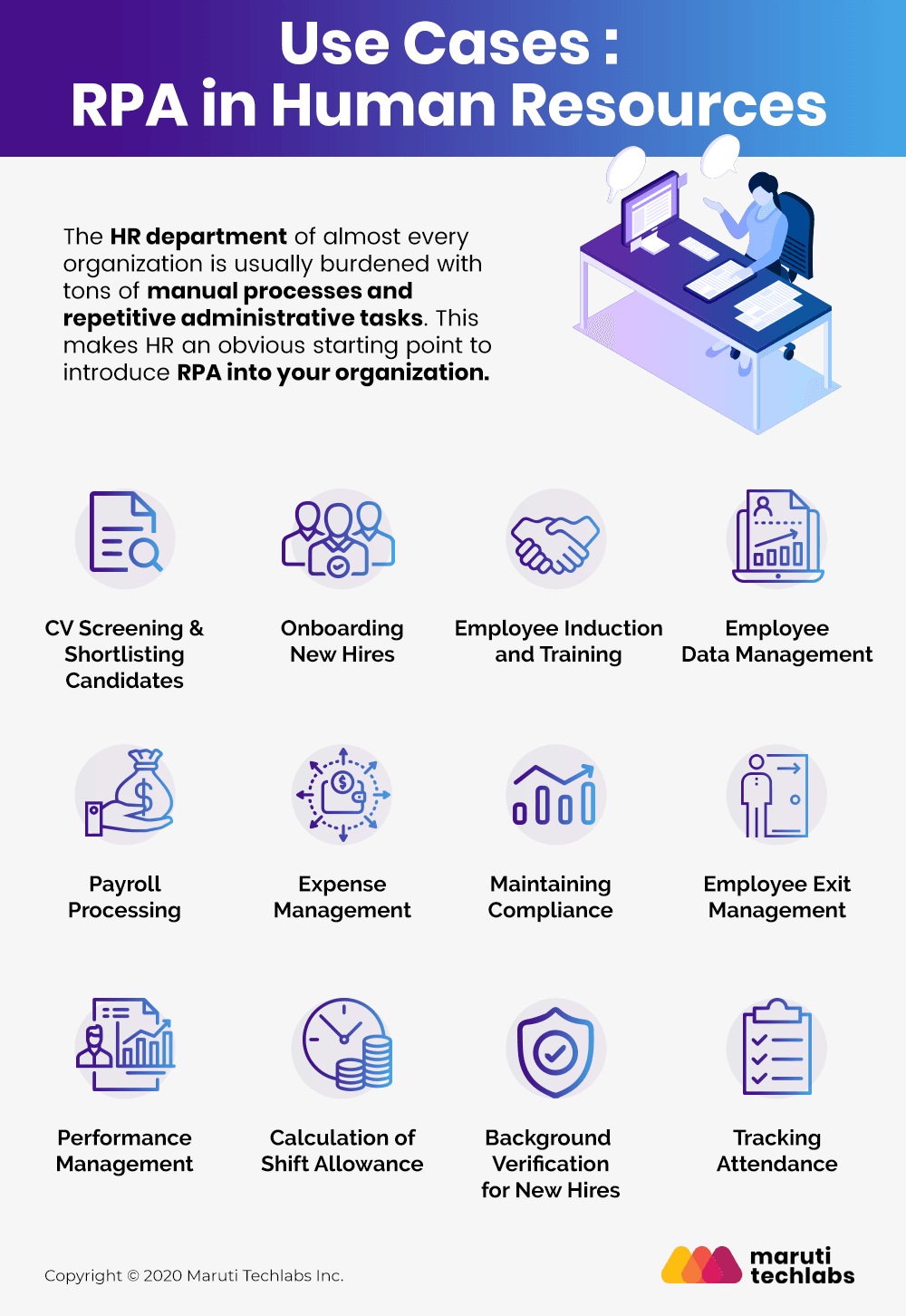 1. CV Screening & Shortlisting Candidates
When it comes to basic HR functions such as hiring, a lot of time gets wasted on screening resumes and application forms received by the candidates for the open positions.
Software robots can make this process much simpler by easily gathering the applications and comparing all the information against the list of specific job requirements. Using RPA technology, these requirements can be seen as predefined rules which guide the overall selection procedure. Based on this, the qualifying candidates can be sent the interview notification calls, whereas rejection notifications could be sent to those who don't match the selection criteria.
Further, HR managers can use RPA technology to eliminate the huge piles of paperwork involved in the process. Using the database that keeps all the potential employees' profiles, RPA in HR can categorize and notify all candidates of their interview results. With the help of RPA, the HR departments can turn the rather complicated recruitment process into a much smoother one and help attract and retain top talent.
2. Simplifying Onboarding
HR onboarding is generally a very long and tedious process where the joining of the candidate requires coordinated efforts of multiple people as the data from several systems needs to be synced to create a new user account, access rights for applications, IT equipment, email address, and more. To be able to find agreement between the organization's procedures and the employee's profile and preferences, robust data integration capacities are required.
Robotic process automation can be used to streamline the entire onboarding procedure by automatically activating a particular template for the onboarding workflow of a user account. Software robots can then make rule-based decisions such as which onboarding documents to send, what credentials to assign the new employee, and much more.
Further, bots make processes such as employee ID creation much faster and allow new hires to get started with their role in a smooth and hassle-free manner.
Put simply, integrating RPA in the onboarding process helps to:
Reduce onboarding process costs as robots help HR teams by handling tedious manual and repetitive processes, and automatically transcribe information from various sources into multiple systems.
Increase the overall onboarding processing speed by automatically validating new hire data and entering the same into different systems.
Reduce error rates in HR onboarding processes by accurately updating personal and account information across multiple systems to facilitate fast processing.
3. Employee Data Management
Employee data management is one of the main areas when it comes to HR-related functions. It typically requires systematic as well as consistent actions across several databases (with multiple data formats) ranging from payroll and employee benefits to company regulations, and much more.
With a constant influx of employee data in the form of existing staff, new hires, contractors, etc., managing it all manually can be a nightmarish task for HR teams.
Robotic process automation can make it easy to handle the tasks related to employee management, thus reducing the risk of incorrect data entries to a minimum. Robots can also perform data cleansing tasks at a regular interval to ensure data compatibility across multiple databases.
This also means that HR services can be delivered to employees much more efficiently and quickly. For example, RPA in HR can automatically generate the important documents that employees need, instead of an HR personnel having to transfer all the employee data from the HRIS to a document template.
4. Payroll Processing
Payroll processing is one of the most repetitive and monotonous HR tasks that organizations usually can't do without. Involving massive amounts of data entry on a regular basis, managing payroll manually can often lead to a risk of multiple errors.
Additionally, constantly changing tax laws and rapidly evolving reporting requirements coupled with system troubles, can make payroll processing a long and tiring process for the HR departments.
RPA in HR can simplify the process due to its ability to collect and connect the data between multiple systems such as HR and employee management, time tracking, accounts payable, and general ledger.
Additionally, RPA bots can verify the employee's hours that have been recorded in the system and make corrections based on reports or any differences compared to the shift. Automated reports done by software robots can show if there is a high number of registered hours, overtime, missing hours, or excessive usage of timeout has occurred to further simplify the payroll processing.
5. Expense Management
HR managers in any organization generally find it difficult to keep up with the manual processes of travel and expense management due to multiple factors such as missing receipts, late expense submissions, out-of-policy-spends, and messy spreadsheets.
Although there are various sophisticated expense management solutions available today, most of the organizations still use outdated systems requiring employees to manually provide details on their expenses. There are high chances of error in such manual entry of data, including expense amount, date, or location provided by employees.
Employing an RPA solution for expense management allows the companies to automatically extract all the important fields from expense receipts, saving a lot of time. This also prevents the hassle of carrying around expense receipts as they can simply take pictures of their receipts, and all the relevant data will be extracted from receipts automatically.
Further, RPA software is equipped to approve genuine expenses with a rules-based procedure to identify the type of invoice submission. The software then processes the expense claim after ensuring that it follows all the compliance requirements.
6. Maintaining Compliance of the Organization
Maintaining compliance is one of the most important HR functions in any organization. Strict labor laws and other regulations require companies to prioritize error-free and smooth compliance. However, ensuring high compliance at an organizational level requires a lot of time and attention from the HR professionals where every single detail needs to be thoroughly analyzed and entered.
Using RPA software for compliance-related activities can not only speed up the process but also minimize delays and human errors in the process as everything is done by software bots, enhancing the overall accuracy of the process.
7. Employee Exit Management
Similar to onboarding, ensuring a smooth and hassle-free employee off-boarding is an important area for every HR manager. There are a number of HR tasks that need to be taken care of while exiting, such as the generation of exit documents, revoking of system access, and the full and final settlement. Leaving any scope of error here can lead to multiple audit flags.
RPA in HR can be of great help to implement a better and well organized off-boarding process by predefining each of the processes involved during an exit. The software bot can easily capture all the relevant details from the full and final report of the employee and update the same in the finance application for validation, if all the mandatory information is accurately mentioned, followed by sending an email to the concerned department for updation.
Similarly, the bot can send an email to the employee once a confirmation is received from the concerned department and if it is all clear from the employee's end, it will close the process by sending it to the finance department for final approval and later to the respective bank for payment processing.
8. Employee Induction and Training
RPA technology can help your organization and HR department to completely automate the induction process, which means that the new candidates would get a digital profile right after applying and receiving the job offer.
Under this digital profile, the RPA software could trigger an automatic process of onboarding new hires and ensure to update the candidates with all business processes, compliance standards, and other regulations.
Coupled with a well-designed e-learning and training support platform, the RPA-based automatic induction process could significantly improve the overall effectiveness and adoption of training.
9. Performance Management
Across industries, organizations are constantly exploring the ways they can use RPA in HR to re-evaluate their performance management systems. Right from employees' goal setting, incentive calculations to the evaluation of rewards, RPA software makes it easier for HR departments to keep up the organizational productivity high.
Being a highly time consuming and repetitive process, automation with RPA makes the performance management process much more efficient, free of errors, and less time-consuming.
10. Calculation of Shift Allowance
An increasing number of organizations give shift allowance to their employees working in different processes for international clients across various time zones. This shift allowance is usually calculated by taking the employee swipe-in/swipe-out from multiple HR backend systems. As a completely manual process, this takes up a lot of time with a high scope of errors owing to the large datasets.
Introducing RPA for shift allowance calculation leads to automatic reading and validating of the data by bots from multiple backend systems. Further, the bots can do this on a periodic basis leading to on-time clearance of the allowances along with reducing manual efforts and average handling time with zero errors.
11. Background Verification for New Hires
The background verification process for new employees typically involves cross-verification of all the interviewed candidates' details such as name, address, date of birth, etc. against a massive set of multiple databases. The time taken for processing of this critically important process is huge as there is a high level of accuracy expected.
Using RPA technology, companies can receive the required details easily from the input sources, automatically cross-checking all the details with the backend databases, and simultaneously creating the process reports without needing any manual intervention.
All these reports are then reconciled by the software robots into a final master report, which is automatically uploaded into the backend system in a scheduled fashion. To further ease the process, the processing load can be split across multiple RPA bots to deliver the results in an even shorter time.
12. Tracking Attendance
There are multiple reasons that make attendance tracking a cumbersome task for HR teams, including the large size of the organization and carelessness on the part of employees in punching accurate time records.
RPA based software robots can make the attendance tracking easier by cross-checking self-reports against time logged in the company record, followed by reporting any inconsistency to the HR managers. Further, bots can also recommend reallocation of various workforce resources in case of high absenteeism instances to help the HR department prevent workflow disruptions.
Best Practices for Robotic Process Automation in HR
If designed and implemented well, RPA technology has the power to make your HR team many times more productive and efficient. Here are some of the best practices to follow as you define and automate your HR processes –
a) Develop a well-defined shared services model
To ensure success, streamline your HR processes by automating actions and have a centralized location for all the information. Human resource automation using RPA allows you to reduce all the manual tasks related to time-consuming HR processes such as onboarding, payroll processing, compensation changes, or exit management. This will also help you reduce costs and create a more efficient HR team.
b) Always start with selected processes to be automated to demonstrate the effectiveness
It is always wise to begin RPA implementation with selected HR processes that are best suited for automation to tap into the vast potential of robotics. Some of the process features that you could be looking here for RPA implementation are:
Stable, predictable and well-documented processes with consistent and well defined operational costs
Processes with low exception rates, which require little human intervention
Quantifiable processes in terms of measurable savings such as those related to greater accuracy, low cost or faster response times
High frequency or high volume processes, which provide a faster ROI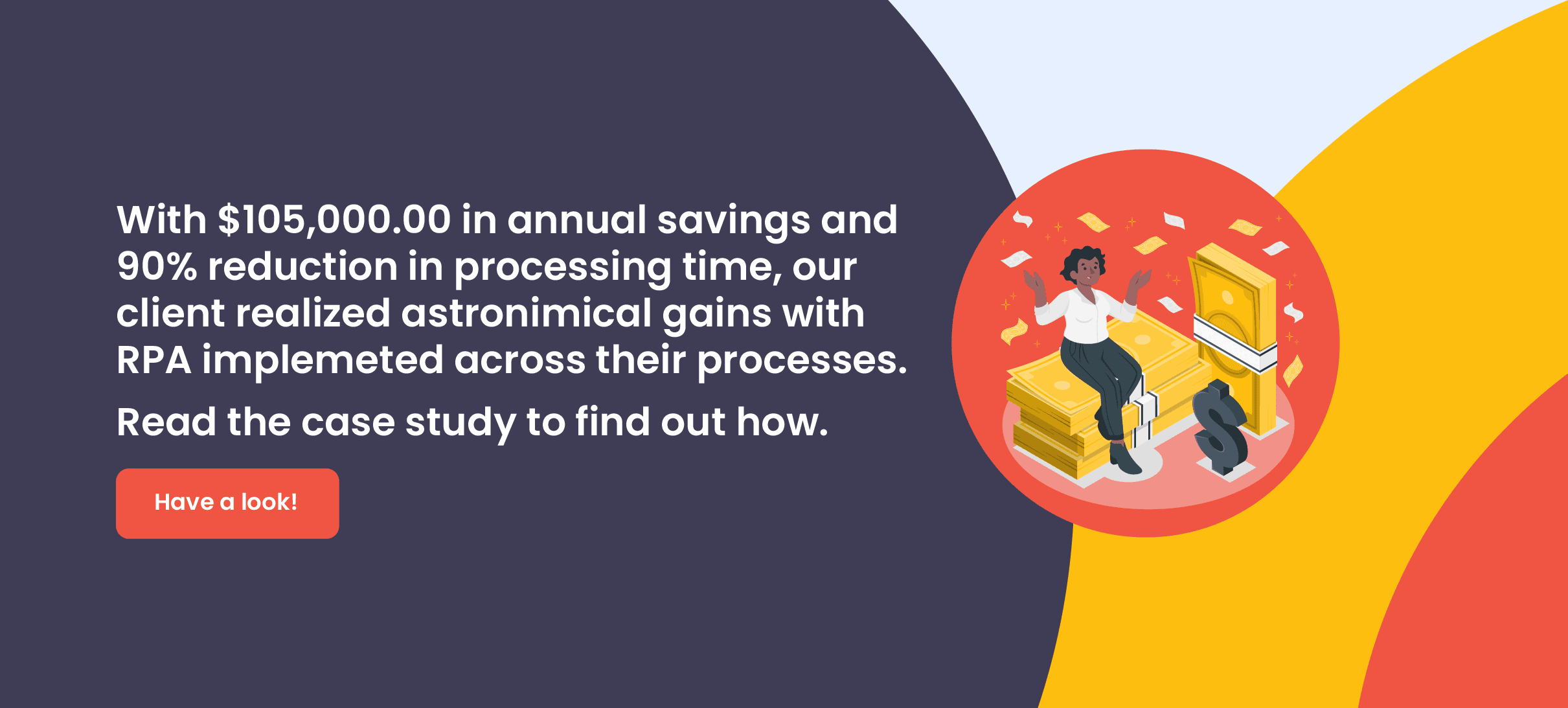 c) Seek and gain consistent support from leadership and stakeholders
Implementing RPA in HR is conducive to optimal results only if implemented and performed in collaboration with the entire team. It is, therefore, essential to gain consistent support from across the departments, including leadership and stakeholders that will be affected by the new technology.
During the planning phase, seek extensive feedback from everyone who is going to be affected by the digital change, because it may help to identify the areas where the strategy needs to be changed or done differently.
d) Set expectations and ROI goals
To ensure that the RPA project delivers a positive ROI, it is essential to focus on value delivered at every step of the process. Make sure to set expectations at the beginning, define goals and devise strategies to achieve the same. Some of the questions you need to answer here include-
What is the intended outcome of the project?
What are the benefits of automation and its overall impact on the organization in terms of processes, technology, resources, and end-users?
e) Train all your HR staff, stakeholders, leadership, and users on the RPA capabilities and their individual responsibilities
Training the internal staff and other stakeholders play an important role in the useful implementation of RPA.
Create a self-service area for employees and staff where they can access all the common queries. This will allow you to streamline the HR processes as employees would then contact HR only with specific concerns. It will also free up a lot of time and make the HR teams much more efficient.
Remember that efficiency here means clear knowledge about what RPA automation can and cannot do, respectively, which ultimately helps to maintain the expectations at a realistic level.
To Conclude
Expected to reach $3.11 billion by 2025, the RPA industry is at an exciting inflection point where over the next few years, businesses will begin to truly realize the benefits it offers. By liberating humans from repetitive and monotonous work, the technology promises to offer more engaging employment and a definite competitive edge to the organizations.
The scope of robotics in HR is rapidly expanding and not just limited to any particular elements within an organization. Implementing RPA in human resources can result in improved accuracy, significant labor savings, and decreased processing time, leading to more satisfied employees and customers both. RPA brings forth the required innovative solutions for the HR process that transforms the way it conducts its operations. With a number of operating models already adopting automation, it is just a matter of time before a majority of the organizations realize the role of RPA technology in cutting down costs, driving-up efficiency, and improving the overall quality of the HR process.