There is no doubt that TikTok, a video-sharing app, has become one of the most popular social media apps globally. It is a rage among kids, teens, and adults alike. Its fame took a surge during the Covid19-induced lockdowns when people across the globe were looking for ways to stay connected and entertained.
It's no surprise that TikTok has gained acceptance among businesses and brands as well. Due to its first-mover advantage and a high organic reach compared to other platforms, B2B businesses too are finding success with TikTok.
The unique features of TikTok are ideally suited to provide entertainment. It's funny, engaging, easy to use, and requires minimum effort or investment of time.
The unexpected but stunning success of TikTok pushed many entrepreneurs to the idea of making an app like TikTok. If you are one of those, you are at the right place. This comprehensive guide will help you identify the basic and advanced TikTok features with a ready-made estimation and the tech stack to make an app like TikTok. So, let's get started!
How Does TikTok Work?
TikTok is an app that allows all users to post short videos a maximum of 15 seconds in length, where users can add background music and other accessories of their choice.
TikTok is the equivalent of the short, entertaining videos you see on Vine, with the added option to add music and other different enhancements to your videos. The app also features an interactive map that shows trending videos in any area. You may create a free account and a community of individuals who want you to add them as friends and engage with them.
You can also choose to build in-app purchases if you wish to, but the app is OK without them.
Quick Stats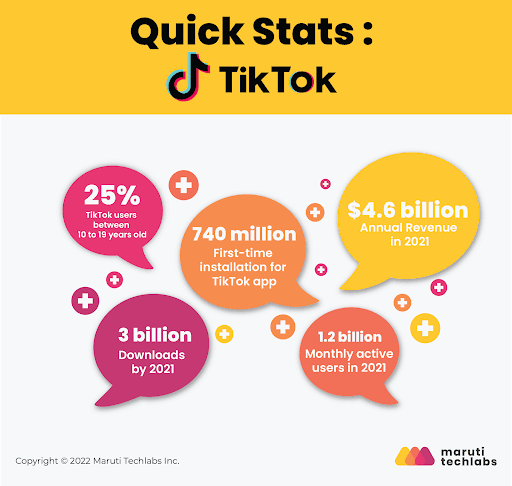 Before digging into how to make a TikTok-like app, we assembled a comprehensive and representative set of facts about the TikTok profit model. Let's dive deep into these TikTok revenue and usage statistics:
Top 11 Key Features of TikTok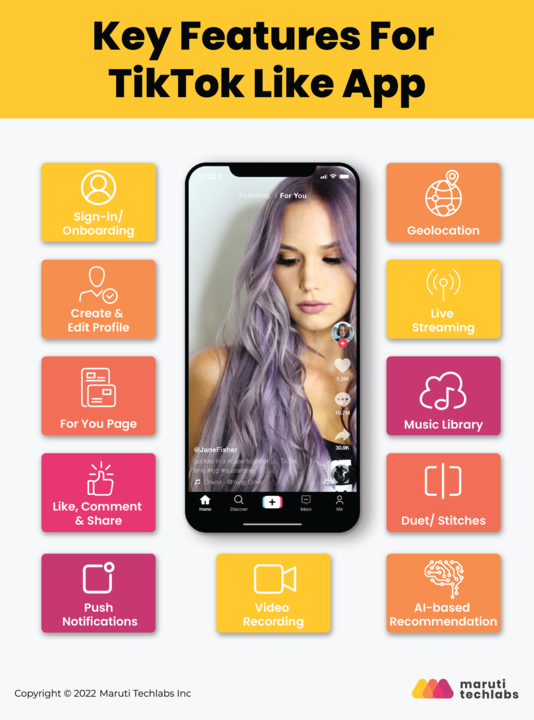 1. Sign-in/Onboarding:
The authorization page is the first page a user sees. It is as essential as a first page is to a book. It is how users judge whether they will use the app or not. Consider keeping the sign-in page concise and intuitive by asking for only relevant information needed for a seamless sign-in experience.
You can include basic user information, authorization details, password setup, and password recovery options. However, TikTok also allows skipping the sign-up process and automatically chooses the password and profile name for the user who decides to skip it. According to the user's requirements, they can later change these profile names and passwords.
2. Create & Edit Profile:
This feature enables users to create and update their profiles to provide a seamless user experience. Users can change their profile bio, contact details, password, profile picture, and other account parameters. Updating their profile can enable users to get in touch with desired people on TikTok and pick the type of content they want to see.
3. Browsing Page/ For You Page:
The TikTok app is divided into two broad categories: one for your page (FYP) and the rest for another. Here, the user can infinitely scroll through the recommended content and the trending videos which went viral. Every video on the FYP consists of a hashtag, a caption, and a soundtrack that users can play as background music. In this way, TikTok's system design is simple yet ingenious. It allows for content to be updated for users in real-time with new posts tagged with hashtags regularly and the opportunity to access previously uploaded videos by filing through hashtags.
4. Like, Comment & Share
TikTok's engagement rate is skyrocketing, and the reason for this is the ability to converse with viewers actively. Simply put, likes are the measurement of your content popularity.
Likes on TikTok are just the same as likes on Instagram or Facebook. They help users better interact with their audience and get instant feedback on their content.
Moreover, TikTok architecture also possesses third-party integration with other social media apps that allow users to share their content on other social media platforms.
5. Push Notifications
TikTok uses push notifications to provide timely updates to users.
It helps the users keep track of their content's performance. You can add the feature of push notifications by using:
TikTok also provides settings for choosing the frequency and type of notifications the user wants to get notified. For instance, you can disable all other notifications except the recommendation of live videos. Doing this makes the application more audience-oriented and helps to increase the user experience.
Advanced Features
6. Video Recording/ Uploading/ Editing
TikTok has proven an exciting alternative for users who want to use social media. Aside from the live videos, short videos, and other content, it also features a fully equipped video editor that allows you to edit your recordings or add higher-quality effects. These inbuilt editors allow you to speed up the process to complete your tasks faster with fewer steps and extra hassle.
You can also add different scenarios to the original videos with the help of augmented reality. This new feature can change your eye color and skin tones and buttons flowers in your hair, hats, etc.
7. Geolocation
With geolocation, TikTok enables live location-based content in real-time. By doing this, users can get notifications when the TikTok influencers they know are in their proximity.
8. Live Streaming
TikTok users with more than 1k followers can enable the feature of going live and interacting with their audience. Doing so will enable them to receive gifts from their followers in coins, which they can later exchange for money if they wish.
9. Music Library
TikTok has a large music and sound library built directly into the application. Users can lip-sync and dance along to the songs that are currently popular and enjoy songs from a variety of artists. Music can be added by using lyrics or recording it in the post; both methods allow users to create interesting videos that feature everything from new original works to remixes.
10. Duet/ Stitches
Duet allows users to display another person's video alongside their own. In contrast, stitches will enable the user to clip and integrate separate scenes from another user's video into their own.
11. AI-based Recommendation
You can also browse or explore videos on the TikTok-like app if you haven't subscribed to it. Depending on the type of content you frequently watch, the application suggests what you may like on the For You page by running it through its artificial intelligence system.
A top mobile app development company can help you build a TikTok clone that is unparalleled in functionality, design, and user experience, giving you an edge in the market.
TikTok's Algorithm
The secret behind the overnight success of TikTok is in its algorithm. Your feed on TikTok becomes more personalized the more you watch it.
With many conspiracy theories on how to make a viral TikTok floating in the market, finally, TikTok app creators revealed the big secret of their algorithm. The algorithm makes use of the method of an exponential distribution. The system examines a variety of parameters, including user interactions, video data, and others. Based on this information, TikTok recommends the content to each user.
Once the video is posted, it is first presented to a small audience segment selected based on their activity. Later, if a piece of content is liked, it gets promoted to other users with similar interests. Step by step video expands to millions of users with the help of TikTok's algorithms.
The algorithm is like digital word-of-mouth: the more buzz your content generates, the more viral it becomes.
The TikTok-like app keeps a tab on how the user interacts with the video, sounds, hashtags, and more to help identify whether any given post will appeal to the chosen audience. Note that users can also tell TikTok if they don't like any video. For this, they have to long-press the video and tap on 'Not interested.
To replicate such an algorithm precisely, you will need to hire top mobile app developers from a software development company like ours. Our team of skilled developers possesses the expertise and technical knowledge needed to tackle intricate algorithms and ensure their accurate implementation. By hiring our mobile app developers, you gain access to a talent pool that excels in crafting innovative solutions and delivering high-quality results.
Things To Consider When You Make An App Like TikTok
TikTok is a unique and versatile app containing various features that help its users share their stories. To achieve this kind of functionality, it uses exponential algorithms to ensure that the app remains awesome and dynamic for users.
To help you make your app like TikTok a success, let us help you with some primary factors to consider when you build your TikTok clone.
1. Market Research
Start by understanding your audience when you wish to build any social media app but don't know where to begin. As a result, you'll receive a clear picture of the market dynamics, competitors, marketing strategies, and trends to be aware of.
Try to answer all these questions and write down the brief results as they can provide direction to your desired goal of making an app like TikTok.
To receive more insights into your audience, you can research:
Demographics Profile: Understand your target audience's age, location, and type of device they generally use. Doing this will help you find how often they visit your content and what kind of content they'll prefer to watch.
Behavioral Trends: Even though every app is unique, you can still identify a couple of trends you can apply to your future application. Such trends include decreased user interest in downloading something, a fast falling tolerance for poor loading times, a low tolerance for lack of security, a high value placed on app functionality, etc.
2. Choose a Monetization Model
When you've determined who your potential users are, it's essential to decide on a future business strategy for one of the most excellent TikTok alternatives. Here are a few monetization possibilities to help you make an app like TikTok:
In-app purchases: TikTok enables its users with in-app purchases of coins to support the live broadcast of their favorite influencer. Here, the follower exchanges the coins in place of gifts and hands them to others during their live stream.
Advertising: It is another alternative for app monetization, including many types of in-app advertising mentioned below:
Cost Per Click: Advertisers get paid each time a user interacts with an ad in their app.
Cost Per Mile: Advertisers are charged by the app owner for every 1,000 impressions of their ad within the mobile app.
Cost Per Action: Advertisers only pay for clicks that result in a specific action, such as app installation, form submission, website sign-up, or newsletter subscription.
Fundraising: At the preliminary stage of your project, attracting your investments with the fundraising process is the best way for app monetization. For TikTok, too, fundraising is one of its premium earning models. The app was just backed with

$3 billion

by wealthy investors.
3. Know Your Audience
Now, it's time to meet your app's people. For example, TikTok currently holds an audience from more than 150 different countries, speaking over 75 languages. However, it is pretty impractical to cover such a large audience at the initial stage of your app development.
We recommend segmenting your target audience and starting with that chuck of people. For example, TikTok was initially released on the Chinese market only and then started expanding its audience.
4. Design Matters
What attracts and hooks the users is the app's user interface. One of the factors that decide the app's virality is how new clients are onboarded. TikTok has a straightforward UX/UI that offers no distractions for its audience. It makes it easy to sign up, fill out the necessary profile data, and jump in.
We recommend choosing the same golden rule for creating your application's UI/UX design. You can also include features like infinite autoplay feed and integrate user profiles with other social media for easy promotion of their content.
5. Hire a Professional Team
Developing an app without a team of professional experts is quite impossible. It is wise to hire experts who are well versed with the market strategies, are aware of a map of the user's journey, and are great at executing the best design concepts; you seal the deal for the success of your application.
The professional team composition required to make an app like TikTok is
Frontend Developer: Hire developers specializing in Android and iOS apps to build your front end depending on your target audience.
Backend Developers: Developers who help in connecting servers and databases.
UI/UX Designer: Helps design the user interface by offering the best user experience.
QA Engineer: Helps evaluate the feature testing and quality assurance before application deployment.
Depending on your time and budget restrictions, you can hire an in-house team of developers or outsource the development team. We recommend you outsource your TikTok-like app development to save time and money since it does not necessitate the retention of full-time employees.
6. Start with MVP
A minimum viable product (MVP) is a first completely functional version of a product that allows many entrepreneurs to test the idea, gather feedback from actual consumers, and determine whether your project coincides with the current market needs.
MVP keeps entrepreneurs from devoting their entire startup budget to a product that might never see the light of day on the market and be unknown to users. Instead, with a minimal viable product, you may test your concept in less time and at a lower cost, with fewer risks.
7. App Development
Your software development team should be involved as soon as possible to assist you in developing a TikTok clone. Beginning with the design, they provide an outline for the requirements and timeframes for generating fundamental functions of the app and the needed technology stack, cost estimation, project deployment strategy, future app upgrades, etc.
8. Choose the Technology Stack
The key to an excellent TikTok-like app is a robust tech stack. Developing a TikTok clone necessitates a complicated technical stack with several moving pieces.

However, the typical technological toolchain will include React Native, Kotlin, Node.js, Swift(iOS), Objective-C(iOS), Jira, MongoDB, MySQL, and Google Cloud or Amazon Web Services like web hosting devices. It also contains tools like Figma, Amazon S3, ARCore, Alamofire(iOS), and much more to make your application as powerful enough as TikTok.
9. Release & Advertise the App
As part of a dynamic marketing plan, you should design your app ahead of time so that your intended audience is aware of it. It is wise to adopt some common advertising approach or hire a marketing specialist.
Some common ways to advertise your mobile app include running paid ads, collaborating with bloggers and social media influencers, promoting your social media app with Google Play and Apple Store, etc.
10. Carry Out Feedback
Once your mobile app is in the market, you are good to get user feedback. Doing this will help you create the best possible end product that can satisfy the needs of your target audience. Moreover, this survey can help you identify where you lack and what needs to be improved.
To ensure successful SaaS product development of a durable and user-friendly TikTok clone app, it is crucial to incorporate a component-based architecture. It is not enough to rely solely on great ideas. Our team of proficient developers, designers, and engineers understand the market demands and business requirements, which are essential for achieving success.
The Required Team to Build An App Like TikTok
Developing a TikTok-like app requires complex architecture and a lengthy user journey. It can be quite challenging to put into practice. But don't worry; we've got your back. To make an app like TikTok, you must assemble the right team. Below are some of the roles you should look for in your team:
Project Manager: Ensures that the app development is followed according to the prepared plan and will be finished by the deadline. He also helps maintain the quality of work throughout the project and manages the team requirements by handling developers, designers, and Q&A specialists.
Developers: For the app to work efficiently, you'll require multiple developers with different specializations. Frontend developers will manage the software workflow of your project and maintain the user interface, whereas backend developers will focus on managing and connecting your application with servers and databases. We recommend you focus on hiring Android developers as 90% of TikTok users are Android device owners.
UI/UX Designer: Helps you to map users' journeys and come up with intuitive and clean designs for a seamless user experience.
QA Engineer: Helps test the application features and looks for any possible bug to fix before the application gets deployed.
Business Analysts: Assist in improving processes, products, and services by thoroughly analyzing your business requirements.
While hiring your development team, you have two main ways to do that. You may either recruit an in-house staff or collaborate to tie up with an outsourcing company. However, each choice has its pros and cons. For instance, when you have limited resources to complete the software development in-house, outsourcing may prove to be the best option. However, choosing the right outsourced developer helps improve the quality and efficiency of your product development.
Maruti Techlabs offers you the dual benefit of leveraging skilled developers with varied experience. Our team of highly skilled developers ensures top-notch quality throughout the development journey. Whether yours is a long-term, short-term, or a one-time project, we are well-adept to the ins and outs of working as your development partner.
TikTok's Tech Stack
Before jumping to make an app like TikTok, choosing the right technology stack for your app like TikTok is a vital step.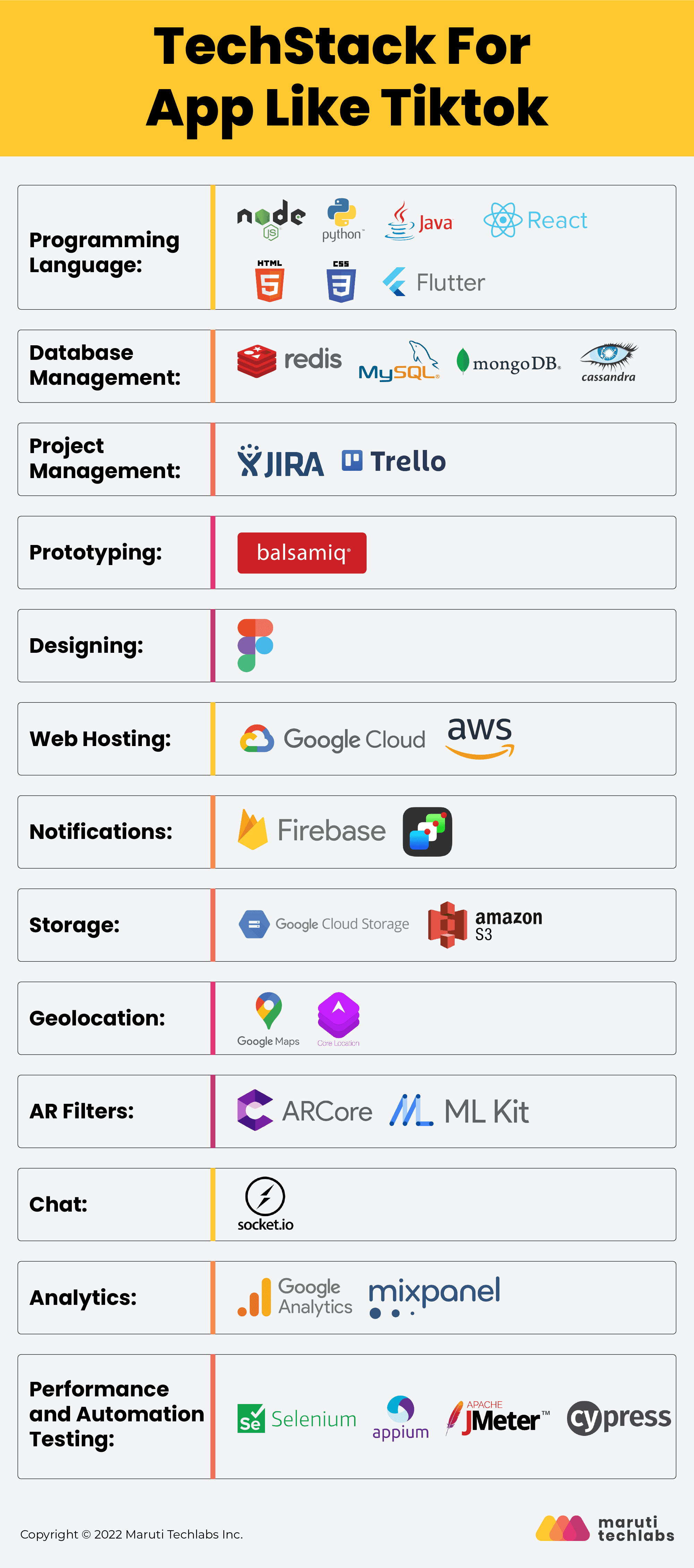 To give you a fair idea, we have discussed the technology stack used in the development of TikTok. However, you can also change or modify the technologies according to your budget and specific requirements.
Factors Affecting the Final Price of the App
When you make an app like TikTok, you must consider various things that might drastically alter the pricing. Platform, design, application functionality, and a team of developers are the most important. Let us go through them in detail.
1. Platform
You have two popular platforms to choose from when deploying a TikTok-like app – Android and iOS. We recommend you develop your application for both platforms depending on your expertise. However, if you lack the budget or time, you can choose one of the above depending on your target audience.
For instance, Instagram first launched its application on iOS. The Android version was released 1.5 years later. Additionally, it is noticed that iOS development tends to require 20% or even 30% less time than Android one; however, there is a significantly less population around the world that prefers to use iOS compared to Android.
2. Design
Robust UI/UX design can be the easiest way to lure your user into using an app for an extended period. A sleek and mobile-optimized design will ensure that your customer gets the information they need on the first screen without scrolling. It will increase your conversion rates and retain your customers, ultimately gaining their trust and loyalty towards your product.
3. Features
The cost of your application varies heavily depending on what features you like to incorporate in it. The number of features you decided to have and their complexity majorly changes the development cost of your app. Therefore, before you begin to design and make an app like TikTok, you need to prepare a list of required features that satisfy the requirements of your target audience.
4. Development Team
When it comes to hiring the development team, there are two options you can choose from – hire in-house developers or collaborate with an outsourcing company. Each of these choices has benefits and drawbacks.
For instance, in-house development tends to be more expensive and time-consuming. On the other hand, outsourcing the team of developers is the best option for sticking to your budget and time constraints. Vendors charge different hourly rates based on their location and the type of job they conduct.
For instance, developers from India are pretty cost-efficient and charge only $15-$50 per working hour while delivering high-quality service. Avoiding double taxation arrangements with many Asian countries allows you to decrease operational expenses while eliminating regulatory concerns.
5. CCPA and GDPR Compliance
The California Consumer Privacy Act (CCPA) and The General Data Protection Regulation (GDPR) were enacted to provide consumers more control over their data.
If you make an app like TikTok for the EU market, you must adhere to GDPR. It safeguards the privacy of the user's personal information. Furthermore, there are severe penalties for noncompliance. At the same time, if you develop software for California people, you must consider CCPA regulations. It gives consumers more control over their data.
How Much Does It Cost To Build An App Like TikTok?
The cost to make an app like TikTok always depends on the functionality and features you choose to include in your application. Moreover, it also differs depending on the platform you decide to publish your app and the geographical location of your product development partner.
However, to give you a high-level overview, we've crunched the numbers and estimated the cost to make an app like TikTok. But before that, let's dive deep to know the development time required for TikTok app development:
| | |
| --- | --- |
| Module | # of Hours |
| iOS App Development | 600 |
| Android App Development | 600 |
| Backend Development | 700 |
| UI/UX Design | 100 |
| Quality Assurance | 210 |
| DevOps | 40 |
| Project Management | 132 |
| Solution Architect | 200 |
| Business Analyst | 125 |
| Total Time [For One Platform] | 2107 |
Having the approximate time for each development phase of your project, you can multiply it by the avg hourly rate of the development team, and estimate the final cost. However, the hourly rate of the development team varies depending on their geographic location; the below table gives a rough idea of avg hourly rate of developers depending on the region:
| | |
| --- | --- |
| Region | Avg Hourly Rates |
| North America | $150 |
| UK/ Europe | $80 |
| India | $45 |
Based on the hourly rates, developing an app like TikTok from scratch (in North America) will require a budget of close to ~ $316,000. On the other hand, if you were to develop the same app in Asia, more specifically India, it wouldn't really burn a hole in your pocket. You could get an app with the majority of the features in place at
~ $95,000.
Please note that the estimations provided above are approximate and may vary by ±15% for both Android and iOS.
India's young and dynamic workforce coupled as well as a large pool of tech talent, coupled with lower hiring costs make it an extremely desirable destination for product development.
All great startups begin with a solid foundation and a brilliant idea, and TikTok is no exception!
Tik Tok Revenue Model
The success of a business is often measured by the revenue they generate. TikTok generates its revenue from virtual gifts and brand partnerships.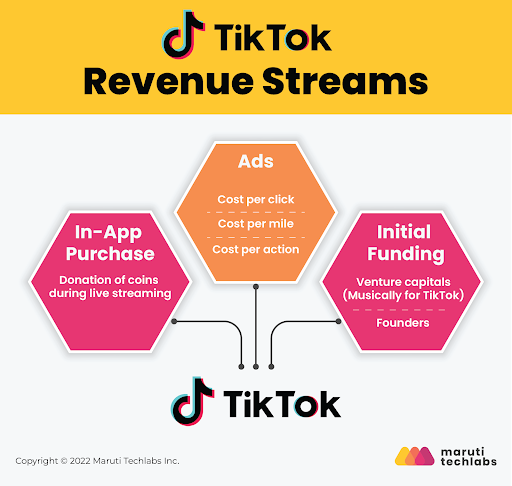 You should consider adopting several monetization models to get the most out of your TikTok-like app. Let us look at some of them in detail:
In-app Purchases: TikTok allows users to donate coins to influencers during live shows on the app. These coins can be bought with actual money.
After the completion of the show,

50% of the total amount goes to influencers

and the remaining work as the revenue for the app.
Initial Funding: The initial funding of any business works as the prime source of income. For instance, TikTok raised

$3 billion

as its initial funding after acquiring Musically.
Ads: Running ads on your TikTok-like app is the best way to generate revenue. The best way to make the process easy and make your application like TikTok successful. You can do advertising based on three models:

Cost per Click
Cost per Mile
Cost per Action
Conclusion
The social networking industry is highly competitive, but a strong product strategy can help businesses develop an app that resonates with users and generates a loyal user base. By investing in product strategy consulting, businesses can gain insights and identify areas of opportunity for growth and longevity to stay ahead of the competition.

It can be challenging to define the project goals and functional and non-functional requirements and prepare, adopt and abide by your project's roadmap. Hence, it is recommended to partner with an experienced and reliable product development company that can assist you in putting all the pieces together for a complex app like Tiktok.

If a project is going well, it's easy to let things get complacent. But if something goes wrong, you have to be ready to jump right in and fix the problem whenever necessary. We got our project managers together to compile our project management guide, which covers everything you need to know and have in place for successfully running and managing a project.
At Maruti Techlabs, we understand that great ideas alone can't guarantee a great product. Our team of highly skilled and experienced developers, designers, and engineers understand the pulse of the market, as well as your specific business needs to provide custom product development solutions. We are obsessed with building products that people love!
At the start of each project, we host a discovery workshop with our clients to help them uncover potential problems or opportunities within the bigger picture of their idea. We identify a well-defined set of deliverables, including development goals, project scope, and project roadmap, and identify any potential business challenges during the development phase.

We're constantly working on adding more to our "Build An App Like" series. Take a look at our other app-like series, such as:
Are you an ambitious entrepreneur looking to get your big idea launched? Get in touch with us to convert your ideas into a fully functioning MVP.
FAQs
1. What are the features of the TikTok app?
Here are the basic and advanced features of the TikTok app.
Basic Features:

Sign-in/ Onboarding
Create & Edit Profile
Browsing Page/ For You Page
Like, Comment & Share
Push Notification

Advanced Features:

Video Recording/ Uploading/ Editing
Geolocation
Live Streaming
Music Library
Duet/ Stitches
2. Which programming language is used in TikTok?
If you wish to develop an app similar to TikTok, you can consider exploring the below programming languages.
JavaScript
HTML
CSS
React Native or Flutter
ReactJS
NodeJS
Python
3. How does TikTok make money?
TikTok is a highly profitable app known for its wide variety of monetization models. TikTok's business model is built on charging users for virtual gifts and partnering with brands. Below are some options you should consider adopting to monetize your app:
In-app purchase
Initial Funding
Ads
4. What is the cost of making an app like TikTok?
There is no definite answer to this question. The final cost of making an app like TikTok depends on the number of features you include in your TikTok clone and the hourly rates for developers you hire.
However, based on the hourly rates, developing an app like TikTok from scratch (in North America) will require a budget of close to ~ $316,000. On the other hand, if you were to develop the same app in Asia, more specifically India, it would cost you relatively much less, approximately $95,000. Note that the estimations provided above are approximate and may vary + or – by 15% for both Android and iOS.
5. How does TikTok work?
TikTok is a Chinese video editing mobile app for short video sharing. With various tools for creating and editing video content, TikTok has become a go-to platform for millions of people worldwide.
The secret behind the success of TikTok over the night is its algorithm. The algorithm makes use of the method of an exponential distribution. The system examines a variety of parameters, including user interactions, video data, and others. Based on this information, TikTok recommends the content to each user.