Online dating is a phenomenon that has come so far; there's no going back.
Dating apps have soared to the top of the charts in recent years. This can be attributed to the evolution of online dating and the impact of a global pandemic that changed the way people get to know and meet new people.
The pandemic-induced loneliness led to the rise of dating apps such as Tinder, Bumble, and many more downloaded at record numbers.
It seems that even a pandemic can't stop the search for love. In March 2020, Tinder had its highest success rate in a single day by reaching 3 billion swipes. From March to May 2020, OkCupid experienced a 700% increase in dates, and video calls increased by 70%.
Many apps are looking for ways to cut into the market share of popular dating apps like Tinder and Bumble. It has been a boon to dating app development companies looking to extend their reach into the dating industry by developing their mobile dating application or replicating aspects of another popular app. If you're also interested in creating a dating app like Bumble or Tinder, this comprehensive guide to dating app development is the perfect place to start.
Let's get started!
Top Global Dating Apps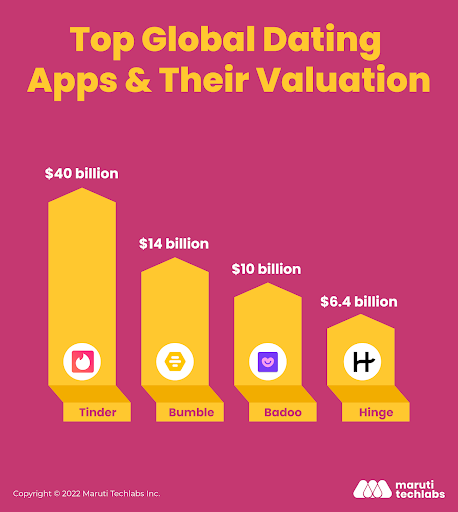 Here are the four most well-known dating apps widely used today, along with their valuations:

1. Tinder: $40 billion
Tinder allows users to quickly find potential mates based on their location, i.e., to date nearby people. It quickly connects you with new and interesting people around you. You need to swipe right if you like the profile or swipe left to pass. If someone likes you back, it's a match!
It is easily the most popular and most extensive dating app available, valued at $40 billion!
2. Bumble: $14 billion
Bumble, another location-based dating app, is designed to give women control of the dating experience. Tinder co-founder Whitney Wolfe Herd started Bumble, and the company has a valuation of $14 billion.
Bumble offers free and paid subscriptions and makes around $200 million from paid subscriptions.
3. Badoo: $10 billion
Badoo is an application that provides a way to meet new people nearby. It connects you with like-minded individuals through games, shared activities, and more.
4. Hinge: $6.4 billion
Hinge is a dating app that advertises itself as the only dating app emphasizing long-term connections between users over superficiality and building relationships. It seeks to connect people based on their interests, education, career and lifestyle rather than looks or location.

Source: BusinessofApps
If you're curious about how dating apps like Tinder, Bumble, Badoo, and Hinge have achieved such high valuations, it may be worth exploring the concept of 'product design strategy.' Taking a thoughtful, user-centered approach to product design, companies can create apps that meet the needs and preferences of their target audience, ultimately leading to greater success and profitability.
Do you also want to create a dating app that has the potential to reach the same high valuation as these top global dating apps? If so, our product management services can help you turn your ideas into a successful dating app that stands out in the market.
Key Statistics: Tinder
Among all the dating apps available today, Tinder has struck the right chord with people from all age groups, especially the youth, and taken the world of love by storm.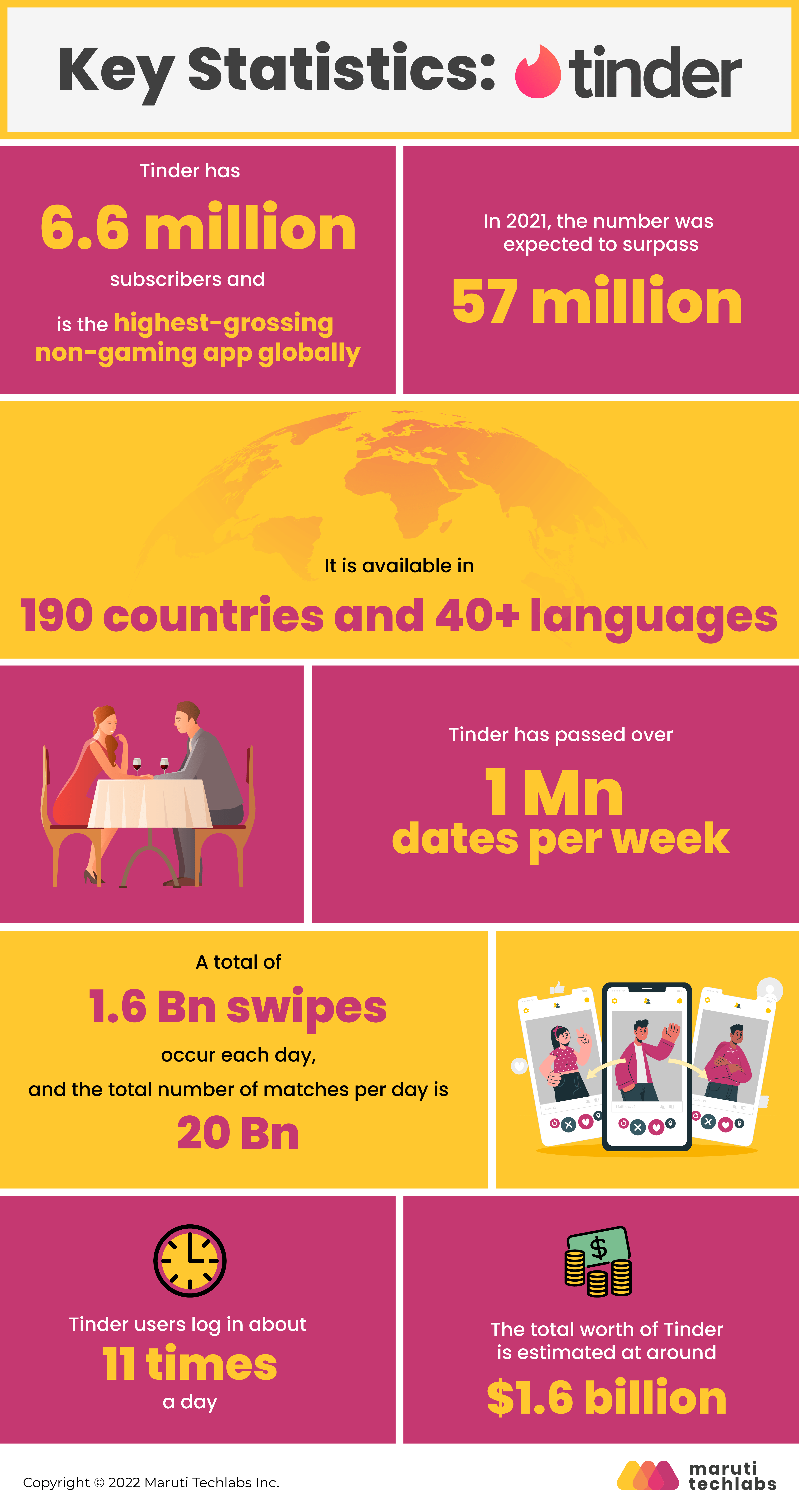 A quick look at some statistics:
Key Features of Tinder-like Dating Application
Your idea for the next great mobile app may be a noble one. Still, it's essential to face reality and create an application that offers users only the necessary tools to make their experience as enjoyable as possible. You can achieve this goal by incorporating the below features into your application to win a dating website.
Let's look at some of Tinder's features in detail.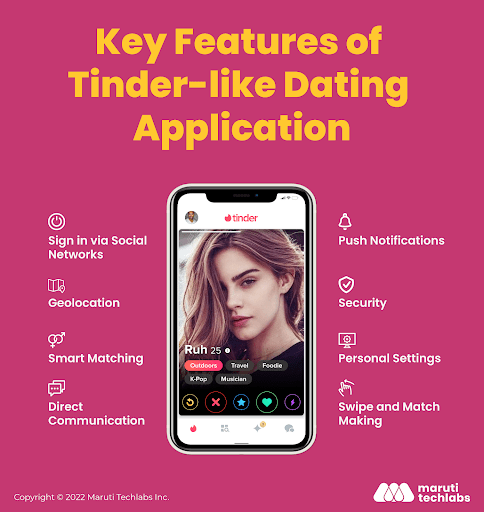 1. Sign in via Social Networks
The time-consuming registration process is obsolete, so having a sign-in feature is necessary. A dating app should provide its users with the following features:
Sign-up via email/phone;
Sign-up via Facebook, Instagram
A dating app like Tinder allows users to register via social media platforms like Facebook and Instagram. Social authentication helps the platform become more trustworthy and saves time creating an account and confirming the email. Users will appreciate your efforts in adding speed and comfort to the registration process. This is a win-win situation as you, too, can benefit from your application being shared across social platforms.
2. Geolocation
One of the must-have components that makes up a dating app like Tinder is geolocation. One of the primary purposes for creating dating apps with such functionality is to allow users nearby (say 100 miles away) to interact and connect online, making their physical distance a non-factor for doing so effectively. Your development team needs to implement the Geolocation API and Core Location code on your app development project.
It is also possible to add more location-based features like how often a potential match visits, such as bars and coffee shops nearby. We also recommend integrating GPS data into the platform to make your localization faster and more precise.
3. Smart Matching
Artificial Intelligence has taken modern technologies entirely new. Thanks to AI-supported systems, dating apps can implement smart matches based on age, gender, location, hobbies and preferences. The more features, the more accurate the match. The users' chances to return to the app regularly are much higher if they get what they want. It becomes easy to search for your future spouse with technology like that!
4. Direct Communication
Chatting is an inevitable part of any dating app, Tinder or Bumble. One should communicate with their match and start dating immediately through the chat system. Another great feature to add would be some way of video calling.
Your application will need the following:
Chat feature
Video call feature
View the user's profile
View connections
Upload pictures and audio in the chat
5. Push Notifications
Both sides receive a push notification when users are matched through the app's algorithm. Push notifications allow alerts about new matches or messages when users are not in the app. This feature is an excellent reminder, so users don't forget about the app and bring them back when a match sends them a message. While some users opt not to use the push notification option after sign-in, dating apps can no longer function without this feature.
6. Security
Although dating apps are created for entertainment purposes; as a developer, you shouldn't forget that they can be a source of harassment. That is why it's essential to implement safety measures in your application and allow the user to search for a partner anonymously.
Tinder offers various safety features such as Photo Verification, Reporting Profiles, The Noonlight panic button, and criminal background check. Ensure that you include these features in your dating app- a chance to report if someone is causing trouble or a way to make sure that the person is real. If not, you risk losing a user forever.
Another excellent feature that Tinder offers is the protection of LGBTQ users. In many countries, same-sex acts are illegal and punishable crimes. In such a scenario, the app automatically disappears from that user's profile, helping the person stay out of trouble.
7. Personal Settings
Making apps convenient to use is a necessity. You should be able to customize it according to your preferences. A perfect way to do this is by adding a settings button and providing a link for the users to access the private page with their personalized profiles.
Here is what you should include:
App terms and conditions and other general information.
Support team contact.
Setting up notifications and filters.
Profile linking to other pages.
Deleting an account.
8. Swipe and Match Making
When you build a dating application, the essential feature is giving users the ability to either 'swipe right' or 'swipe left' on a prospective match based on the user's picture, profile details, and preferences. The software (server-side of app development) then delivers matches that have swiped right to each other (known as a 'match').
In-app stickers and GIFs can be a great way to make your messages more vivid. Another thing that you can do to help increase your chances of getting matched is by using one of the apps' many premium features like unlimited swipes or more profile control!

Are you brainstorming on the idea of creating a dating app with a unique USP? Well, the market is ripe and there is always space for a new product that offers a unique value proposition. If you are serious about your idea, then consider hiring an offshore mobile app developer's team like ours. Our app developers excel at developing products with addictive features that keep your users hooked.
Tinder v/s Bumble: A Comparison

TECH STACK: TINDER VS BUMBLE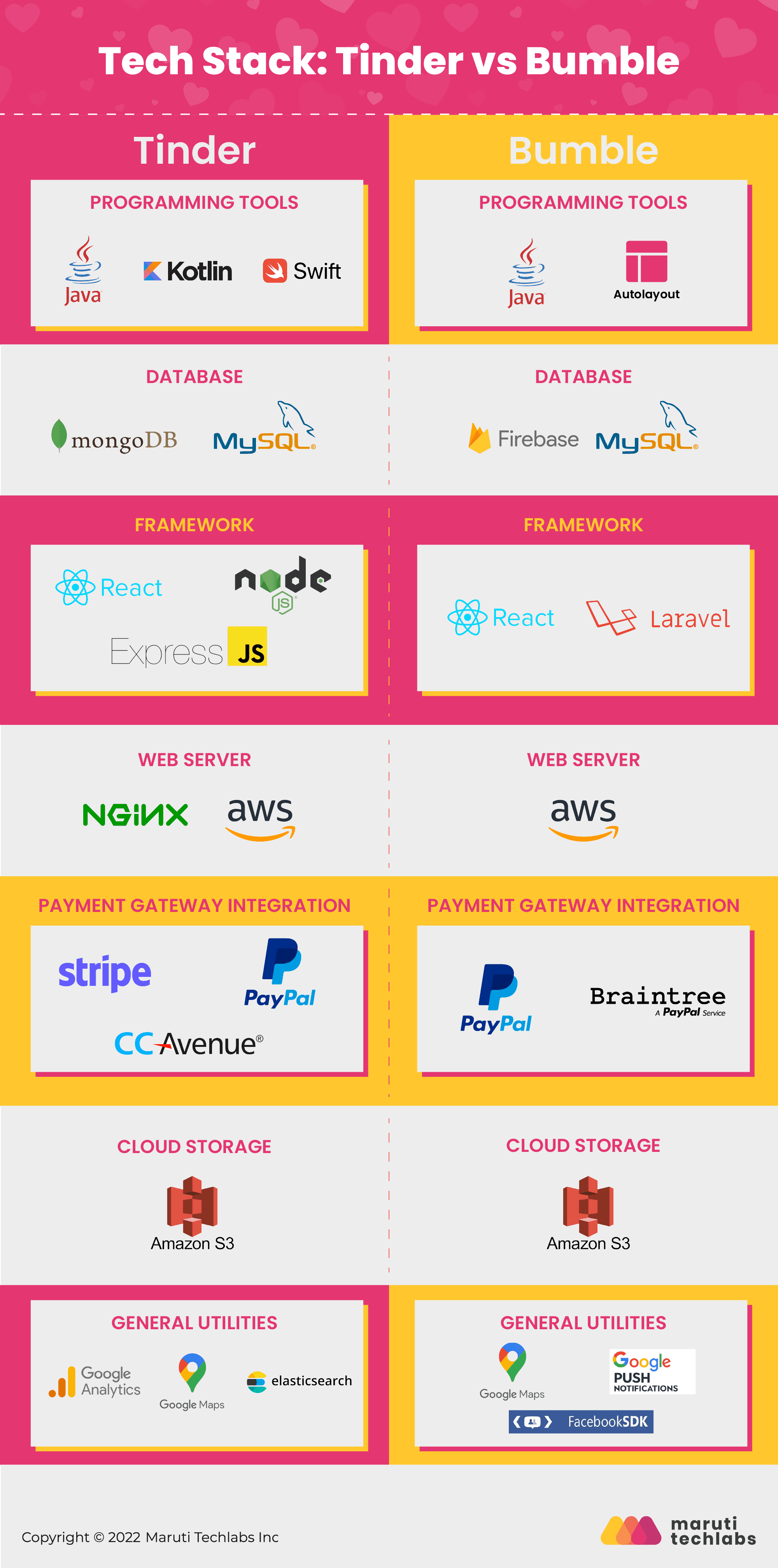 How to Develop a Dating App from Scratch: A Step-by-Step Guide
1. Find your niche & define your audience
Finding a niche and defining the audience for your dating app is the first step to developing a dating app.
Before starting a new dating app, it's essential to know precisely the target audience. Creating an app that meets everyone's wants is not feasible, but rather, make sure you understand what your competitors lack specifically. Once you're aware of their success or failure, you can use that understanding in your venture and build a successful dating application. This could include the ease-of-use interface or perhaps social media integration to appeal to potential clients who might already be active users on specific sites like Facebook.
To stand out from the competition, you must choose your niche.
There are many exciting dating niches currently present in the market. For example, dating apps are based on diet preferences (Gluten-Free Singles) and lifestyle (Equestrian Cupid- dating app for horseback riding enthusiasts).
2. Know the matching algorithm to make a dating app
According to a study, most dating app builders believe that the 'algorithm voodoo' brings people together. But that's not the case most of the time. The exciting news is that at the end of the day, it's your 'Flavor Formula' – 64% of people say they are looking for someone with shared interests and 49% of users say they are looking for someone they find attractive. Your loyal fans will be your best marketing tool!
Today, dating app developers are experimenting with Artificial Intelligence to help match people with each other. The emergence of AI will drive significant progress in the next decade across industries.

As an entrepreneur who wants to develop a dating app, you must understand how people's preferences can be matched based on 'compatibility scores'. This would be achieved by asking potential users a few critical questions at the beginning of their signup process.
3. Select a business model
There are several business models that dating apps like Tinder and its alternatives use for earning money:
Premium business model (Tinder Plus)
In this model, users get a free set of basic app features, but they can choose to buy premium packages with advanced features:
a] Boosting profile
The app charges users a fixed fee to show their profile as the first search result.
b] Advanced swipe
This feature, powered by a machine learning algorithm, changes the way users see photos.
The intelligent algorithm adjusts the user's photos based on the interests of other users. In this way, the owner of a premium account receives more chances to get matched.
c] Unlimited likes
While users of the free app version have a restricted number of right swipes or likes, users with a paid account have unlimited likes.
There are many popular business models for dating apps. Free apps earn money by selling in-app content, charging for premium features, and selling user data to marketing companies. On the other hand, paid apps make their money by selling premium features and charging for special in-app purchases. Subscription-based apps make their money by charging a monthly fee for use. Freemium apps earn profit by offering free service and then selling premium features.
4. Choose the right tech stack
The next step is to select the technologies that will power your app. Having a solid tech stack is vital to the success of your dating app. Making sure that you have the same developer who has experience in the tech stack you're using is key to ensuring that you have a great app.
Developing an app requires a complex technology stack with many moving parts. A typical technological toolchain will include HTML5, JavaScript, and Python, while Python and AWS Mobile work as the core programming language coupled to the AWS Mobile platform that provides the development of mobile apps.
If you opt for the aforementioned tech stack, you can seek assistance from full-stack Python developers with the skills and experience to handle both front and back-end aspects of development. They can work on the entire set of your app's functionalities,i.e., from user interface to database and server.
From the techs mentioned above, Javascript is an essential element when designing the user interface of applications. You can choose from many Javascript frameworks, such as React.js, when designing the UI/UX of your web or mobile app.
You can connect with a React.js web development company like ours to learn more about its offerings. Our experts would systematically guide you through the app development processes and how React.js can be best leveraged to your advantage.
5. Choose an app development team
Given the number of options present in the mobile app development market, here are a few parameters you need to consider to find the best app development team:
Developers from different countries have different hourly rates. Meanwhile, they might have similar experiences and skillsets. This means you stand the chance of finding reliable and trustworthy developers with competitive hourly rates if you're willing to work with a developer based abroad!
It's well worth looking into a potential product development team's portfolio when deciding if they are suitable for your business. The good idea is to ask how many dating apps they have created, as this will enable you to see their level of expertise in the field.
Creating an app like Tinder is a complex endeavor. However, our software product development company is well-equipped to handle the challenge, delivering a product that stands out in the crowded dating app space.
6. Develop and launch MVP
After selecting the development team, they will start the discovery (inception) phase. This stage will include clarifying the project's requirements, your business goals, project prototyping, and ultimately launching the MVP.
Creating a top-notch dating app is within reach by uniting with an experienced mobile app development team who can guide you through the entire app development process.

If you want to build the next pioneer in the dating industry, consider partnering with a top-tier saas development company; you can gain access to the latest tools and technologies to build a cutting-edge dating app that stands out in a crowded market.
How Much Does It Cost To Develop A Dating App Like Tinder?
There is no one correct answer to this question. Before we dive into specifics, brace yourself for a hefty investment. An app like Hinge or Tinder requires very complex architecture and takes time and effort to build.
In a nutshell, the dating app development cost will vary wildly depending on its intricacy, feature set, app complexity, and more importantly, where your product development team is.
It may cost up to $50,000-$55,000 based on average hourly rates in Eastern Europe; working with Indian/ Asian counterparts can reduce by 30%. If you wish to build apps for both platforms (iOS and Android) separately, your budget may increase to more than $100,000.

The app development cost also relies on the number of platforms you want to cover.

Mobile Phones: You can develop your app to run solely on iOS or Android or consider designing a cross-platform app. The latter will cost more as it'll take more time and effort to create.
Tablets: If you want to make it more convenient for your users, you need to ensure that the app is compatible with tablets.
Web App: Decide if your online dating service will run on a website as well.

For you to assess what is needed to build a dating app like Tinder, we've worked on breaking it down to the tiniest detail. The cost of developing such an app is based on several factors such as feature set, app complexity, development service rates, and whether the app will be developed from scratch.

Hours required to develop a dating app from scratch: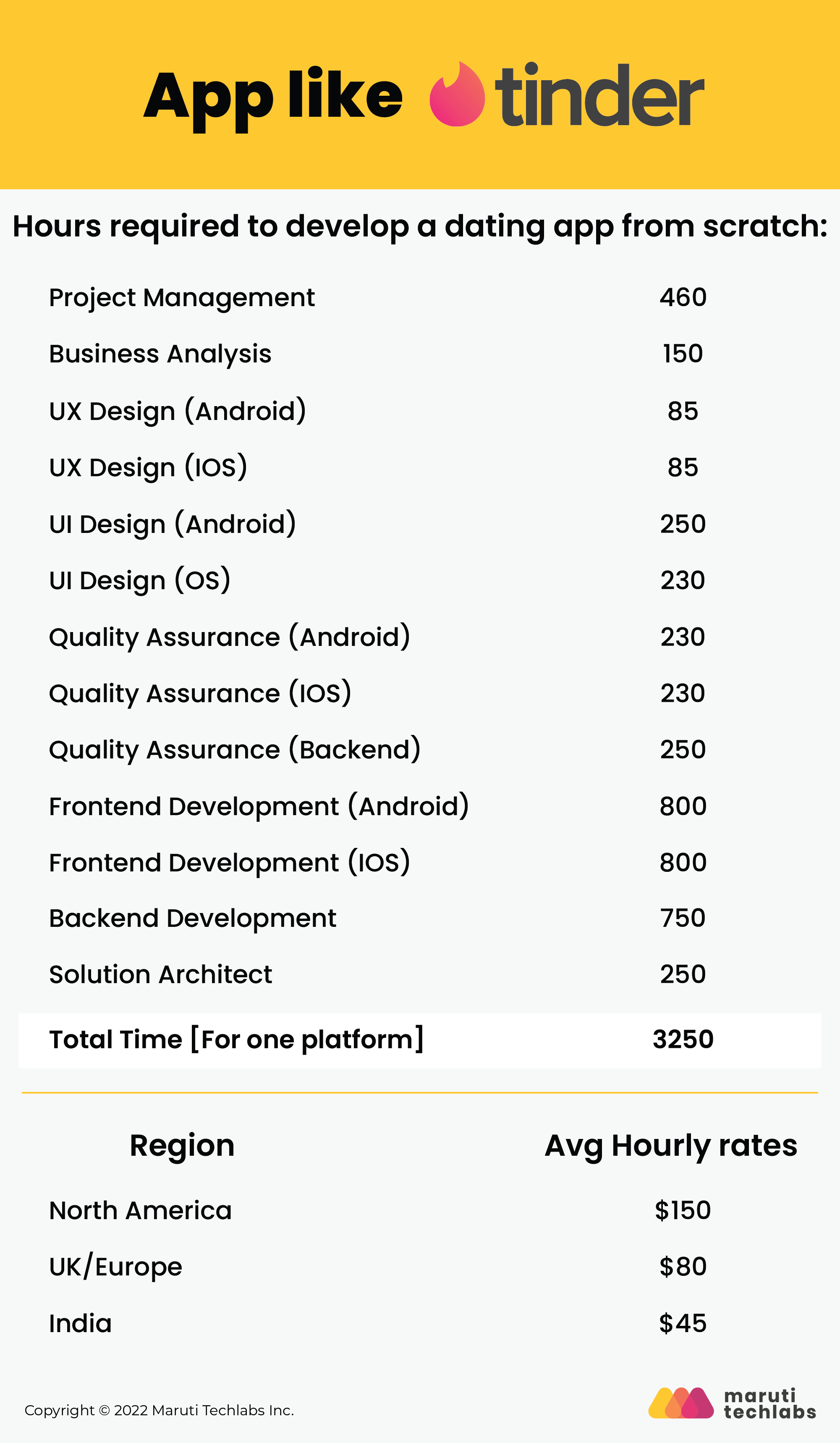 On average, developing a single app for iOS or Android can take up to ~ 3250 hours.
Let's now look at the average hourly rates of the development companies in different regions.
Based on the hours and rates, developing an app like Tinder from scratch (in North America) will require a budget of close to ~ $500,000, while the same app will cost you ~ $260,000 in the UK or European counterparts.

On the other hand, if you were to develop the same app in Asia, more specifically India, it would cost you relatively much less (approximately $150,000). You can partner with a product development partner to build your dating app at an average rate of ~ $45/hour.
Owing to India's young and dynamic workforce, skilled tech talent, and cost-effective developer rates, India is the preferred outsourcing destination to hire developers.

If your budget surpasses $150,000, you can start by developing a minimally viable product. All products need to start somewhere, and for Tinder, an MVP allowed them to get users hooked on their service before building out the rest of their features.
How can you monetize your dating app?
Earning money on a dating platform can sometimes become a challenge. First of all, the competition is relatively dense, and you need to have a great app to stand out.
A second key is many monetization strategies, which may perplex a newbie developer or entrepreneur. Hence, we've prepared a list of ways to monetize your app.
The premium app can offer a few additional features like the following:
1. Subscription
Many dating apps offer subscription plans that charge monthly or weekly fees. There are always many serious users who are willing to pay and join. However, there are other ways to make money when just starting.
2. Membership fee
Another way to monetize your app is by charging users to download your app. This will limit the number of people who try it, but it does let you position yourself as a premium product. It also limits fake users and fraud.
3. Freemium
Freemium apps earn profit by offering free use and then selling premium features. This can be anything from appearing higher on the list of possible matches to unlimited right swipes (and having a daily limit for primary users) and making it ad-free for premium members.
4. In-app purchases
The key here is to sell goods or any additional functions for real money. In the case of dating apps, companies or brands can target the users with things they like, where they dine or let them buy gifts, digital flowers, emojis, or the opportunity to send an unrestricted number of messages every day etc. This is a great way to earn money and encourage interactions through your app.
5. Adverts
One monetization option is advertising. Both Android and Apple have policies where developers can decide whether or not they include advertisements within their apps or if the app is ad-free and charged.
6. Customized swipe
Thanks to deep learning technologies, you can charge users to allow changing the order of pictures based on the user's choice of who sees them.
7. Unlimited swipes
Offer users unlimited swipes in exchange for a fee. Eager users will be ready to pay for the daily swipe upgrade.
8. Ad-free
Best of all? Go ad-free! Ads can be annoying, hence for a specific price, you offer users an ad-free experience.
9. Promotion and affiliate marketing
For a separate fee, a user can be moved to the front of the search list for a specific time.
Tinder's tech stack: Select the right tech stack for your dating app
Choosing the right technology stack for your dating application is a vital step. When making a dating app, the most important technologies you will have to choose from are databases and your language.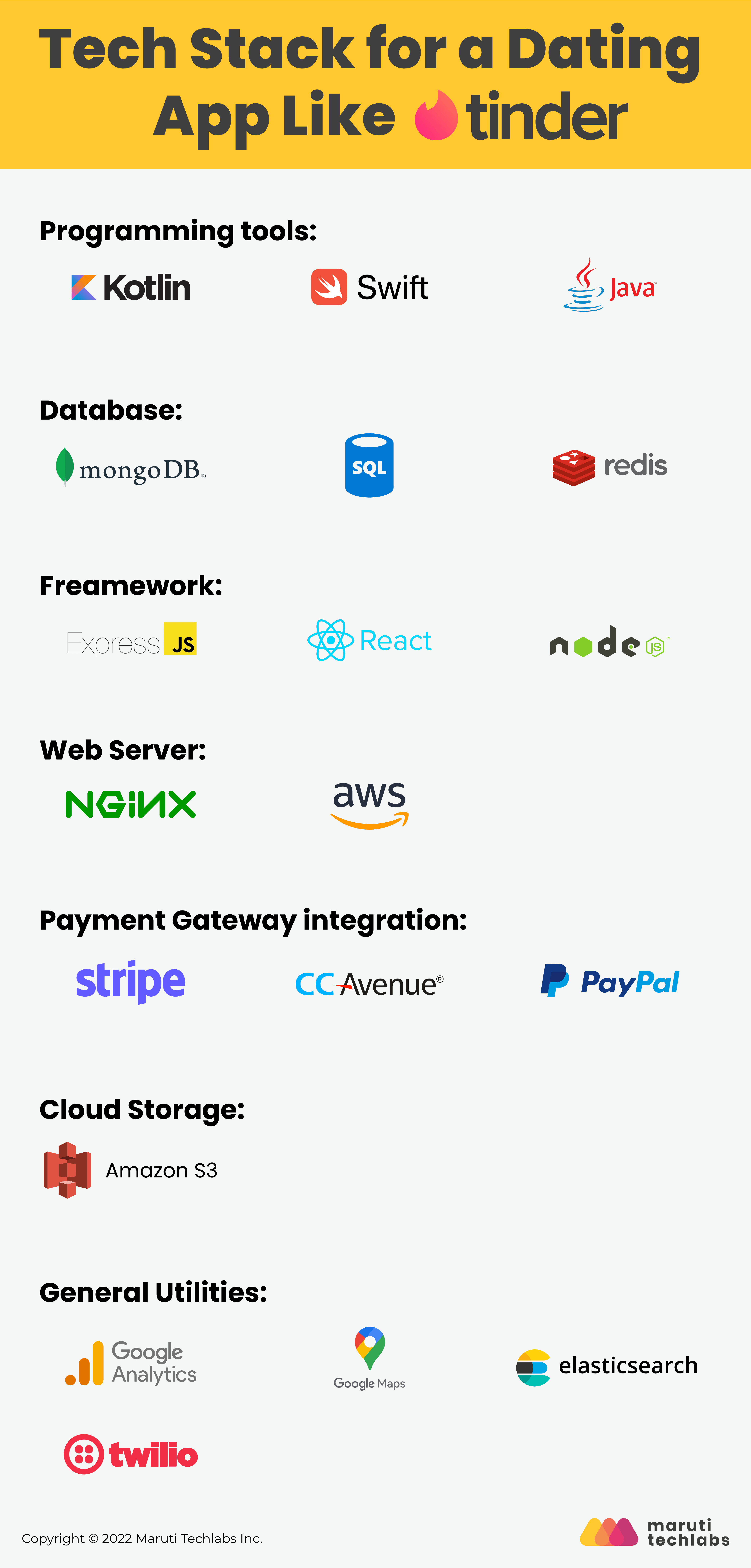 We recommend the following tools and technologies, but of course, they would differ depending on your unique requirements.
Programming tools: Kotlin, Swift, and Java
Database: MongoDB, SQL, Redis
Framework: Express.Js, React, Node.Js
Web Server: Nginx, AWS
Payment Gateway integration: Stripe, CCAvenue, PayPal
Cloud Storage: Amazon S3
General Utilities: Google Analytics, Google Maps, Elasticsearch, Twilio
Apart from the above, Google Analytics, Twilio, and Google Maps will be needed. This would again depend on your feature list, functionality, and the type of dating app you want to build.
Behind the visual simplicity of Tinder lies the massive work by developers of different technologies. Like any other complex solution incorporating vast amounts of user data, Tinder's performance is its main asset, and it has to be implemented using the best technologies available.
Bottom line
Match-making has been around for some time, but we are getting closer to a near-perfect match with today's technology. If you plan to develop your dating app like Tinder, talk to a trusted product development company that can help you put it all down in development.
Dating app development may be a lucrative investment. However, app development is a complicated process requiring financial resources and an experienced development team.
At Maruti Techlabs, we know that great ideas alone aren't enough to make great products. Our team of developers, engineers, and product managers has a proven track record of creating products that delight users. We follow a systematic & proven process to help turn your ideas into MVP.
At the start of each project, we conduct a discovery workshop to help our clients assess the potential of their product or idea. This workshop typically lasts several weeks, during which our team, alongside the client, uncover potential problems or opportunities within the bigger picture of their business. We identify a well-defined set of deliverables, including development goals, project scope, and project roadmap, and identify potential business challenges during the development phase.
If you want to test the waters and build a quick proof of concept or MVP, we highly recommend leveraging low code tools to help you get there. We often work with early-stage startups that need to go to market with a quick MVP to validate the idea, find PMF, raise a seed round, and scale the product. In such cases, our 'idea to MVP' team prevents you from overinvesting in the idea before really ticking all the boxes, and our 'scale and maturity' team comes in later to help you build further.
Get in touch with us to help you build the next trailblazer in the dating industry.

FAQ section
1. What are the features of a dating app?
Here are some of the features of a dating app:
Easy to use: users should be able to log in quickly and easily.
Location-based: this allows users to find people who are nearby.
Private: users must control the information they want to share, allowing them to be selective about their suitors.
2. How much does it cost to make a dating app?
The dating app development cost will vary wildly depending on its intricacy, feature set, development service rates, and app complexity. The more complex the app, the costlier it will be. It may cost up to $50,000-$55,000 based on average hourly rates of $50 in Eastern Europe.
3. What is Tinder coded in?
Tinder is coded in Objective-C. Objective-C is a superset of C and is a prevalent language used for developing iOS apps. For the server, it uses javascript and node.js
4. What is the tech stack required to develop a Tinder-like dating app?
The tech stack for a dating app like Tinder includes Kotlin, Swift, Java, MongoDB, SQL, Redis, Express.Js, React, Node.Js, Nginx, AWS, Stripe, CCAvenue, PayPal, Amazon S3, Google Analytics, Google Maps, Elasticsearch, Twilio.
5. What team structure is required to create a dating app?
A team of experienced app developers must create a successful dating app. However, it may not suffice. So you will need at least two developers, one backend developer, and one front-end developer. You will also need a team of UX/UX designers and a marketing team to promote the application in the app stores. In a nutshell, the team structure to create a dating app is as follows:
Frontend and backend developers
UX designers
Quality Assurance Lead
Project Manager
Scrum Master
Business Analyst