The gig economy is booming now more than ever, and the rising number of Airbnb hosts and Uber drivers are a testament to that. With an increasing number of people sharing their homes with travelers as a source of income, knowing how to build an app like Airbnb can be the start of a great business.
Travelers increasingly prefer vacation rental properties and homes as they offer more comfort, privacy, and value than hotels. With the added benefits of being more kid and pet-friendly, vacation rentals are becoming the preferred accommodations for leisure travel. According to Grand View Research, the US vacation rental market is expected to grow at a CAGR of 8.49% from 2022 to 2026.
Airbnb is one of the online vacation rental marketplaces connecting people looking for accommodation with people who want to rent their homes. The vacation rental market is different from hotels that offer short-term accommodations to the guests in residence. Our developers have helped us prepare a complete guide to develop an app like Airbnb and how much it costs to build an app like Airbnb. Let's dive right in!
What is Airbnb?
Airbnb is a popular vacation rental platform that provides the facilities for travelers to rent a local place to stay and have a better experience for hosts and guests. The headquarters of Airbnb is located in San Francisco, and the company provides online hospitality services all over the world through mobile and web applications.
The company started by creating a simple website where the users can offer accommodation to the tourists visiting their place. After nine years of long sustainable revenue, the company started a mobile application for its product.
Airbnb's Funding and More
Airbnb spreads around 191 countries and 65,000 cities globally, with more than 45,00,000 listings at present. Airbnb has already received funding from 15 companies with a raise of $4.4 billion.
Airbnb has extended its services with a list of experiences and reviews for various restaurants and accommodation costs for travelers in recent years. Moreover, the company plans to expand its user experience by adding sightseeing tours and travel guides offered by local Airbnb hosts.
How Does an App like Airbnb Work?
The most crucial thing to keep in mind in 'how to build an app like Airbnb' is that the app should have a smooth transition from the beginning to the end while using it. The app should be easy to use and should provide a better user experience for excellent reviews.
The working process of Airbnb flows like this:
The property owner lists out their property description along with the rules, prices, facilities, and any other information that draws the attention of the tourists to choose their stay.
The traveler searching for the property to rent on Airbnb will filter his/her location, price range, and other essential details.
After finding the perfect property that fulfills his expectations, he will request to book it on Airbnb.
Later, the property owner will decide to accept or reject the traveler's booking request on Airbnb.
The deposit is deducted from the traveler's account if the owner accepts the booking request on Airbnb. The user will pay the remaining amount to the owner after the stay.
At last, the host of the property and the traveler can review each other on Airbnb for future reference.
What are the Features of Airbnb? – for Guests
If you are developing a vacation rental application just like Airbnb, below is the list of features for guests to consider for a better user experience.
Sign-up/Login: First, the user has to sign-up to the app or website by providing the necessary details like their name, email address, ID number, etc. If the user is already registered on Airbnb, then they have to log in using their user ID.
Manage Account: This feature enables users to update or edit their personal information on Airbnb, including their password change.
Search Filter: Filters help users find their desired property by applying filters like available dates, price range, property size, facilities, etc. This feature will save time for the user to find the property which fulfills their expectations.
Wish List: If any desired property is unavailable on Airbnb, the user can mark it to the wish list for future reference.
Chat Notifications: This feature notifies the user whenever they have a message on Airbnb.
Chatbot: This feature enables the user to interact with the property owner before booking the property on Airbnb.
Maps: Airbnb provides the facilities to locate the property on the map so the user can see the surrounding area.
Booking: This feature allows the user to book the desired property and display the past booking history on Airbnb.
Payments: The payment feature allows the user to pay the property owner after finalizing the stay. It also enables the user to view transaction history, and payment details, and select currency and payment method.
Help: Even after the user-friendly features in an application, users often face difficulties working with vacation rental apps. This section on Airbnb will provide a solution to the user with their problems with using the website and short FAQs to understand the app better.
Review: This feature on Airbnb enables users to share their thoughts about the app and the host of their stay for better references.
Sharing: It is essential to develop a feature that enables users to share applications with their friends or invite them to use the app for better marketing purposes.

Effective product management is just one piece of the puzzle for building a successful vacation rental app. To ensure your app stands out from the competition, it's also important to prioritize features that enhance the user experience and streamline the booking process. Our experienced product management consultants can work with you to build custom features and integrations that set your app apart.
What are the Features of Airbnb? – for Hosts
Let us have a look at the list of features that are present in the Airbnb application for hosts:
Sign-up/Login: First, the property owner has to sign-up to the app or website by providing the necessary details like their name, email address, ID number, etc. If the host is already registered, then he has to log in using their user ID.
Manage Account: This feature on Airbnb enables users to update or edit their personal information, including their password change.
Registration: Here, property owners will fill in the details of their property like location, price range, facilities, etc on Airbnb.
Manage List: This feature enables the host to update their vacation property information.
Booking List: This is the place where the property owner can manage all their previous and upcoming bookings on Airbnb.
Request: This feature allows the property owner to accept or reject the booking request from the travelers.
Chatbot: This feature enables the host to interact with the property owner before booking the property on Airbnb.
Chat Notifications: This feature on Airbnb provides notifications whenever they have a message.
Account Details: This feature allows the host to keep track of their booking deposits and payment transactions.
Review: This feature on Airbnb enables the host to share their thoughts about the app and the user of their stay for better references.
Sharing: It is essential to develop a feature that enables the hosts to share applications with their friends or invite them to use the app for better marketing purposes.
Building an app like Airbnb requires a team with experience in custom web application development, and that's exactly what we offer at Maruti Techlabs. With our expertise in developing high-quality, user-friendly applications, we can help you create an app that offers the same features and functionality as Airbnb while meeting your unique business needs.
Tech Stack for an App like Airbnb
It is necessary to get familiar with some programming languages and frameworks used to create the application to build the Airbnb app framework efficiently.
To build an Airbnb clone app, you need to know all the below-given tech stack:
Frontend Frameworks like Angular.js, Vue.js, and React.js
Serverside technologies like AWS, Azure, Google Cloud, and DigitalOcean
Backend Frameworks like Django, Node.js, or Ruby
Databases management technologies like MySQL, MongoDB, PostgreSQL, MSSQL and Azure DocumentDB
Network Caching Services like Redis and Nginx
Having a top-notch technical team is a must for building a successful app. However, building such a team takes time and money. You can partner with an IT outsource consulting firm to transform your app idea into reality.

Building a vacation rental app like Airbnb requires a dedicated team of skilled mobile app developers, designers, and marketing experts. Maruti Techlabs can be your best place to hire mobile app developers. Partnering with experienced professionals can significantly accelerate your app's development and increase its chances of success in this competitive industry.
The Architecture of an App like Airbnb
In the course of learning how to build an app like Airbnb, you need to think out of the box because when you build multiple services simultaneously, you have no idea which one will fail. Therefore, the application structure will be highly complex as every feature of the app you create will eventually depend on others. So if one service fails, the other features will also stop working.
Here we have mentioned the architecture of the Airbnb clone for important features we talked about earlier. But before jumping into the architecture of the application – Airbnb, let us discuss some of the challenging features which can lead you to failure of the application.
Many people search for vacation rental places rather than booking the property. Therefore, make sure that your searching services are the core feature of the application rather than booking or renting the property.
While working with the chatbot of your application like Airbnb, remember that the chat is a two-way freeway communication. Using an API won't handle the chat, search services, and booking services altogether. Therefore, you must consider creating a separate service using high resources to communicate between hosts and travelers.
According to the reports, almost 90% of the time, third-party payment gateways and verification services fail to provide the desired services. Failure happens if an app like Airbnb is poorly written, which can lead to the collapse of the entire application. Therefore, it is pivotal to take care of the payment services on both ends.
Consider a scenario where the property owner just spent half hour adding their property details along with necessary services and images of the property. After filling in the details, they just tapped the "submit" and lost the internet connection simultaneously. Hence, all the time they dedicated is now gone. This situation is not a user-friendly experience as you just asked someone to spend a significant amount of time on your application, and now it is useless, and the chances are that you might lose your user. Therefore, make sure you have a high-quality service for database storage that can retrieve user data in such situations.
Now let's move forward to understand the architecture of the Airbnb clone. Consider a simple MVP solution that is flexible to start your application. Follow the below steps to understand the architecture in detail.
1. First, create the user for the app and the backend for this user.

2. Now, classify the app's backend into services. You must separate the benefits that could crash, i.e., all third-party services you don't control. These services include:
search services
booking services
offline-online synchronization services
3rd party services
payment services
chat services
The below image shows the architecture of your application after this step.
3. Remember that your web users and mobile application users will be different. Therefore it is recommended to use other modes of communication for both of these modes with your backend services. It will help you prevent API failure, and if your mobile app doesn't work sometimes, the user can book a place through the website mode.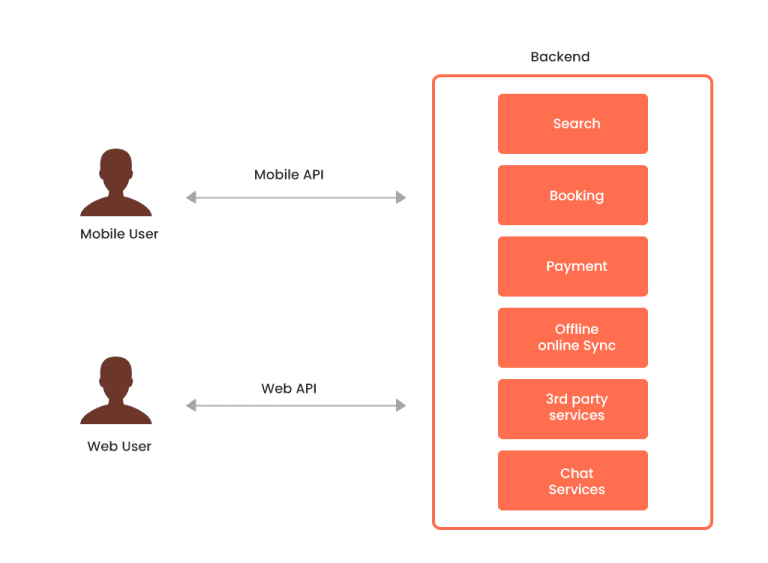 Great till now, let's move forward to further steps of architecture for your application
4. Now you have to define the components with more details. You must choose your API services between REST(used for APIs developed currently) or GraphQL(touted replacement of Rest APIs). Later write the booking services of your application using Python, PHP, and Javascript. All the booking-related information is stored in your database using MySQL.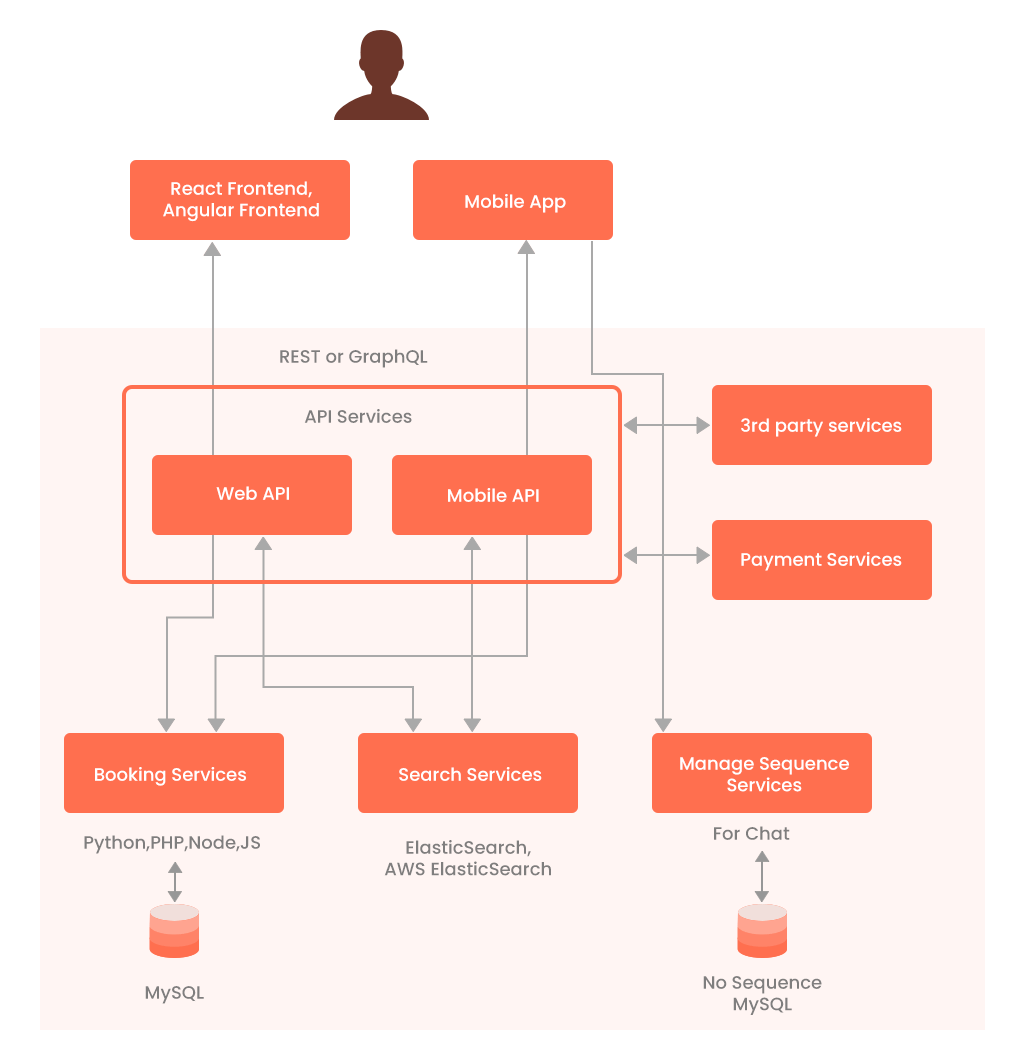 The application user will tend to use the search services more often than the other services. The diagram below displays how you can separate your application's search and chat services. The search services use API services, whereas the chat services use any third-party services like Amazon MQ.
5. Even at this point, your application is not dealing with any offline-online synchronization effectively. The entire application architecture lacks offline support. To handle this situation on the mobile application, you can use Realm, Firebase, or Couchbase that helps you store the data locally until the user's mobile device is in network mode again. Similarly, you can build more specific services to handle offline storage.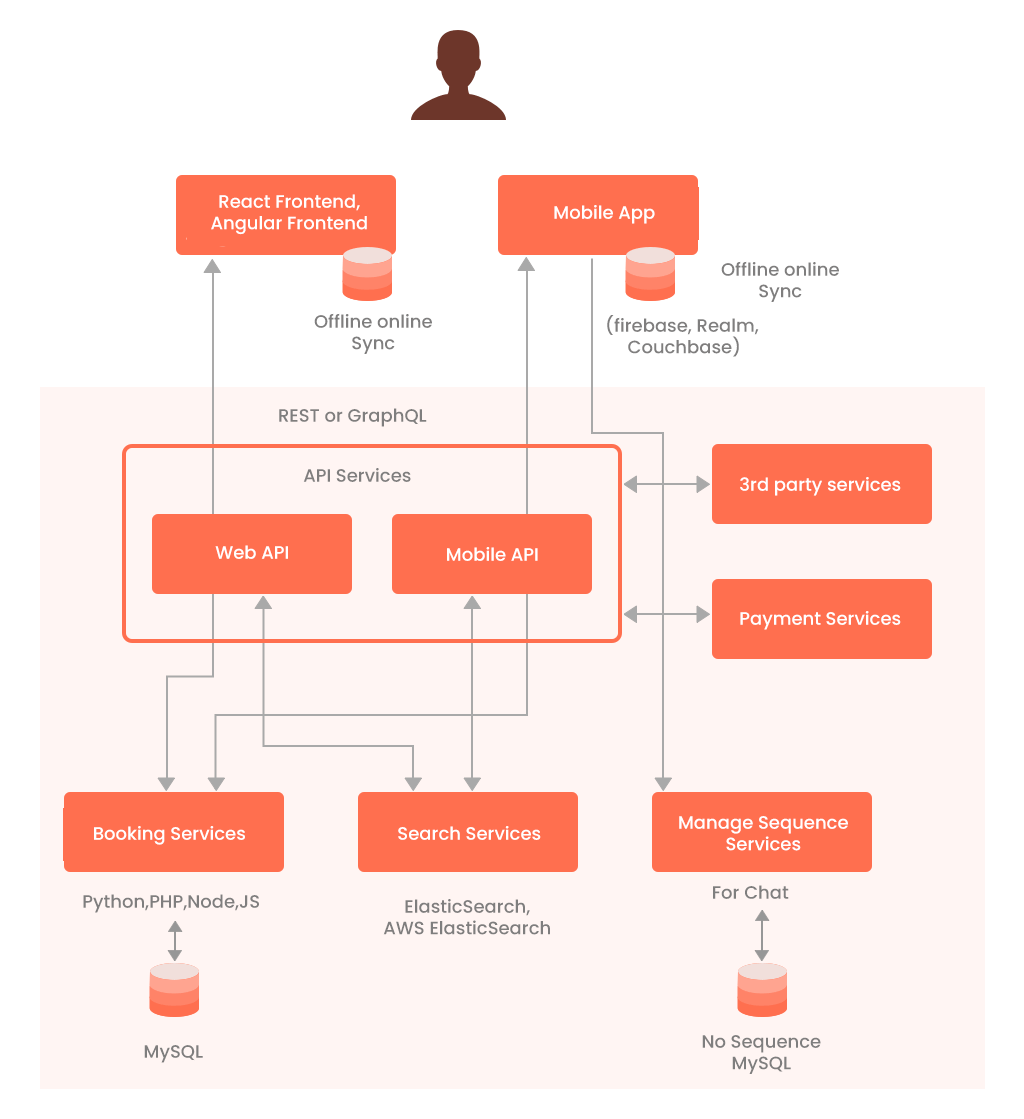 Are you aiming to scale your application to millions of users? Then you've landed at the right place. Like Airbnb, SaaS application development solutions offer a cost-effective and scalable approach to building your app.
Advanced Features for Superior User Experience
User experience is essential to fulfilling the user's needs. A meaningful user experience will keep your customers loyal to your brand, ultimately helping you achieve the business goals.
Until now, you have been able to develop an application like Airbnb that can work without disruption and handle at least 100,000+ users. It is also flexible enough for any modification that you want to make along the way to reach a product-market fit. It is time to focus on your app's performance and the customer's user experience since you have a solid foundation for your application. Therefore, now we will look forward to creating features in your application that will delight your users.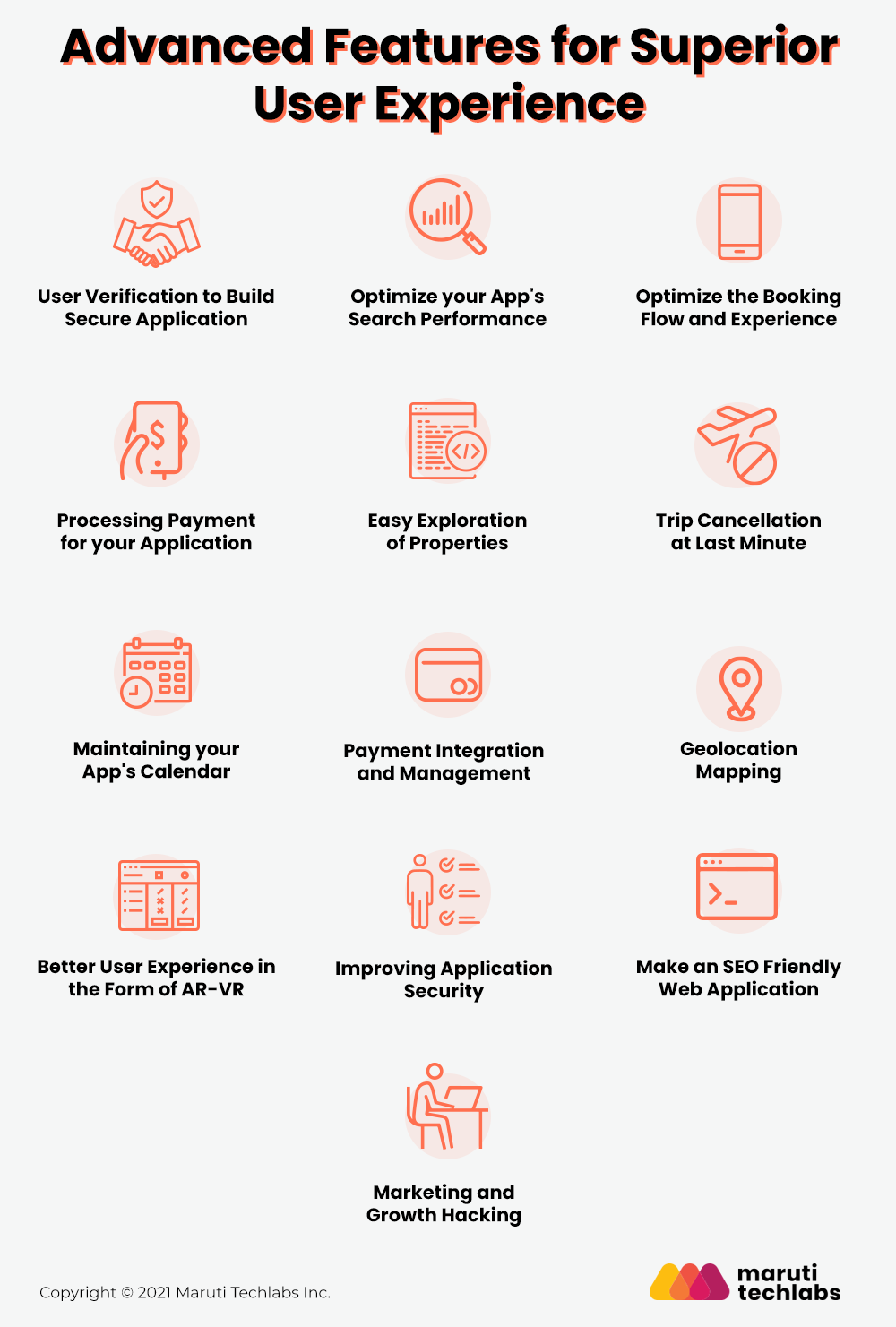 1. User Verification to Build Secure Application
The most crucial part of any application is to create a safe and trusted environment for your users. While building a vacation rental application like Airbnb, securing the host's and guest's travel experience is essential.
You have to verify the user's online and physical identities when they sign up within the application. For this purpose, you can ask the host to submit their identity verification information such as passport, driving license, or national ID card permitted by laws.
For the verification process, you can ask the user to upload the image of government-issued ID and selfie or scanned headshot and later match both the documents to check whether they are the same or not.
Generally, the process requires advanced machine learning technology to verify the user identity with a facial image. Apart from this, you can use third-party tools for identity verification like Jumio, Shufti Pro, Onfido, etc. These tools won't cost you a lot and help you automatically complete the verification process within your app.
2. Optimize your App's Search Performance
When you talk about vacation rental applications like Airbnb, searching is one of the prominent features of the application where the user is most likely to interact. Search services are one of the primary features which are most likely to make or break your application.
Consider a scenario where you have to find a particular name from the list of 1,000,000+ names. Not easy, right? When working with such searching features to implement, developers jump to refer to complicated searching algorithms. But why go with such a painful task when you have a solution to replace this expensive custom engineering.
An application like Airbnb supports the following search filters for a typical searching process:
Type of Property
Price Range
Location
Availability
And many more
Route to implement a listing search
For implementing these features fast and effectively in your search engine of the Airbnb clone application, you can consider using ElasticSearch and AWS ElasticSearch.
ElasticSearch is an open-source, fastest, full-text search engine. It enables you to search, store and analyze vast volumes of data in milliseconds. AWS Elastic search is more feasible as it will provide you with a hassle-free search solution than ElasticSearch, where you have to manage your services formally.
Working with ElasticSearch requires a tremendous amount of work. You must set the mapping and analyzer correctly; otherwise, you will not receive precise search results. Moreover, the complexity of the resulting search query will increase with the increase in the search filters of your application.
3. Optimize the Booking Flow and Experience
It is very complicated to navigate effectively with an application like Airbnb. A vacation rental application requires a booking feature because as the host activates his property listing, the traveler should book his property for renting purposes.
Make Use of Instant Booking
Back in 2017, Airbnb introduced the feature of instant booking, and the statistics show that 50% of Airbnb hosts have switched to instant bookings to rent out their properties.
Often, under regular booking services, the host does not approve the booking request made by the guest for their property. This scenario leads to the cancellation or poor user experience for the guests. As a solution, hosts can list their property for instant booking features, and hence users can book them instantly.
It is one of the examples of how you can make the MVP feature design of your application like Airbnb more effective and smooth. You just need to build a feature that could complement other features to provide your user experience. Instant booking is one of the killer features of Airbnb, which maximizes the number of bookings within the app.
4. Processing Payment for your Application
When you integrate the payment feature for your application, many third-party payment gateways might help you. You don't have to worry about your payment-related security issues when working with the payment gateways providers. You need to ensure you follow the best practices that your gateway provider suggests.
Stripe and Braintree are common payment gateway providers which help you to build your payment services effectively. Also, some payment gateway providers provide an SDK for React Native. So if your app type is React Native, you can create a wrapper for native apps and integrate them within your application. But it is difficult to manage and update this wrapper with every new release.
5. Easy Exploration of Properties
The statistic shows that most Airbnb users decide on renting the place according to the comfort and facilities provided by the host. The user constantly searches for the place which makes them feel at home and get a taste of local culture to make their vacation exciting and smooth at the same time.
Comparing Different Rental Properties
Even when you provide the feature to save the favorite rental place in your wishlist, the user has to look through the different houses and memorize their details to compare with the one they kept. This information overload sometimes adds unnecessary complexity to your user experience.
As a solution, an app like Airbnb comprises a comparison feature. When they view their wishlist with the saved property, all the houses within the list are selected by default. Further, the user can select or deselect the saved houses and then compare the properties side by side, displaying all its information.
6. Trip Cancellation at Last Minute
In many vacation rental apps like Airbnb, hosts can cancel the booking even after the deposit. From the user's point of view, you'd never want to use this app again in this situation.
But you can reduce the last-minute cancellation by simply charging a cancellation fee to the host. Another option is to set the total number of cancellations to the host's profile or block the calendar dates for the last-minute cancellations. By this, the trustworthiness of the host using the app will increase, and it would also force them only to cancel the booking if they have no other choice left. Also, it will prevent them from leveraging the surge price at the last moment and disable them from accepting any request during those periods.
Dealing with the last-minute cancellation is tricky work, but you have to choose the best option for your audience. Another solution is to provide a nearby place as an alternative to the user if the host happens to cancel the booking at the last minute.
7. Maintaining your App's Calendar
Managing your calendar is extremely important. The host readily accepts the user's booking request for an application like Airbnb but later realizes that the dates won't work for the host. As a result, it will establish the last-minute cancellation, which is the huge loss of deals on both sides of the marketplace like Airbnb. Therefore, this scenario comes into the picture because the host was unable to manage their calendar effectively.
As a solution, you could optimize the user experience of your application by creating a contextual calendar. You can research the host's calendar visit traffic, which suggests how typically the host manages their calendar and what days they prefer to do the same. For instance, the probability of hosts checking out their calendar is high on Friday, Saturday, and Sunday.
8. Payment Integration and Management
Scams and fake payments are often inevitable when dealing with vacation rental apps. The scams that are likely to happen when you are dealing with the apps like Airbnb are:
Fake listing of properties using images or address
Fake reviews by family or friends of the host
Duplicate listing by the host with different addresses
Demand for extra cash by hosts
Blackmailing guests by hosts
Falsifying the damages by hosts
The demand of the offsite payment by hosts
Fake scam emails
Blackmailing the guest or host for good reviews
There are various solutions to prevent all these scams. You can use machine learning algorithms to detect the fake listing of the property on an app like Airbnb before they go live. Machine learning algorithms can see the fake listing by several hundreds of risks such as host reputation, duplicate photos, template messaging. When such a fake listing is found, the algorithm immediately blocks it before appearing in the application.
You can use the payment gateway such that the payment is released just after the user checks in the host's property. This method is better for both parties and gives them time to evaluate everything they are looking for.
Also, you can enable a flag feature that will allow the user to report or flag the suspicious or fake listing of the host. These flags can be directly tackled into risk modeling to re-evaluate the listing and automatically remove or review it.
9. Geolocation Mapping
Apps like Airbnb enable geolocation, which shows the data of all available apartments on the map with the prices. The geolocation map fetches all the information about the apartments and changes accordingly by dragging, dropping, or zooming the map. Clicking on the marker will display the information of the property in detail.
You can implement this feature like Airbnb in your application by using the Mapbox Studio along with OpenStreetMap. MapBox Studio will enable you to design the maps according to your requirements, and OpenStreetMap will display the data of the properties via Mapbox.
If you want to use the Google Map services to implement Maps like Airbnb, you can use Google Autocomplete Services, enabling you to place Autocomplete Services using Google Map SDK. It will help the user write partial information about location, zones, and zips and get the desired result. Therefore, it is easy for users to search across the map for their favorite locations for vacations.
Also, you can use Google Matrix API that allows the user to calculate the approximate distance and travel time from their present location to their destination.
10. Better User Experience in the Form of AR-VR
Recently, Airbnb announced that they are experimenting with enhancing their customer experience using augmented and virtual reality technology. Except for Airbnb, many vacation rental companies are trying to improve their user experience by leveraging AR and VR technologies.
AR and VR technologies enable you to showcase to the app's user better and more effectively. It helps the host show the other facilities with minute details to leverage travelers to select their stay. Hence, using AR and VR, you can give your user the experience of staying at their desired property before they even step into the actual location.
Using AR and VR, you can create pictorial notes for your users who accommodate your property for their vacation. You could give every micro detail possible for all your property without even being there. If this feature does well with your target audience for the app, it is advisable to add it right from the MVP architecture.
For getting AR and VR capabilities for your application, you can consider technologies like ARCore or Google VR from Google and ARKit for Apple. You can also consider some other providers like Argon, VIRO, Augment, or Babylon.js.
11. Improving Application Security
Even if the security measure isn't cost-effective for the startups, it is mandatory to consider them. For an app like Airbnb, you can make a huge difference by applying simple security measures to ensure that your user's data remains secure.
You can use third-party API access that controls the level of access users for an app like Airbnb. You can secure data by encrypting data while storing it locally. You can make your app tamper-proof by adding a simple tamper-proof mechanism that can prevent anyone from reverse engineering your application. Also, make sure that your app like Airbnb undergoes the authorization and authentication process when the new user starts using your application.
You can avoid using hardcore server and third-party credentials in your application code to secure it from attackers that can gain unauthorized access and harm your app.
12. Make an SEO Friendly Web Application
Creating a Single Page Web Application(SPA) built using JavaScript frameworks such as Angularjs or ember.js can cause severe problems for your web app, like difficulty maintaining SEO traffic. Also, SPA deep links are challenging to get indexed.
Airbnb solved this difficulty by building its web application using Isomorphic JavaScript. Using it, you can execute the application logic and view the app's logic on both the client-side and server-side. This fact will improve the SEO and performance of your web app to a great extent.
If you are willing to develop your web app using Angular, you can consider Universal Angular instead. In contrast, if you choose React as your primary framework to build your web app, you don't have to worry about it as React is an isomorphic language.
13. Marketing and Growth Hacking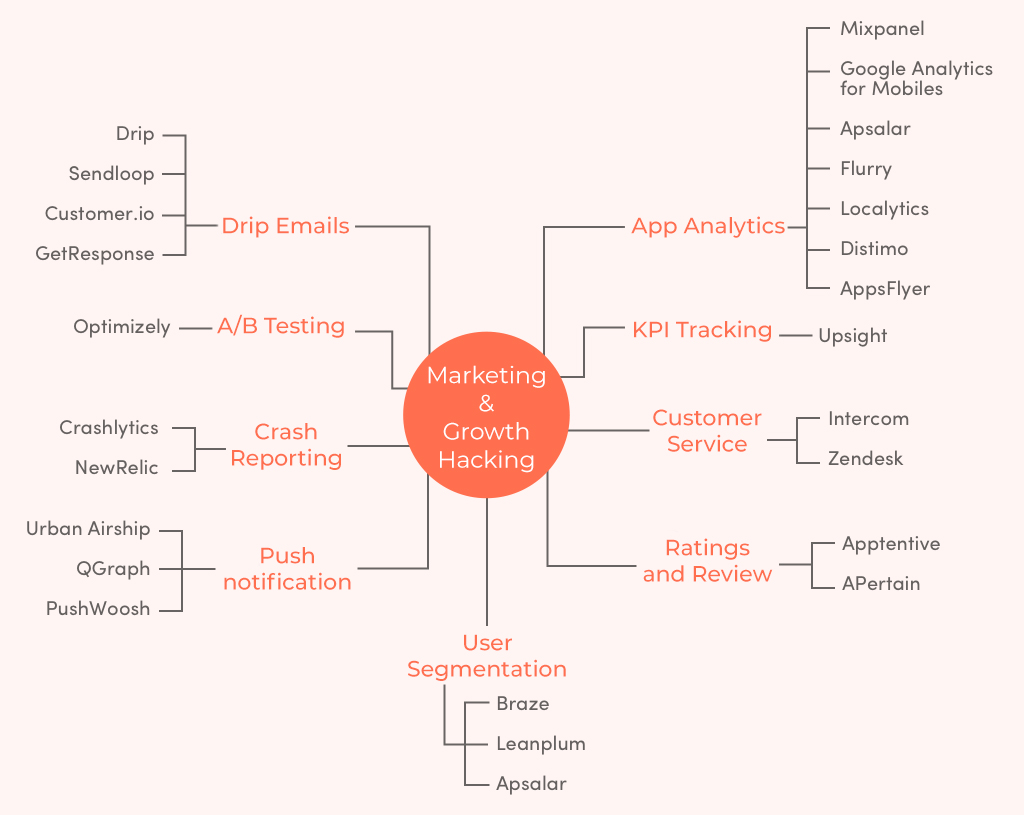 As you know, the marketplace never remains stagnant; it continuously grows and requires the customer to grow with it. Drip campaign plays a prominent role in building the rent-sharing market for apps like Airbnb.
Using drip email marketing software, you can schedule a drop email campaign. You can push re-engagement emails to your target audience about the new updates and features within the application to draw their attention.
When your application is in the MVP phase, you need to see whether the app meets your target audience's expectations. An app analytic tool for a vacation rental app like Airbnb, you can run multiple marketing campaigns for your app.
Analytics tools like Mixpanel will help you monitor the efficiency of your traffic to an app like Airbnb. Apart from Mixpanel, you can also use Google Analytics for mobiles, Flurry, Apsalar, or Localytics for analyzing your application.
When it comes to A/B testing any feature in your mobile or web app, Optimizely is one of the most useful products in the industry. Optimizely will provide you with immediate changes in your application with no prior storage approval.
If you are not sure about any new feature, you can simply phase it out and then quickly iterate any kind of change further.
User segmentation helps you identify user behavior and predict the future revenue and growth of your app like Airbnb. When any new user starts using your application, your next step will be to identify the user behavior and group them with another similar kind of user to structure and understand them better.
For such user segmentation, you can use services like Braze and Leanplum. These services will understand your application's user behavior and also automatically change when the user behavior changes.
Offering fantastic customer service will enable you to retain your customer and grow your business. Customer service is not only providing answers, but it is an essential promise that your brand makes to your customers.
SDKs such as Intercom and Zendesk help your customers to connect with your customer service team directly. Also, it helps to eliminate any type of needs for these shady webviews and email clients.
Reviews and ratings have the power to influence customer decisions. It helps to strengthen your company's credibility and gain your customer's trust. But it is generally difficult to get reviews from your customers for using your services.
Apptentive makes it easier for your company to get your customer's sentiments before asking them to rate your app. Apptentive consists of a proprietary feature named "Love Score," which enables you to see how well your users perceive your app.
KPIs are not just numbers that you report out every week. KPIs allow you to understand your business's performance and help you make critical decisions to achieve your strategic goals.
Upsight is one of the popular solutions for tracking your business KPIs. It brings you a metrics explorer that enables you to understand how various variables can affect your business. It helps you to understand the characteristics and behavior of users.
It is essential to have in-app notifications or push notification features for your application when building an app like Airbnb. For instance, you may have to notify the user about the guest's new message or the details of his recent bookings.
Urban Airship enables you to integrate a push notification feature for your application seamlessly. A push notification service for your application should be scalable enough to share notifications to millions of users within your application. Urban Airship has scaled its push notification services up to 2.5 billion apps during the election period.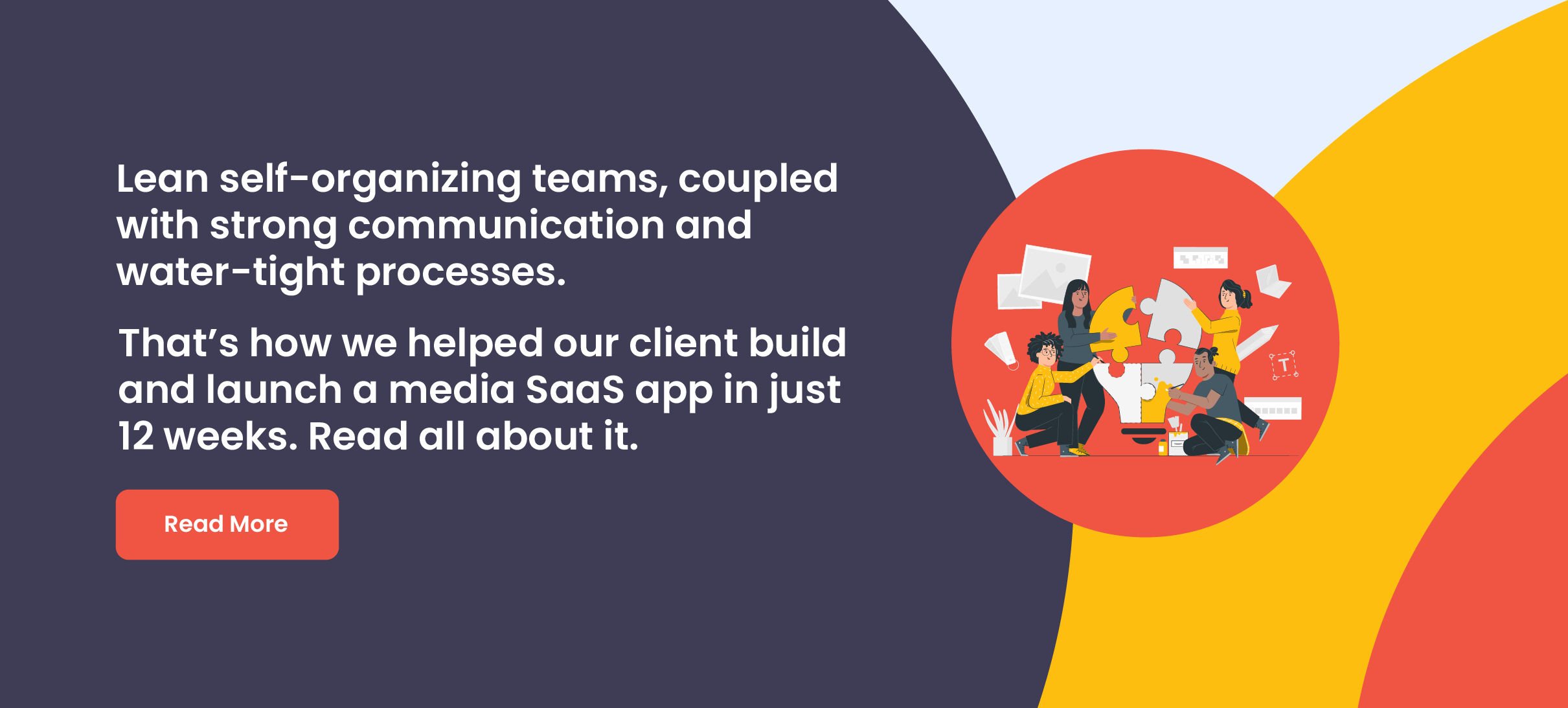 How much would it Cost to Develop an App like Airbnb?
Coming to the important stuff – what's the cost?
Creating a vacation rental app like Airbnb, which is interactive and has a dynamic user interface, can cost you a lot. You need a team of professionals to work on your application to provide the best service your customer can ever have.
Building an Airbnb clone mobile application requires a team of specialists which requires the following team composition:
Project Manager

Technical Architect

Business Analyst

UI/UX Developer

Android Developers

iOS Developers

Backend Developers

Frontend Developers

QA Engineers
You can partner with a product development company as your go-to technical partner that would facilitate such teams, as they provide high-quality products with more affordable hourly rates. For instance, the software developers in India are priced comparatively on the lower end of the scale as compared to developers in Europe and North America while still maintaining quality. Hence, you are always welcome to choose the location with the appropriate price for your budget.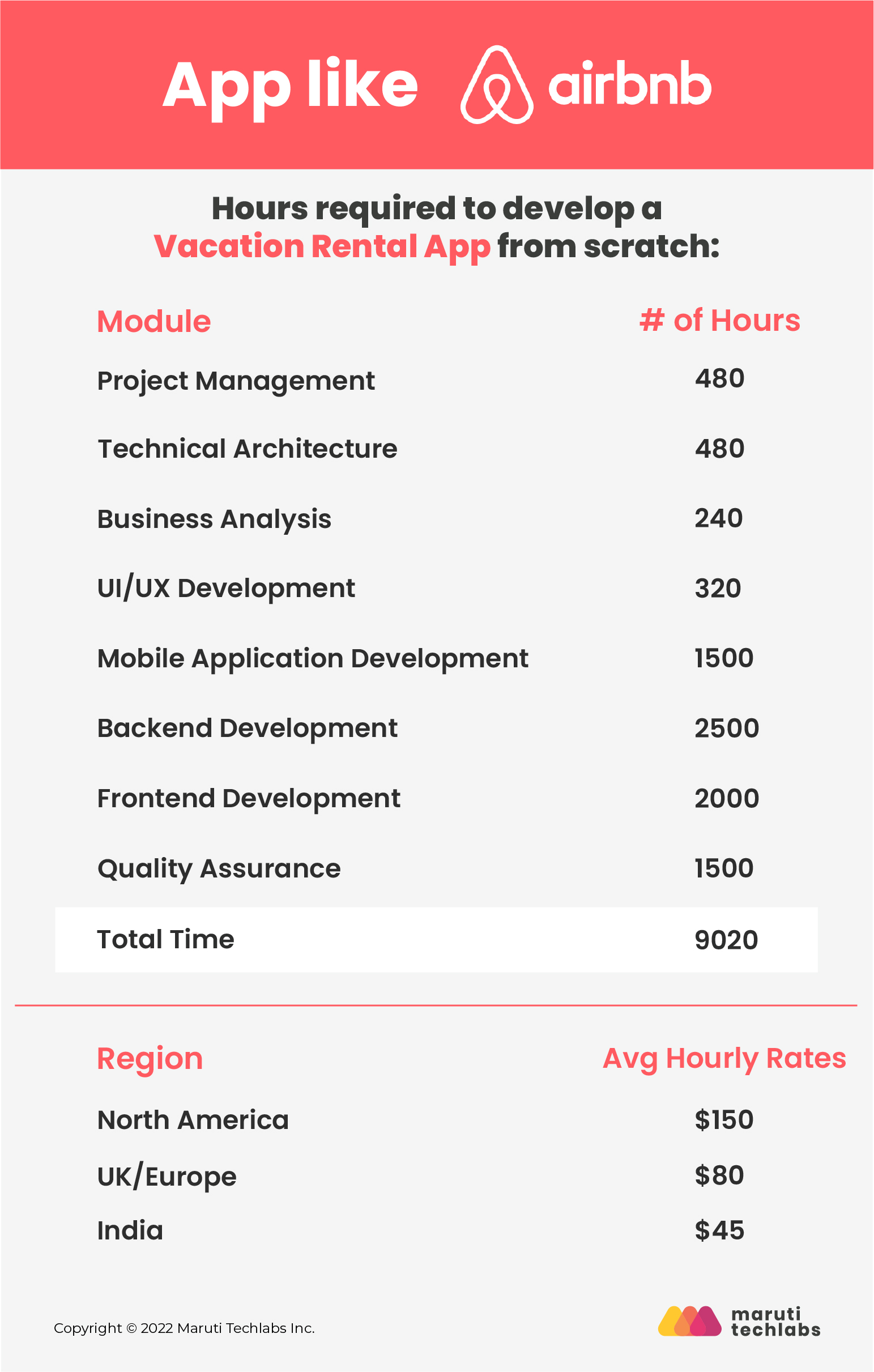 Apart from that, you also need to cover the following factors that go into the overall cost of building a travel app –
Deployment Platform

Technical Complexity, Tech Stack and Architecture

Design and UX Customization
Based on our experience, it takes about ~60 days to roll out a fully functional PoC to validate the idea amongst a group of beta users and bring them on for early access. By taking in user feedback and PoC data – it would take a team of software developers around 150 days to build the full-scale version. The costs would vary in accordance with the PoC and final product requirements, along with the estimated development time for each feature which may differ from company to company, as well as country to country.

How would you profit from an App like Airbnb?
Currently, Airbnb has more than seven million listings users in more than 200 countries. Every second, an average of six renters check into Airbnb to list their property, and therefore, the site has more than 150 million users.
Looking at the primary source of revenue, Airbnb's revenue comes from the service fees from bookings charged to both guests and hosts. Therefore, if you develop a vacation rental app like Airbnb, you can get paid depending on your application's number of users. More the number of users, the more the revenue for your company.
Depending on the guests' reservation size, you can ask them to pay a non-refundable service fee based on the type of listing. You can also charge the host after completing the booking process.

How Maruti Techlabs Overhauled a Property Listing Platform
At Maruti Techlabs, we revamped a real estate listing platform using agile development practices to improve the user experience.
The Challenge:
Despite having a popular property listing service, our client's website was bogged down by outdated technologies. It led to inefficient user journeys and, as a result, a decrease in conversions.
With a significant increase in their digital marketing budget, they knew it was time to upgrade their website and add new features to leverage the incoming traffic.
The Solution:
Developers at Maruti Techlabs helped transform the website from a cumbersome listing platform to a responsive inventory with refreshing layouts, improved navigation, customizable search options, and filters for better conversions and site performance.
Since all the original services were built using older technologies and ran on outdated infrastructure, the development team faced many difficulties scaling the platform.
To make this project truly successful, our team suggested building a series of services dedicated to running specific tasks would be best. The client liked the suggestion and approved the roadmap our team had presented.
As a result, the next step was to build new features with newer technologies that are more efficient and better equipped for dealing with a high volume of transactions while still supporting older features with older technologies.
Thanks to better filtering of properties and a more intuitive UI, our client's customers now spend more time on the website and report enhanced customer satisfaction, increasing the revenue for our client by 1.5X.
Wrapping It Up
Developing an app like Airbnb is one thing, and scaling it to millions of users is entirely different. While developing your vacation rental app, consulting a product strategy development firm like ours will provide you with the best outcome.
We're constantly working on adding more to our "Build An App Like" series. Take a look at our other step-by-step guides such as –
From MVP to full-scale app development, Maruti Techlabs' developers have worked with clients worldwide, developing and scaling digital products. No matter how diverse or complex your needs are, we help you grow your business by building high-quality applications for web platforms, iOS, and Android.
Have an app idea? Our rapid software prototyping services can help you develop a quick MVP to test your idea and gauge the market.
Drop us a note here, and we'll take it from there.
FAQs
1. How does Airbnb work for guests?
Here are some features for guests to consider for a better user experience.
Sign-up/Login: The user needs to sign-up or login into their user account
Manage Account: The user needs to edit or update their personal information
Search Filters: Users can find their desired property quickly by applying the filters available.
Wish List: Users can make the property to a wish list for future reference
Notifications: Users get notified whenever they have new messages
Chatbot: Enable users to talk to property owners
Maps: Helps to locate the property on maps
Booking: Users can book the desired property
Payments: Enables users to pay the property owner after finalizing the stay and viewing the transaction details.
Help: Users can understand the app better as well as solve the problems they are facing while using the app
Review: Users can share their thoughts about the app and host for a better future experience
Sharing: Users can share the app with their friends and invite them to use it for better marketing purposes.
2. How to Airbnb work for hosts?
Here is the list of features that represents the Airbnb application for hosts.
Sign-up/Login: Property owner needs to sign-up or login into their user account
Manage Account: Enables users to edit or update their personal information
Registration: Property owners will fill in the details of their property
Manage List: Enables owners to manage and update their vacation property info
Booking List: Property owners can manage their previous and future bookings
Request: Allows property owner to accept or reject the booking request
Chatbot: Enables hosts to talk to users
Notifications: Owners get notified whenever they have new messages
Account Details: Enables hosts to keep track of their bookings and payments
Review: Hosts can share their thoughts about the app and host for a better future experience
Sharing: Hosts can share the app with their friends and invite them to use it for better marketing purposes.
3. What technologies do you need to build an app like Airbnb?
Programming language: Javascript
Frontend Framework: Angular, React.js, Express.js
Backend Framework: Ruby on Rails, Django, Node.js, Meteor.js
Server Side: AWS, Azure, OpenStack, DigitalOcean, Google Cloud
Network Level Caching Services: Nginx, Redis
Databases: MySQL, MSSQL, MongoDB, Cassandra, PostgreSQL, Azure Document DB
4. How does an App like Airbnb work?
The working process of Airbnb flows like this:
The property owner lists out their property descriptions
The traveler searching for a property to rent
The traveler request to booking the property
Later, the property owner decides to accept or reject the booking
If the owner accepts the booking, the deposit is deducted from the traveler's account
At last, the host and traveler review each other for future reference