Remember the time when you had to visit a travel agency to book a ticket or plan a holiday? The travel agent would offer recommendations based on their experience. Basically, you were at the mercy of the travel agent. We moved on from that to the era of online bookings.
Online travel bookings opened up a world of possibilities. It opened up new locations at lower prices. You can now book your trips anytime and from anywhere. The bookings have become faster, and you get all the information at your fingertips.
However, with online bookings, people often find themselves lost in the plethora of options. Despite offering end-to-end travel planning online, travel agents find it difficult to rope in customers and grow their business.
Imagine if you could provide your customers the best of both worlds? Personalized recommendations with a lot more options and the comfort of having information at the fingertips. Yes, it's possible. Let's find out how.
WhatsApp chatbot in travel and tourism provides just that. WhatsApp chatbots can personalise the booking experience, boost customer engagement, and as a result, ensure that your travel and tourism business provides excellent customer service and as a result thrives in the competitive industry.
Think about the sheer volume of planning required before taking a trip. There are flights and hotels to be booked, tours to be arranged, places to visit need to be prioritised and shortlisted, and local transport should be arranged. Once the trip starts, there are even more queries that need to be answered almost instantly. WhatsApp chatbot in travel and tourism chatbot
can effectively address all of these and much more.
Read on to find out more about WhatsApp chatbots in the travel industry.

WhatsApp Travel Chatbot – Use Cases
There are numerous ways to use WhatsApp chatbot in travel and tourism. Here are some innovative ways WhatsApp travel chatbot can play an essential part in your travel agency.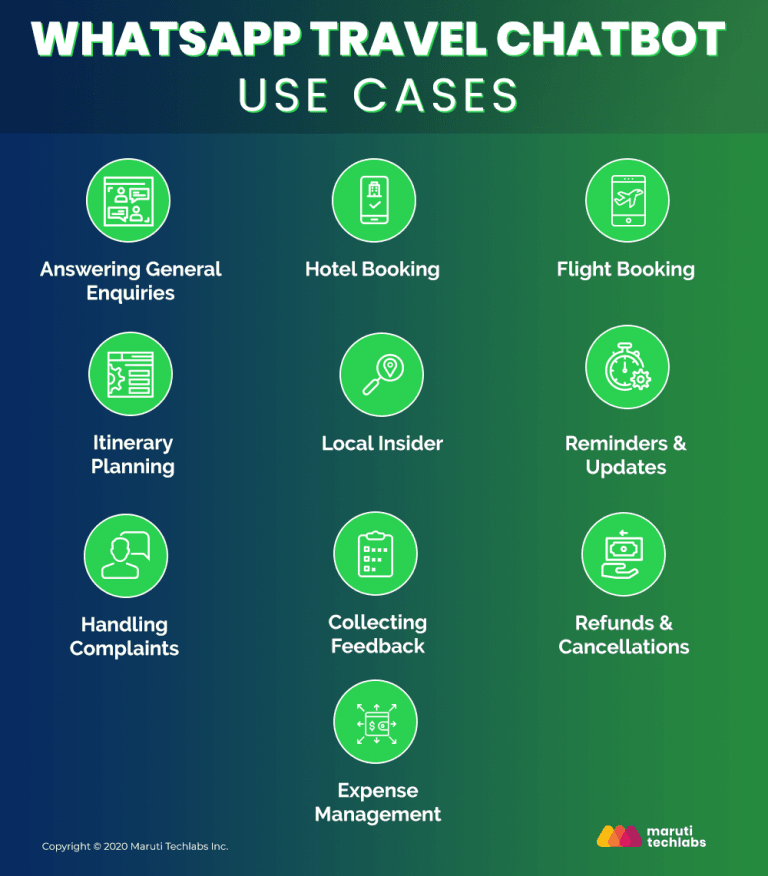 Flight and Hotel Reservations
Online reservations offer a plethora of options, and it is appreciated and welcomed. However, these options also create confusion. Many travellers visit the website with a certain idea of a vacation, see the other options that are available, and start rethinking their plans. It can lead to them leaving the website without booking the tickets, or them ending up spending too much time contemplating their choices.
A WhatsApp chatbot in the travel industry can offer options that address their needs. Instead of confusing the traveller, it aids them in selecting the right flights and hotels. If the customer's queries need a human touch, the WhatsApp travel chatbot can hand over the conversation to a customer care executive smoothly with all the details. It makes it easier for the executive to guide the customer.
Planning Itineraries
Booking transport and accommodation is just the start. Itinerary planning is the real deal that can make or break a trip. A traveller would want to cover many of the must-visit sights in the location. They may also have certain specific requirements. Many people shy away from selecting predefined packages as they feel that they don't meet their needs.
WhatsApp chatbot in travel and tourism can ask them their interests and suggest places that are better suited for the traveller. The chatbot can help the travellers build their itinerary. It provides the same experience as a travel agent planning the itinerary. With the instant response, the chatbot can enhance the user experience and ensure customer satisfaction.

Answering Customer Queries
Holiday planning is a complicated process. There are many things to consider, and these can overwhelm the customer sometimes. They may even have questions regarding certain aspects of the booking. The cancellation policy, baggage allowance, ability to change the dates, etc. are some of the common queries that arise. Despite the answers being listed in the FAQ section, not many have the time to peruse the website's lengthy FAQ section.
One of the most popular WhatsApp travel chatbot use cases is answering FAQs. The chatbot can instantly respond to customer queries. If they have follow-up questions or need further assistance that is beyond the scope of the chatbot, it can seamlessly hand over the conversation to the customer care executive.
Reminders and Updates
Booking travel tickets well in advance is the norm since it gives travellers the chance to get better deals on transport and accommodation. However, when someone books a travel a few months in advance, there may be some forgetfulness that might creep up as the date draws near. WhatsApp chatbot in travel and tourism can send reminders to the customers. Not only can it remind them about the travel dates, but it can also send reminders about the documents that they need to carry.
The flight timings may have changed a bit since the customer booked the tickets. WhatsApp travel chatbot can send a message to the customer informing them about any changes in the schedule and itinerary. It can even send updates regarding the weather conditions so that the traveller can be better prepared.
Handling Complaints
The internet is flooded with complaints from unhappy travellers about the difficulties they had to face. Baggage loss, flight cancellation or rescheduling, missing a connecting flight, refund after ticket cancellation – these are just a few of the most common complaints. The common thread that runs through all of them is the apathy of the company in listening to the complaint and taking appropriate actions.
The customer care executives get bombarded with such calls and are usually unable to devote complete attention to a single issue. WhatsApp chatbot in travel and tourism is the perfect solution to this issue. The chatbot can handle minor complaints on its own. It can even process cancellation and refund requests. Only the major complaints get escalated to a customer care executive. Since the executive is not burdened by innumerable calls, they can devote their full attention to the customer's complaint and ensure its redressal.
A complaint from a customer on social media can tarnish the image of your services. With WhatsApp travel chatbot, customers can easily reach out to you personally and have their concerns addressed.
Providing Relevant Content
While everything till now dealt with responding to the customer's needs upon demand, WhatsApp chatbots are equipped to do much more. They can proactively provide helpful content to the customers.
The chatbot can send links to articles that advise the traveller on the precautions to take in an area or the type of clothing apt for the weather conditions at the destination. It can also suggest activities to do, foods to try and provide tips to ensure that the traveller has a wonderful trip.
All of this increases customer satisfaction, and this leads to a corresponding increase in your revenue. It also gives you a competitive advantage over your counterparts.

Collecting Feedback
Reviews and feedback are crucial in the travel industry. It helps transport providers and hotels identify and rectify their problematic areas to serve the government better. A good review acts as a recommendation and a confidence boost to future customers.
However, many customers fail to leave a review once their vacation is over. The process of visiting the website, finding the review section, and providing their feedback might feel too cumbersome. The WhatsApp travel chatbot can send a simple message requesting a review. All the customer has to do is type out the review in the WhatsApp chat. WhatsApp chatbot in travel and tourism is, hence, a non-intrusive and a better way of collecting feedback from customers.
Benefits of WhatsApp Chatbots in Travel Industry
As evident from the previous section, there are multiple ways of using WhatsApp chatbot in travel and tourism. Let us have a look at the advantages provided by WhatsApp travel chatbot over other platforms!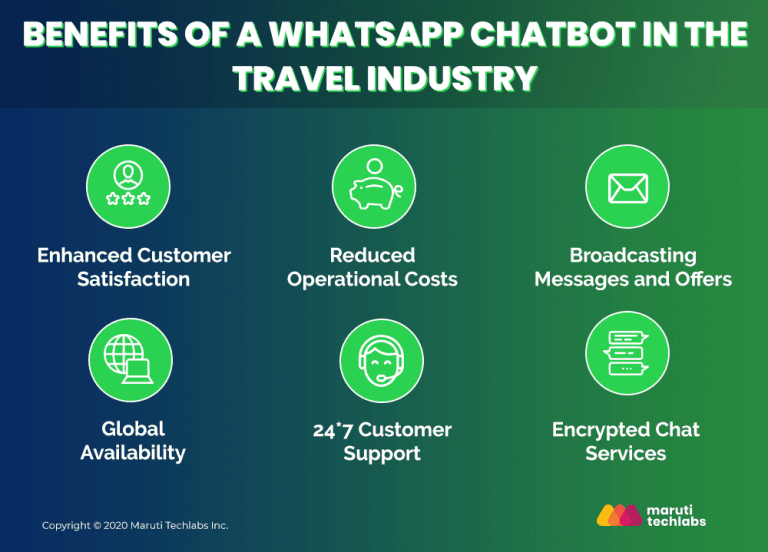 Most Popular Messaging App
There is no denying that Whatsapp is one of the most prolific messaging apps. There are over one and a half billion active daily users on WhatsApp. Unlike other social media platforms such as Instagram, people belonging to all age groups use WhatsApp. The simplicity of the platform has made it a household name.
When you use a WhatsApp chatbot, the customer doesn't have to download and learn a separate app. Not only does it improve the customer experience, but it also increases the chances of them interacting with your travel chatbot.
Encrypted Chat Services
WhatsApp offers complete end-to-end encryption. The security enables the customer to scan and send sensitive documents on the platform. They can send copies of passport and other identification documents via WhatsApp. You can use the information on the documents while making the reservations.
Customers can also share receipts of payments while claiming a refund. It negates the need for another platform for sharing such documents. The procedure of reservations and refunds can be carried out faster.
Broadcast Messages and Offers
It is no secret that often, marketing and promotional emails are left unread or sent to the spam folder by many customers. But WhatsApp messages are almost always read by everyone. It is the best platform for sharing upcoming offers to your customers.
WhatsApp facilitates message broadcasts and also offers information such as the number of messages that were read by the recipients. These insights are available for WhatsApp Business users. It allows you to finetune your marketing strategy to ensure that you are sending the right messages out to the maximum number of customers.

Global Availability
WhatsApp is available all over the world. It also has high penetration in most countries. People around the world use WhatsApp. By using a WhatsApp travel chatbot, you gain access to customers in many nations worldwide. This is a key advantage that only WhatsApp can offer.
While customers in developed nations are more computer literate, the same cannot be said for those in the developing nations. In such countries, WhatsApp chatbots ensure that your customer-base grows irrespective of the location and the ability to use a computer.
Enhanced Customer Satisfaction
Customer satisfaction is the ultimate goal of every business. It becomes even more crucial in the travel and tourism industry owing to the cut-throat competition. Customers won't hesitate to switch to another service provider if they are unhappy with your service.
A WhatsApp chatbot in travel and tourism enables you to address all customer concerns immediately. By using the chatbot to send out tips, relevant content, notifications, updates, and reminders about the travel, you can ensure that you are customers are fully satisfied.
WhatsApp travel chatbot is available 24 hours a day, seven days a week, and 365 days a year. Any customer from any time zone can access it as and when they need it without having to wait for the office hours.
Reduced Operating Cost
Chatbots can answer many of the customer queries without any human intervention. Only complicated queries which require human intervention get handed off to the customer care executives. Chatbots reduce the workload on the customer care executives to a great extent.
It enables them to pay attention to the complaints that reach them. They are also aware that if a query or a complaint has reached them, then it is definitely not a minor issue. Better complaint handling has a huge impact on customer relations and on revenue. Since the chatbot reduces the volume of queries to the customer care executives, you can also save money by reducing the number of executives.
Get Your WhatsApp Chatbot Right Away!
It is clear that the benefits of a Whatsapp Chatbot are unparalleled. With advancements in natural language processing, the chatbots can interact with the customers just as a human would. Some of them can even inject a level of humor into the conversation, as per their design. Incorporating a WhatsApp travel chatbot in your business will undoubtedly increase customer engagement and help you attract and retain customers.

Develop a WhatsApp chatbot for your business today and enjoy the host of benefits that comes with it. We, at Maruti Techlabs, have helped organizations across industries tap into the power of chatbots and multiply their conversion rates. Get in touch with us today by writing to us on hello@marutitech.com, or fill out this form, and our bot development team will get in touch with you to discuss the best way to build your travel and tourism chatbot.