In today's extremely competitive, mobile-first eCommerce market, exceptional customer experience is the only way to sustain and create competitive differentiation. The importance of customer satisfaction is highlighted by another research which shows that increasing customer retention rates by just 5% can increase profits from 25% to 95%. And the only way to increase customer retention rate is by stepping up on your customer experience.
This is the reason why eCommerce companies are constantly looking to offer personalised and timely customer engagement that remains the foundation of differentiated customer experience.
Enter WhatsApp Chatbots For Ecommerce
It would be surprising to find anyone today who hasn't heard of WhatsApp. With more than 1.5 billion monthly users worldwide, WhatsApp is the most widely used messaging app.

The eCommerce industry, as one of the fastest-growing global consumer segments with billions of consumers shopping online every day, has evolved tremendously with technological advancements. Seeing the industry strategically incorporating WhatsApp into its strategy to create a competitive market has been a phenomenal observation.
Custom-built WhatsApp ecommerce virtual assistant are, in fact, proving to be an excellent way to break through the usual marketing clutter and drive meaningful engagement with customers and bring in faster conversions.
A WhatsApp chatbot for eCommerce is simply a software program which runs on the encrypted WhatsApp platform and allows your customers to communicate with your eCommerce business through the ease and familiarity of WhatsApp messages.
Advantages of Having WhatsApp Chatbot for Ecommerce Business
Converting shoppers into paying customers and making profits are the most serious challenges that face the eCommerce industry at the moment. A WhatsApp chatbot for eCommerce not only automates the process of addressing the queries of your customers but also reduces overhead and improves efficiency of your customer support team while doing so.
Listed below are some of the benefits offered by WhatsApp chatbot for eCommerce:
Allows for real-time conversations with instant answers to the customers' queries
Enables companies to assist customers on their most preferred chat platform and enhance their shopping experience
Enables customers to take quick actions, leading them to the sales route
Helps build trust and loyalty with customers
Enables secure customer communications with end-to-end encryption on WhatsApp
Helps you achieve better brand recognition
What Separates WhatsApp Chatbots From Other Platforms?
The foremost factor which gives WhatsApp chatbot for eCommerce an edge over other platforms is the familiarity of the WhatsApp platform. With people already widely using the messaging app, your customers are not faced with the hassle of familiarizing themselves with a new platform.
Given below are some of the significant advantages of using WhatsApp for your eCommerce business –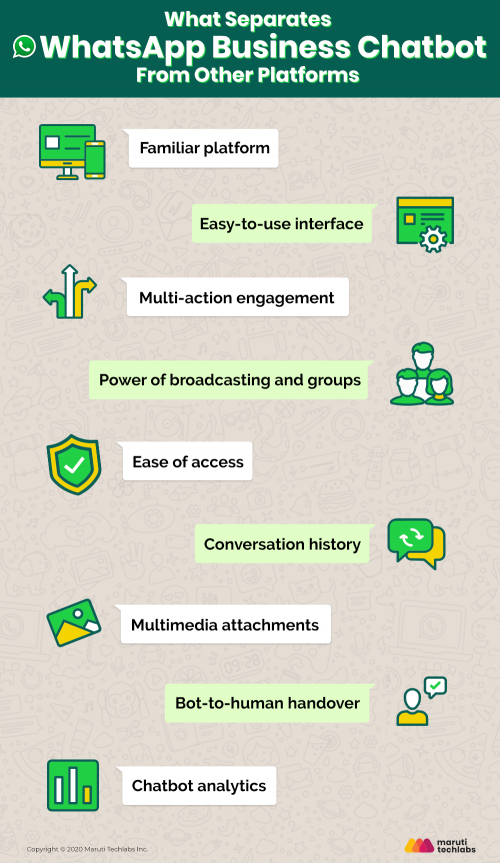 Easy-to-use interface
WhatsApp chat interface is extremely simple to use as users can receive real-time updates on products under their chosen category. What this means is that users can directly select the best deals for the product categories that most interest them, instead of navigating the entire website searching for products they like.
Multi-action engagement
WhatsApp chatbot for eCommerce allows users to take various actions depending on the conversational flow. Right from browsing to making purchases to raising tickets, users have access to multiple touchpoints through the WhatsApp chatbot for eCommerce. This helps eCommerce companies attract and retain customers through the power of conversational marketing and engagement.

Power of broadcasting and groups
WhatsApp chatbots present a great opportunity to eCommerce companies where they can reach out to their customers in real-time, around the clock for a two-way conversation. Even better, the broadcast feature of WhatsApp allows the company to create groups and send the same message to multiple users at once. This strategy can be used to reach out to a wide audience at the same time, and send promotional messages and discount coupons within a group.
Ease of access
With WhatsApp chatbots for eCommerce, eCommerce companies can leverage the click-to-WhatsApp feature on Facebook ads, which allows them to engage their target audiences in real-time by simply clicking on the relevant ad.
User history and comfort
Another benefit of WhatsApp chatbots is the backup of the conversations, which helps companies to keep track of the previous interactions with the customer without any trouble.
Ease of Delivery
WhatsApp chatbot for e-commerce can also be utilized for a better product delivery experience. It can completely eliminate the hassle of finding the address. Consumers can simply share their location on WhatsApp chat, making the process of delivery easy and fast.
Sending Automated Messages
Now you don't have to keep your customers waiting to get a response for a simple query. You can reply to customers even when they message you during non-business hours and keep them updated about their queries.
Using the WhatsApp chatbot for eCommerce, you can also gather instant feedback through customers' replies and use that data to serve them better in the future.
Multimedia Attachments
With different multimedia attachments, including audio, video, images, documents, text, location, and contact information, eCommerce companies can leverage WhatsApp chatbots to answer customer queries in a much more engaging manner.
Imagine the client satisfaction when they enquire about the similar dress they bought last month but is no longer in stock, and you notify them via WhatsApp as soon as it is back in stock along with a picture of the product! Additionally, you can also share the live location with the customer along with the link that they can use to track their delivery.
Use cases of WhatsApp Chatbot for Ecommerce
Let us have a look at the different use cases in the eCommerce space where WhatsApp chatbots can prove to be beneficial: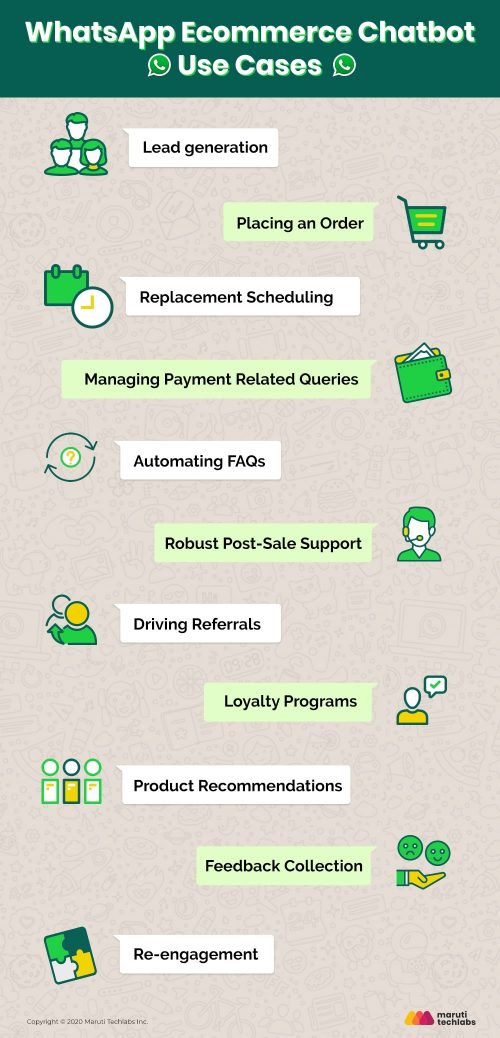 1. Lead Generation
Lead generation is probably the most important part of the entire sales process. WhatsApp chatbot for eCommerce allows you to completely automate this process and get customers to give you their details through a simple click-to-chat link. Once a customer starts a conversation by sending you a message, you automatically get their name and phone number. At this point, you have a great chance to include a powerful Call to Action by either of the following ways-
Product/Category button – You can use this to allow your prospective customers to receive notifications or updates through WhatsApp. For example, customers can sign up to get a notification or alert when the product they're looking to buy is back in stock.
Chat invite – Using WhatsApp chatbot, you can proactively invite your website visitors to have a conversation and get their queries resolved using WhatsApp.
Campaign Ads – Another excellent way to acquire new customers is to use the click-to-WhatsApp approach in all your paid campaigns. This way, when the prospective customers click on your Facebook or Google ad, they will be directed to a WhatsApp chat invitation to engage them better right from the beginning.

2. Placing an Order
An eCommerce WhatsApp chatbot is a great way to create a single-channel experience for customers from initiation to repeat sale.
Customers can directly browse through and place orders from the WhatsApp chatbot itself, eliminating the need to take them to a different platform thus increasing the probability of the sale.
Ecommerce companies can also use WhatsApp chatbot to push data directly to their CRM or database, enabling customers to order from the comfort of their phones.
3. Refund or Replacement Scheduling
Managing refunds and replacements is one of the most tricky aspects of eCommerce customer flow. If not handled smoothly, a bad refund experience can result in dissatisfied customers. On the other hand, a hassle-free and quick refund experience can be extremely rewarding in the form of improved retention rates and long-term loyalty of customers.
WhatsApp chatbot in eCommerce can be instrumental in offering a great refund/replacement experience to users as it allows them to file for refunds or place a replacement request in a quick and easy process. With WhatsApp chatbots, you can easily identify the reason for the refund, quickly schedule pick up times and ensure that immediate action is taken.
4. Managing Payment Related Queries
The volume of sales that the e-commerce companies manage on a day-to-day basis makes payment handling a huge task. A bad payment experience can make you lose both the sale and the customer in no time.
With WhatsApp chatbots, you can ensure the handling of high-level payment queries smoothly by directing customers to respective customer service agents once you have automated the basic-level, repetitive queries.
5. Automating Frequently Asked Questions
Every eCommerce firm wants its customers to have a seamless journey right from the time they visit the website to the final payment for the purchase made. But during the entire process, customers ask frequent questions to help them make their purchase decision easier.
These FAQs generally range from product and company information, refund policy, size chart to the payment options the company offers. The chances of customers dropping off at this stage are high if their questions aren't answered to their satisfaction.
WhatsApp chatbots for eCommerce makes it easy for you to handle FAQs as it allows you to answer all of the customers' purchase decision queries quickly. This also helps you to increase your conversion rate and reduce the support ticket volumes as customers are offered an immediate solution instead of waiting for someone to get back after a day or scanning the entire website for the answers.
6. Robust Post-Sale Support
Once the customer receives his or her order, WhatsApp chatbot for eCommerce can be used to do a quick post-purchase check-in. This can be particularly useful in case the product requires installation or how-to instructions.
Although creating such product-specific WhatsApp template messages to check can be time-consuming but, if implemented properly, it can help you win customers' trust and those extra brownie points to build a loyal customer base.
7. Driving Referrals
Data suggests that referred customers have a far greater (18%) retention rate and almost 20-25% higher lifetime value.
Ecommerce WhatsApp chatbot can make the process of getting referrals easier from your existing customers as you can customise your messaging based on prior interaction. Further, this way, you need not necessarily capture an email address, and you can also provide more incentives to share referrals.
8. Loyalty Programs
Running successful loyalty programs is as uphill a task for e-commerce companies as convincing customers to sign up for their brands' new loyalty program. This is largely because of the fact that almost one-third of signed members quit the loyalty programs without knowing the points or advantages they have earned. They quit without ever redeeming any of those advantages.
Your eCommerce WhatsApp chatbot can help turn around your loyalty programs by automating point balance notifications, sending reward reminders, and messages to encourage redemption.
9. Product Recommendations
Product and purchase recommendation with a bot is something that hasn't been explored to its full potential yet. WhatsApp chatbot is, in fact, a great place for bespoke recommendations than a one-on-one conversation.
All you need to do is leverage the opportunity when the customer is already conversing with you and make use of interactive images, gifs and videos of the products to give purchase recommendations and offer a personalised user interaction to the customer by strategically combining the previously collected data with new product demands.

10. Collecting Feedback
Collecting feedback from customers is an uphill task but the instant accessibility of WhatsApp makes it easier to collect feedback via WhatsApp chatbot.
WhatsApp, due to its built-in camera feature, makes it much easier to convince customers to take photos or record a video of them using the product and send it across. A simple two-way conversation makes it more likely for customers to
Further, WhatsApp makes it simple to approach customers at the right time because they are likely to check their WhatsApp messages either instantly or pretty soon. As soon as your WhatsApp chatbot receives the picture or video, you can share it on the product page or social media to generate more leads.
Companies Using WhatsApp Chatbots for Ecommerce
One of the market leaders in online ticketing services including flight tickets, hotels and holiday packages for both domestic and international travel -MakeMyTrip uses WhatsApp chatbots to allows customers to check their PNR status of booked tickets and the live running status through WhatsApp.
All that the customers have to do is save the MakeMyTrip number and send a text message along with the train number, and they will receive the train details and its live running status.
The company also uses WhatsApp chatbots to forward vouchers, promotional messages, cancellations and more.
BookMyShow is a well-known online entertainment ticketing platform that has made WhatsApp chatbot a default ticket confirmation platform.
The company uses the WhatsApp API to send the booked tickets to users on WhatsApp with either a confirmation text or a QR code with an email.
Pandora
Pandora, a renowned company with concept stores all over the world and a multilingual online shop, uses WhatsApp chatbot to offer customer service via one on one chat.
Right from product recommendations, product availability queries (online shop, concept stores) to special campaigns for users such as information on stores, the company offers it all using WhatsApp chatbots.
WhatsApp Chatbots For Ecommerce – Best Practices
Every ecommerce customer wishes to have a high-value experience that makes his/her shopping journey exciting and personal. One of the excellent ways to achieve this is by engaging customers in one-to-one conversations with chatbots and have their questions answered quickly and easily.
Here are some of the tips in case you're planning on building your own WhatsApp chatbot and offering an exceptional customer experience to your users –
a) Maintain clear and transparent communication
Although WhatsApp chatbots can hold fluent conversations similar to a human, do not let customers assume at any point of the conversation that they are speaking to a human and not a chatbot. Although automated responses can help you gather basic customer Information, make sure to let the customer know who you are, to manage expectations accordingly.
b) Know when to redirect the customer to a real person
If a customer comes up with a query or question to which WhatsApp chat does not have an answer, make sure to refer the customer to a real customer service agent at once instead of giving the same solution over and over.
c) Protect your customers' privacy
To protect your customers' privacy, it is best to never let the WhatsApp chatbot get too intrusive. Apart from safeguarding and protecting personal and confidential information shared by the customer, allow your chatbot to communicate only when asked to.
Wrapping Up
With chatbots predicted to manage 85% of customer service interactions, the ecommerce industry is going through a significant shift in terms of customer experience. To stay ahead of the curve, exceptional customer experience is the only way to survive the intensely competitive market.

If you're looking to serve your customers in the most efficient ways, WhatsApp chatbots can be an incredible asset to your ecommerce business. Apart from personalising their experiences and offering round the clock support, it can also reduce the immense pressure on your customer support team, so that they can better assist your customers on more complex queries than on repetitive FAQs.
WhatsApp chatbots, in fact, have the power to completely transform and personalise the way you communicate with your customer base. And the use cases and examples shared above are a testament to the unlimited opportunities offered by this massively popular messaging app, now available for businesses also. For your business to reap the benefits of WhatsApp chatbots, get in touch with us at hello@marutitech.com or visit us here.