The utility industry is transforming from a highly traditional sector to a sophisticated technology-driven industry. And as an industry that works on infrastructure and provides uninterrupted basic amenities, a very less proportion of the overall budget in the utilities sector is dedicated to customer service.
In such a structure, technological tootbotls powered by artificial intelligence have come to the rescue of the utilities sector to provide impeccable customer service and cut down on operational costs. One such tool is the utilities chatbot on WhatsApp which is an implementation of customer-facing AI.
In the present scheme of things in the utilities sector, an onboarded customer is often left confused about the workings of the utilities provided and how to benefit from them in an organised setup. This confusion and a lack of direct access to information restrict the optimal usage of resources.
For instance, when a customer needs clarification on their billing amount, they need to look up the customer care number or an email address to get in touch with the concerned person. After scouring through different resources, when the customer manages to find the right contact number or email address, there is no guarantee when – or if at all the query will be solved timely.
With the utilities chatbot on WhatsApp, customers can simply type in their queries and get instant responses to their issues. A WhatsApp chatbot can respond to different questions with relevant user information from your database.

What Is The Need For Whatsapp Chatbot For The Utilities Sector?
Utility chatbot on WhatsApp creates a consistent channel for connectivity and interaction for the wide customer base. This connectivity not only aids customer communication and experience but also helps in reducing operational costs.
Due to advanced process flows achieved with the help of technologies like machine learning and natural language processing, chatbots have the ability to monitor systems and meet customer expectations.
For instance, as soon as the chatbot receives an outage-related complaint, it can fetch information from the internal system and update the customer of the current status. This reduces the overall execution time, thereby improving customer satisfaction.
Elucidated below are the key use cases of the utilities sector addressed by a utilities chatbot on WhatsApp-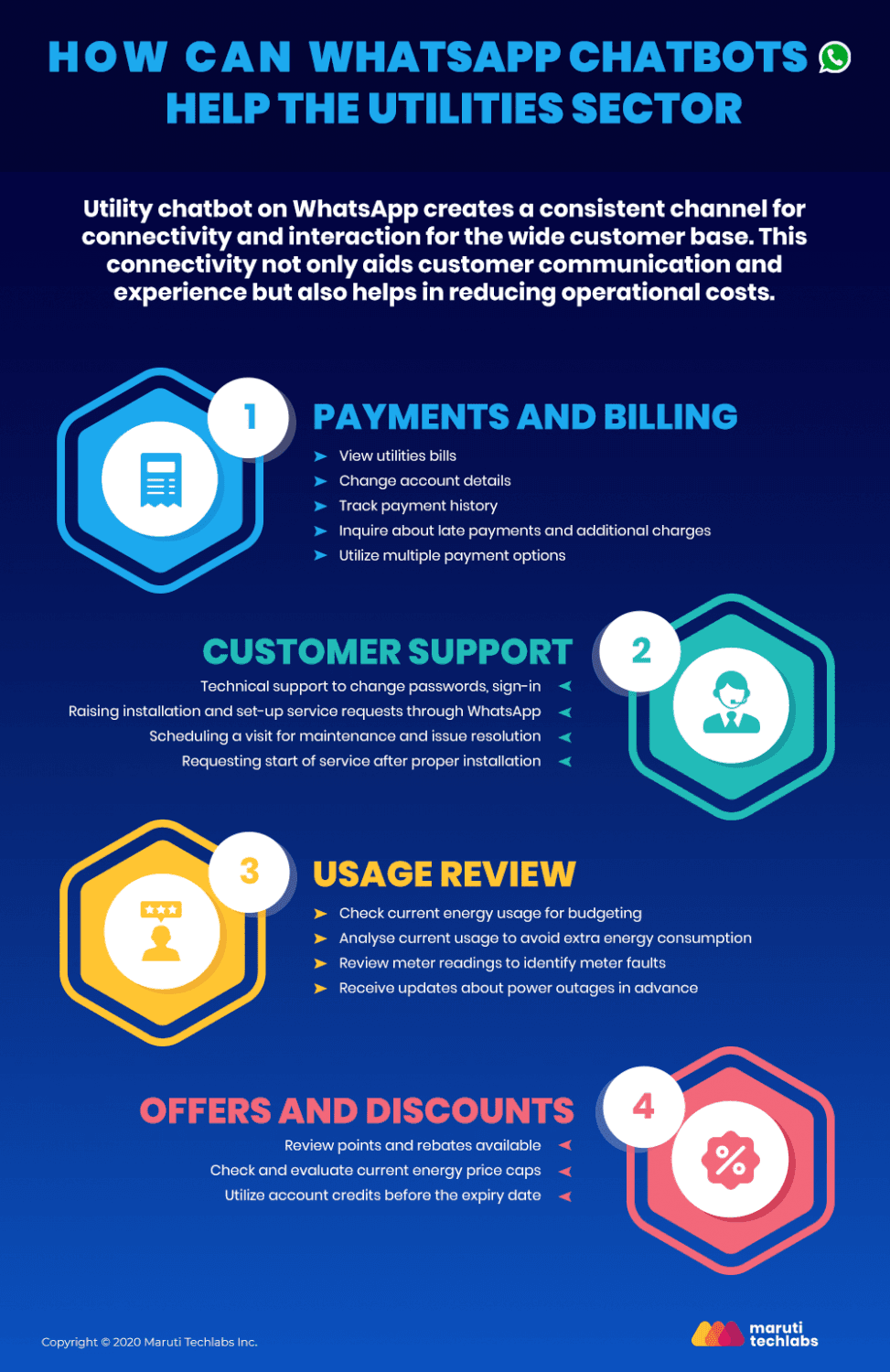 1. Payments & Billing
It becomes difficult for the customer to manage countless unorganized bills of the utilities sector. As a result, customers struggle to review utilities bill, modify account details, and analyse pending payments.
Utility chatbot on WhatsApp improves the accounting and billing structure of the utilities sector by bridging the gaps in documentation, manual accounting, data consolidation, and data entry.
Here's how the provider can offer billing-related benefits through a WhatsApp chatbot for utilities sector:
View utilities bills

Change account details

Track payment history

Inquire about late payments and additional charges

Utilize multiple payment options

2. Customer Service
Delayed response is one of the biggest concerns that push customers to seek out other options (read: your competitors). Quick response is costly to achieve as it requires you to appoint more manpower in your customer support team. And yet that does not guarantee real-time response as the customer support team can only handle so many queries at a time.
A utility chatbot on WhatsApp can be used to respond to customers instantly. Chatbots function 24×7 and hold personalized communication with every individual, thereby cutting the waiting time for your customers.
Common customer queries that usually take the customer support team 2-3 days to address and resolve, can be resolved in minutes using utility chatbot on WhatsApp, such as:
Technical support to change passwords, sign-in, or recover passwords using security questions.

Raising installation and set-up service requests through WhatsApp.

Scheduling a visit for maintenance and issue resolution at the customer's location.

Requesting start of service after proper installation.
3. Usage Review
The users of the utilities sector often review the energy usage once the bill for utilities is already generated. Thus, the customer is unable to optimize energy consumption and choose the right plan according to their usage and requirement.
A utility chatbot on WhatsApp can automate usage-related updates to offer quick, real-time information to users. With the help of this chatbot, users can review and analyse the following:
Check current energy usage for budgeting.

Analyse current usage to avoid extra energy consumption.

Review meter readings to identify meter faults.

Receive updates about power outages in advance.
4. Offers & Discounts
Due to poor accessibility to information available in the utilities sector, many customers are unaware of the offers and other details. Hence, many offers in the utilities sector expire without providing any benefits to a large number of users.
A WhatsApp chatbot for the utilities can streamline this workflow and notify the customers about the ongoing offers and rebates. Using the bot, customers can do the following:
Review points and rebates available

Check and evaluate current energy price caps

Utilize account credits before the expiry date
Benefits Of Utilities Chatbot On Whatsapp
1. Enhance Customer Experience
With the help of WhatsApp chatbot for utilities, you can automate live support and allow your customers to reach out to you through a medium they are well-acquainted with.
Instead of waiting on hold during a call or dropping several emails to get a simple query answered, it would be easier for your customers just to open WhatsApp messenger, convey their issue, and instantly receive a solution for the same.
WhatsApp has 1.5 million users across multiple countries. Naturally, utilizing the popular and user-friendly app to communicate with your users is a fruitful way to retain customers and enhance your brand value.
Here are some of the customer service-related benefits you can offer to your users with WhatsApp chatbot for utilities:
Receive e-bills instantly
Reporting issues and complaints
Check available balance and usage
Receive updates on planned outages
Check payment dates and late payments
Change basic details, such as billing address
Reset and change the password of the account

2. Cost-Cutting
Through chatbots, you can automate and streamline workflows that enhance customer service and hence increase revenue. Automation using utilities chatbot on WhatsApp can help in the following activities:
Streamlining of customer communications
Energy and usage assessment service
Online bill and account payments
Hassle-free product or service upgrade
Information related to policies
Broadcasting of special offers
By upgrading to an automated virtual assistant i.e. a utilities WhatsApp chatbot, providers can reduce time and resources on manual execution of operational activities, saving money and time in the utilities sector.
3. One-Stop Shop for all Consumer Interactions
There are limited reasons why a consumer needs to interact with their utilities provider. It is usually general queries or complaints related to the service. With the help of a utilities chatbot on WhatsApp, all of these interactions can be put under one single shed. The bot can be programmed to perform all of the following tasks, making the process smoother, efficient, and satisfying.
Queries related to bills, account details, required changes, late payments
Status of technical issues
Scheduling visits
Installation requests
Guidelines to budget and keeping a check on usage
Analysis of meter readings
Information regarding rewards, account credits, energy price caps
4. Scalable
There are only so many queries that your customer support team can handle at a given time. With WhatsApp chatbots, you can scale up your customer support without having to add more manpower.
What's more, with WhatsApp chatbot for utilities, your customer support team can concentrate on solving more complex queries whereas the common queries can be addressed by the chatbot.
5. Easy Database Entry
The details collected by the chatbot can be directly fed to the internal database or CRM seamlessly. This way, you can have a consolidated view of the log, past conversations, the leads generated, common complaints registered, etc. This reduces the overheads required to manage customer service data.
6. Analysis
You can monitor the overall performance of the chatbot via chatbot analytics and figure out what is working and what is not. Unlock insights from data to create the right conversational experiences for customer service. Chatbot analytics continually analyzes conversational experience, uncovering gaps, and suggesting fixes.
7. Bot-to-Human Handover
In the case of complex queries, a human agent can instantly jump in and take over from the bot, and address the concerns of the customers using bot-to-human handover. Agents can also monitor the bot conversation history allowing them to jump in with the context. This ensures smooth customer-experience resulting in happy, satisfied customers.

Success Stories Of Ai Powered Technologies In The Utilities Sector
The San Diego Gas and Electric Company serves more than 20 million users with their vast and comprehensive infrastructure. The company was going through a power leakage issue, which reduced customer experience and increased the cost of maintenance.
Every time the company received a complaint about this issue, they had to arrange a staff visit to the location to understand the issues.
As a solution, the company utilized AI-powered tech in their office to resolve the issue. Machine learning abilities were used to analyze and understand different datasets that were facing issues to exactly locate the outage source without sending personnel for inspection. The manpower and time which was needed to execute this operation were reduced to a great extent, which helped the company improve its customer satisfaction and brand value.
Another success story related to AI is Exelon, an electricity provider with over 10 million consumers. The company was experiencing consumer churn because the users were unable to access information easily.
The company created an AI-powered chatbot that helped its customers ask several questions and understand the information related to their utility bills and outages. Now, the organization is even able to exact insights based on the chatbot interactions, which further helps them cater to the unique requirements of the users.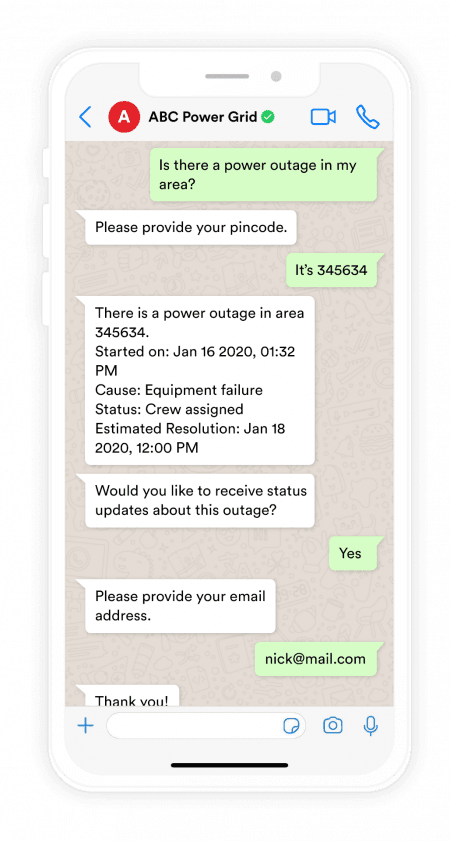 Concluding Thoughts
Heavy investments in infrastructure and operations in the utilities sector often tend to put customer service in the backseat. This is changing with the proper implementation of technology.
The utilities sector is increasingly implementing WhatsApp chatbots in order to streamline its customer experience and automate many service offerings. As a tool, your customers are already familiar with using, WhatsApp makes the perfect channel to facilitate quick resolution of customer queries, notify about billing, payments, and outages – making it a one-stop solution for customer queries.

What's more, queries that the chatbot is not trained to solve can be seamlessly transferred to the human agent using bot-to-human handover. Human agents can also monitor the bot conversation history which allows them to jump in with the context.
Utilities chatbot on WhatsApp can make a world of difference in improving the overall customer experience for the utilities sector. At Maruti Techlabs, we understand the complexity of the utilities space and deliver a chatbot solution that is tailor-made to suit the use-case of your organization. Interested in exploring the possibility of your own utility chatbot over WhatsApp? Simply drop us a note at hello@marutitech.com and we'll take it from there!