Low-code platforms offer a powerful solution for companies and developers looking to develop business apps more quickly. The key highlight of low code platforms is that they allow both inexperienced (citizen) developers to intuitively create applications and experienced developers to enhance their performance by not compromising the productions' quality.
Hey there! This blog is almost about 2500+ words long & not everyone likes to read that much. We understand that.
This is precisely why we made a podcast on the topic. Harsh Makadia, Technology Evangelist at Maruti Techlabs, talks to Bikshita Bhattacharyya about using low code technology for building and shipping products.
He also talks about how he implemented low code technology for his client, the tangible benefits they got from the implementation, and more! Here is a small snippet from that episode. Check it out!
Low code platforms do this by offering a robust visual development environment where developers can define the user interface using drag and drop functionality, adding actions, animations, and much more.
Although there is a wide range of top low code platforms available based on varied business needs, Mendix and OutSystems are two of the most popular low-code development platforms. Mendix vs. OutSystems – let's compare the two low code platforms against different parameters and see which one takes the cake.
Is Mendix any good?
Mendix is a well-known low-code application development platform that is created for agility, control, and collaboration. It allows for end-to-end app creation, starting from an app idea up to deployment and operation while offering flexible and user-friendly development tools to build applications.
The platform enables enterprise development teams and developers to rapidly build, integrate, and deploy powerful multi-device applications. Most enterprise IT teams that need to quickly build innovative and differentiating applications in close collaboration with business stakeholders use Mendix.
Is OutSystems any good?
OutSystems is considered the number one platform for low-code rapid application development. The platform provides a massive range of advanced features to help developers deploy and manage their applications after development. It allows developers to define business logic, workflow processes, data model, and UIs for mobile and web apps.
OutSystems low-code emphasizes its support of offline functionality and access to native device functionality. App components using the platform can simply be dragged onto a work surface and connected visually. Developers can further extend app functionality by writing or using custom code in multiple languages such as Java, SQL, C#, CSS, HTML, and JavaScript.
Many enterprises prefer OutSystems as it can combine the strength of low-code development with different advanced mobile capabilities. It enables developers to ensure the visual development of entire application portfolios that seamlessly integrate with existing systems.
Both Mendix and OutSystems are experts in the low-code space, offering feature-rich platforms to help enterprises manage their entire app life cycle effortlessly. The question is, which one to choose?
Mendix vs. OutSystems – Which Low Code Platform to Choose?
Mendix and OutSystems have various comparable features and strategies for their products. Both platforms present similar low-code capabilities for organizations to create web and mobile apps. When comparing Mendix vs. OutSystems, enterprises must assess and determine which option best suits their needs and helps them deliver a complete experience to their users.
In this blog, we're going to discuss the two platforms in more detail and compare them on various parameters, including –
Architecture, set up, and interface
Feature set
Ease of low-code app creation
Integrations and community
Limitations and pricing
Low-code Platform Comparison – Mendix Vs. Outsystems
Let's explore each of these in more detail here –
1. Architecture, Set up and Interface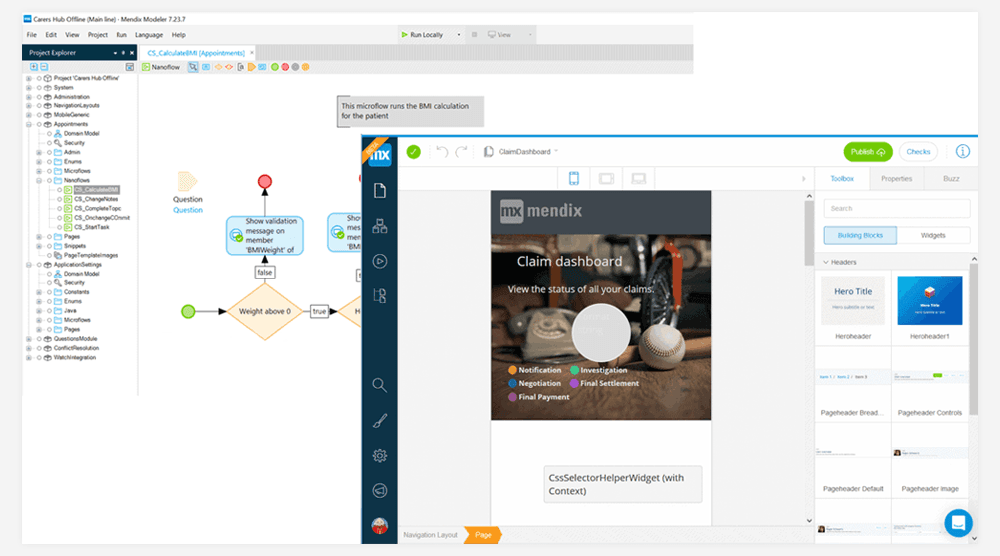 Mendix low-code platform primarily targets large enterprise-level organizations. It provides an entirely cloud-based experience to the user through its built-in social intranet and collaboration aspect. Some of the key highlights in terms of architecture, set up and interface here include-
Mendix has a straightforward dashboard with tabs such as Apps, People, Buzz, App Store, and Community tabs.
The revamped UI of Mendix includes a new web modeler UI, a design language known as Atlas, with predefined page templates and redesigned Android and iOS apps.
The platform allows you to automatically set up your basic app environment. It gives you an Options menu to start building and configuring your app, along with a Buzz tab within every individual app.
On the other hand, thousands of enterprises worldwide trust OutSystems low-code platform to build applications incredibly fast. The dashboard of OutSystems is known for its clean and hassle-free interface with separate tabs for Platform, Community, Learn, and Support.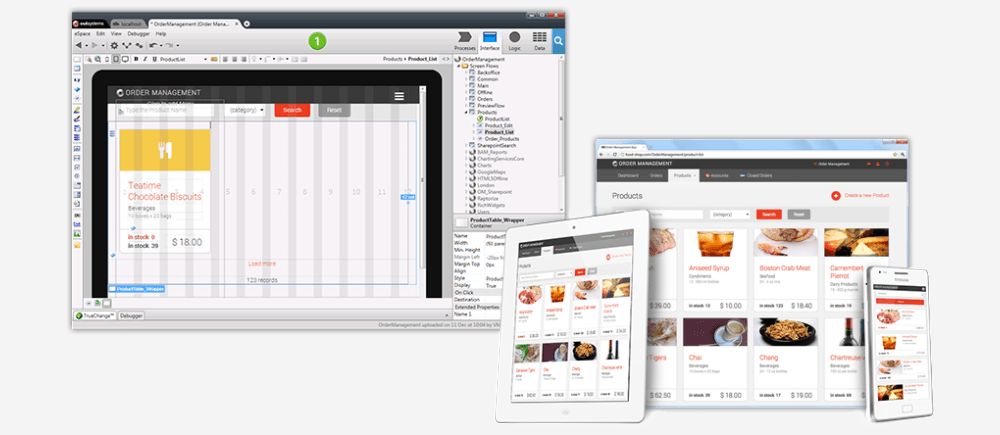 The key highlights of OutSystems in terms of architecture, set up and interface include-
The platform completely tailors the user experience by asking questions about the type of apps you want to develop, along with your professional role and expertise level.
The Community tab of OutSystems includes multiple elements such as a user forum, job board, and Ideas tab where users can pitch improvements and new features for platforms.
The platform allows you to create your private cloud environment, which comes with its unique OutSystems URL.
The only downside of the OutSystems setup is that users have to manually download the OutSystems desktop integrated development environment (IDE) to go ahead with it.
Verdict – While the UIs of both OutSystems and Mendix are simple to navigate and make it easy to log in and start building apps right away, the customized setup questionnaire that OutSystems offers is a huge benefit.
2. Feature Set
Both Mendix and OutSystems allow businesses and users to create mobile and web applications with minimal development experience. Still, they also have some standout features that set them apart from each other.
OutSystems offer multiple features, including full access control and permission, real-time monitoring of all applications usage & performance, native support for agile development, and suitability for custom application development.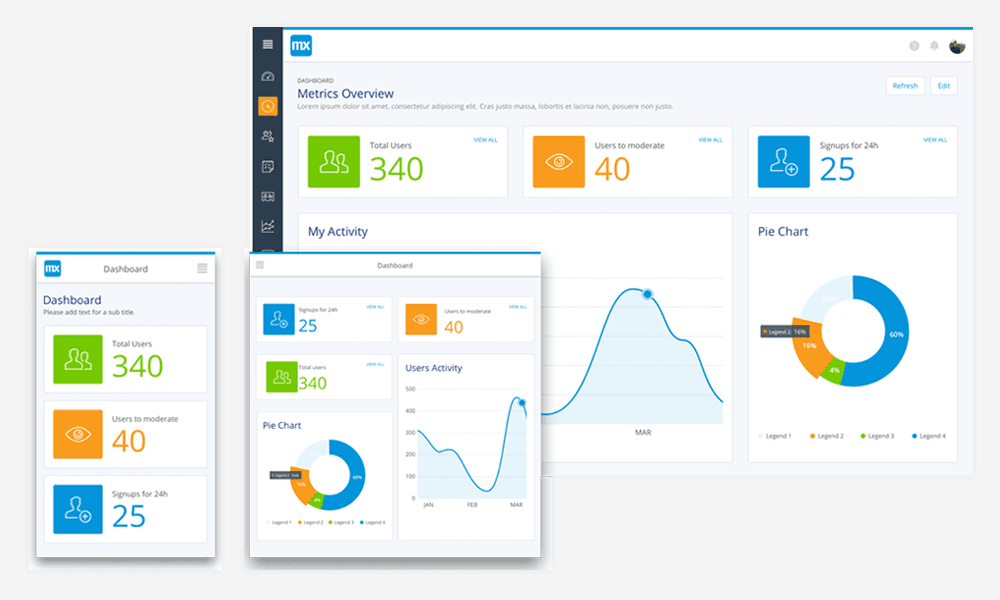 The platform also employs various visual, declarative techniques that make it possible to develop software model-based. The development usually happens with visual graphical user interfaces, which means that programming involves more configuration with models than traditional software code writing, making it a much quicker and easier way of developing the software.
The key features of Mendix, on the other hand, include drag & drop forms builder, centralized app governance, enterprise integration, model-driven development, and public/private app stores.
It allows rapid application development, along with the freedom to add code yourself whenever needed. Most of the basic functionalities of an app can be built with the default Mendix functionality. For the complex functionality, one can add Java blocks.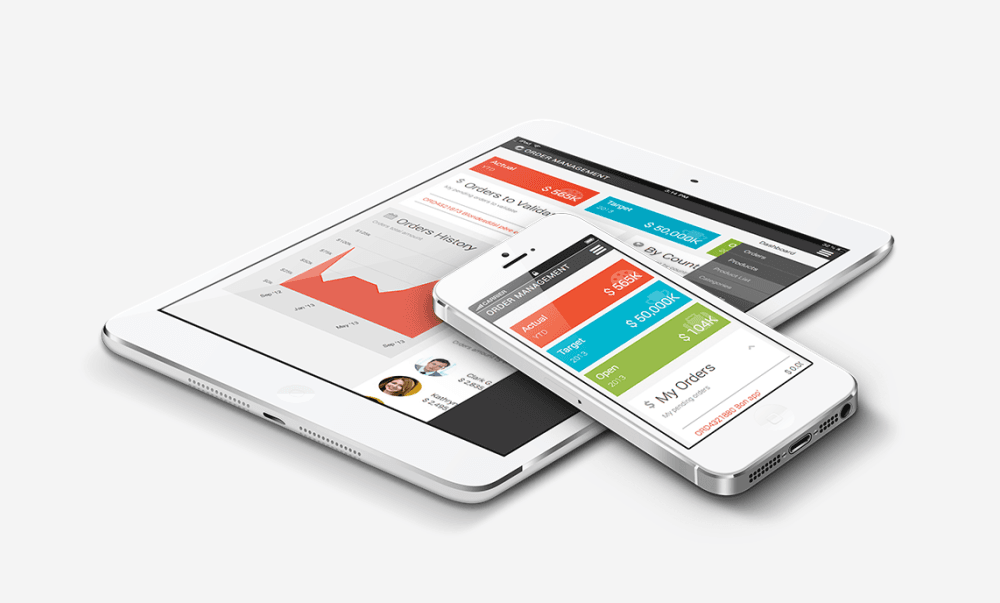 Overall, Mendix offers an easy-to-use process for creating applications. The developers are guided through the application creation step by step, with pre-built models they can use or edit for their needs.
Verdict – Mendix has a slight edge here as it performs better in database customization and app maintenance to offer a more streamlined developer experience.
3. Ease of Low-Code App Creation
Low-code development is meant to make app creation simpler for everyday business users and IT departments and developers. And both Mendix and OutSystems platforms offer an easy and stepwise app creation experience to guide citizen developers through the process.
In the case of OutSystems, developers can choose whether they're building a web or mobile app from the very beginning. It also lets them specify whether it's a smartphone tablet or a universal app that will automatically resize to various screens.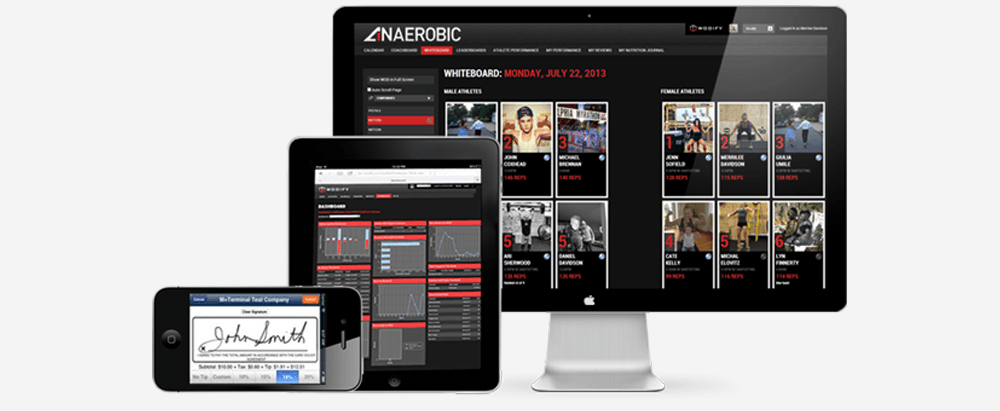 Once you begin with app development, OutSystems helps you at every step of the process, whether through creating a database table from a Microsoft Excel file, building a form, customizing UI, or assisting the user to publish the app using only one click.
The platform also has a robust app editor that allows you to automatically create tabs for you as you go along. Additionally, there's also a custom-branded preview of your app in the center where you just need to drag and drop UI elements and map to database objects on the right-hand side.
Mendix, on the other hand, lets you build your app with a page of pre-built apps for managing events, expenses, etc., along with tutorials to take you through more complex templates of the app.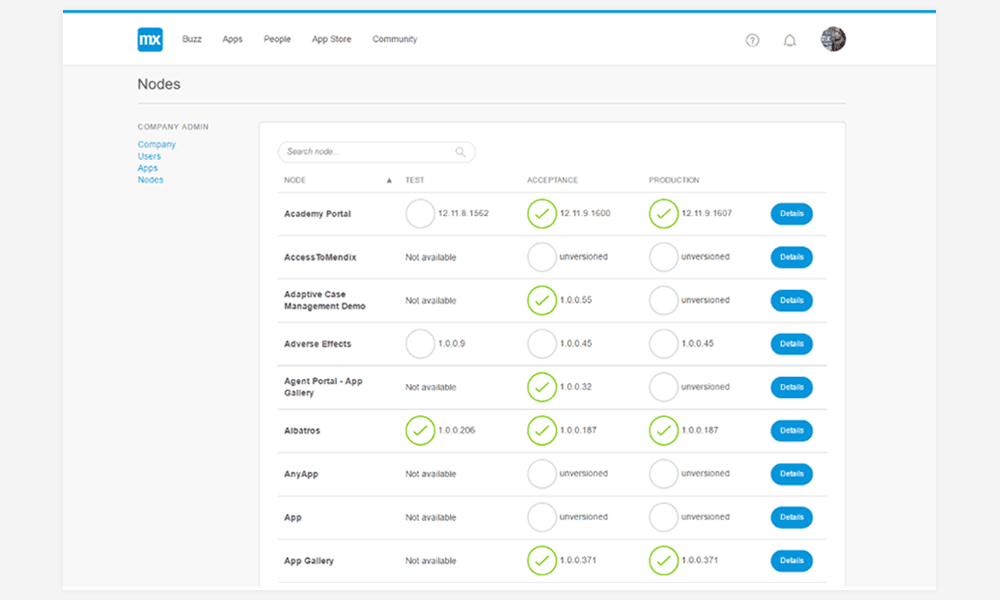 Among the other things that the platform offers include a robust Web Modeler to give you devise previews for smart devices, desktop, and tablet apps. The platform also can start you off directly with UI design and wireframing, instead of database setup that comes later to improve the app creation experience.
Verdict – Although the app creation experiences of both OutSystems and Mendix are top-class, OutSystems scores a few points more due to its smooth low-code development process with much better-guided instructions.
4. Integrations and Community
IT integration is one of the critical differentiators in UI-centric low-code platforms. The primary reason for this is that many products don't offer tools to link up a web front end or new mobile with core IT applications and databases. Enterprises and developers with non-technical backgrounds have different choices here.
While citizen developers prefer Mendix as it gives them a comfortable visual experience, enterprises believe OutSystems offers them better control over IT application integration and a better way to collaborate with citizens, especially in situations where the two development groups collaborate.
Both Mendix and OutSystems offer a boundless range of integrations along with powerful community-built components and apps.
OutSystems integrates with the following applications and business systems –
QuickBooks
UPS
Okta
Facebook
Twitter
LinkedIn
On the other hand, Mendix integrates with the following applications and business systems –
Lync Online
Microsoft Excel
Apart from this, Mendix can also seamlessly integrate with third-party applications as it comes with an API.
Do you wonder whether Low Code Technology is for both Early Stage Startups and Enterprises?? Harsh Makadia does a deep dive on how Low Code can help in writing complex business logic, customizations, make API calls, & build mobile friendly applications for both. Take a look at the video below 👇
Community Support and Availability of Resources
One of the key factors for prospective low code users is the availability of community resources. Many of them prefer products with pre-built applications that can help companies and developers tailor generalized apps for specific enterprise objectives.
And both Mendix and OutSystems offer strong community support and an application store, as well as user forums.
Verdict – In terms of integrations and community support, both Mendix and OutSystems fair equally as both have decent offerings on these fronts.
5. Limitations and Pricing
Although both Mendix and OutSystems offer excellent platforms for low-code development and application deployment, they do have certain limitations that you need to consider before making the final decision.
Mendix Limitations
Among the main Mendix limitations include–
Mendix is a little challenging to manage one-click deployment once the applications are built.
With Mendix, it gets a bit trickier to map application objects to related databases compared to the drag and drop process offered by OutSystems.
Mendix's free version supports only ten users making it difficult for small businesses to get the most out of the platform.
OutSystems Limitations
Among the main OutSystems limitations include –
The process of creating an app in OutSystems is more rigid. Unlike Mendix, it requires users to choose application types such as smartphones, tablets, etc., from the start, instead of allowing them to make that choice at a later stage.
OutSystems lacks a fully cloud-based option, making it challenging to collaborate for users, especially across premises in different locations.
Mendix Pricing – How much does Mendix cost?
Mendix pricing offers a free version for up to 10 users. Beyond 10, the pricing to use the platform is on a pay what you need basis, depending on the number of applications and other factors.
The paid plan for Mendix starts at $1,917 per month for a single app with features such as an uptime guarantee and automated backups. You can go for the Enterprise or Pro edition if you're looking to build multiple apps deployed throughout your organization.
To use the Pro edition of Mendix, users will have to pay $5,375 per month for unlimited app building, whereas to use the Enterprise edition of Mendix, the price is $7,825 per month for more advanced features.
Among the main features here include private cloud deployment, horizontal scaling, continuous integration support, and the ability to deploy apps on-premises.
OutSystems Pricing – How much does OutSystems cost?
OutSystems offers an excellent choice for businesses looking to try the platform before they buy. It provides a free version with support for one environment and up to 100 end users.
The basic package of OutSystems pricing offers support for up to 1,000 users and starts at $4,000 per month.
The standard package is priced at $10,000 per month and supports any number of end-users.
Businesses can also reach out to OutSystems for an enterprise quote if they are looking for more features or support.
Verdict- While both Mendix and OutSystems offer excellent development environments with robust enterprise functionality, OutSystems' pricing is better than that of Mendix.
Building a low code app with Mendix and OutSystems
Users can use Mendix platform to build business solutions themselves, either from scratch or with pre-built templates and components. With Mendix studio, developers can also prototype ideas, make simple changes to large IT-led projects, or build business solutions.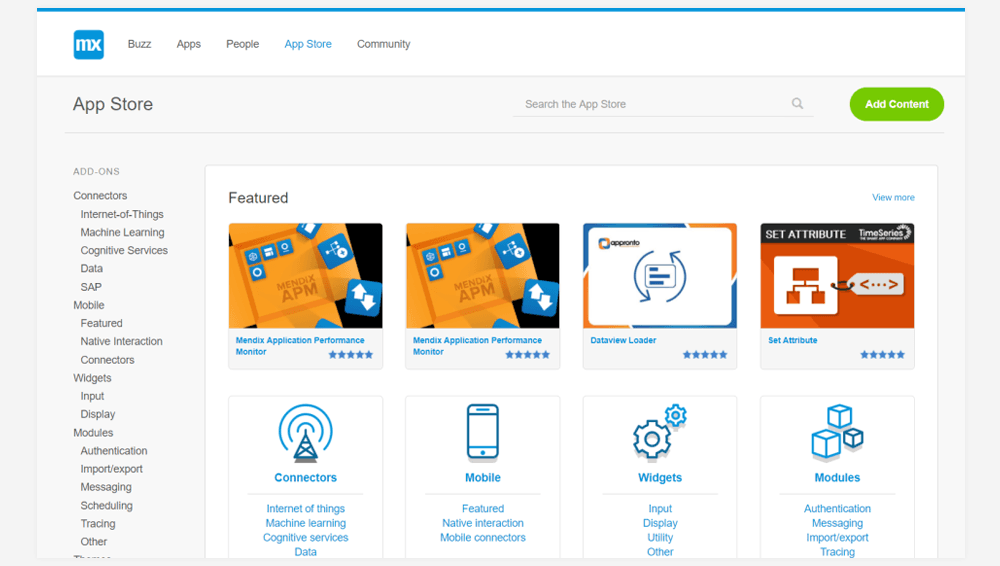 Experienced developers can use Mendix pro for multiple aspects of app building, including complex workflow management and external integrations through either low-code modeling or Java code.
Whereas, to create native apps with OutSystems, all you need to do is configure the app, add your keys/ certificates, and click a button. The platform does the rest by generating native builds for Android and iOS with all required contents and plugins.
With Outsystems, there is no need to install Java and Android Studio to build for Android and Mac to build your iOS app.

Additionally, to update your mobile app on your users' devices, all you need is to deploy the app to OutSystems without rebuilding your native application if no new native integrations are added.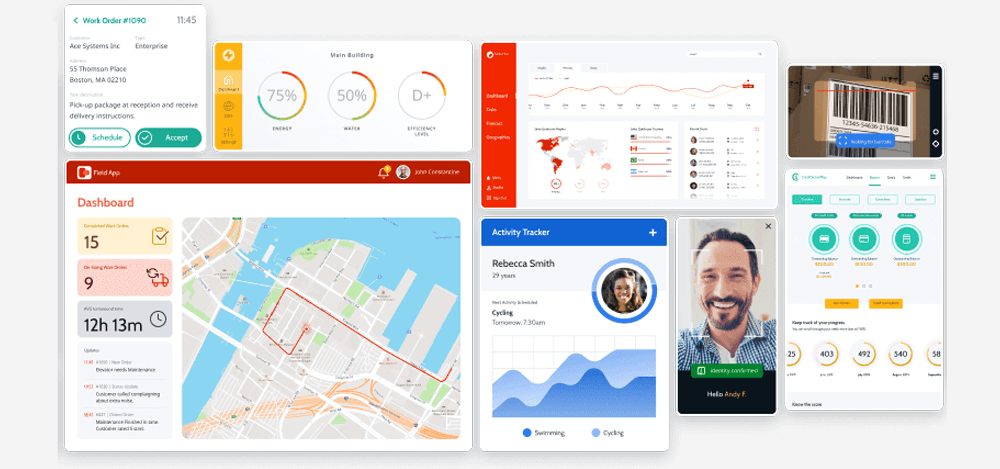 As soon as the new version of your application is published, OutSystems automatically pushes the new version to the users' devices, and you can start using it. It ensures that everyone uses the latest version of your app, allowing for quick feedback and immediate fixes in case of critical app defects.
Did you find the video snippet on How should organization plan to implement Low Code Platform? to be insightful? We have a ~18 min video where Harsh Makadia gets into the weeds, and we discuss how early stage startups can benefit from Low Code Development. Take a look –
Mendix vs. Outsystems – Which one is better?
Choosing between Mendix Vs. OutSystems can be hard since both products offer excellent choices as enterprise low-code platforms catering to a full range of business users. Both platforms have a lot to offer, from having excellent capabilities in managing the end-to-end app lifecycle right from app creation and deployment to ongoing maintenance and analytics.
While Mendix offers an entirely cloud-based option with excellent IT project management and native collaboration, OutSystems excels in the area of the intuitive app interface and detailed instructions provided to build apps. The choice between the two should ideally be dependent on the overall set of features you're looking for in your app development project.
As both of these platforms offer top-notch features, the competition is close. However, OutSystems takes a slight edge over Mendix primarily due to its more accommodating pricing structure and a seamless user experience and better guidance to developers in building a low-code business app. If you are still in two minds, then you can reach out to an IT outsource consulting firm. Their consulting services would help you choose the right low-code platform for your business.