In the constantly changing business landscape, organizations need to keep pace to meet consumer needs. Competitive markets, the need to solve business problems quickly, lack of skilled software developers, and overburdened IT departments are the factors pushing companies to turn to low code no code partners.
Hey there! This blog is almost about 3000+ words long & not everyone likes to read that much. We understand that.
This is precisely why we made a podcast on the topic. Harsh Makadia, Technology Evangelist at Maruti Techlabs, talks to Bikshita Bhattacharyya about using low code technology for building and shipping products.
He also talks about how he implemented low code technology for his client, the tangible benefits they got from the implementation, and more! Here is a small snippet from that episode. Check it out!
Unlike custom development, low code no code development helps companies develop business applications with little to no prior coding experience. It enables business analysts, small-business owners, and others from non-IT backgrounds to build applications. Gartner reports that 41% of employees outside of IT customize or build data or technology solutions.
As more and more non-IT developers, better known as citizen developers, are participating in software development, more companies are turning to low code platforms to empower their citizen developers and meet the growing demands of competitive markets.
Read in detail on what is a citizen developer.
Let us look at some interesting stats on the market of low code no-code platforms:
All of the above statistics show that low-code is becoming mainstream and here to stay.
There are many great business reasons to get started with a low code no code partner for your business. This blog will look at the different things to look for when choosing which low code no-code platform or partner best suits you.
How to Choose a Low Code No Code Platform
As the numbers suggest, the market for low code no-code platforms is growing at an exponential rate. With countless vendors in the space, it can be challenging for companies to know where to start.
Here, we have discussed some tips on how to select a low code no code development partner:
1. Determine the customer for the platform – Is it for developers or businesses?
Low-Code platforms can be segmented into two market segments: those that serve developers and those that serve business users.
For developers, low-code can assist in delivering more software in shorter periods-say, weeks instead of months.
From the business side, low-code allows citizen developers or individuals without programming skills to create their software.
Companies need to decide which side they need a platform for. A tool designed for a low code no code developer will not work for business people and vice versa. It would only complicate things. Hence, it is essential to determine who will be using the platform and choose a platform accordingly.
Additional read: Mendix vs. OutSystems – Which one to choose?
2. Identify the use cases the company wants to deliver
Each platform or tool offers different functions in different areas. They're not all equal. Hence, look for a platform that fulfills the use cases your company wants to deliver.
3. Create a governance strategy
It's vital to remember that building and maintaining software is complex, with or without coding. It is essential to have a strategy outlining the requirement, who will do the work, and how you will maintain it.
Let's consider the example of a large US insurance company that brought in a low-code platform for its business side. The software developers at the company failed to implement any governance, and as a result, found themselves with 16,000 apps within just a short time. Now, this is raising some eyebrows, given that the latest version of the platform was no longer supported, which means it had no way to manage security or mobile device management, which makes it incredibly vulnerable to malicious attacks.
A strong strategy can include a portfolio management system to help employees track what apps have already been built into the platform.
Features to Consider For Choosing a Low-code Platform
During the platform's trial period, there are several vital features that you should pay close attention to when deciding whether this low-code platform suits you or not.
Here are the main characteristics to consider before choosing a low-code platform –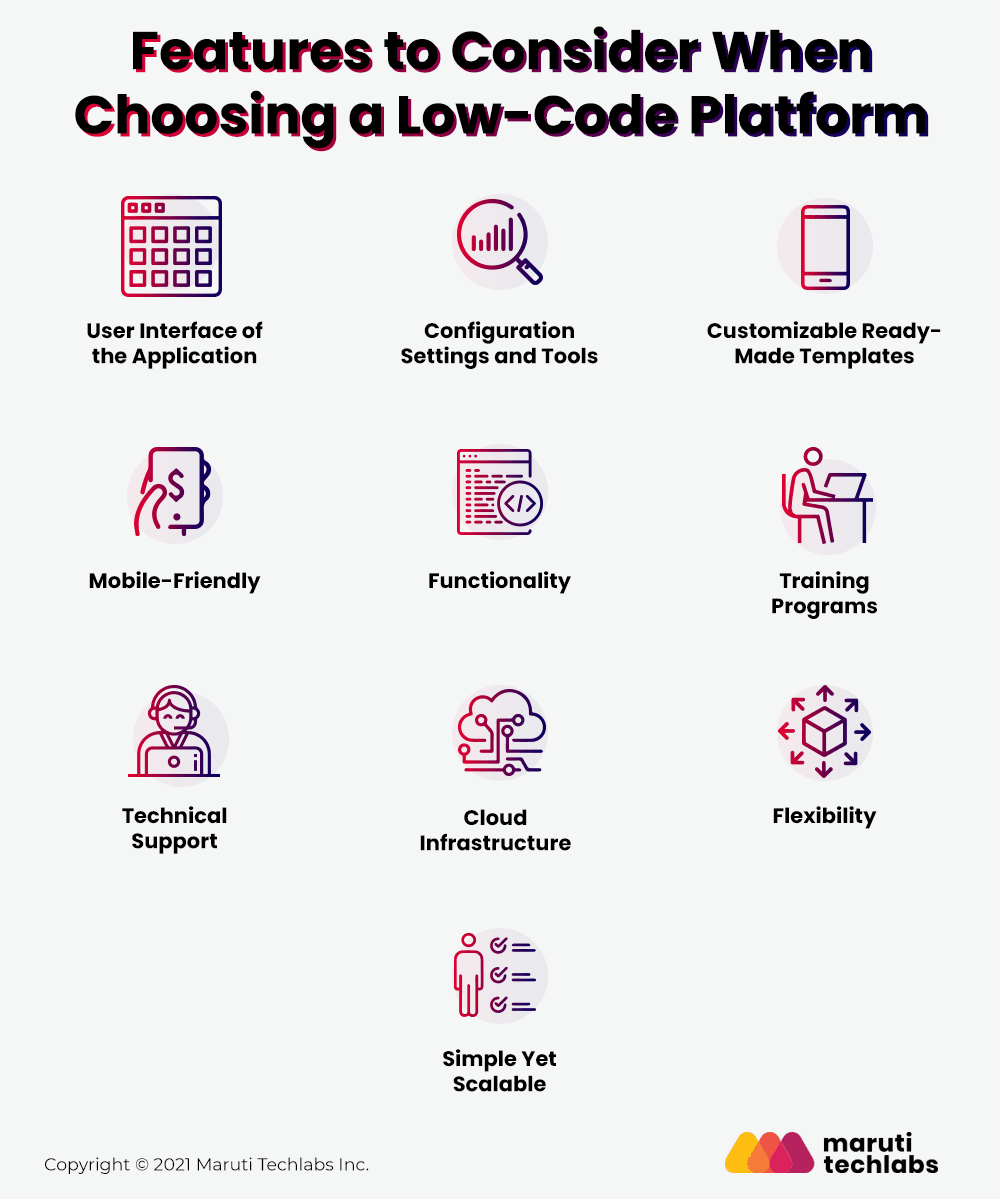 1. User Interface of the Application
Ask yourself whether your customers will be happy with the application's interface developed using this low-code platform? The user experience of your applications should be intuitive and comfortable to use. Make sure the platform supports this.
2. Configuration Settings and Tools
Ensure the low-code platform provides the necessary configuration settings and visual tools that let your employees manage applications independently. An intuitive interface is not the only thing needed for the application to work. You need access to the database, configure authentication and permissions.
Also, check to what extent you will need to involve professional developers.
3. Customizable Ready-Made Templates
Be sure to check if the tool provides ready-made templates if your goal is to automate business processes. Ready-made templates significantly reduce the risk involved in creating a particular system and save a significant amount of effort.
It increases productivity, provides flexibility, and a convenient development process for your low code no code development team.
4. Mobile-Friendly
Does your application work smoothly on mobile devices? Ensure that your employees do not have to develop anything additional in the application to work well on mobile devices.
5. Functionality
It's important to note whether the platform provides the functionalities your company needs. Compile all your employees' tasks, such as processing documents, filling out questionnaires, inputting data in an internal database, etc. The low-code platform or management software must have form designers, electronic signatures, and other essential functionality.
6. Training Programs
Does the platform have a comprehensive training program? Employees will be learning how to develop applications on this platform. Hence, the platform must have a separate lesson plan or training program aside from the main product.
7. Technical Support
How well does technical support work? The low-code platform must provide proper technical support. Read reviews about the platform beforehand.
8. Cloud Infrastructure
Check if you can deploy the platform in the cloud? If the low-code platform supports cloud infrastructure, the application deployment process will be much quicker. It is something worth taking advantage of.
9. Flexibility
What about non-coder IT? Empower IT, not just business users. Not everyone wants to be a professional developer yet would like to be a creator.
Many IT professionals may not be focused on hardcore coding skills, but they can create great apps and solutions with the right platform. Companies can leverage and empower these IT power users by choosing a low-code platform that is flexible enough.
10. Simple Yet Scalable
A low-code platform should enable users to jumpstart simple problems and then increasingly more complex scenarios as they arise. A low code platform can help small to medium-sized companies experiment with new products, features, new integrations, and more by being open to the different skill levels of a company's workforce.
They can even build entirely new systems for your business from scratch at a fraction of the cost that it would take if one were looking into working with an outside provider.
Do you think low code development can be leveraged to ONLY build static websites? Harsh Makadia does a deep dive on how Low Code can help in writing complex business logic, customizations, make API calls, & build mobile friendly applications. Take a look at the video below 👇
The Balance Between Simplicity and Extensibility
Many visual, no-code partners are great for getting simple things done, but they cannot scale up to manage more advanced functions or support higher usage levels. What if there's a need to integrate into a back-end system? What if you need to add more advanced levels of features?
For the requirements to be met beyond what a no-code platform offers, low code platforms are a better choice, but such platforms require some amount of coding knowledge and are difficult for absolute non-technical users.
Ideally, low code platforms should offer simplicity to get started with the project and flexibility and extensibility to develop the app well beyond the initial phase. Hence, a balance between simplicity and extensibility while choosing a low code no-code platform is paramount.
Benefits of Choosing a Low Code No Code Partner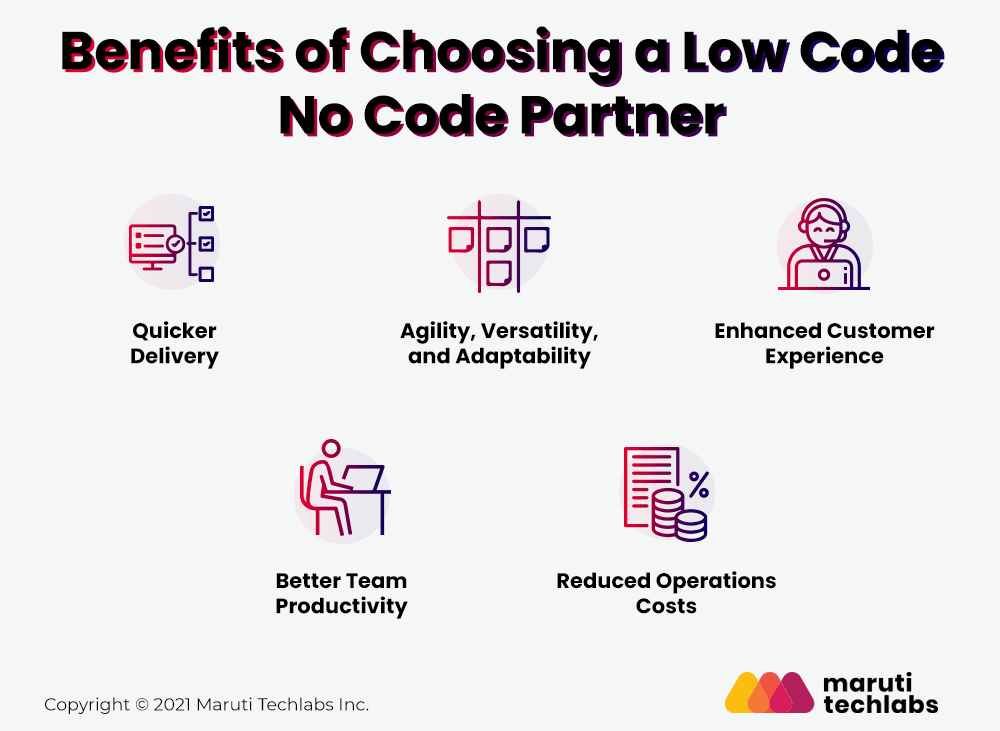 1. Quicker Delivery
The name of the low-code no-code design approach is the first indicator for a quicker delivery. The low-code no-code design approach uses a minimal amount of code to develop an app. With user-friendly interfaces and features like drag-and-drop, this approach removes complexity from app development.
The reduction in the number of lines of code and the elimination of complexity from the process help app development partners design and deliver apps at a much quicker rate.
Low-code no-code platforms also allow integration with third-party tools that the developer is familiar with to reduce or eliminate the learning curve.
2. Agility, Versatility, and Adaptability
A key benefit that the low code no code partner offers is its ability to adapt and provide versatility. It does this by allowing developers to deliver the product across all the major platforms.
All customers access the net through different sources. Some use desktops and laptops to access the web. Others use mobile devices to connect to the web and other apps. To ensure accessibility to all customers, you must develop an app for your product that is available and accessible through any device.

3. Enhanced Customer Experience
As mentioned earlier, a good User Experience (UX) is a non-negotiable part of designing an app for your product. Following the low-code no-code approach helps you enhance the customer experience by making changes to your app and meeting customer demands and expectations with ease.
Through this approach, you can also integrate new technological advancements like Artificial Intelligence and Machine Learning, and add features like chatbots and voice assistants, so that customers enjoy their journey on your app.
4. Better Team Productivity
The increased speed in the design and delivery of apps through the low-code no-code method helps your business increase its team productivity. Instead of your workforce spending months collaborating with an app development team, they can complete the entire job in a matter of a few days with the help of a low code no code partner.
The members in your workforce can then spend their time in other important matters like marketing campaigns or the conversion of leads to sales.
5. Reduced Operations Costs
Another benefit of building a product with no code low code is reducing the project's operating costs. In the section where we discussed the mistakes that you should avoid, we said you should prioritize the quality of the product delivered by the development team over the cost involved.
But the low-code no-code design approach can help in reducing the operations costs as well. By delivering products quickly, you do not have to spend more money on development teams who take months together to finish the project.
As low-code no-code significantly reduces the complexity and workload for a development team, it eliminates the need to hire a massive app development team for your product. This way, you can cut costs and also save up on your resources.
When it comes to selecting a low code no code partner, experience and expertise matter; at Maruti Techlabs, we specialize in custom mobile application development services to help businesses of all sizes create the perfect solution for their unique needs.
Tips on Working with Low Code No Code Partner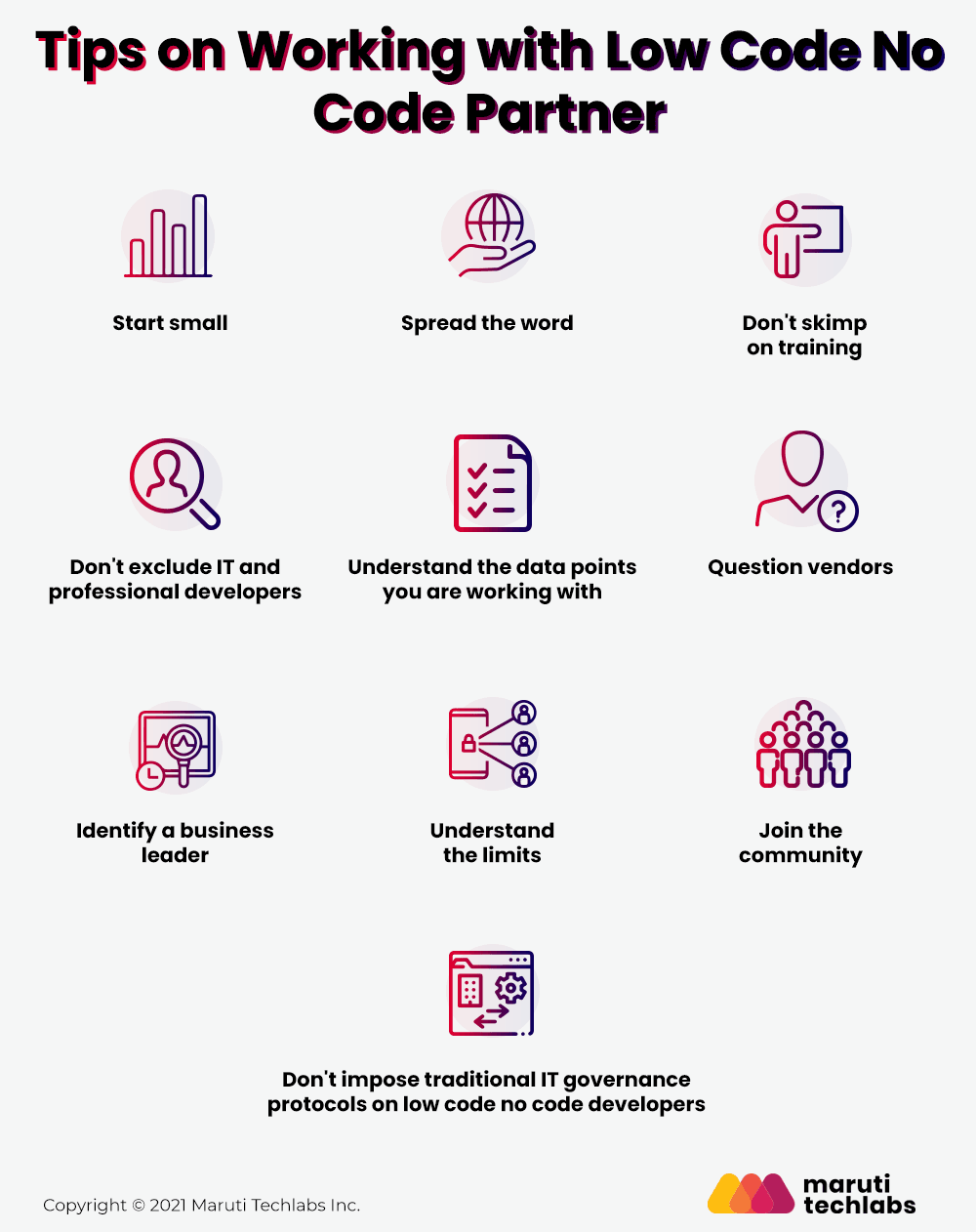 1. Start small
Start with the easiest, least intimidating low-code platform before introducing more complex platforms. Employees are less likely to discard a tool they find helpful if they've never had success with the more complex tools in the past.
Start with the most straightforward applications, such as form submissions, so as not to overwhelm employees. Some of these platforms allow employees to take advantage of pre-built applications provided by the platform so that the users better understand the functionality of a particular platform which can act as a good starting point.
2. Spread the word
The more people in an organization know about the platform and what it can do, the more ways the organization can innovate and create new solutions.
Once a framework is set and the first early applications are launched, companies should involve more people outside of IT in the application development process. This way, it's easier to take advantage of all the great minds that exist across your organization for further innovation.
3. Don't skimp on training
It is crucial to invest in equipping your staff and enabling them the time to explore and try new things to make the most out of low-code or no-code platforms.
While these platforms may be straightforward to use, a training session can confirm the conventional way to use the tool and its features. In terms of lost productivity and effectiveness, skipping training can be more expensive than taking a training class at the start.
4. Don't impose traditional IT governance protocols on low code no code developers
The citizen developer framework looks very different from the guidelines of traditional IT governance. For citizen developers working with low-code or no-code platforms, it's important not to hold their work to conventional IT governance protocols and standards for them to be efficient.
It demands striking a balance between planning and doing. Rather than impose a development methodology, allow individual app builders to balance planning and executing suitable to their project.
5. Don't exclude IT and professional developers
Low code and no code can lessen the gap between IT and users, but it is never the solution to replace the gap nor reduce the amount of work related to software development.
By allowing business users to experiment with new ideas, you can speed up application development, reduce cost, and create a more engaging user experience. However, doing so without an IT administrator is risky. These applications may conflict with the company's central platform or cause incompatibility problems in general.
6. Understand the data points you are working with
To thrive within a development platform, you must understand your data. Ensure you know where it is located within the database and what SQL queries may be required to retrieve it.
You will need to collaborate with the IT team to determine what data citizen developers can access and authenticate the same.
7. Question vendors
CXOs and other leaders need to closely examine the service agreements before purchasing a platform to avoid vendor lock-in. It's essential to ask the following questions :
Can the applications operate outside of the platform's environment?
Can you maintain the application outside the platform?
Is it producing easily comprehensible, industry-standard code?
You don't want to choose a tool that will render your applications unusable if you ever stop using the tool.
8. Identify a business leader
To find success with low-code platforms, an organization should typically identify a champion involved in the business who can verbalize the business needs into visual models or pseudo-code. Low-code application development often hits deeply well with technically advanced analysts and tech-savvy business analysts who can use low-code to drive business impact.
9. Understand the limits
Low-code and no-code platforms are not fitting for all use cases.
Low-code tools can be a potent weapon for entrepreneurs during the proof-of-concept phase of development and can analyze some interface issues to get an app running quicker. But, there is still a significant requirement for someone with developer skills to customize the project, create back-end APIs, and manage infrastructure deployment.
Building apps at scale places infrastructure, scaling, and lifecycle management considerations, which generally are not achieved with low-code tools.
10. Join the community
When jumping into the no-code platform world, it may be helpful for businesses to join a community associated with your platform of choice that can help you learn best practices and see what other members are accomplishing. By staying up-to-date on members' progress and understanding their best practices, they can continue forging new paths as a company.
Did you find the video snippet on Why is Low Code Development increasing in popularity to be insightful? We have a ~18 min video where Harsh Makadia gets into the weeds, and we discuss how early stage startups can benefit from Low Code Development. Take a look –
Which Low Code No Code Partner Should You Choose?
Before choosing a low code no code partner, it is essential to consider a few things:
Pay attention to whether the vendor takes a holistic approach to your development needs. It should strive to align both business and IT teams to the app development strategy.
The low code no code partner should have robust communication with their clients. It will ensure reliability and trust between the teams.
It is better to opt for a low code no code partner familiar with the strengths and weaknesses of the

best low code platforms

. Your low code development partner should be aware of the security risks, a lack of customizations, and issues of vendor lock-in that come with the low code platforms.
After your application has crossed the MVP stage, you'd need some level of custom development to add advanced features and make the application more robust. Hence, your

low code development partner

should be able to work on your projects beyond the scope of what the chosen low code no code platform can offer. Supplementing low code platforms with custom development wherever necessary is an underrated skill. Find a low-code partner that is skilled in these areas.
Choosing the right low code no-code partner that can guide you through the plethora of platforms is equally crucial. The right low code no code partner will help you analyze your business needs and map your development journey to your business goals.
At Maruti Techlabs, we have worked with clients worldwide, bringing their ideas to life. Whether it's about converting an idea to MVP without coding in a couple of months or developing a full-scale application from an MVP, we have varied skill sets to match the requirements of our clients. We examine different approaches to your project and choose the one that reduces your time-to-market and is cost-effective.
We innovate with precision. Our approach is focused on the accurate prediction of the final product, based on a comprehensive understanding of the user's requirements. By making ideas tangible, software prototyping enables risk analysis, accelerates cycle times, and helps create quality solutions.
If you, too, want to validate your ideas and reach product-market fit quickly, reach out to our software prototyping experts. Simply drop in a note here, and we'll get back to you.