In our previous blog, we discussed what actually is low-code/no-code development, their advantages, and usages. And in this piece, we are going to address the hot debate that has taken the software development industry by storm – the debate between no-code/low-code development vs. traditional custom development.
Hey there! This blog is almost about 2200+ words long & not everyone likes to read that much. We understand that.
This is precisely why we made a podcast on the topic. Harsh Makadia, Technology Evangelist at Maruti Techlabs, talks to Bikshita Bhattacharyya about using low code technology for building and shipping products.
He also talks about how he implemented low code technology for his client, the tangible benefits they got from the implementation, and more! Check it out!
The skepticism around implementing low-code development is understandable. Many believe that with the use of no-code/low-code development on the rise, traditional coding is all set to be obsolete.
And that cannot be farther from the truth. How?
Let us explore these two approaches in more detail, including how they work, their features & functionalities, and what are the key differences between the two, to help you make an informed choice.
Traditional Coding / Custom Application Development
The traditional coding refers to working with an entire team of developers and programmers to gather specific requirements, develop a plan, and work with a development team to create custom code for an application to meet the specified needs.
Although the traditional approach is completely fine and an absolutely acceptable method, these projects are often complex, expensive, and are delayed due to multiple factors such as:
Various software coding errors
Inaccurate estimation
Testing challenges
Several infrastructure delays
Further, a traditional development approach requires a continuous maintenance cycle by the developer to keep the custom software application secure and up-to-date.
Low-Code/No-Code Application Development
Unlike custom development, no-code/low-code platforms refer to the software used to develop business applications without writing any code or requiring any programming experience whatsoever.
Low-code/no-code platforms are essentially a part of the early generation of rapid mobile application software development tools. With evolving technology, businesses of different sizes and industries realized the need to undergo a digital transformation. To remain relevant and competitive in the digital world, they needed software and/or applications that fit customer expectations.
Low-code/no-code platforms are a great solution as they offer multiple advantages such as accessibility to masses, speed, and affordability. These platforms offer a robust visual software interface that allows the user to create their application with easy-to-use features such as –
Drag and drop modules
Spreadsheet imports
Picklist selection boxes
Users, in this case, have access to a complete library of pre-built functionality that they can drag-and-drop on a graphic interface and create whole applications from templates that include general business processes and logic.
Key Features of Low-Code/No-Code Platforms
A low-code/no-code platform is typically made from the following key ingredients and features –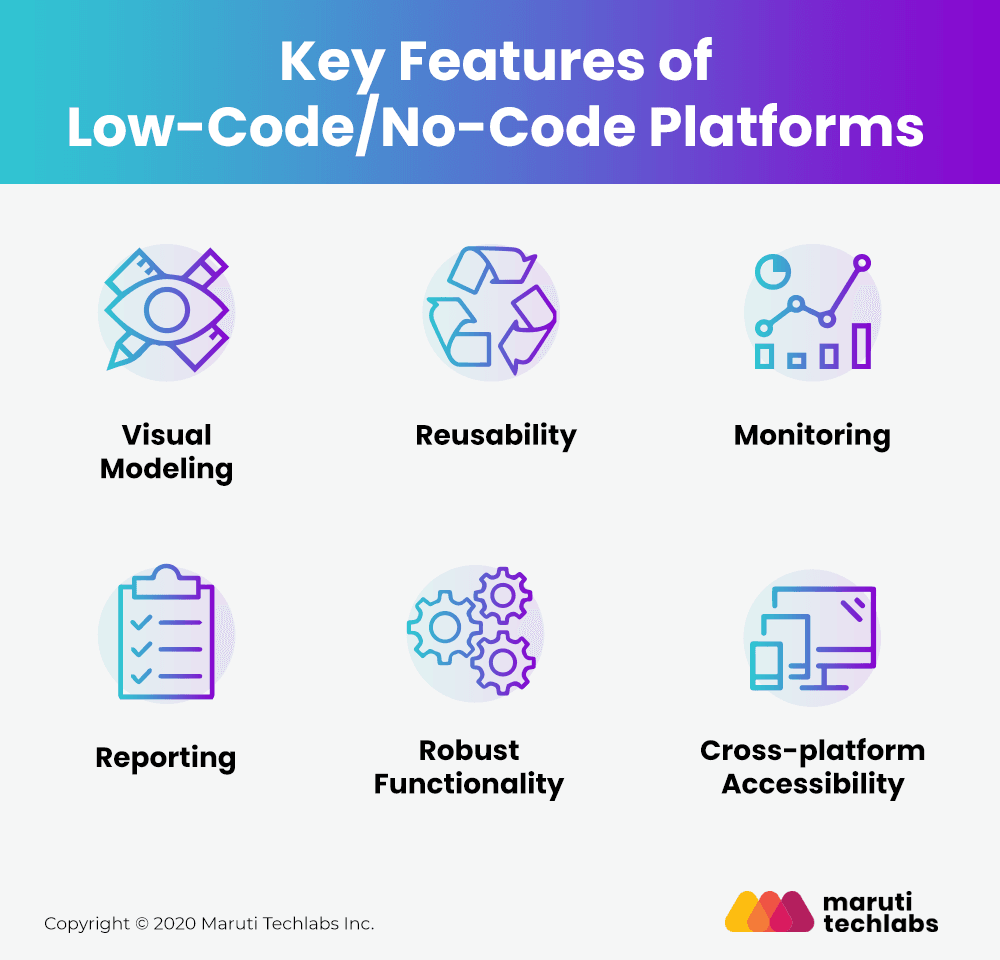 Visual Modeling
Complex code is replaced by a drag-and-drop interface in the case of low-code and no-code platforms. They allow developers to process and manage the data easily through visual modeling.
Robust Functionality
Notable low-code systems provide OOTB (out-of-the-box) functionality which eliminates the need to build core modules for apps from scratch. Core modules like customer service management, data management, etc. are pre-built in some of the platforms.
Reusability
Another major aspect of low-code development is the usage of pre-configured modules and functionality for apps. These modules generally have all the common core functions needed for several apps, and they can be reused for multiple different solutions, quickly.
Cross-Platform Accessibility
Multi-device compatibility is one of the most sought-out features of low-code/no-code platforms. Apart from giving the ability to use the low-code platform on any device running major operational systems, the cross-platform compatibility also allows users to build apps that can run on all core platforms and devices.
Reporting and Monitoring
Apps developed using the low-code approach are equipped to monitor workflows and processes to keep track of their effectiveness. Further, they are very useful for analytical purposes and can also track the performance of other apps.
There are primarily three kinds of applications that can be built on a low-code/no-code platform –
Portals and Web Applications
Customer-facing web applications that help you bridge the gap between your back and front office. No-code platforms are increasingly being used as web application builders without coding.
Back-office apps that use a back-office module only, along with functionality, to administer your business data for internal use.
Mobile applications can be customized for mobile devices such as smartphones and tablets. Rapid mobile app development is on the rise and low code no code is largely a reason for it.
Do you wonder how is Low Code Development different from Traditional Development? Harsh Makadia does a deep dive on how they are different using an example. Take a look at the video below 👇
Low-Code/No-Code Development vs Traditional Development
While low-code/no-code application development platforms enable developers, citizen developers, and business users to quickly develop apps using drag-and-drop interfaces, custom app development methodology utilizes conventional methods for developers to create robust apps. Here are some of the other key differences between the two approaches-
Skill-Sets
The traditional application development approach generally brings with it a variety of tools and multiple functions, which help the developers in creating highly complex applications. To be able to operate these apps accurately, one would require highly technical and sophisticated skills in this field.
The low-code/no-code platforms, on the other hand, do not feature a wide variety of tools and functions. These platforms typically have a small set of tools, which can help you to develop various kinds of applications without much hassle. Application development using the no-code/low-code approach becomes much easier for non-technical staff without the mastery of skills in this field.
App Quality
Due to high technicalities and the over complex nature, the custom application development platforms usually produce a lot of bugs, making it difficult for users to use the apps.
In contrast, enterprise low-code/no-code platforms generally do not produce bugs while building apps. This leads to smooth running and hassle-free apps created by this system.
Cost
Traditional or custom-made software is quite expensive to build and can range anywhere between $40,000 – $250,000 to design and develop the application. Although the cost will vary based on the scope of the project and the individual needs of the company, it still is significantly high. This is usually a worthy option for large companies that need highly customized software, which is difficult to create using a low-code/no-code solution.
Low-code/no-code platforms are way cheaper as compared to their traditional counterparts. This is primarily because, with low-code platforms, a company pays only to access the specified service, not its development from start to finish.
Agility
Traditional development platforms generally have a complicated configuration system, making them less agile. Further, because of complex codes, it requires a lot of time to learn and operate them accurately.
In comparison, low-code platforms are much easier to use and operate due to their drag and drop features. Further, unlike custom development, you do not have to write codes here for developing the applications, as you can simply use the drawing methods to do the same.
Maintenance
With traditional coding, maintenance is a big headache as the updates or revision will require a dedicated in-house or third-party development team to implement changes. Likewise, software revision, in this case, is a cumbersome process for which the teams have to plan, design, and test, followed by training users on new changes.
Contrary to this, low-code platforms being aPaaS (application platform as a service), are typically run and maintained by the company that owns the platform. This makes the process of maintenance simpler as all the updates and improvements to the software are handled by the hosting company instead of the business subscribing to the service.
This is especially beneficial for companies with small or non-existent IT departments as this allows them to benefit from well-maintained software without having the need to pay for a third-party vendor or an in-house team.
Why Are Low-Code/No-Code Platforms Gaining Popularity?
The software industry and IT outsourcing industry today face a massive disruption by low-code/no-code development, which is increasingly being used to market a wide range of software products.
A forecast by Gartner suggests that low-code/no-code application platforms will account for almost 65% of all app development by 2024. What this essentially means is that the majority of apps created in 2024 will be developed using platforms and tools that provide easy (or no-code) ways to program.
Where Do Low-code/No-code Platforms Work Best?
A low-code/no-code platform is an ideal solution when –
Businesses and enterprises want to create their own applications.
The application needed is a normal business use case.
There is no homogeneous solution for application development available that solves the problem.
But, it is essential to keep in mind that these are generalized guidelines. What really helps is to imagine and execute this in the context of real-world business concerns and decisions.
Benefits Of Low-Code/No-Code Development
Here are some of the benefits that low-code/no-code development offers to enterprises –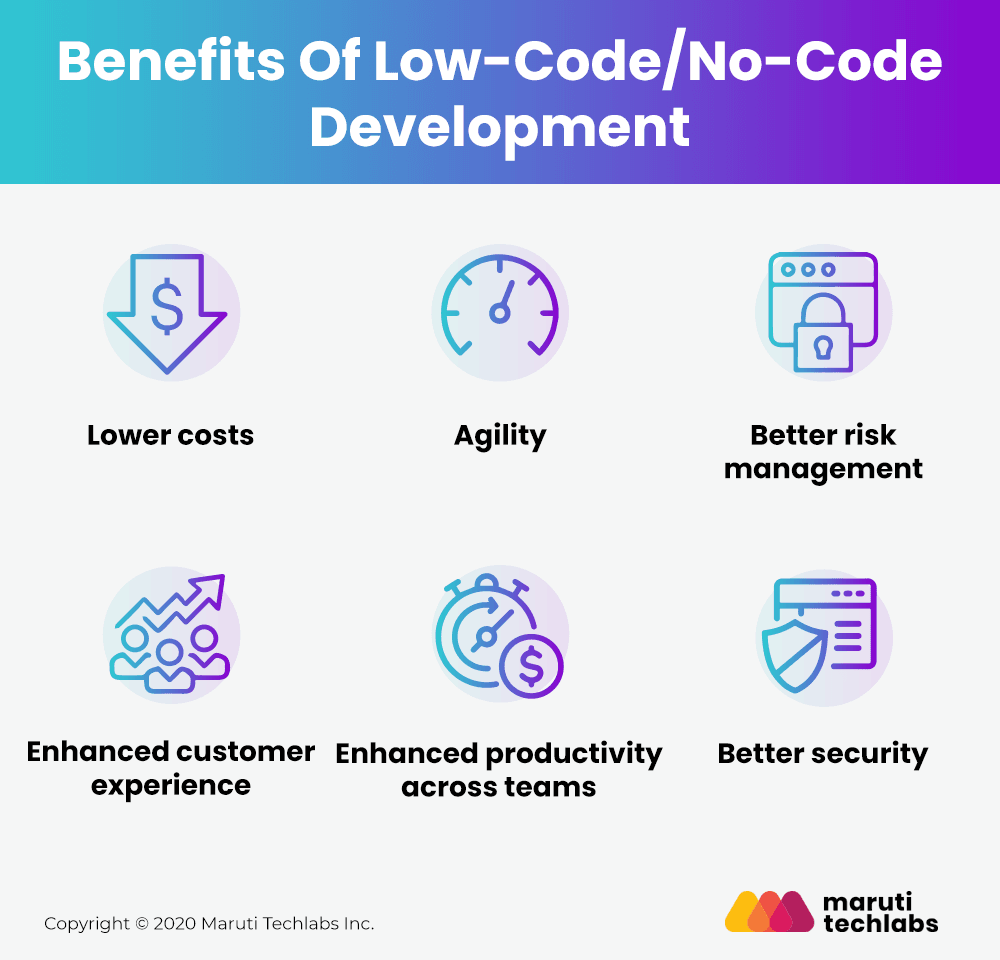 With low code development services, the time and costs get decreased substantially, and enterprises need not hire as many developers.
Additionally, when you choose no-code development for your product, you enjoy the flexibility that the Agile method provides as these platforms support versioning for any edits that were made to the application.
Low-code development allows organizations to develop and make changes faster. The skills that are necessary to create low-code/no-code development products are much less as compared to custom development because they provide configuration-based design experiences.
With constantly changing regulations, enterprises can make adjustments quickly in case of a no-code/low-code approach to stay compliant.
Further, all of the configuration processes in this case, including code writing, compiling, and debugging, are much faster compared to traditional development methods.
Enhanced Customer Experience
Low-code/no-code platforms automate multiple operations that are crucial to customer experience. The agility in app development and strong business process features help in building much better apps, thus improving the overall customer experience.
Low-code/no-code platforms help bridge the gap between IT and business teams, allowing them to solve real issues that impact the company.
Using this approach, business teams can create their own applications without having to wait for developers. It eliminates the need for complex code that increases access to more team members, leading to enhanced productivity.
When there is a new patch or security upgrade, it will be automatically installed in the low-code/no-code platforms instead of the developer going back into the code to implement the security fix.
Downside Of Low-Code/No-Code Development
In the debate between low-code vs traditional development, we cannot skip the downside of low-code development. Although there are various advantages of low-code/no-code development, there are some cons as well, and these include –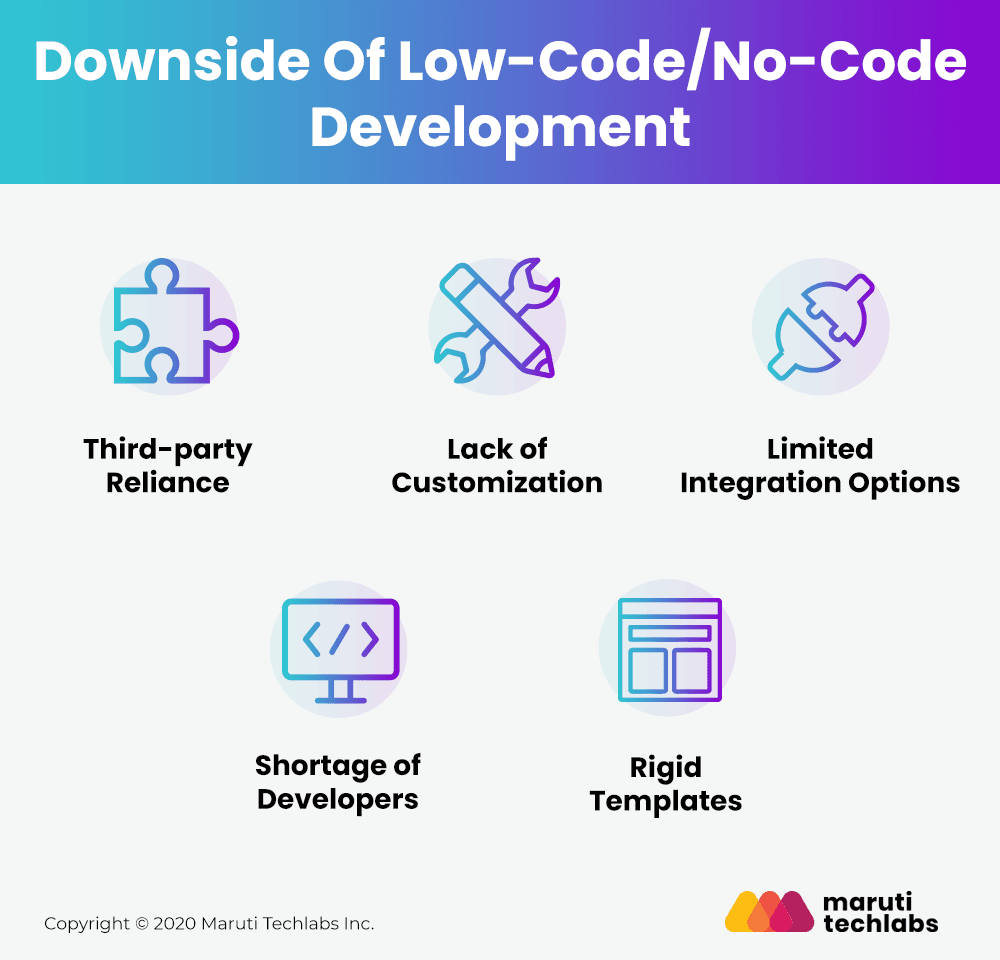 With a low-code or no-code platform, you will mostly have to rely on the vendor to mitigate risks and fix vulnerabilities, along with changing your schedule for updates to align with that of the vendor's.
Low-code/no-code development platforms generally offer very few options for companies to develop customized or bespoke software/applications.
Limited Integration Options
Building applications on a low-code/no-code development platform limits integration options for developers. This could be a significant challenge for enterprises with legacy systems that are vital to their business operations.
Since low-code/no-code development is an obscure area of expertise, it is difficult for companies to find developers who are skilled at low-code/no-code development, in the rare cases that they require one.
Did you find the video snippet on Benefits of Low Code Development over Traditional Development to be insightful? We have a ~18 min video where Harsh Makadia gets into the weeds, and we discuss how early stage startups can benefit from Low Code Development. Take a look –
The Way Ahead
When it comes to building applications for customers, an increasing number of software development houses are supplementing traditional coding with no-code and low-code development.
This is a great step to increase productivity and get more out of your limited task force. Low-code/no-code platforms help enterprises escape developer skill shortages and navigate the challenge to shorten time to market and optimize ROI.

That being said, it is important to remember that low-code/no-code platforms aren't looking to entirely eliminate the need for traditional/custom development skills. They're largely meant to equip each member of a collaborative team, including developers and non-developers, with necessary tools and resources they can use. In specific instances, where the platform can't meet the enterprises' requirements, the only things that come to the rescue to add needed functionalities are the programming skills of traditional coders. It goes without saying that developers cannot be replaced.
While the ongoing debate on low-code/no-code development vs. traditional development is real, it shouldn't be looked upon as an either/or decision. Instead, these two contrasting approaches to application development present an excellent opportunity where they can be used in tandem to drive speed and innovation.
More and more companies are integrating no-code and low-code development into their application development lifecycle. When it comes to the future of low code and no-code development, it is going to gradually become a natural part of the software ecosystem, while increasing productivity, helping find solutions more easily and facilitating collaboration.