Which one is a better low code platform? Mendix or Appian? Here, we present the low-down of the two popular platforms and help you decide which one to go ahead with.
Hey there! This blog is almost about 2400+ words long & not everyone likes to read that much. We understand that.
This is precisely why we made a podcast on the topic. Harsh Makadia, Technology Evangelist at Maruti Techlabs, talks to Bikshita Bhattacharyya about using low code technology for building and shipping products.
He also talks about how he implemented low code technology for his client, the tangible benefits they got from the implementation, and more! Here is a small snippet from that episode. Check it out!
Low code development is the latest software development approach that allows building unique business applications quickly and intuitively. Low-code platforms offer robust environments that enable businesses to develop apps and software promptly with minimal coding, reducing or eliminating the need for extensive coding experience.
Estimated to be responsible for over 65% of app development activity by 2024, these low-code platforms offer everything, including scripts, base-level code, and multiple integrations, allowing businesses to prototype, build and scale applications without developing complex coding infrastructures. Everyone, including professional developers and citizen/non-developers, can easily use these low-code development tools to build applications with varied functionalities and customized workflows.
Without further ado, let's dive right into our detailed comparison of Mendix vs. Appian.
Mendix – Leading Low-Code Application Development
Mendix is one of the most popular low code development platforms, which allows you to completely transform how your business innovates and competes with other apps. With its robust visual models, Mendix allows a wide range of professional developers and non-developers to create innovative apps without complex code knowledge.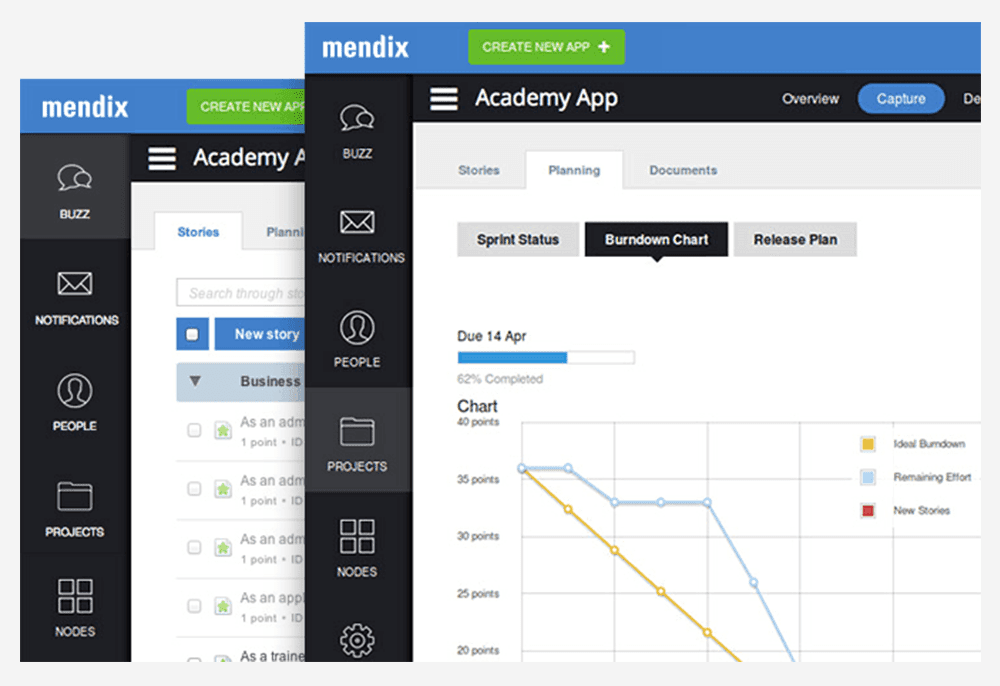 The key objective of Mendix is to speed up the overall app development process with an extensive set of tools and best practices for developing, testing, deploying, and iterating. With its cloud-native architecture, Mendix allows you to deploy your apps both on-premise or on any cloud with a single click.
The following are some of the key features and benefits of Mendix –
Single-Click Deployment
With Mendix, it only takes a single click for the software to be deployed. Further, it offers users an option to either use its cloud or the user's existing cloud. There is also an option of on-premise deployment if a user prefers that.
Visual App Deployment
This feature allows users to establish an enterprise application in no time using a visual modeling approach to offer greater productivity and robust support for app creation.
Open Platform
Compared to other low code solutions, Mendix low code is an open platform with no lock-ins. It offers you the required flexibility and control throughout the process of app development.
Our low code development services can make your life easier. From understanding your needs to choosing the right platform to testing and deploying quickly, we provide a wide range of low code development services with reduced time to market and increased innovation.
Appian – Top-Ranking Low Code Automation Tool
Appian low-code is an integrated platform that makes application creation and digital transformation simpler for any business or enterprise. The platform provides development environments to create powerful applications that automate business processes and workflows with minimal coding.
The key aim of Appian is to help businesses develop customized apps to transform their workflow. Users can utilize Appian's low-code development platform to easily create custom apps to be deployed on any device once the design is complete. The platform offers various prebuilt connectors to easily integrate Appian creation with other apps without needing any code.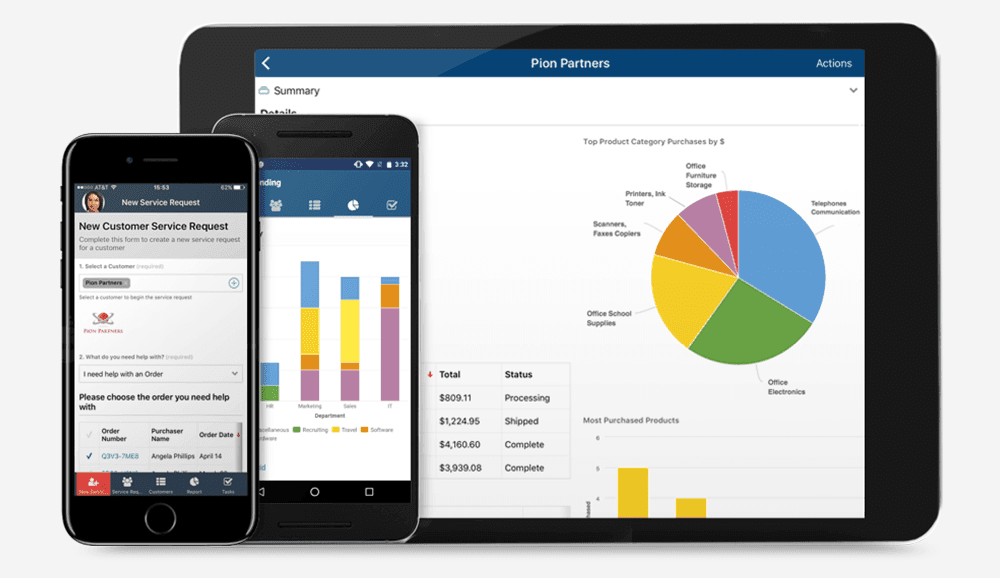 Apart from app development, Appian low-code can also be used to manage and automate business processes. Leveraging Appian's Business Process Management (BPM) tools, you can simplify the process to design process-based solutions utilizing the drag and drop interface. Appian allows you to assign tasks, view performance analytics, monitor processes, and address various service requests to increase efficiency.
Among the other vital features of Appian are –
Powerful Visual Development Tools
Appian features various drag-and-drop and point-and-click development tools to make building and changing enterprise apps much easier and faster.
Real-Time Process Monitoring
The platform lets users view a business process's progress in real-time and enables them to manage tasks and view performance within the process.
Instant Mobility
With the Appian low code platform, you get the advantage of instant mobile apps without much time, effort or resources spent.
Intuitive UI
Appian is known to make your apps intuitive and straightforward and offer a streamlined user experience.
Do you wonder whether Low Code Technology is for both Early Stage Startups and Enterprises?? Harsh Makadia does a deep dive on how Low Code can help in writing complex business logic, customizations, make API calls, & build mobile friendly applications for both. Take a look at the video below.

Mendix Vs. Appian – Which One To Choose?
Mendix and Appian, as two of the top low code platforms, have various comparable features and strategies for their products. Although both platforms present similar low-code capabilities, it is crucial for businesses to thoroughly assess and determine which option best suits their specific needs and help them deliver a comprehensive experience to their users.
In this blog, we're going to discuss these two platforms in more detail and compare them on various parameters, including –
Feature set
Set up and interface
Ease of low-cost app development
Process of building a low-code app
Integration and pricing
Limitations
Low-Code Platform Comparison – Mendix Vs. Appian
Let's discuss each of these differences in little more detail here –
1. Feature Set
Mendix and Appian are suitable for businesses looking to create mobile and web applications with no coding experience. Still, both have a distinct set of features that users need to know about.
Mendix is best known for features like drag & drop forms builder, enterprise integration, model-driven development, centralized app governance, and public/private app stores.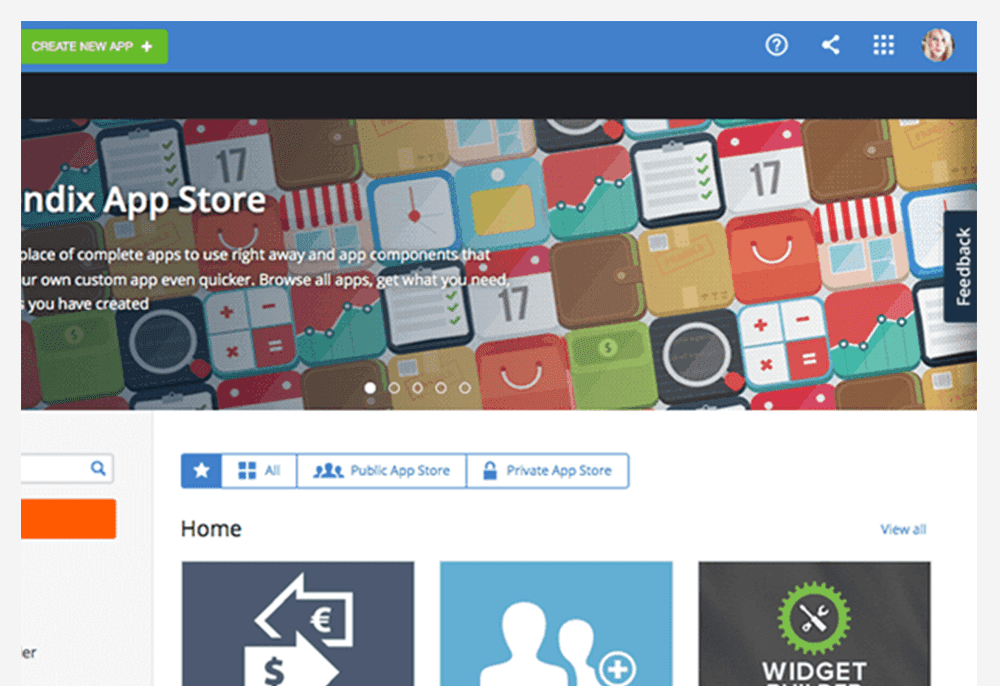 The platform allows easy and rapid development of applications and enables users to add code themselves whenever needed. You can build most of the functionalities on the Mendix low-code mobile app development platform with the default Mendix functionality. In case you want more complex functionality, there is an option to add one or more Java blocks.
Overall, Mendix is an excellent low code platform that offers an easy-to-use process for building applications and prebuilt models that the developers can use or edit for their needs.
On the contrary, Appian low code platform helps organizations build smart applications that improve customer engagement, business, and overall work efficiency. The platform also ensures the complete security of all your critical applications.
Among the key features of Appian include powerful drag-and-drop and point-and-click tools to help you deliver apps fast. The platform also features various reusable components that allow building successive apps more quickly, leveraging other apps' reusable components. With its automatic mobile feature, you require no more designing for web, Mac, mobile, PC, iOS, and Android separately, as the design made once works natively on all devices.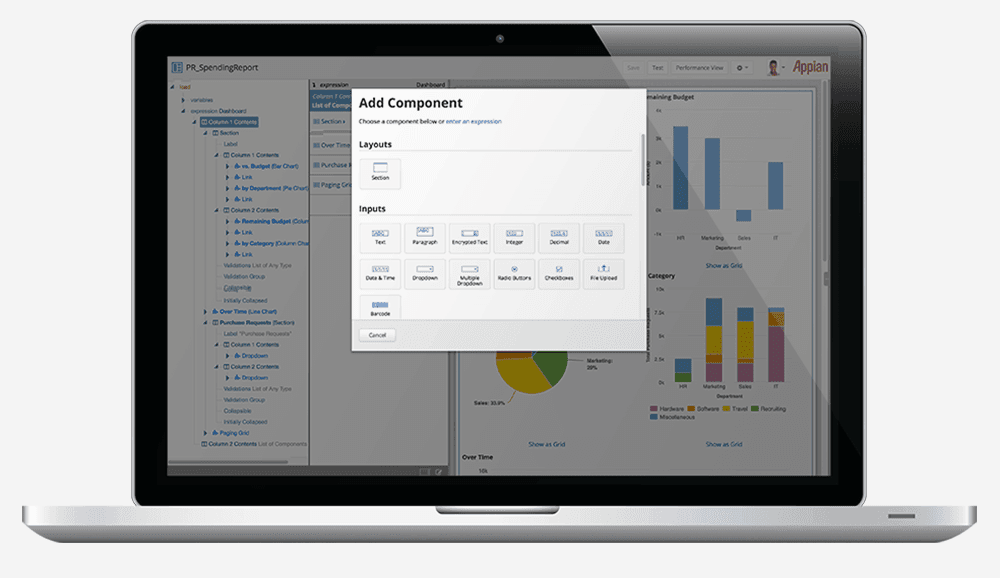 One can automatically upgrade applications built on Appian to ensure smooth compatibility with future operating systems, mobile devices, browsers, and UI technologies.
In addition to this, Appian features various process models, allowing you to draw business processes instead of coding them, thus improving collaboration between business and IT.
2. Setup and interface
Mendix low-code development platform is best suited for large enterprise-level organizations. The platform makes low code application development relatively simple by offering a fully cloud-based experience to the users through its built-in social intranet and collaboration feature.
Mendix also boasts of a straightforward dashboard with multiple tabs such as People, Buzz, Apps, App Store, and Community tabs, along with a revamped UI that features a new web modeler UI, a design language known as Atlas, and predefined page templates.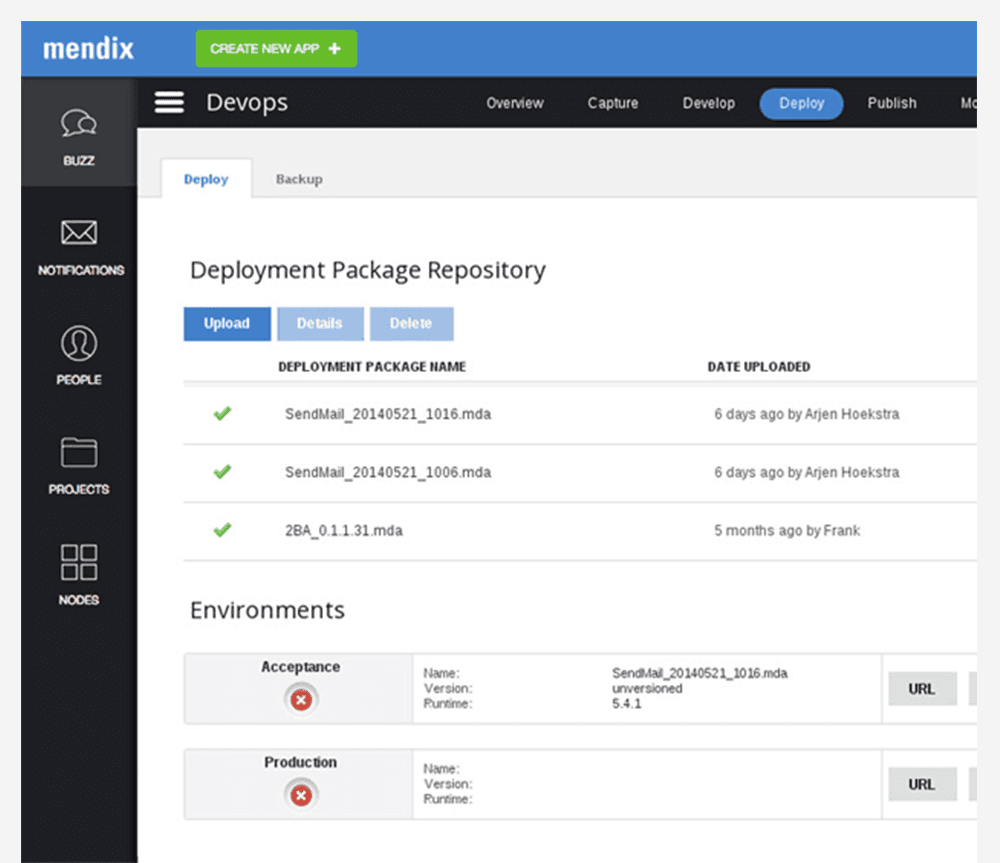 Another highlight of Mendix's setup is that the platform allows you to automatically set up your basic app environment and lets you explore a menu option to start building and configuring your app.
Appian, on the other hand, is known for its ease of setup and user-friendly interface. The platform allows easy designing of the business processes followed by configuring them in simple steps to make it work. Further, the platform boasts of a vibrant and helpful community with everything appropriately documented, making it quite simple to pick Appian as a new developer.
The platform makes it easy to check and deploy to higher environments with Compare and Deploy features within the tool. In case the developer is missing anything in the deployment package, the tool lets them know immediately and allows them to revert changes using versions quickly.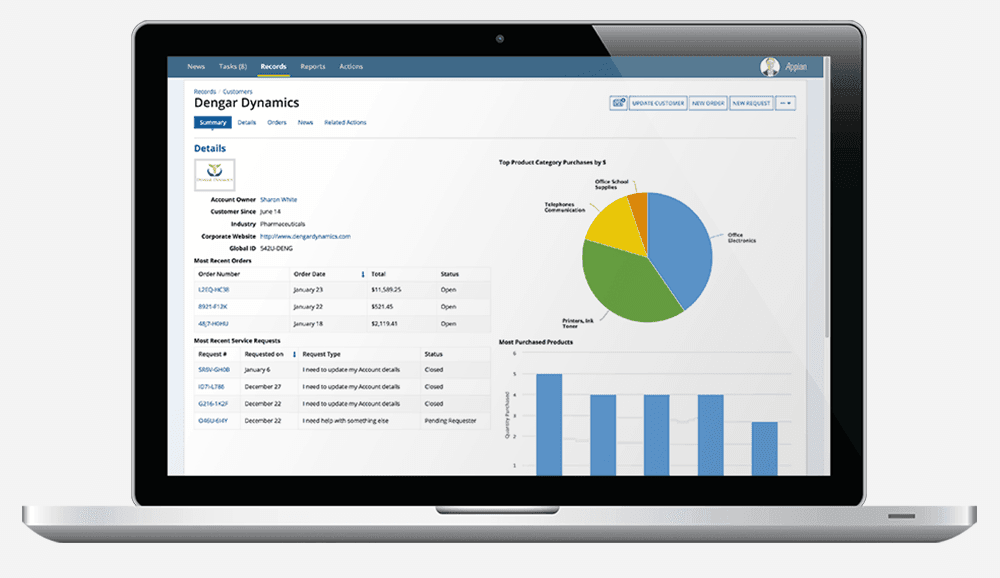 Appian also excels at reporting and provides the required tools to report any of the data captured in the request. This data is then exported to Excel and used for data management. One can report data in various ways, such as a pdf, charts, graphs, or a grid format.
3. Ease Of Low-Code App Development
Both Mendix and Appian offer an easy and fast app creation experience to guide professionals, especially the citizen developers, through the process.
In the case of Mendix, the platform lets you build your app in just a few steps with a page of prebuilt apps for managing events, expenses, and more, along with detailed tutorials to take you through more intricate templates of the app.
Apart from this, the platform also offers a robust Web Modeler to give you device previews for desktops, smart devices, and tablet apps. You can even start directly with UI design and wireframing on Mendix instead of the database setup to enhance the overall app creation experience.
Similar to Mendix, Appian too offers a fast and easy app creation experience to developers. Instead of writing code line after line, the developer just needs the modeling flow chart to model process flow diagrammatically.
The platform allows you to create almost any application type for multiple industries ranging from education and healthcare to inventory type systems. Appian enables developers to build the best products for their businesses with its quarterly upgrades and constant platform improvements.
4. Process Of Building A Low Code App
Mendix can be used to build business solutions either from scratch or with prebuilt templates and components. Leveraging the Mendix studio, developers can also prototype ideas, make required changes to large IT-led projects or build robust business solutions.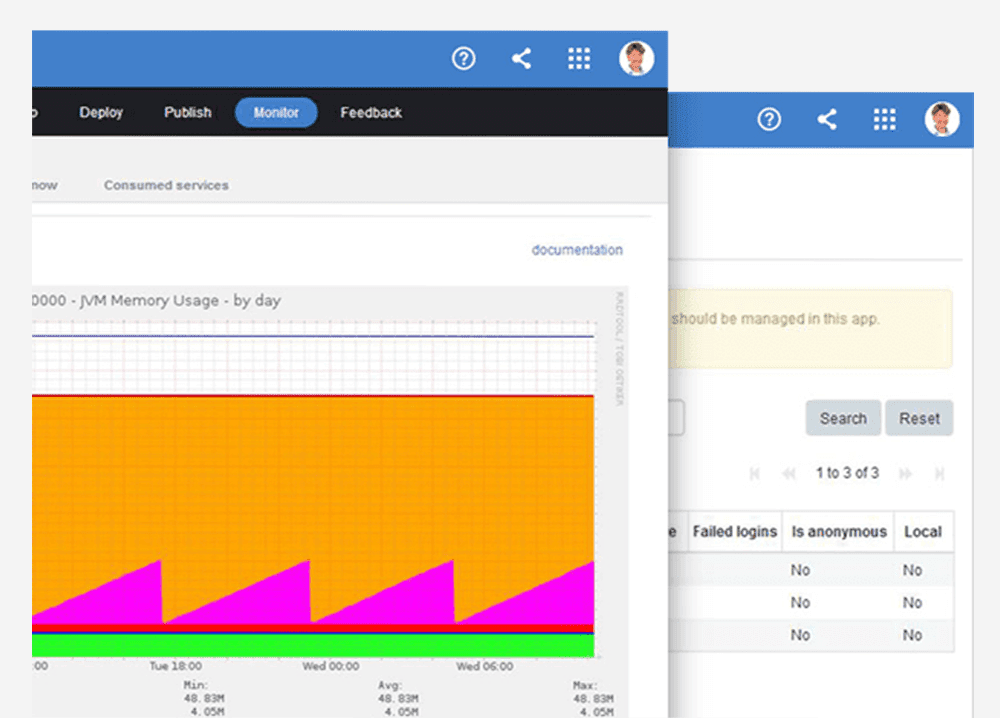 Experienced developers can use Mendix Pro for multiple aspects of app building, including external integrations through low-code modeling or Java code and complex workflow management.
On the contrary, Appian largely depends on its drag-and-drop process modeler to build low code apps, which is quite good and easy to use. The platform also features automated task management for an actual no-code experience.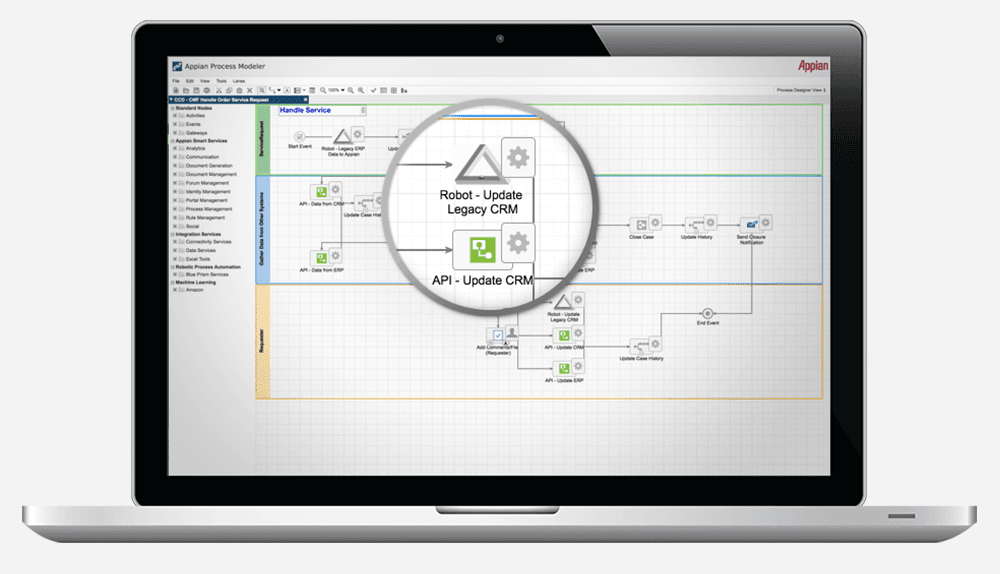 Developers also enjoy separating it and providing different access for regular business users and professional technical IT staff with individual processes that seamlessly integrate. It enables the business teams with distinct and varied talent pools to collaborate on the same platform.
5. Pricing & Integration
Integration
With Mendix, you get a powerful solution that can be integrated easily with existing systems such as Salesforce, FICO, and Oracle and allows you to access all your data at any time. Mendix also offers enterprise-grade security to help you keep your app and data fully secure.
Apart from this, Mendix also integrates with the following business systems and applications –
On the other hand, Appian features prebuilt connectors and easy-to-configure APIs, which result in faster integrations. The platform's ability to integrate seamlessly into various systems using different integration methods (web services of multiple types, connected systems, and shared data, among others) makes it a popular choice among low-code platforms.
Pricing
Mendix Pricing
For up to 10 users, Mendix offers a free version. After that, pricing to use the Mendix platform is on a pay what you need basis, based on the number of applications and other factors.
While the paid plan for Mendix starts at $1,917 per month for a single app with multiple features such as automated backups and an uptime guarantee, you can also go for an enterprise or Pro edition if you wish to build multiple apps deployed throughout your organization.
The Pro edition of Mendix is available at $5,375 per month for unlimited app building. In contrast, you need to pay $7,825 per month for an enterprise edition with more advanced features such as continuous integration support, private cloud deployment, and the ability to deploy apps on-premises.
Appian Pricing
In the case of Appian, the pricing is subject to standard terms and conditions and minimum purchase requirements.
There are mainly three editions of Appian available. The first one is a free trial edition with features such as separate and secure cloud, all the platform functionality is available, and a test drive of Appian's low-code app development platform.
The application edition of Appian is priced at $90/user/month with features including flexibility to create and collaborate on a single application along with various platform functionalities.
On the contrary, the enterprise edition is priced at $180/user/month with features such as best speeds and power, multiple platform functionalities, and much more.
6. Limitations
Although both Mendix and Appian offer great functionality and a robust platform for low-code development and application deployment, they come with certain limitations that you need to consider before making the final decision. We have discussed some of these limitations below –
Mendix Limitations
Among the main limitations of Mendix include –
Challenging to manage one-click deployment once you have built the applications
Integration of Mendix with the enterprise ecosystem needs specific improvement
The platform makes it tricky to map application objects to related databases as compared to the drag and drop process offered by other platforms
Appian Limitations
Among the main limitations of Appian include –
Documentation needs to be improved
The platform lacks integration with other products
The authoring tool in Appian is slow to use, making it a bit difficult to build solutions quickly
Did you find the video snippet on How should organization plan to implement Low Code Platform? to be insightful? We have a ~18 min video where Harsh Makadia gets into the weeds, and we discuss how early stage startups can benefit from Low Code Development. Take a look –
To Wrap
When it comes to low-cost application development, both Mendix and Appian allow you to build sophisticated enterprise-grade apps that can connect with a vast range of third-party applications and data sources.
While Mendix is an enterprise application development platform that enables developers to turn their dream app into reality in no time, Appian excels when used by developers to create form-based apps. It allows building custom UI components, but it is only possible using Appian's in-product customization tools due to security concerns and JS compliance across devices and browsers.
Mendix, on the contrary, gets a slight edge over Appian due to its ability to combine all of your traditional development aspects into one easy-to-use Modeler. The platform is best known for its ease of low-code development and ability to connect front-end, back-end, process flows and architecture, all tied up into one easy to learn and use Mendix Studio Pro.
Mendix simplifies the process of app development in many different ways and allows developers to have a more transparent and more holistic view of their entire application. Owing to its visual nature of developing apps in Microflows, it also enables you to leverage communication with various business stakeholders and other functional leads like never before.
You can also find out which platform works out the best between Medix vs. OutSystems and decide which platform ultimately suits your business needs.
However, you can leave the hassle of choosing the right platform to our low code experts. Along with guiding you through a plethora of platforms, our low code application development services entail competitor analysis, interactive mockups, MVP development, usability testing, and more.
We have worked with clients around the world turning ideas into reality. From converting your idea to MVP, to developing a full-scale application, we have varied skill sets to match our clients' requirements. If you too have an idea that you'd like to validate quickly with cost-effective solutions, get in touch with us here.