GoodFirms Leaders Matrix Report 2022
Maruti Techlabs Named as a Top Bot Development Company and Identified as the "Best Company to Work With.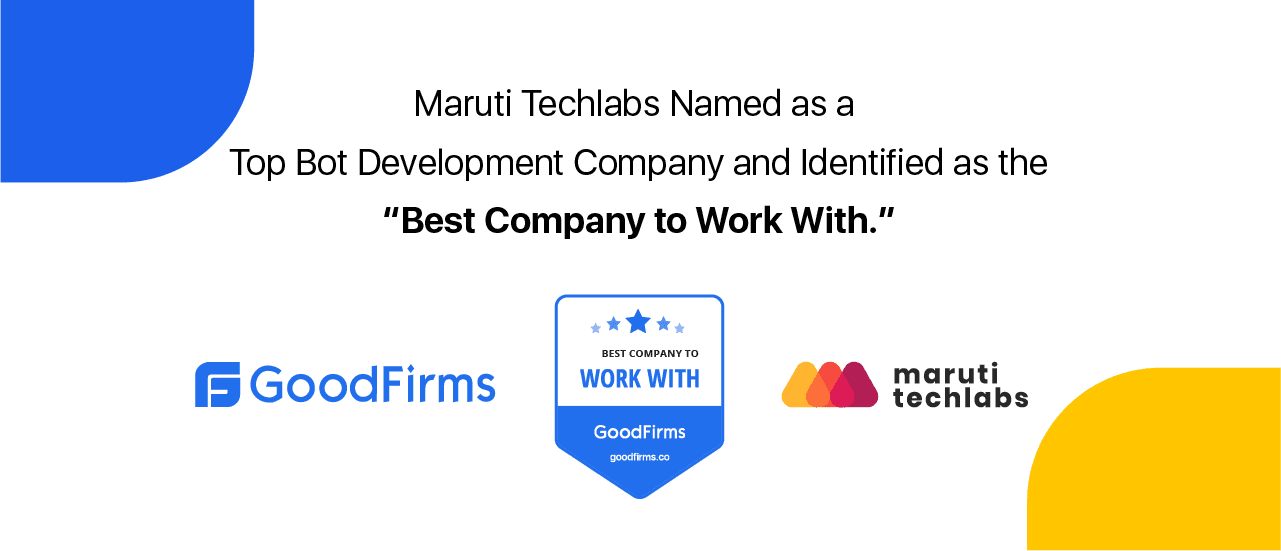 GoodFirms has recognized Maruti Techlabs as the Leader in the Leaders Matrix Program for Bot Development for 2022. Maruti Techlabs has also been identified as the "Best Company to Work With."
Chatbots have transcended, stimulated, and streamlined human interaction to the next level, significantly augmenting customer service and experience. The next-generation technologies, such as artificial intelligence, natural language processing, and machine learning, have digitized and automated online conversations. Chatbots are powered by virtual assistants, enabling customers to interact in real time. They can reply to common user queries in real-time, helping to enhance customer engagement.
GoodFirms has identified Maruti TechTabs for its innovative solutions and exceptional skills that scale up the company as one of the top-rated market influencers through the Leaders Matrix program. Based in Ahmedabad, India, Maruti Techlabs is a leading product development/software development company focusing on bot development and robotic process automation services. The company develops customized software solutions and web and mobile applications. It offers a wide range of services in artificial intelligence, analytics, and product engineering.
Maruti TechTabs offers two exclusive products; WOTNOT and Alertly. WOTNOT is an intelligent chatbot platform that enables businesses to interact with customers in real-time, while Alertly is a slack bot that boosts team collaboration. GoodFirms has already carried out a detailed Leaders Roundtable podcast discussion with the Founder and Director of Maruti Techlabs on this topic, helping users to gain substantial knowledge on the subject.
Best Company to Work With
If you are looking for a top software development company specializing in chatbot development, then Maruti Techlabs, recognized by GoodFirms Leaders Matrix, is the best you can consider. Started in 2009, Maruti Techlabs believes in conducting smart businesses. This vision has helped the company to create a scalable niche through its best-in-class enterprise software development services and solutions. A competent and purpose-driven workforce enables the company to accomplish its goals and deliver matchless value. GoodFirms recently recognized Maruti Techlabs as the "Best Company to work with" in 2022.
Maruti Techlabs - Vision, Strength & Scope
As a leading and top-rated enterprise software development company and chatbot development services provider, Maruti Techlabs believes in shaping innovative ideas to life and converting them into viable business solutions. With over 12 years of experience in the international software industry, it is one of the leading agile-powered custom software development providers that has redefined chatbot and product development. The company got an opportunity to implement an interactive chatbot solution for one of the largest healthcare service providers in the UK to design a WhatsApp chatbot to provide authentic information regarding COVID-19-related concerns at the users' fingertips. The solution resulted in 32 million+ queries answered & reduced the burden on frontline workers.
Maruti Techlabs caters its solutions to a wide range of industries and businesses of all types and sizes, including startups. The company takes pride in collaborating with top-notch enterprises like IBM, Adobe, Volvo, Vodafone, Deloitte, and many more. In addition, the company has partnered with all top cloud service providers, such as AWS, Google Cloud, Microsoft Azure, and more.
"Our mission is to strive for ascendable technologies and provide comprehensive support to enterprises to accomplish their business goals through an innovative approach and provide optimal consulting IT solutions and services," says Maruti Techlabs.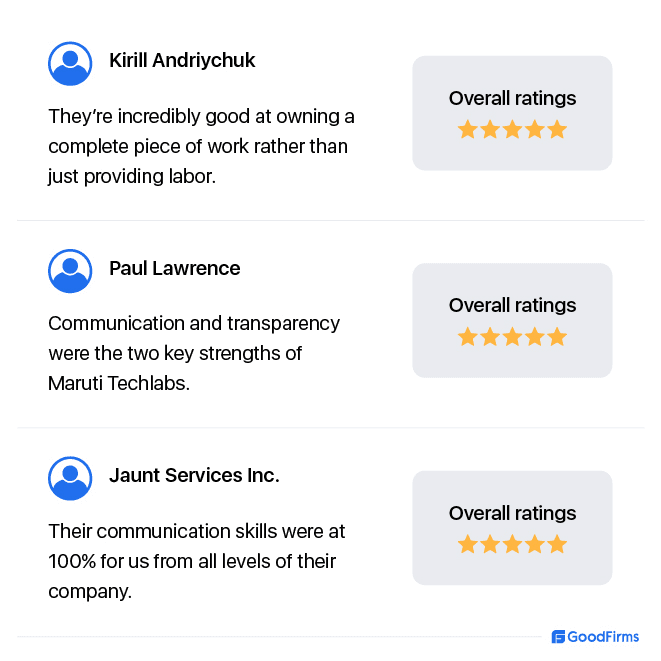 Why Maruti Techlabs Scored the Best Industry ContenderIn in the Chatbot Development Arena?
Today businesses have to respond quickly to the growing demands and opportunities. They must also adopt and implement the latest technological trends to tackle stiff competition. Maruti Techlabs has successfully embraced innovative technologies to offer optimum chatbot development and artificial intelligence services. The Company has gained clients' trust through diverse skill sets, service level agreements, timely project delivery, and a customer-first approach.
Businesses in the B2B IT industry must be familiar with Clutch – the most trustworthy reviews and rating platform. It gives us immense pride to announce that Maruti Techlabs has also been featured on Clutch and ranked 4th among 1041 companies in the global chatbot makers category. Check out the entire video to know how we achieved this ranking, what goes on behind the scenes when building user-centric chatbots, and the common challenges of building chatbots.
"We believe that Maruti Techlabs has earned this position in the leaders' matrix listing through its consistent approach toward expanding digital transformation and building customized innovative chatbot solutions that allow customer service agents to resolve customer queries and issues in real-time," says GoodFirms.
The Leaders Matrix analysis research by GoodFirms is based on specific key algorithms that can work on the companies' performance. Only those companies qualify as the topper with outstanding market experience, quality services, and a vast clientele with positive feedback.
Maruti Techlabs has undergone a meticulous and rigorous assessment under the GoodFirms Leaders Matrix program. The evaluation covered the service landscape, verified client reviews, experience in the domain, market, competitive positioning, and more. The analysis helped to delve deeper into the strategic information about Maruti Techlabs's capabilities, competitive differentiation, and market position. The entire research process was highly analytic, and the outcomes were drawn based on the Company's core competencies and a 360-degree performance view.
Based on the Leaders Matrix assessment process, Maruti Techlabs was identified as a market influencer.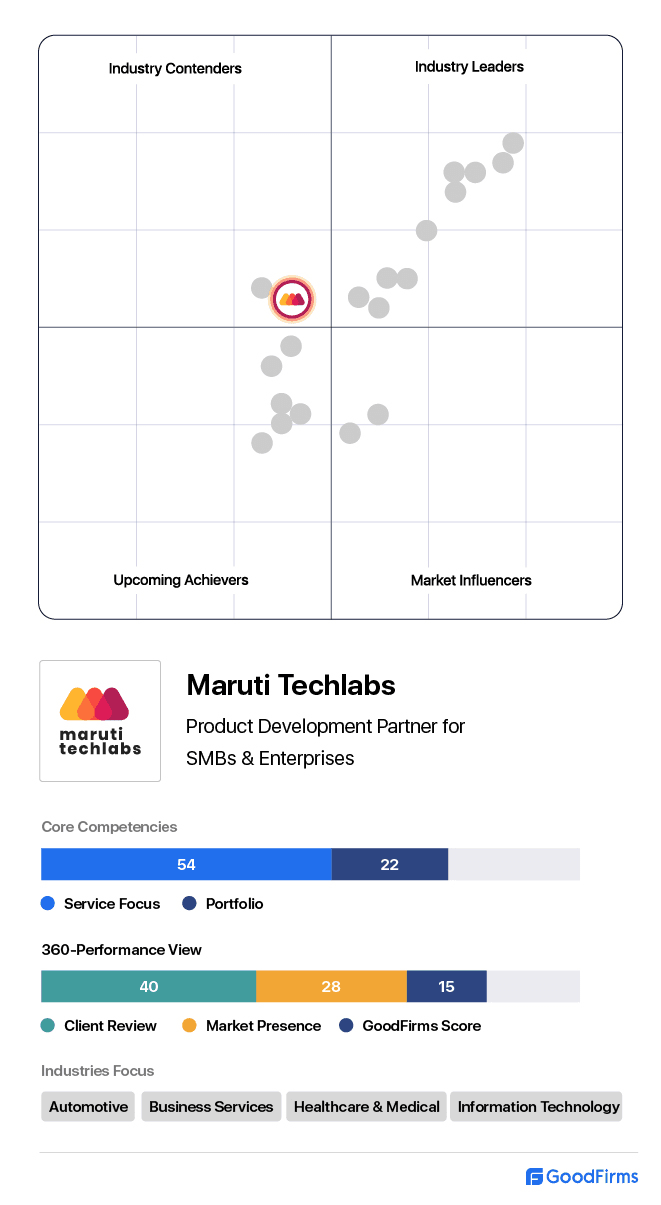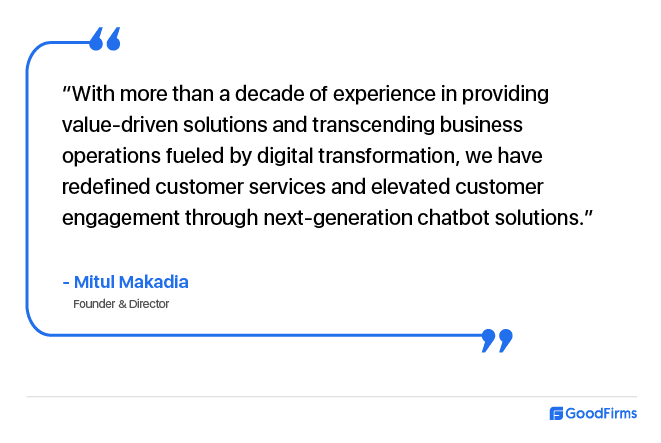 Global Leading Brands and Top-Notch Companies Trust Maruti Techlabs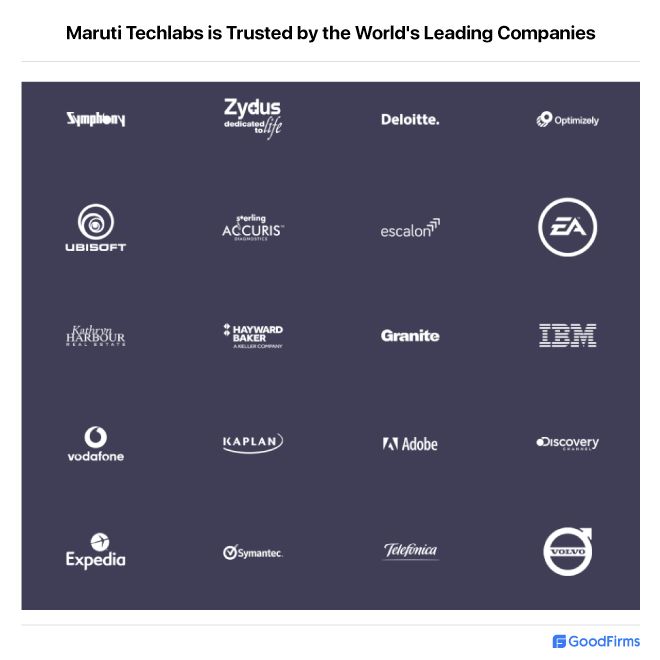 About GoodFirms Leaders Matrix
GoodFirms Leaders Matrix is a well-known fact-based research process where GoodFirms evaluate leading Companies in various B2B Categories. The participating companies in each category are evaluated through the Company Performance Algorithm based on Core Competencies and a 360-Performance View. It is a method of positioning top service providers within a specific market.
About the "Best Company to Work With" Badge
"Best Company To Work With" is an exclusive program run by GoodFirms where the Leaders Matrix companies are recognized with a Badge, an exclusive article about the Company, and a supporting PR. Such recognition stands as a support to developing trust and authenticity within the B2B community. It also allows the participating companies to improve their ranking - rank higher in the Leaders Matrix categories, receive inbound backlinks from the GoodFirms LeadersRoundtable podcast campaign, and get a certified Badge saying, "Best Company to work with."
About GoodFirms
GoodFirms is a B2B research, review, and listing platform helping businesses accelerate their digital journey and maximize the value of modern technology. The company connects service providers with service seekers through a comprehensive and thoroughly researched fact-based list of the best services and solutions. Recognized as the most reliable source for the B2B market, GoodFirms has world-class experience with partners across the globe.