"Culture eats strategy for breakfast" is one of the most famous quotes attributed to the late business management guru Peter Drucker. So, why did Drucker make this statement?
Because an organization's culture results from its history, mission, vision, core values, and ethics, and if the workplace culture is not right, no amount of strategy can save your business.
Hey there! This blog is almost 500+ words long & not everyone likes to read that much. We understand that. This is precisely why we made a video on the topic. Check out the highlights on Maruti Techlab's journey to earn a great place to work certification.
An organization's workplace culture defines the working environment and atmosphere in which employees interact with each other. Attracting the finest talent in a competitive market relies on the strength of your company culture. To hire faster, bring more capable players on board, and retain committed niche talent, you need to establish and sustain a workplace environment that values diversity in thought, passion for their craft, and ownership of the business' battlegrounds.
Great Place To Work Certification is a worldwide recognized certification that has been helping companies across the globe know their culture inside out. It provides the global benchmark for appreciating and recognizing outstanding employee experience.
It's the global authority on workplace culture. It highlights excellent cultures among employers and the employees, reaping such advantages as market-leading revenue, extremely low attrition rates, and enhanced levels of innovation for companies.
Maruti Techlabs is proud to announce it is now a Great Place to Work Certified™ company, recognizing our organization's high-trust culture.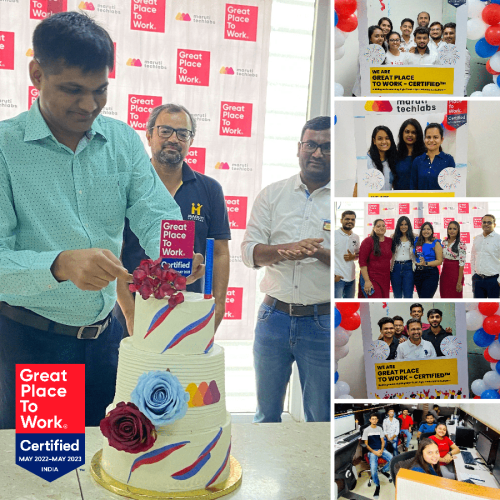 The saying goes, "Truth should come straight from the horse's mouth." To ensure their ranking as a great company to work for is well earned, Great Place to Work asks employees what they think about their organization and releases a report based on the survey data.
Maruti Techlabs has ranked well above average, with most of our employees testifying that we're living up to our mission of creating a great work environment.
"We are a team not only because we work together. We are a team because we respect and trust each other. This badge on our shoulder indicates our commitment to creating a culture of high trust and performance", says Mitul Makadia, Founder and Director at Maruti Techlabs.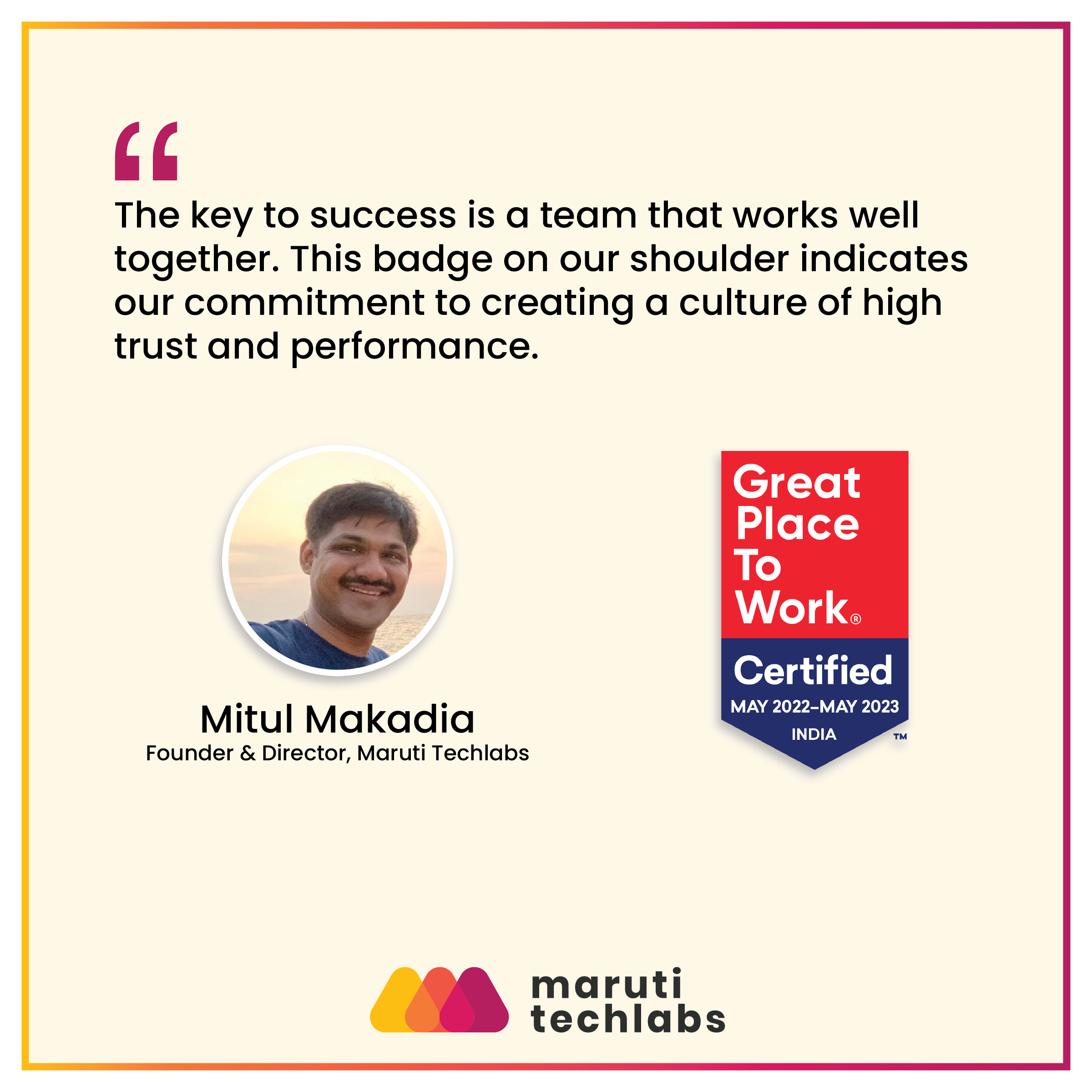 Maruti Techlabs has a long history of valuing its employees by encouraging them to excel and advance their careers. This certification symbolizes our efforts and global practices to ensure that our people are empowered and supported to achieve their full potential.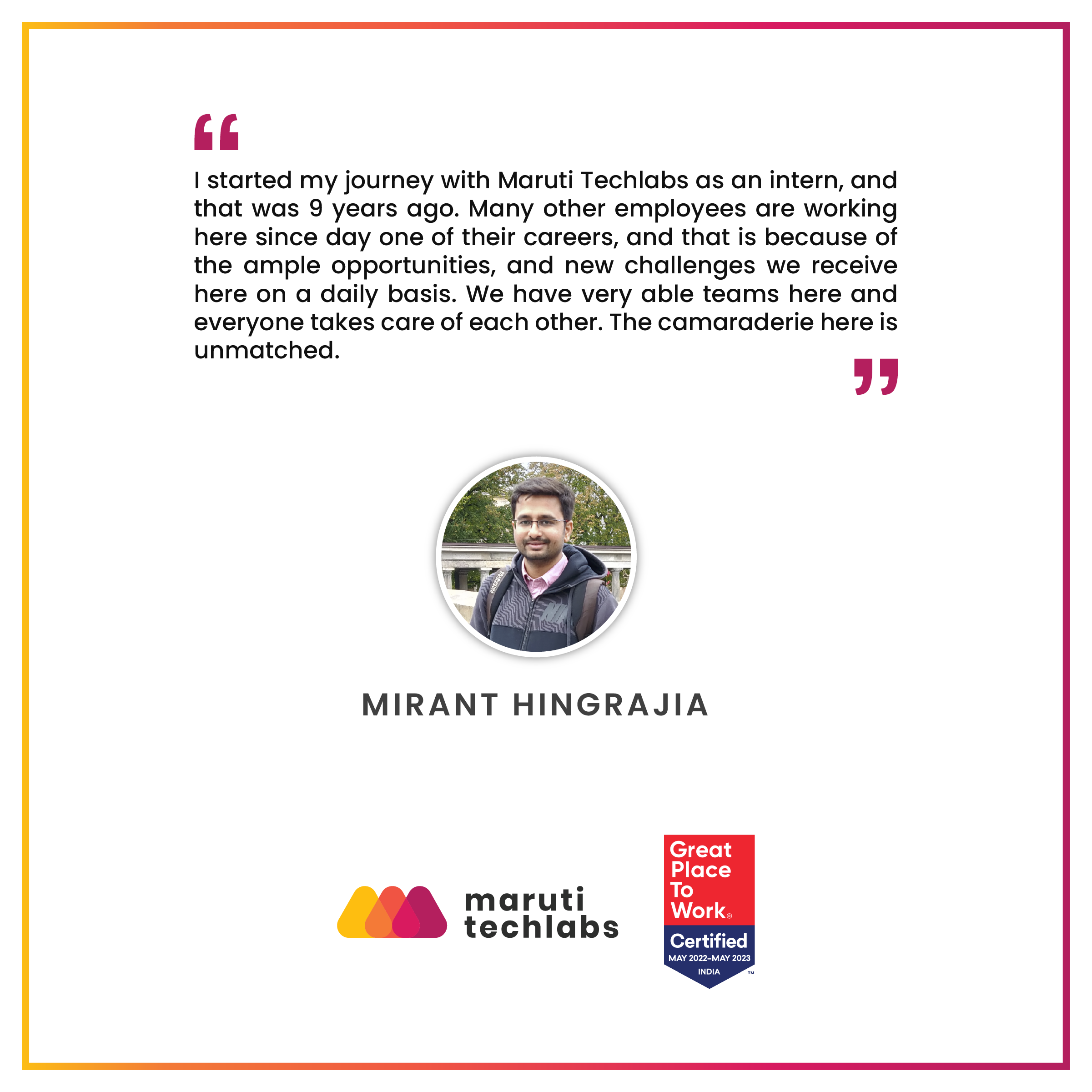 Although we've grown to a team of over 150 people in all these years, we've never lost sight of the culture and values that our founder instilled from day one. This recognition proves that Maruti Techlabs is a great place to work and represents a powerful testimony to our continuous efforts to be one of the best employers.
We'd like to express our gratitude to our people for the unique and diverse experiences they bring to work every day. With this certification, our employees have validated that we are an employer of choice and one of the best workplaces.
Our culture is as great as our people, and the Great Place to Work Certification highlights that!