Before the pandemic's disruption impacted the world, the global economy was already undergoing a persistent slowdown, and the Indian economy was no different. As businesses pressed the reset button in response to the pandemic's large-scale disruptions, all yearly plans, strategies, and standards flew out the window.
However, as the world started recovering from the shock, India Inc rapidly caught up with the pace. Organizations across various domains accelerated their digital transformation to fulfill consumer demands swiftly.
Amid the crisis, several businesses could capture the right sentiment, invest in the right ideas, and pivot more successfully than others. Not only did they propel their company to the next level, but they also drove the recovery of the Indian economy, which aimed to increase the country's digital economy to $85-90 billion by the end of 2020.
To spotlight these real accelerators of the Indian economy, The Economic Times and Statista collaborated to identify visionary entrepreneurs who are scripting the charge at the world's center stage with their remarkable growth story in their edition of India's Growth Champions.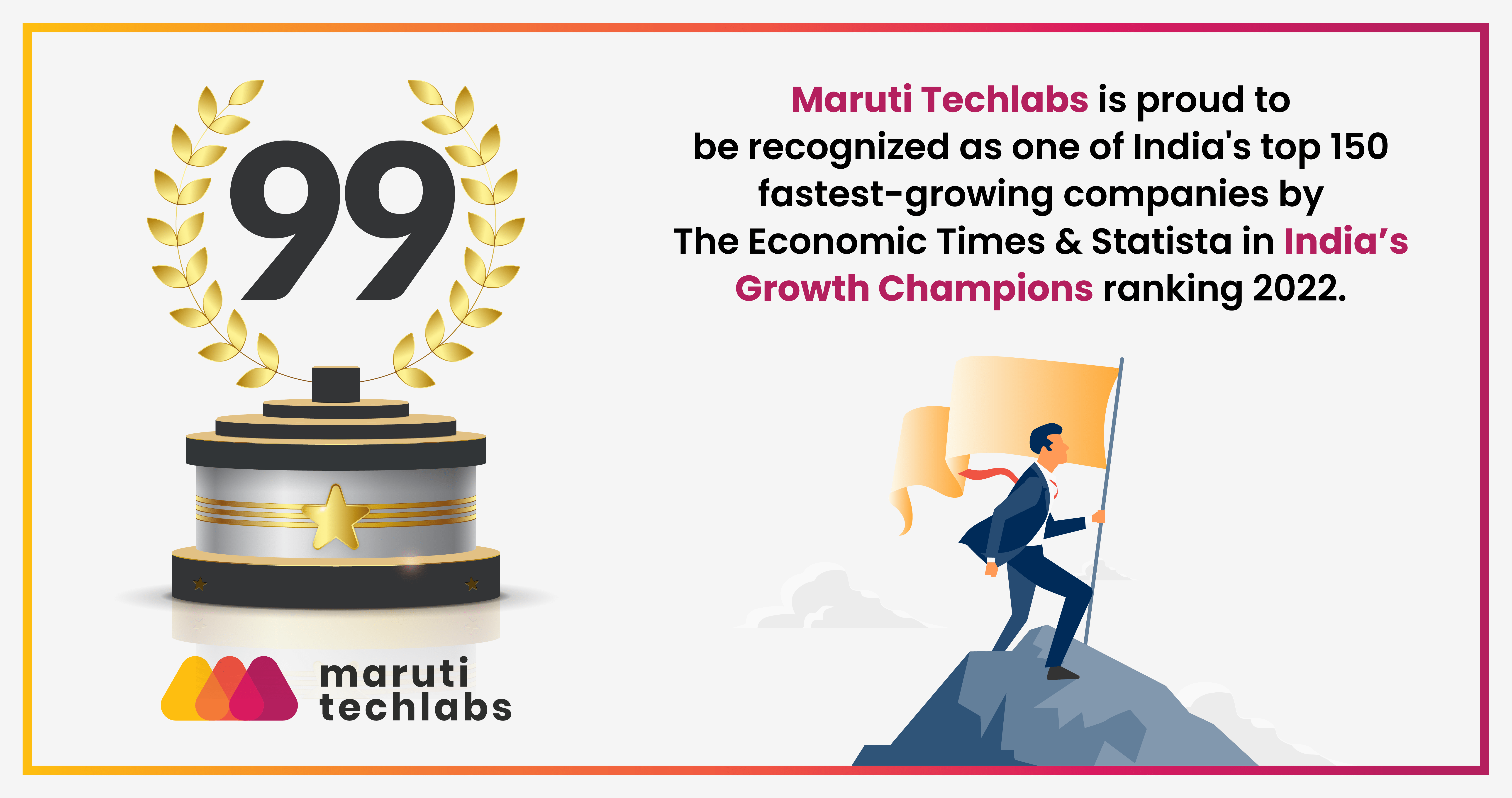 Maruti Techlabs is proud to earn a position in the third edition of The Economic Times & Statista – India's Growth Champions as one of India's top 150 fastest-growing companies.
Our journey towards success began 12 years ago with a small start and huge ambitions. Mitul Makadia, our founder, established Maruti Techlabs in 2009 with a single project for a client in the United States. Since then, we've been making headway in digital transformation solutions with innovative products that have set a new standard for corporate leadership.
We come to work every day to simplify complex business challenges with enterprise software solutions. Our agile product development strategies and diversified industry expertise provide a competitive advantage in providing services that streamline and accelerate your initiatives.
As time passed, hundreds of more individuals joined hands to become a part of this journey. The combined effort of our entire team has enabled us to take challenges head-on, significantly improve the customer experience, create long-term benefits to businesses, and become an economic accelerator.
Businesses in the B2B IT industry must be familiar with Clutch – the most trustworthy reviews and rating platform. It gives us immense pride to announce that Maruti Techlabs has also been featured on Clutch in the list of top 10 companies across three categories - Artificial Intelligence, Machine Learning, and Natural Language Processing. Check out the entire video to see how we achieved the ranking for Top AI service provider.
Today, with over 12+ years of expertise in the international software industry, Maruti Techlabs is one of the top agile-powered product development companies. We assist early-stage startups to go from idea to MVP, SMBs to scale their products, and enterprises on the digital transformation journey.
We believe that the best business is based on long-term relationships, which is why we seek to establish long-term partnerships with our clients. Our passion for delivering excellent products is deeply embedded, and it is what motivates us to address each project and partnership with a fresh perspective and a strong dedication.
Several organizations have already honored and acknowledged us, including Clutch and Top Design Firms. However, the recent recognition by The Economic Times has been a cherry on the cake. It has added to our motivation to take the organization to greater heights.
As it is rightly said, "Any work turns out great, only when a mutual understanding exists between the two parties."
This award not only recognizes our hard work but also symbolizes the faith that our clients and partners have placed in us. We'd like to thank them for choosing Maruti Techlabs as their service provider over the years. Not to mention, we dedicate our success to our passionate team, who goes above and beyond to provide our clients with exceptional and prompt service.
We wholeheartedly congratulate all our peers who made it to the list and are grateful to all who joined their hands to unveil the success story of Maruti Techlabs today. This honor recognizes our steady growth over the years, and we aim to encourage other champions around the country to dream big and create their own success stories – no matter what it takes.