There are good chances that your IT team is burdened with more tasks than they can handle. In such a case outsourcing your software development is a great idea. But you need to outsource software development to the right partner for the partnership to work out well. Undoubtedly, such a solution that would reduce your IT team's workload is outsourcing software development to India.
Almost all the organizations depend on the efficiency of their IT teams for smooth functioning and scaling. However, handling multiple tasks at once reduces the efficiency of the IT team. This is why outsourcing software development offers an optimum route to an upward trajectory.
Traditionally, the major reason behind this outsourcing decision was restricted to lower costs. And while the cost is still a major deciding factor today, there are multiple other reasons as well to outsource.
In this article, we have discussed all these reasons in detail. We have prepared a small guide for a comprehensive overview of software development outsourcing.
What Is Meant By Outsourcing Software Development?
A simple definition of outsourcing is using the services of an external agency for a specialist skill, which you don't prefer to or can't complete in-house. Considering this, outsourcing software development to India means hiring an agency/independent developer based in India to completely design, develop, and test your software, website, or app.
Usually, you can decide on a package, and based on this package, the outsourced developer would offer different services. For example, you can opt for future support, such as scaling when it is necessary. You can also receive technical guidance whenever your team needs it.
Outsourcing software development to India is being increasingly considered by organizations all over the world. The advantages of outsourcing software development to India are not singular. They come as a complete package, which ensures the sound functioning of every software element of the business. Of course, this largely depends on your contract and the type of services you acquire. But, the collective scope of outsourcing software development to India is larger than what anyone might have anticipated.
Outsourcing Software Development – An Optimum Business Model
According to data released by Statista, the outsourcing industry of the IT sector had a valuation of USD 66.5 billion in the last year. It is a huge landscape, including multiple cross-functional industries.
But, we don't want you to depend on statistics alone, so we have provided you with valuable details on the advantages before you move forward with outsourcing software development to India.
Below we have briefly discussed six major factors that contribute to the efficiency of outsourced software development.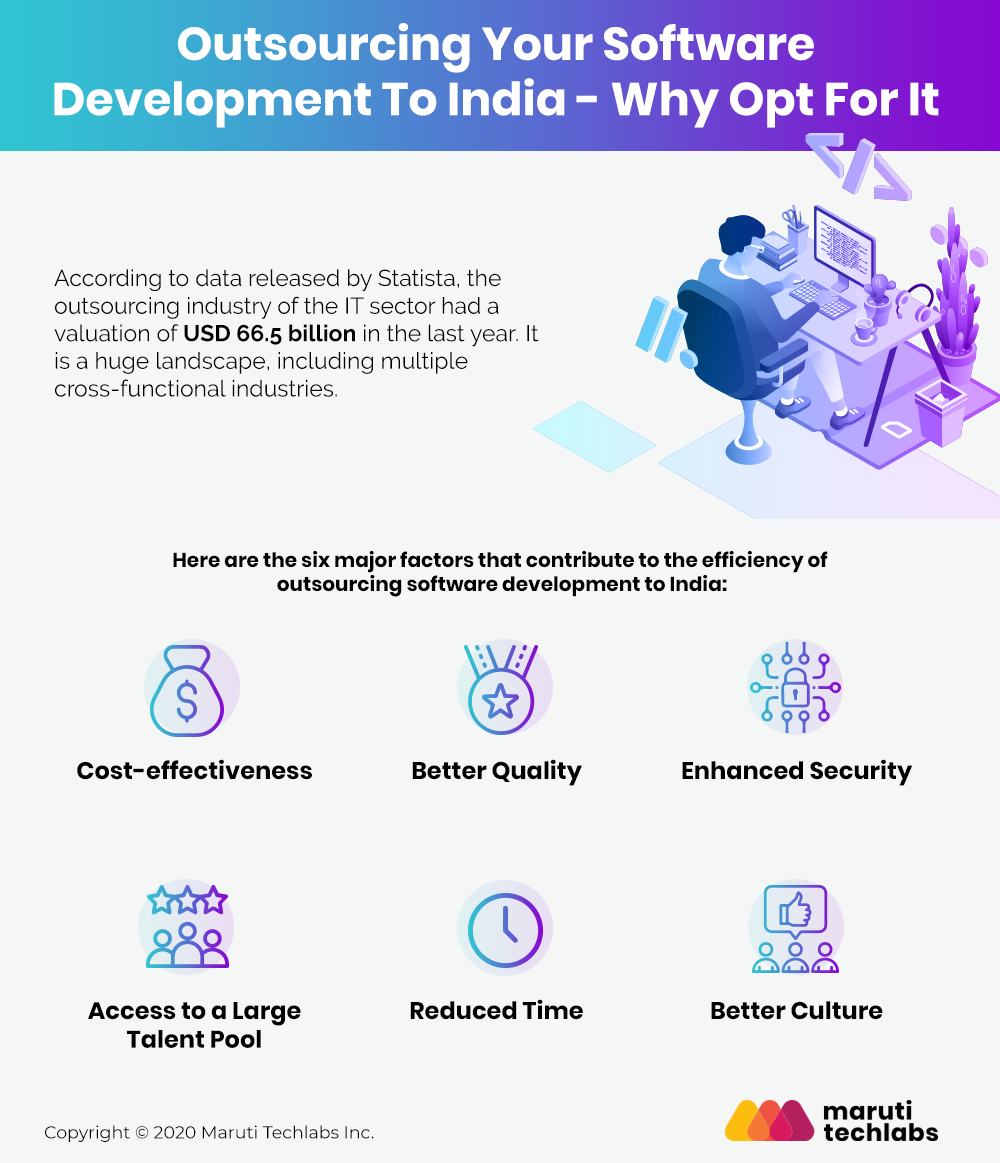 Reduced Time
Time is money!
Think about it, you need to develop a software product with 20 features. You need to launch this in the coming six months. Based on this timeline, can you complete the task on time?
If you have hired an in-house team, then the task completion depends on the capacity of the team. Do they have enough time to work on this project? What other liabilities is this team engrossed in? Which other projects are similarly prioritized or prioritized a step higher?
If you are planning to hire an in-house team, especially for this task, the activity will be extremely difficult. The HR team will require some time to hire the right people. Now, including hiring, orientation, and necessary training time, this can take months. So, automatically the deadline pushes forward.
The better option that you have here is outsourcing software development to India. One thing that stays prominent in this case is that you don't need to push deadlines, and you don't have to rush your team. You wouldn't even have to think about removing features from your software to incorporate development deadlines.
With in-house working, when you rush the development process, you need to add resources to the team. For a task that is generally considered a big hassle, either you need to hire these resources or pull resources from other tasks and assign them to the particular project. In both cases, outsourced software development is a better option.
Since the outsourced software development company already has a dedicated team, you don't have to worry about any of this. Simply hand over the task, discuss the deadlines and project workflows. Your internal team can focus on more intensive tasks, and you can save yourself from hiring and training from scratch an entirely different team.
Cost-Effectiveness
Another major reason for outsourcing software development to India is a cost-effective execution. If you are successful in finding the right provider that can offer discussed benefits in the desired manner, then you can efficiently divide your budget for the task.
Some factors which contribute to the expensive nature of in-house software development are:
Hiring procedures
Salary and bonus of the team
Software licensing costs
Equipment costs
Additional benefits offered to the team
Training and development costs
IT architecture costs
Many companies also offer accommodation and office space, which adds to the costs discussed above. In this respect, outsourced software development is budget-friendly.
Further, if you don't have a team in-house, which is working on software development, then hiring for one project is not valuable in any possible manner.
When you outsource software development, these costs are reduced, and you only have to clear the bill of services you have acquired. The team management, from hiring to training, is handled by the outsourced software development company.
Better Quality
When you outsource software development, you can significantly improve the quality of your software product.
Now, you may be wondering how that is possible?
Imagine a small or medium-sized organization hiring a team of 5 for software development. Since the project is huge, and the deadline is slim, every member of the team is developing and testing simultaneously. As a result, dedicated attention is neither being given to development nor testing. While development might still pick up the pace because it is necessary to add features included in the scope of the project, testing is somehow side-lined.
Can you relate?
When outsourcing software development to India, the outsourcing partner has a dedicated team for development as well as testing, in fact, the number of members in the team are much more than the number you can internally hire.
The availability of the right number of resources leads to improved workflows and proper execution of tasks. Both development and testing are given dedicated importance, which leads to a better and improved final product.
One of the factors which additionally contributes to the productivity of an outsourced team is diverse knowledge. Working with an array of clients allows these teams to think more innovatively. This innovative thinking reflects in your software product in the form of quality.
Access to a Large Talent Pool
A major difference, which separates your product from an average software product, is the development team's skillset. Most of the time, outsourcing software development to India gives you an edge here.
Your outsourced developer team will have skill sets, including .NET, JavaScript, Machine Learning, etc. Additionally, this team can also improve your software product on the UI and UX front.
Simply put, an outsourced software development team comes in handy when you require a comprehensive, end-to-end software product.
However, you need to ensure that you hire an experienced service provider, which has a team of full-range skilled employees. From front-end developers to scrum masters, more technical proficiencies can prove to be a great investment in the project.
This is not to say that you won't be able to develop a diverse and robust team in-house. Of course, you can. But, this again takes us to our first and second reasons, time and money. It takes a lot of time and much more money to build a full-range team with scrum masters, full-stack developers, interaction designers, information architects, etc.
Enhanced Security
When your team is restricted with more workload due to multiple projects, the knowledge, innovation, and effective processes applied to one project reduces. This increases the risk to the security structure of the software product. This risk is accelerated more when you don't have a team to start with.
The outsourced software development partner will have a dedicated team of software developers and software testers. They can carefully cover your software product and its security. This team will ensure that the software code is created without loopholes and breaks, which promises security to a great extent.
Better Culture
'Culture' – a term that instantly brings to mind an image of a workplace and its processes. When you decide to develop a software product in-house, you need to ensure that you have the correct culture to complete the task on time.
The ideal digital culture, which can enhance the development of a software product includes:
A risk-intensive environment, which promotes innovation
A culture that encourages quick decisions, depending on actionable data.
A cross-functional environment with impressive team collaboration
An outward mindset for effective external partnerships
A solution-oriented environment that inspires creative solutions
A customer-focused culture
If your team culture is not close to the above expectations, then, undoubtedly, outsourcing software development to India may be your best choice. It is necessary to understand that software development is a journey towards digital transformation. The right culture helps in aligning your products to your final digitization goals.
The outsourced developer team will have the ability to implement digitization and develop software products in the right manner. This team can help you upgrade your business processes and models; build an appropriate development culture.
How To Select The Right Software Development Outsourcing Company In India?
The selection process of the right software development company to outsource your development to is a crucial task. The cost of an ill-designed product is even more than the product which failed in the market. Hence, from a financial standpoint, it is necessary to utilize a team, which can help you meet strategic business goals.
So, to help you shortlist and outsource software development to the right company, we have outlined a few deciding factors. Dive in and start exploring!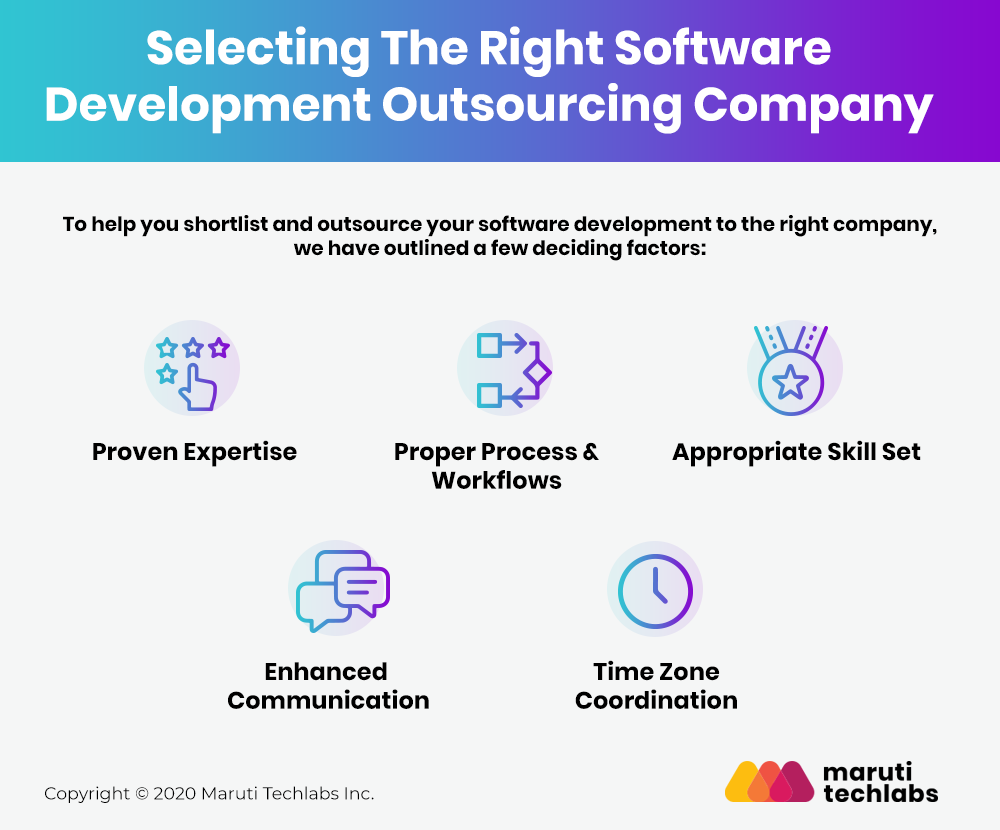 Great History
Even outsourcing organizations start somewhere, so they need their first projects from someone. Try to avoid becoming the first project of any outsourcing partner, unless the outsourcing software development company matches other criteria of your selection.
You need to find a provider with a successful, practically amazing track record. When they are talking numbers, look for the following:
The number of projects completed
Types of projects completed
The number of recurring clients
Previous clients
Particular industry experience
Wide-technology portfolio
Lastly, you need proof of these numbers, the references. If you see a few references from previous clients, you are on the right route.
Appropriate Skills
When you hire a new employee for your software development team, what is the first thing that you check?
It is the resume of the potential employee, correct?
Similarly, the portfolio matters when outsourcing software development to India.
Some questions that you should be able to answer by checking the portfolio of the outsourced software development company are:
What skills are offered by the outsourcing developer?
Who are the other clients? (To check the industry)
Does this provider offer a diverse skill set?
Does this provider offer development in various technologies?
If you are able to positively answer these questions based on the portfolio, then you can move ahead. If not, it may be time to move to the next outsourcing developer on the list.
Additionally, the outsourcing company should be open about the technical skills being offered, which should include:
Agile processes
UX capabilities
Quality analysis
Business analysis
DevOps implementation
The outsourcing company should help you understand the experience that the senior team members have in the software development domain. If they fail to explain to you the same, don't forget to ask explicitly.
Proper Processes and Workflows
Every process of software development contributes to a robust product. Considering that, here are the questions you should ask in relevance to development processes:
Are they using an effective software development method?
Are these processes or methods compatible with your work?
Firstly, the processes should be compatible, not similar. This is because it is possible that the outsourcing software development company uses a better model. So, it should be compatible with your work.
Then, the most important is the methodology utilized. Let's be honest, the waterfall model doesn't work now. It is out-of-trend and simply out-of-order.
Prefer using agile and scrum methodologies, which are less rigid and improve your involvement in the project.
Enhanced Communication Channels
When using agile and scrum methodologies, you are involved in the project. But, this involvement doesn't necessarily mean you are on-site. In fact, based on the nature of outsourced software development, you may be on another continent.
Therefore, it is absolutely necessary to have a robust and seamless communication channel. Without communication, it would be hard to maintain transparency in project development.
There are only two ways of achieving appropriate communication, given that you have the proper technology to support it.
The outsourcing developer has a proper hierarchy, which doesn't lag. So, if you call the manager because you have an issue with the website design, you should receive swift responses. This could be either because the manager is fully involved, or their internal communication is quick and effective. In this case, you may receive a response in a few hours rather than days.
The other way is that the outsourcing software development provider gives you extended access to their team. This means that if you have an issue with the quality testing, you can directly reach the QA team and ask questions. Now, that removes the delay, which you might experience in the above case. You can practically receive responses in a matter of minutes, rather than hours.
One added pointer to the above two methods is regular meetings. This can be virtual meetings or in-person, depending on the physical distance. However, at least one of the two is important to regularly stay updated and help the team move in the right direction.
Time Zone
If you are developing a software product that will be accessible across the globe, then you can go ahead and utilize an outsourcing organization operating in another country. This will help you receive an additional point-of-view on the features.
However, it won't hurt to match and coordinate on the time zone. When your team is working, the provider's team should also be available in real-time. This will help in ensuring communication (previous point).
Time zone is specifically important in the case of scrum and agile methodologies because these project management approaches require more input from your team. Needless to say, it is not necessary to have your outsourcing partner company from the same time zone. What is essential is, that there is proper coordination between the teams involved irrespective of the time zones they belong to.
Further, it is not advisable to work with an outsourcing software development team that doesn't have experience working with international clients.
Conclusion
When you have limited resources to complete software development in-house, outsourcing may prove to be the best decision. However, selecting the right outsourced developer contributes to the quality and efficiency of your software product. Hence, when outsourcing software development to India, select a provider with proven industry experience, enhanced skill set, and a great previous track record. Pay extra attention to the communication channel, which can equip you to receive the software product without any delay.
Ultimately, you need to outsource to a software development organization that can support your software product development at every stage. At Maruti Techlabs, we ensure top-notch quality software for our clients. We follow Agile, Lean, and DevOps best practices to provide superior service for you. We have worked with organizations across the globe to develop, test, and deploy software that exudes excellence and helps your business grow.
Interested in bringing your ideas to life? With the help of experts? Get in touch with us here.