As per a Mckinsey survey, 50 percent of the IT budget in most businesses is directed toward developing new applications. Even with substantial resources, most organizations, especially startups and mid-sized ones, find it hard to keep up with the pace of emerging technologies. All thanks to the dizzying speeds at which the technology sector is progressing. That's why the decision of hiring a dedicated development team becomes a pertinent one.
The key benefits of working with dedicated development teams are that you get the ideal combination of professional commitment, advanced skills, and affordable prices. These teams work as an extension of your workforce. This model for software and application development is best suited in the following scenarios:
For products that require technical upgrades periodically
To develop products and solutions that require third-party servers, multiple tech tools, and frameworks
Large development projects that are time-consuming and complex
Also, the emerging trend of working with remote dedicated development teams compliments the rising emphasis on more flexibility, mobility, and collaboration in corporate culture. To help you make an informed decision about embracing this method, let us take a detailed look at the whys, the hows, and the whats of hiring a dedicated development team.
What is a Dedicated Development Team Model?
Essentially, this model is a form of IT outsourcing where a company leverages a vendor outsourcing software development company to hire a dedicated development team for various web and software development projects. The outsourcing company roped in for the job then put together a team of skilled professionals who are 'dedicated' to their client's projects alone. The company hiring this dedicated team has the freedom to choose suitable candidates from a list of available profiles and assign each of them, either specific tasks or entire projects.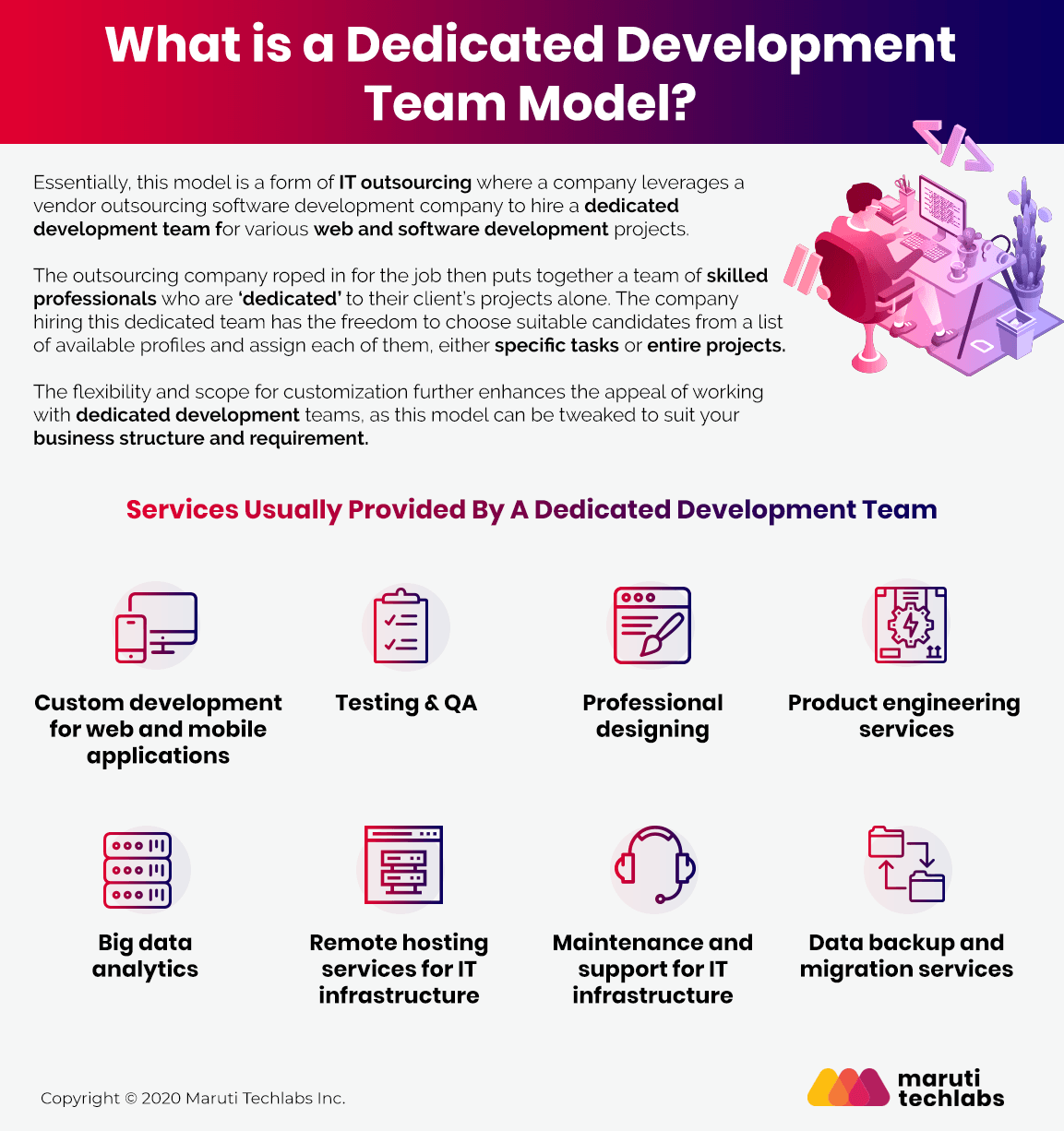 This is a unique model of offshore hiring of professional talent and is extensively used by companies all over the world to develop their IT resources remotely. A large cross-section of businesses prefers to hire dedicated development teams from India to get that perfect balance of high productivity, robust processes, and business agility at significantly decreased costs.
This model can be especially beneficial for enterprises with nascent infrastructures and limited financial capabilities, allowing them to create robust solutions cost-effectively. Hiring a dedicated development team also proves to be a long-term, sustainable model for enterprises.
Let's say you have a flourishing business setup, complete with a small team of developers, working alongside sales, marketing, and digital professionals. However, you want to boost your operations and need new tech solutions for it. Instead of scuttling to raise capital to put in place the infrastructure and talent to cater to this requirement, you can simply outsource the job to a dedicated development team.
The flexibility and scope for customization further enhances the appeal of working with dedicated development teams, as this model can be tweaked to suit your business structure and requirement.
The key to hiring a dedicated development team successfully is collaborating with an IT consulting and outsourcing service provider that can give you a line-up of diverse skill sets, such as designers, developers, and QA professionals, who can collaborate to deliver a well-rounded product.
Despite operating remotely, these teams can seamlessly deliver on the various requirements, as long as there exists strong, continued communication about scope and expectations from your end.
9 Key Benefits Of Hiring a Dedicated Development Team
As mentioned before, technology is advancing at a lightning-fast pace. For businesses with non-technical core operations, keeping up with the latest trends and demands can become a tad overwhelming. Yet, leveraging these latest developments can bolster your business growth manifold.
It is only natural then that every business, no matter how small, would like to capitalize on the potential of tech solutions in transforming their outreach. Here's where IT outsourcing by hiring a development team becomes essential. Some of the key benefits of working with a dedicated development team include: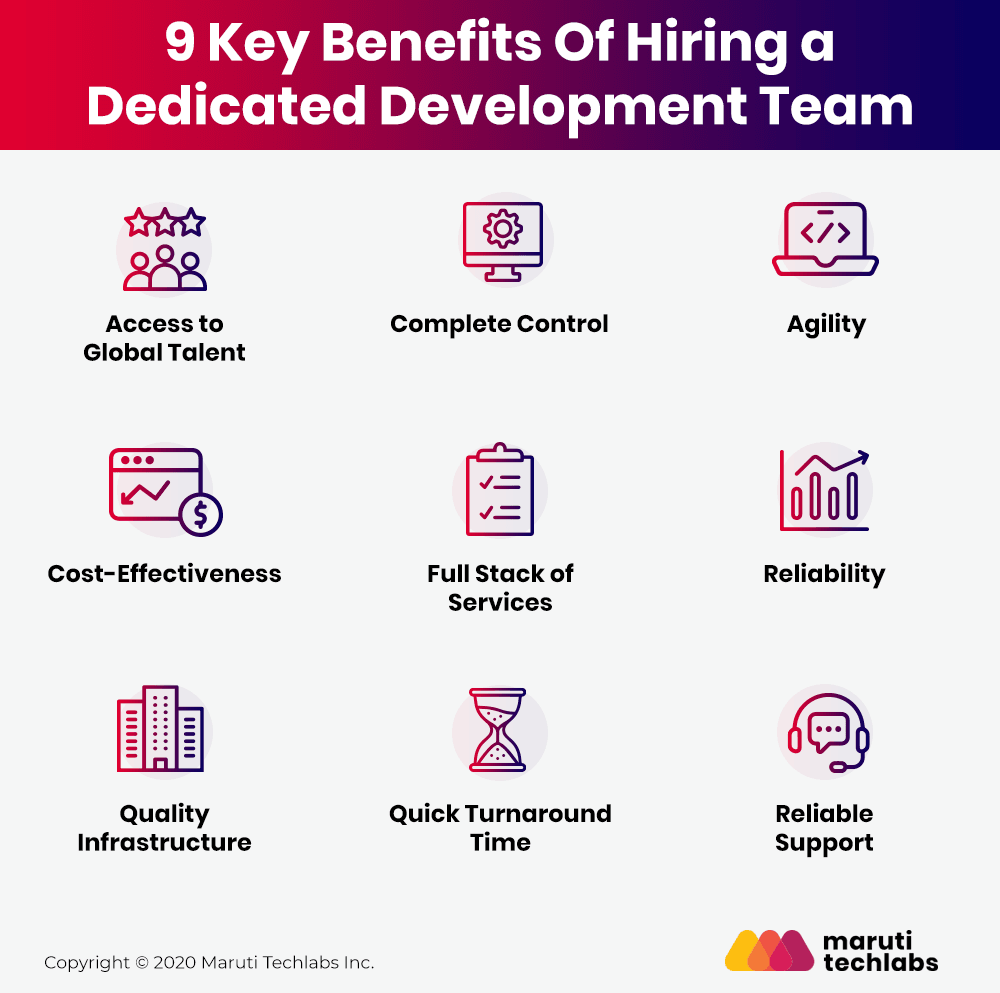 Access to Global Talent
This model opens up a world of new possibilities for your business by giving you access to a pool of global talent. These professionals operating from a different corner of the world have the necessary skills and expertise to optimize your tech stack capabilities, oftentimes at surprisingly cost-effective prices.
IT outsourcing companies looking to hire a dedicated development team from India is a strong case in point. The professionals here are capable of delivering top-of-the-line tech solutions at comparatively lower costs. A team of dedicated developers can also step-in to co-build solutions with your in-house IT team while training your employees to work with them.
Agility
Another core advantage of hiring a dedicated development team is the level of agility it offers, especially to small and mid-sized organizations. By outsourcing your tech requirement to these teams, you can keep your in-house workforce smaller and stay nimble. At the same time, you should not view the dedicated development team as a third-party working for your organization. Instead, look at them as an extension of your on-premise staff to be able to fully engage with them.
The decision to hire a development team for one-time or seasonal tasks can increase the efficiency of your new releases, tech migrations, and other similar requirements while keeping your business operations agile.
Complete Control
A lot of times, businesses shy away from working with remote teams out of the apprehension that they may not be able to steer the outcome of such projects in the desired direction. However, when an outsourcing model is supported by strong, consistent communication from the client as well as the team, the results can be surprisingly efficient.
You can tap into tools such as Skype, Basecamp, JIRA, and GoToMeeting to retain complete control on the progress of a project. These interactions and brainstorming sessions are essential in maintaining transparency, enhancing productivity, and making the workflow more seamless.
Cost-effectiveness
Custom software development can cost quite a pretty penny in almost all the developed countries. Hiring offshore professionals who are equipped with the same expertise and skills as their native counterparts is a smart way to cut back on operational costs without compromising on quality. For instance, when you hire a dedicated development team from India, you get a higher quality of work at much lower costs, making it a win-win!
Full Stack of Services
Most destinations that have emerged as the hotspots for offshore dedicated development teams boast of high-quality IT education and a well-rounded pool of talent. By working with the right outsourcing resources, you can get end-to-end solutions for your product development needs. Some of the services that you can leverage through this model are:
Professional designing
Remote hosting services for IT infrastructure
Maintenance and support for IT infrastructure
Data backup and migration services
That pretty much covers everything you need to set up an agile, scalable IT infrastructure. By working with skilled and highly qualified IT professionals at affordable rates, you can optimize your RoI to a large extent.
Reliability
The professionals who work in dedicated development teams rely on enterprises such as yours to stay in business. Given the rising demand for this model, the number of such service providers has also gone up considerably in the recent past. This means that there is intense competition in the market for this model and even the best of the talent has to earn their place to stay relevant. Delivering efficient and reliable products becomes essential to their survival.
So when you hire a dedicated development team to cater to your IT requirements, you can rest assured that they will deliver quality software applications in as short a timeframe as possible.
To ensure transparency and accountability, almost all dedicated development service providers have institutionalized elaborate processes for evaluation and reporting. You can monitor the progress from one milestone to another, often in real-time.
Quality Infrastructure
Setting up a full-blown IT department with cutting-edge tools and solutions that can be deployed to design, develop, test, and launch complex applications and software systems involves massive investment. Most startups and mid-sized companies do not have the resources to set up and support that kind of infrastructure.
On the other hand, a fully operational centre for dedicated development has the necessary infrastructure in place to take on projects of varying sizes, nature and complexity, and deliver optimal results. When you hire a development team, you ensure that your tech products, no matter how complex, are developed with the best and most recent resources without having to make elaborate investments.
This helps in saving precious capital from being spent on equipment, hardware, software, virtual tools, human resources, and development methodologies that are not pivotal to your core business requirements. This capital can be then utilized in enhancing in-house competencies in an area that can contribute to your business growth.
Quick Turnaround Time
When working with a dedicated development team, you can rest assured of quick turnaround times and timely deliveries. The teams working on such projects work in completely optimized environments that are geared to support seamless completion of projects in a time-bound manner. However, for this to happen, it is imperative that as a client, you specify clear timelines and insist on adherence to those timelines.
With concrete planning from the client's end, the outsourced team can work on any project like well-oiled machinery and deliver it in much shorter time frames.
Reliable Support
When you hire a dedicated development team, their job doesn't end at designing, developing and delivering the product to you. They also offer competent support services during and after its implementation in your work systems. Any dedicated development team worth its salt would pride themselves on their technical support services, and that is definitely a factor to consider when selecting a team to work with.
These teams also help in training your full-time staff in handling the new processes or applications that they have developed. Besides, they retain backups for the product in their systems, even if you've hired them only for a one-time project. This goes a long way in ensuring exceptional customer services in the long run.
By partnering with a top mobile app development company, you can ensure that your dedicated development team has access to the latest tools and technologies, enabling them to deliver high-quality mobile applications that meet your business needs.
Hiring a Dedicated Development Team – 5 Factors That Make It Work
Given the all-encompassing benefits of working with dedicated development teams in optimizing operations, all businesses must consider getting on this bandwagon, sooner rather than later. To make sure that you get the desired results from this exercise, here are some things to consider if you want to make your hiring of dedicated development team successful:

Define Requirements and Goals
Before you start putting together a dedicated development team or outsource this task to a third-party vendor, spend some time analyzing your business requirements. Then, set clearly defined goals based on this requirement. This should include parameters such as scope, benefits, and desired outcomes of a project.
Do Your Research
Before finalizing on a dedicated development team, check for references, experience, portfolio, and client testimonials. Verify if the team has any experience in handling projects similar to yours. If yes, do check the number of projects they have handled, the type of clients they have worked with, as well as the tech stack they deploy for such projects. This will give you a fair idea of their capabilities to deliver results in line with your expectations. In the case of long-term projects, consider holding interviews and skill tests for different team members before roping them in.
Maintain Transparent Communication
Good communication is key to the success of such projects as well as your outsourcing relationships. Factor in cross-cultural references, working language, and time zones before making a decision. For instance, if you're a US-based client looking to hire a dedicated development team from India, these factors can become pivotal to the outcome of a project. If these variables are not aligned, they can get in the way of feedback and communication, thus, hampering the project progress.
Build Trust
When working from different locations, possibly different parts of the world, building trust becomes essential to the success of a project. Trust-building is a long, ongoing process, and you must be invested in making it a core focus of your outsourcing relationships for them to work. Allowing flexibility in work hours, streamlining payments, maintaining transparency in expectations, and not changing project requirements without adding due compensation for it, are some ways to build trust with your dedicated development team.
Start Small
When you hire a development team for the first time, start small. Use a small, one-time project to test the waters and see if this model works well for you. It will also help you ascertain if you can build a sustainable relationship with the team you've chosen to work with. This helps in mitigating risks and managing costs more efficiently, which is crucial for startups as well as small and mid-sized enterprises.
In case your project demands a big team, then you can also consider opting for our IT Team augmentation services. Rather than hiring the entire team in-house, you can get the guidance of expert professionals from a software staff augmentation company.
Looking for a dedicated development team to build your custom web applications? Our custom web application development services can help you achieve optimal results with our experienced team of developers.
How to Get Optimal Results From Your Dedicated Development Team?
Of course, the onus of delivering results falls on the dedicated development team. But if things don't pan out as expected, it can be damaging to your business and theirs. Here's what you can do to ensure that that doesn't happen and you get the optimal results:
Invest in team-building by facilitation of healthy work culture and fostering strong ties with your virtual development team.
Get regular updates – weekly, if not daily – to make sure everyone is on the same page, and the project remains on track.
Celebrate milestones and appreciate a job well done.
Engage with your dedicated development team on a personal level by offering them opportunities to unwind. Perhaps, you can organize a team lunch or an outing to celebrate a project milestone.
If you are in it for the long-haul, try to meet them in person at some point. You can either plan a visit or invite the team-members for a short on-site project.
Concluding Thoughts
The decision to hire a dedicated development team offers you the dual benefit of leveraging highly-skilled services at low costs. This model works well for long-term, short-term as well as one-time projects. However, to make the most of it, businesses should have a firm grip on the ins and outs of hiring and working with their outsourced teams.
Hiring a dedicated development team lets you focus on your key areas of expertise, while at the same time, the dedicated team helps you grow technologically with undivided attention to your project they work on.
At Maruti Techlabs, we ensure top-notch quality right from the start. From evaluating your business goals to addressing the issues that need to be fixed before developing the solutions, our experts bring your ideas to fruition while providing you with a superior experience.
To discuss your ideas and get in touch with our experts, drop us a line here.