The primary goal of the healthcare industry is to cure health-related issues through proper care, medication and monitoring.
And in the current scenario, the market for global healthcare is on a rise, owing to multiple factors like rise in chronic health conditions, technological advancements, growing labour costs due to staff shortage, and expensive infrastructure.
According to Business Wire, The global healthcare market is expected to grow at a CAGR of 8.9% to nearly USD 11,908.9 billion by 2022. The growth is also attributed to growing health related awareness and increasing technology support people are receiving in this segment.
With time, the use of technology has brought structural changes to the healthcare industry, for the better. Whether it's managing endless administrative processes in hospitals, providing personalized care and treatment or facilitating better access, technological advancements like mobile healthcare, also known as mhealth, and machine learning in healthcare have streamlined the healthcare sector to a great extent.

Let us dive deeper into how machine learning in healthcare combined with the easier accessibility of mobile devices is transforming the healthcare space.
Rise of mHealth
The surge in usage of smartphones and other mobile devices has brought a shift in the way people interact with their doctors and hospitals to manage their health. From managing their doctor appointments to maintaining their healthcare records, there is an app for everything, and people are using them.
There were close to 2.4Bn medical mobile apps in 2017 in the U.S. alone. It is estimated to reach 11.2Bn by 2025, as per the research by Statista.
At this point, businesses operating in this segment need to think out-of-the-box to devise apt solutions that are engaging, effective, and appeal to the interests and goals of the user.
As we have already discussed, mHealth is redefining the healthcare industry, and here we will look at why healthcare companies will benefit by including mHealth in their business strategy:
Why Invest in mHealth?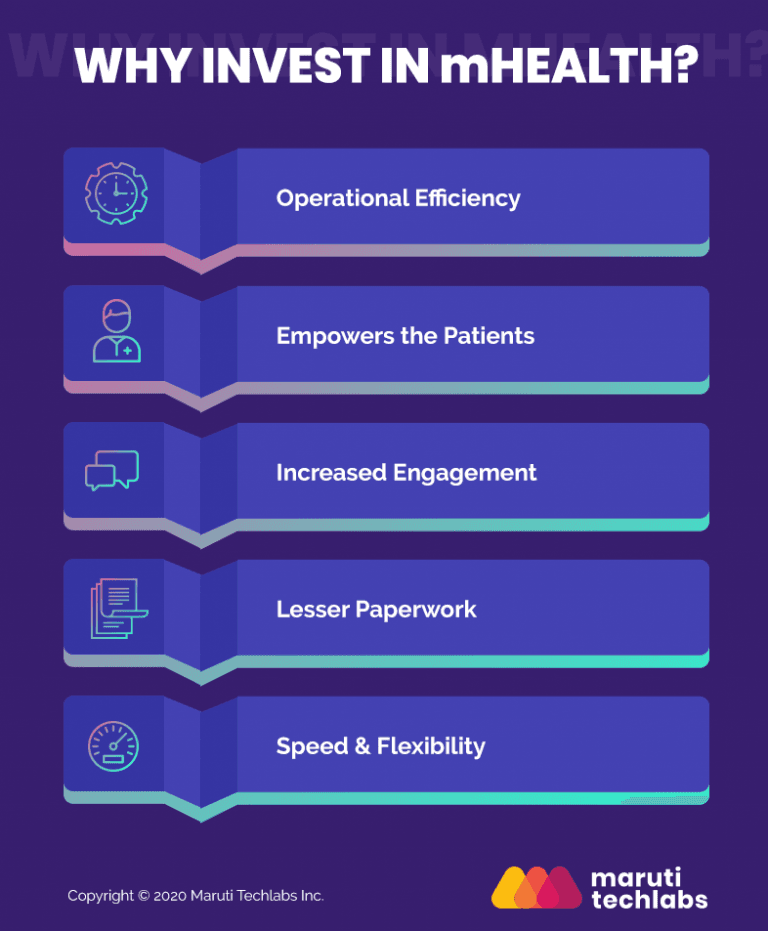 A Boom in Medical Subsectors
Importance is being given to sub sectors such as diabetes, telemedicine, genomics, and others. Patients are currently able to monitor their glucose levels using mobile app and wearable technology. There are several other opportunities available in this segment, and it is only a matter of time before you can identify other medical subsectors.
Telemedicine is a growing sector as it offers care through telecommunication. These medical subsectors are offering opportunities to the caregivers and consumers for better and adaptive healthcare solutions, which can improve their overall health.
Operational Efficiency and Increased Engagement
When there is a seamless flow of the operations at the hospital or other caregiving unit, it improves the experience of the consumers. Apart from offering proper care, the caregivers are also involved in admin, financial and even technical tasks related to making healthcare operations seamless.
With mHealth solutions, they can manage their work efficiently. From offering better payroll solutions to taking care of appointments and reminders, all the operations are well-defined within a well-defined mHealth app.
Empowers the Patients
When you place a mobile app that can measure and monitor the patient's heart rate, and other factors, you are essentially empowering the patients and improving their health related attitude. They will be more concerned about their health and will take care of it as much as possible.
In fact, with the advances in healthcare and the power being handed over to wearable technology, you will observe more patients being interested in measuring their own glucose levels and other factors, thus keeping them in control. They self impose dietary restrictions, which enable them to live a smoother and healthier life.
Better Access and Shorter Wait Lines
Finally, the mobile healthcare market is connecting the healthcare providers with those accessing healthcare solutions. This enables direct access and immediate appointments.
In fact, mHealth solutions have also found a way to offer appointments to the people, thus reducing the wait time for each appointment and enhancing the experience.
Machine Learning & Healthcare Industry
The estimated increase in global AI economy by 2022 is $3.9Tn from $1.2Tn in 2018. This increase can be attributed to machine learning tools and deep learning techniques.
The spending in the healthcare industry alone is estimated to reach $36.1Bn in 2025 with a CAGR of 50.2%. It is predicted that the biggest investors in this technology would be hospitals and physicians as well as individual caregivers.
A lot of startups are focused on diagnostics through machine learning implementation. In fact, most of the equity and funds are also obtained in this segment, as it helps boost the diagnostic accuracy, and helps healthcare professionals acquire data that can help with treatment plans.
Apart from diagnostics, deep learning in healthcare can help with identifying the key interactions between medical professionals and identify methods for better home healthcare.
Deep Learning, which is a subset of machine learning, is extensively used to train algorithms to identify patterns in the data.
Machine learning in healthcare makes use of layered algorithm architecture for better data analysis and quicker and deeper insights. In the course of deep learning, the data is passed through multiple layers and each layer uses the output obtained from the previous layer to define the result. This improves the accuracy and the results of the technique.
It is important to note that in the case of healthcare, there is too much data to analyze and there is noise as well, which needs to be removed before performing the analysis. Machine learning algorithms can identify clear data that can be transformed into actionable insights with its network. The algorithms are able to clearly classify different data based on their understanding of the patient and the characteristics shown by them- patients showing similar characteristics, medical images with subtle abnormalities, and other related data. This helps healthcare professionals perform faster analysis, diagnose and treat patients in a better way.
Applications of Machine Learning in Healthcare
Machine learning in healthcare is now being applied to different use cases in the healthcare space. Elucidated below are some of the various applications that are increasingly being streamlined by machine learning in healthcare space –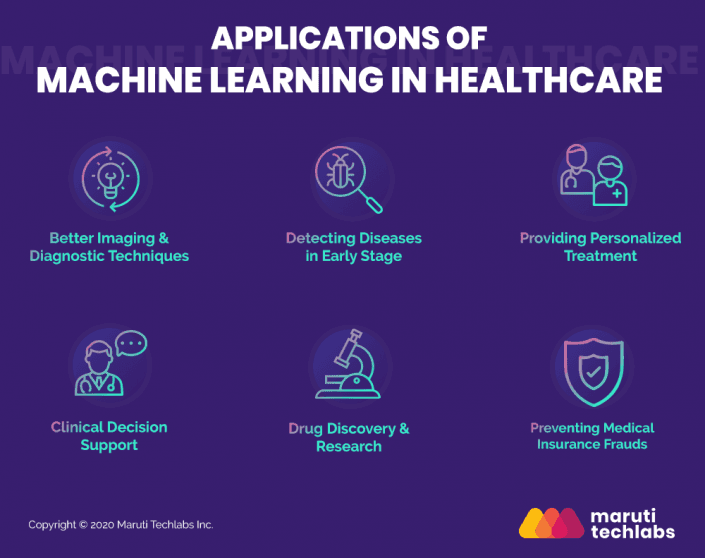 1. Better Imaging Techniques
Most doctors rely heavily on MRI, CT scan and other imaging methods to diagnose the issue the patient is facing. This helps the doctors identify and plan the treatment for these patients, and in turn help them recover faster.
However, manual diagnostics has potential for error. This might lead to wrong diagnosis and treatment plan, in case of any error in judgement, which, in turn, is harmful to the patient. However, with machine learning in healthcare, doctors can automate the diagnosis, and return accurate data, which can help them with faster and efficient treatment plans and improved treatment for the patients.
Let's take cancer for instance. In many cases, the doctors have to make the patients go through several tests and manual diagnosis before they can actually conclude if the patient is suffering from the disease or not. Instead, with machine learning algorithms fed into the machines, the machines will be able connect the recent data with past outcomes, compare and identify the symptoms that match. Accordingly, the algorithm will identify if the patient is suffering from the disease or not. It will also help the doctors with diagnose the stage of cancer, which somewhat decreases the burden of the doctors and helps them in providing effective diagnosis and treatment.
2. Detecting Health Insurance Frauds
Medical insurance frauds have been rampant for a long time. Whether it is securing an insurance compensation by submitting wrong information or, not completing all the formalities, there are quite too many frauds that exist in this segment.
It is very difficult for the human resources to be able to detect these frauds and recognize the errors that exist in the system. That's precisely why insurance detection solutions have been defined by deep learning. The machines learn the techniques that are used to detect completely filled and well filed forms for insurance compensation. Once this learning has been accomplished, any new data that arrives their way is compared with the existing data, which enables them to detect the frauds quickly and with greater accuracy.
Apart from the frauds, insurance selling is also another area where machine learning techniques can be applied. By learning more about the ways in which insurance is consumed and purchased, it will be easier for the seller to define methods that will engage the customer and complete the conversion. From selling personalized insurance solutions to offering personalized discounts, there are various marketing techniques that can be followed with the help of machine learning algorithms.
3. Detecting Diseases in Early Stage
The potential of AI solutions in healthcare is immense, from early disease detection to drug discovery and treatment optimization.
A combination of supervised and unsupervised learning algorithms under machine learning in healthcare provides better assistance to the doctors in early detection of diseases. As discussed, the machine learning algorithms compare new data with the available data on the particular disease, and, if the symptoms show a red flag, the doctors can take action accordingly.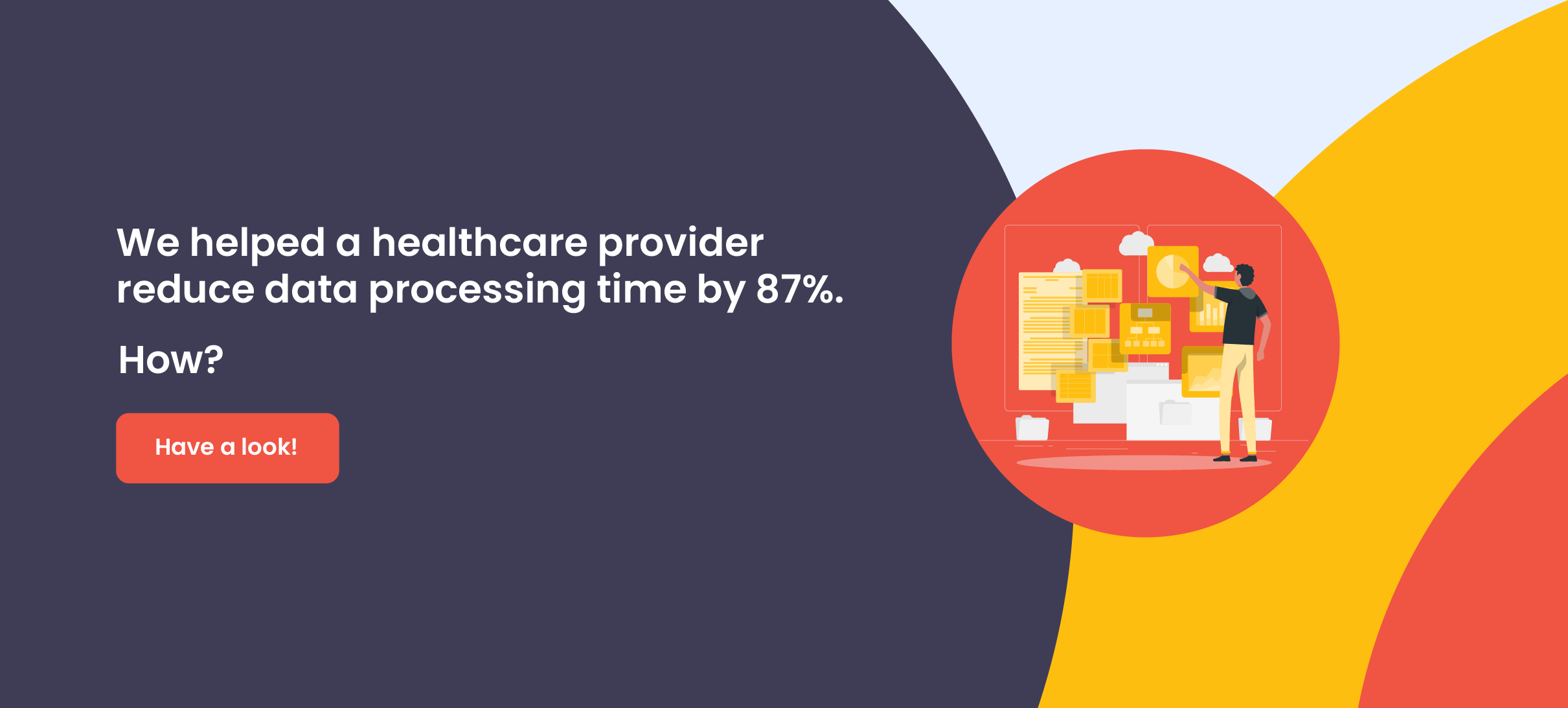 4. Personalized Treatment
As we all know, no two patients or their symptoms for the same disease are exactly the same. As a result, doctors often prescribe medicines based on the combination of an individual's symptoms, their history of diseases and treatment.
With machine learning in healthcare, doctors can have access to the analysis based on the electronic health records for the patient. This will help the doctors make faster decisions on what kind of treatment best suits the patient. Machine learning in healthcare can also assist the doctors in finding out if the patient is ready for necessary changes in medication. This will help induce right treatment from the beginning.
5. Drug Discovery and Research
Research around drug discovery and invention involves processing of an extensive amount of data and endless clinical trials.
Different stages of drug development can be achieved faster with machine learning in healthcare. Machine learning algorithms can help process the huge amounts of data in a shorter time span and produce results based on calculated evidence.
Although the full-fledged implementation of machine learning in drug development is still primarily in its nascent stage, with proper research and testing, healthcare sector could generate USD 300 billion revenue every year with proper implementation of machine learning and big data, as per McKinsey.
Key Factors to Consider
When implementing machine learning in healthcare app solutions, you need to keep a few things in mind. The app should be planned in accordance with these factors so as to cater to seamless operational needs.
Match with Healthcare Standards
You should ideally incorporate the current healthcare standards to maintain the privacy and security of the data. It will help with making the app trustworthy and helps in ensuring all standard protocols are followed. Before you begin developing the mobile app, you should know the standards that run in the market you plan to operate.
Planning a usable and intuitive app is very essential in the healthcare segment, as the users may range from 15 to 50 years of age. You need to make sure that the elements you have added to the app are minimal. The white space and other design parameters should be well thought out before you begin designing the app.
It is also important to ensure that the onboarding process of the application is simple. Keep the learning curve to a minimum. Allow users to use their learnings from previous app usage to be able to define the app design.
Every hospital has their own standard software wherein all the operational and admin related data are collected. Make sure your app is interoperable with this software so that you are able to learn from the data available from the existing machines.
Summing Up
To be able to accurately implement mobile application or machine learning in your healthcare organization, it is imperative to have a trustworthy partner like Maruti Techlabs.
We, at Maruti Techlabs, understand the complexity of the healthcare space, invest time in researching the industry, identifying the gaps that exist, and finally overcoming the challenges through efficient and effective technological solutions.
To learn more about customized healthcare solutions that suit your requirements and use cases, get in touch with us.