Delight is never a word. Rather, it is a word which holds the description of pleasurable moments in our digital and offline service or product offering. The delightful interaction works more than just a miracle to drive them across a 'conversion funnel'. In addition to offering a User Experience design which is delightful, measures should be taken to ensure that your digital offering is:
Reliable, i.e., users shouldn't face any lag or hassles while using your platform.
Usable. Your consumers must learn the usability or relevance of your products in their day-to-day life.
Comfortable, well, this is the point where 'delight' comes into existence.
There is no set formula for delight. But, user experience design centered around the concept would attract the customers and you are set to ring into sales. It makes the consumers develop a sense of attachment towards your offering so that you don't get ignored on the web anymore.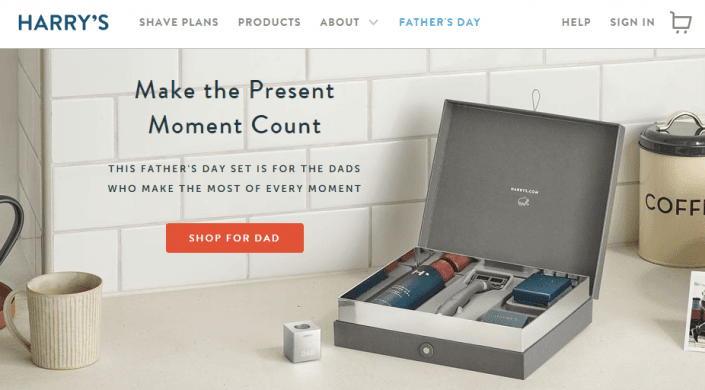 Ref – www.harrys.com
As an example, Harry's, the premium men's grooming store welcomes the visitors with a catchy tagline. Scrolling further on the homepage itself, visitors can find the featured products while the next section lauds the visitors with their service offerings.
Partnering with a reputable user research firm is an investment in the success of your business. By gaining a deeper understanding of your target audience through user research, you can create a more delightful user experience for your customers
The Kano Model: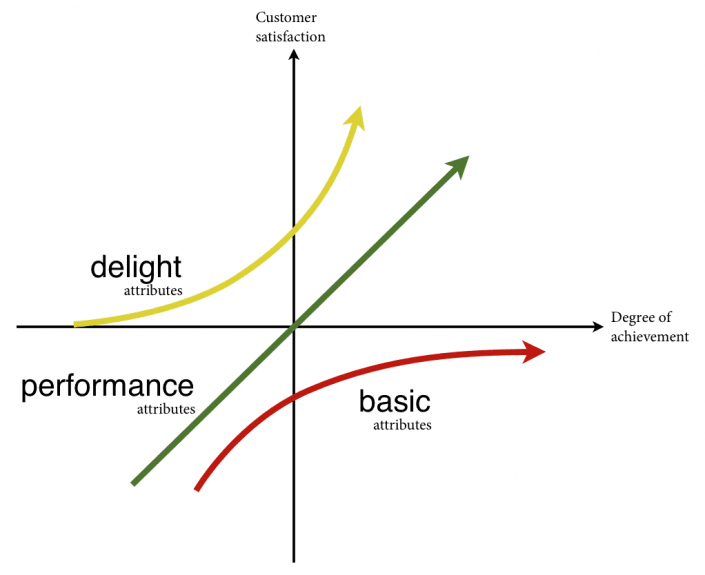 Ref – http://www.scoop.it/t/service-design/p/1212268179/2012/02/15/ux-and-the-kano-model-baymard-institute
This model conceived by Noriaki Kano, in the 80's is one of the milestones in the UX design segment. It is an analyzation technique which helps you monitor the behavior of your consumers towards your service or product offering. The model assumes three unique attributes, which are, performance, basics, and delight. These attributes collectively define the User Experience (UX) of your service or product.
1. Basic Attributes
It monitors the fact that whether the product or service serves the purpose. Basic attributes do not assure the client satisfaction, but, missing out on any one of it, will cost your site dearly. In simpler words, gaining an advantage over competitors is not feasible through basic attributes, but you are at a disadvantage if these are not monitored meticulously.
For example, Paytm stocks gained exclusively this quarter owing to the demonetization issue in India. Other contenders like Freecharge and Mobikwik failed to cash on the issue while Paytm established its roots in the building blocks of the nation's economic system. It achieved the feat by performing in the basic segment.
2. Performance attributes
Once the site has served the basic purpose, there comes the necessity of consumer satisfaction. For example, a user expects maximum storage space from an email service provider or an online cloud storage service. Music streaming sites are also expected to offer, maximum song skips, for a minimum price of course! The logic behind performance attributes is straightforward. Deliver what they expect from you and it will serve their needs, hence, delivering customer satisfaction.
Graze, for example, offers catering services for snacks inside a unique box. Well, who wouldn't love a box full of snacks right at the doorstep with more than 100 choices to select from? The homepage is seamless and pleasing to the eyes. The product imagery is outstanding with the purpose of the service elucidated in a simple manner.
3. Delight Attributes
Delight attributes are the factors which are delivered beyond the expectations of the user. Just imagine a service which recharges your phone automatically at the end of the payment cycle while delivering the extra cash back into your wallet. Well, who wouldn't love that? This exactly is where the word-of-mouth advertisement kicks in. Just laud your customers with a delight attribute and leaving the rest for the over-excitement would the job.
If you want to deliver customer delight through User Experience (UX) design, then hire Node.js programmers from a staff augmentation company like ours. Our Node.js developers help you create real-time, interactive, and scalable applications that deliver excellent user experiences.
4. Implement an empathic design
When delight attributes are included in your design, the user can develop a sense of attachment towards your service. If you implement features which help the visitors build a connection with your platform, you don't have to worry about organic traffic anymore. Be it product designing or interactive designing, ensure that the consumer finds a link and becomes a part of the 'conversion funnel'. Apple finds its takers owing to its exclusive User Experience design. One can bet on it that not a single iPhone user would switch on to another machine to experience a better User Interface. The 'rubberband' scrolling feature on iOS mobile browser Safari is so captivating that users can be found playing it up and down for no reason.
Bringing in delight attributes should not be inferred for some random design refurbishments. The effects should be implemented to change the 'look' and 'feel' of the site. Your platform is the first level of interaction with the customer. It has to be appealing in every aspect.
However, one should not over do it as too many interactions can be clumsy and may work against the cause. Delight attributes make a site more tactile while motion offers an immersive experience. Once you blend speed and relevancy into the design of your platform, the customers could develop an attachment towards your platform. Eventually, the rest of it would come easy.
If you're ready to take your product to next level with user experience and customer focussed design, Maruti Techlabs has experienced designers and engineers to guide you.
Your website is often the first impression customers have of your business. Ensure it's a positive one with our UI/UX design and development services. Our team can help you create a website that is not only visually appealing but also easy to navigate, leading to increased customer satisfaction and loyalty.