As Artificial Intelligence race is on, major tech companies are already developing Chatbots to serve their customer in a better way. Many customer services oriented businesses believe that Chatbots in Hospitality and Travel industries could help their companies grow. But are not sure if their business is sophisticated enough to implement Chatbots in their systems.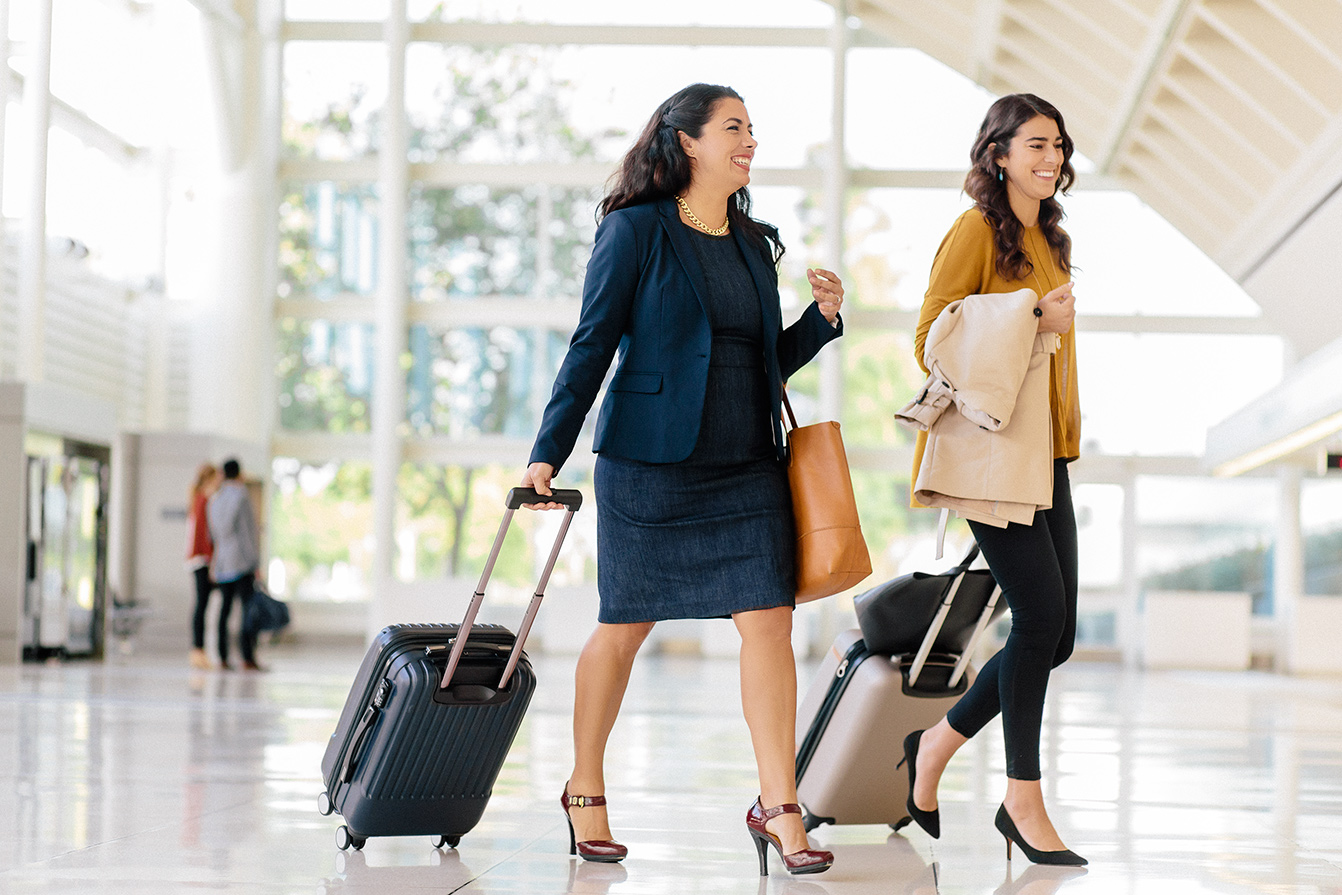 While there are some imperatives for implementing an AI-based virtual assistant in your organisation, the entry barrier is much lower than many believe. Chatbots and Service Industry can go together till long extend to solve customer queries efficiently saving human cost and giving customers a pleasant and personalized experience. Chatbots in Hospitality and Travel, Restaurant, Retail and in many major industries have already entered to change the customer experience extravagantly.
Famous restaurant chains like Burger King and Taco bell has introduced their Chatbots in Hospitality and Travel industries to stand out of competitors as well as treat their customers quickly. Customers of these restaurants are greeted by the resident Chatbots, and are offered the menu options- like a counter order, the Buyer chooses their pickup location, pays, and gets told when they can head over to grab their food. Chatbots are not only good for the restaurant staff in reducing work and pain but can provide a better user experience for the customers.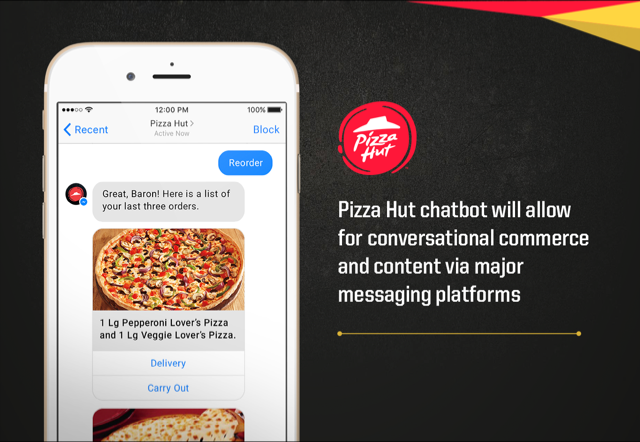 Pizza Hut Chatbot
Take Taco Bell's Chatbot, on the business instant messenger Slack. Customers can order food from the restaurant's "tacobot" and order from the menu. They can ask questions about the available items as well as can even customize the order by removing or adding items using normal human voice. Responses are designed to mimic phrases customers use in everyday life. The Chatbot may say "sounds awesome" instead of "item is available".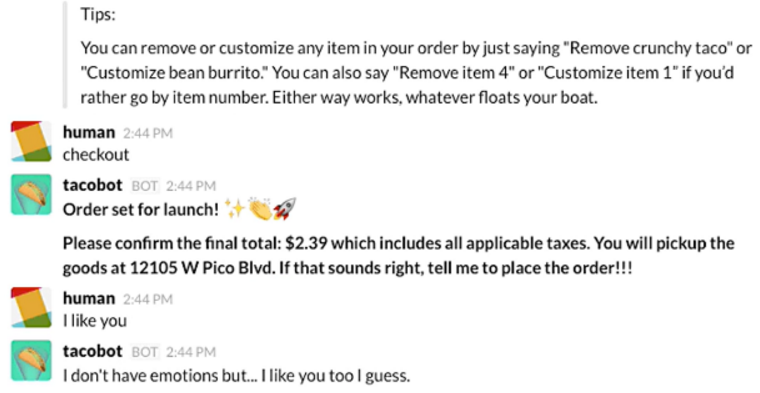 Taco bell Chatbot
Chatbots can make the customer experience personal without any cost of hiring any human. The point of attraction of the Brands can be that Chatbots which allows personalized interaction that the people especially millennials would expect.
For hoteliers, automation has been held up as a solution for all difficulties related to productivity issues, labor costs, a way to ensure consistently, streamlined production processes across the system. Accurate and immediate delivery of information to customers is a major factor in running a successful online Business, especially in the price sensitive and competitive Hospitality and Travel industry. Chatbots particularly have gotten a lot of attention from the Travel industry in recent months. Chatbots in Hospitality and Travel industries can help hotels in a number of areas, including time management, guest services and cost reduction. They can assist guests with elementary questions and requests. Thus, freeing up hotel staff to devote more of their time and attention to time-sensitive, critical, and complicated tasks. They are often more cost effective and faster than their human counterparts. They can be programmed to speak to guests in different languages, making it easier for the guests to speak in their local language to communicate.

Famous Travel companies like Expedia.com, Kayak, Sky scanner have launched bots of their own on Facebook Messenger and Slack, which helps the travelers to book their hotels.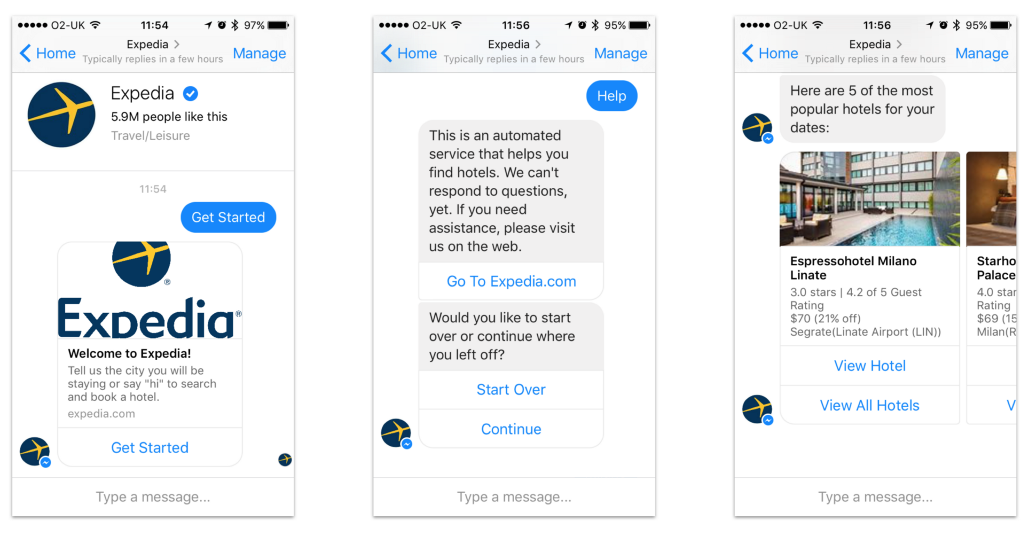 Expedia Chatbot (Reference: https://www.digitaltrends.com/web/expedia-skype-chatbot/)
Even Travel related companies like Hyatt Hotels, Booking.com, Uber etc. have integrated with Facebook Messenger.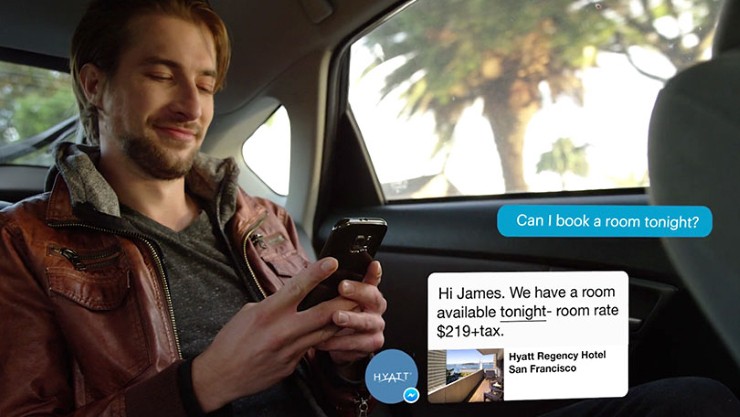 Hyatt Chatbot
Companies across a wide variety of industries including Hospitality and Travel are building these tools on popular messaging apps like Slack, Facebook Messenger, Kik, etc. as well as on their own apps and websites. We at Maruti Techlabs provide strong Bot development services. To know more about Bot Development at Maruti Techlabs contact us.