Blockchain offers an alternative to a trusted intermediary in case of contract signing, money transfer and payments leading to significant saving in time and money. It is a form of database build on the concept of distributed ledger which records the transactions in chronological fashion.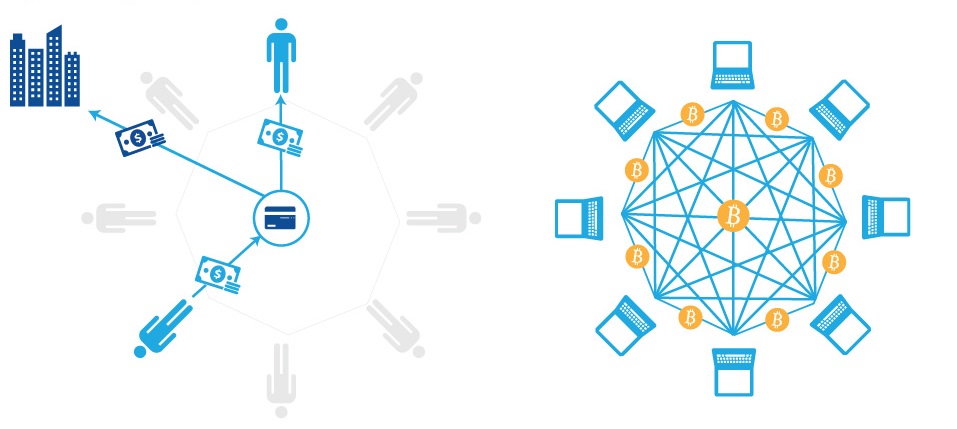 Payment process – Banking vs Blockchain
Applications of Blockchain in finance and banking
In the last blog – "What is blockchain and understand its key benefits" we mentioned some of the noteworthy examples of blockchain in finance and banking sector. It solves the expensive and insecure financial transaction systems by introducing new forms of digital interactions using the concept of distributed ledger. Below are some of the applications in finance and banking sector:
1. Currency exchange and Payments
The most prevalent use case of blockchain is the transfer of virtual currency – bitcoin. It reduces the risk of inflation or collapse of currency as it is detached from country or institution. Money transfer using blockchain requires neither fees nor need of transaction verification by a central authority. R3 in association with world's largest banks is developing a bank-to-bank global transaction system with help of Microsoft's Azure-based Blockchain-as-a-Service.
2. Peer-to-Peer Lending
P2P lending does not rely on a central authority (financial institution) and allows the borrower to define their own amount, interest rates and other parameters. Thus it becomes perfect use case for blockchain due to its ability to create public decentralized ledgers. A peer-to-peer system build using blockchain creates parity between lender and borrower and makes it easy to compare rates of return.
3. Micropayments
There is a minimum cost for every transaction done using fiat currencies. Due to associated costs, small payments for goods and services are often expensive. Blockchain alleviates this associated cost while sending small payments. The lack of transfer fees is largely due to the decentralized public ledger used by cryptocurrencies that records financial transactions without the need for a third party to check and verify. It also reduces settlement and accounting fraud risk.
4. Digital identity

Digital identification using Blockchain
As more businesses and institutions begin to adopt blockchain, we would require digital identity to validate the trillions of transactions a second. A Money over internet protocol (MoIP) will form a foundation for payments structure and will enable machine-to-machine commerce. Thus it will enhance the scalability of payment transactions. If Digital Identities are recorded on blockchain protocol, then individual things can have authorization to transact. Over time, smart objects can be added, leading the way for Internet of things (IoT) also. This is where the most likely breakthrough will come before payments, as companies such as Blockstack are developing ideas in this space fast.
Applications of Blockchain in other sectors
1. Legal and Insurance
Legal and insurance companies are using 'smart contracts' – a computerized transaction protocol that executes the terms of a contract. London law firm Selachii have already announced plans to launch digitized agreements based on blockchain technology. Blockchain-based smart contracts streamline and automate the processes that are faster, secure and cheaper. Tech startup Tierion, works on this concept to issue digital receipts, create an audit trail, secure customer data and collect and store IoT data. The technology can improve the accuracy and speedup the way in which insurers operate. Administrative resources can be deployed elsewhere, with documentation logged and shared via the chain; rather than reams and reams of paper. It also opens up the possibility of 'instant insurance policies' without the need of manual intervention.
2. Energy sector
Blockchain technology can infuse transparency and renew trust between consumers and energy suppliers. Challenges such as price changes, tariff and billing can be solved by blockchain. Quite simply, integration of the Blockchain protocol would enable smarter metering systems, and this, in turn, will enhance the efficiency with which the end user pays for their energy. Invirohub aims at developing smart electricity, water and gas solutions to empower people with accurate detailed real-time information. It can be used to form a globally connected network of energy transfer to achieve smart energy usage, smart grids and energy credits.
3. Agriculture
Transparent transactions and smart contracts by blockchain are beneficial for farmers and consumers. It allows farmers to negotiate better price throughout the supply chain and giving the consumers knowledge about the source and journey of products. Using blockchain farmers can capture real-time data that will help them plan their spaces more effectively and maximize the success rate of their harvests. Skuchain applies the cryptographic principles developed using blockchain to secure and visualize the global supply chain. It is building a system of next generation identifiers in the form of both barcodes and RFID tags to digitally secure the transfer of goods across the entire global economy.
4. Healthcare
A community of people, including hospitals, doctors, patients, and insurance companies, could be part of the overall blockchain and reduce fraud in healthcare payments. When a data requires authorization by multiple people digitally signed blockchain can be used. Blockchain would regulate the availability and maintain the privacy of health records. According to Bruce Broussard, CEO of Humana 'blockchain will become the next big healthcare technology innovation', because it particularly relates to payments and payer contracts. For example, in a situation when a health plan and patient are dealing with a contract, the blockchain can automatically verify and authorize information and the contractual processes. In the future, blockchain can help in building a shared infrastructure by connecting users of wellness app, their medical records etc on the same network.
5. Retail and supply chain
Apart from B2B, blockchain also impacts B2C industries such as retail and supply chain which are involved in selling consumer goods and services. Individual ownership and attribution are at risk on the internet. It allows the sellers to establish ownership of their products on a decentralized platform. It also ensures transparency in the sourcing and transportation of goods, eliminates the risk of fraudulent transactions, ensures verification of provenance and finding stolen merchandise.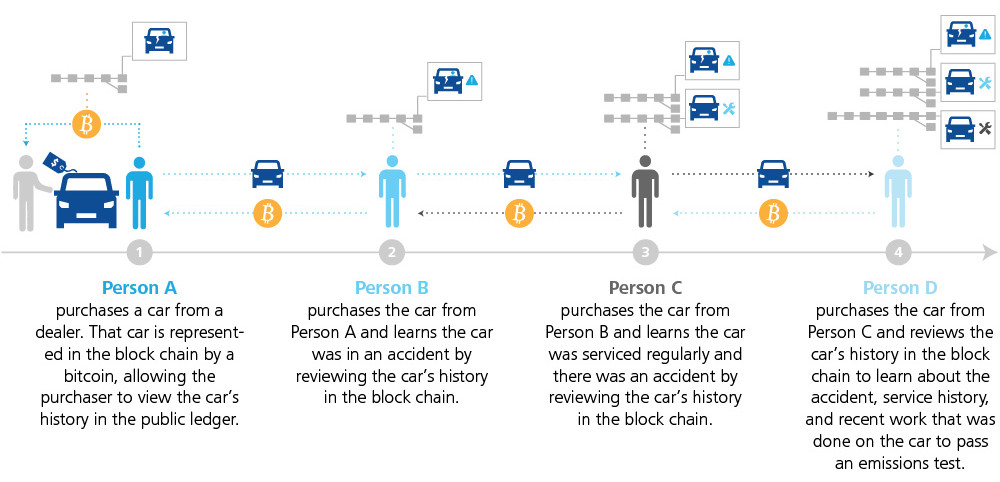 Asset transfer using blockchain; Reference- Deloitte University Press
BlockVerify aims at improving supply chains using blockchain based anti-counterfeit solution. It records the transaction for pharmaceuticals, diamonds, electronics in a distributed digital ledger. Thus system guarantees authentic products by working with manufacturers to verify and certify the goods.
Blockchain has the power to revolutionize the finance and banking industry. But it can have huge implications on other sectors too. It improves the integrity and confidentiality of data, thus enhancing the quality of service. Some of the unconventional use cases are charging an electric car, sharing electricity, voting, and music streaming. With its guarantee of giving secure and faster transactions, blockchain promises to be a key element in the digital world.