A20 Motors wanted to move beyond basic mathematics. They were looking for a more intelligent and advanced solution to accurately forecast the sales of different parts based on historical trends.
More specifically, the client was looking for a statistically derived machine learning model, where they could plug in multiple variables to accurately predict sales of current as well as new parts.
Their VP of Product Development was looking for companies having worked in AI and Machine Learning technologies. After a lot of research, he came across the profile of Maruti Techlabs on Clutch. After a couple of meetings, Maruti Techlabs was chosen as their machine learning solutions partner.
Our client had already spoken with nearly half a dozen companies before stumbling upon Maruti Techlabs. What made Maruti Techlabs stand out?
In their own words-

After finalizing the partnership, we proceeded to conduct a feasibility study on the data provided by the client.
1. Feasibility Study
We started with a feasibility study spanning four weeks, wherein our data engineers determined the correlation between the existing data points and studied the feasibility of the desired solution.
As part of the feasibility study, we refine the available data to make it fit for further processing. It includes data defining, preprocessing, and transformation.
Below are some of the methods used by our data engineers to determine the correlation between different variables in the existing dataset -
We performed other statistical tests like the chi-square test of independence and multicollinearity with VIF (Variable Inflation Factors) to establish levels of independence and correlation between the data points.
2. Model Development
We shortlisted a group of variables as the feature set based on the feasibility analysis. This feature set was then used as input to the machine learning model to predict the desired result (i.e., possible sales for vehicle parts).
The group of variables selected as the feature set was:
Model / Make
No. of vehicles in operation
Part type
Total units sold per vehicle
Looking at the features set, our data engineers shortlisted three deep-learning algorithms best suiting the feature set-
Random Forest Regression
Extreme Gradient Boosting Regression
Long Short-Term Memory (LSTM)
Various experiments were conducted with these shortlisted algorithms. We finalized the LSTM (Long Short-Term Memory) algorithm and built different models with it to reach maximum accuracy with the existing dataset. The different models we used to conduct more experiments with the dataset were:
Simple LSTM Model
LSTM with Z-score > 3 Filtering
LSTM with Z-score > 5 Filtering
LSTM with Different Optimizers
LSTM with Different Loss Functions
LSTM with Multiple Hidden Layers
LSTM with Parts Range Predictions
LSTM with Derived Sale Days
The most stabilized learnings and predictions were seen from LSTM with the Derived Sale Days model. This model now accurately predicted the sales numbers of the vehicle parts.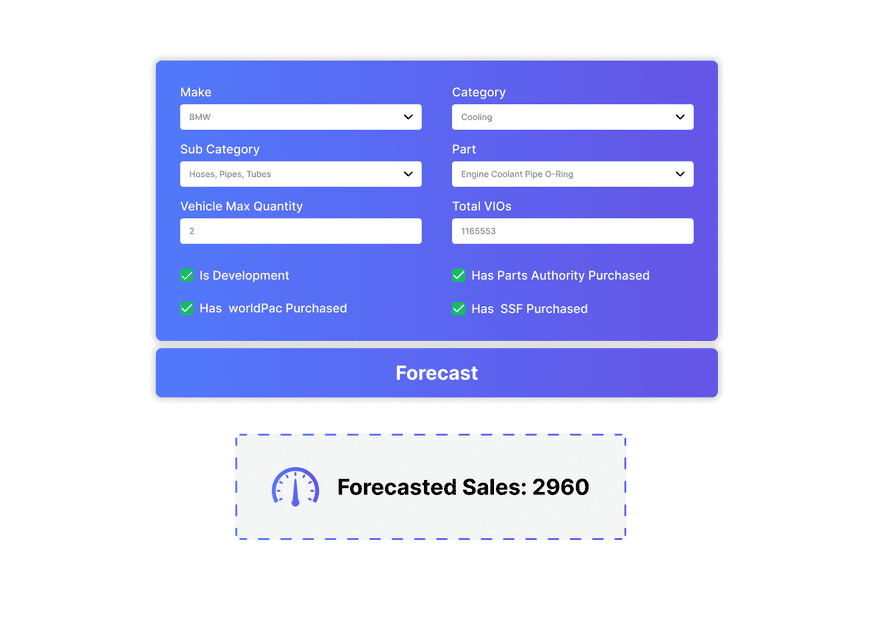 3. Challenges We Overcame
Predicting sales numbers for newly manufactured parts and parts that were only prototypes was extremely difficult as they had little to no historical data to base our predictions on. To predict sales for new parts/prototypes, we relied on relevant characteristics that the existing parts shared with the prototypes.
The client provided data through their APIs, which resulted in skewed data. It proved to be another significant challenge as it impacted model training greatly. Our team built an API that helped us extract more current data to overcome this. Finally, the model was retrained with the corrected data.