Core Nova was looking to build an effective model to identify the source on the other side of the call. They wanted to save valuable time and company resources by only routing human-answered calls directly to the appropriate agent.
After finalizing the partnership with us, we proceeded to conduct a feasibility study on the data provided by the client.
1. AI Readiness Audit:
After thoroughly understanding the use case and requirement, the first thing we worked on was conducting an audit. This spanned four weeks, wherein our team defined the scope of the solution and conducted a detailed analysis of the platform's current state.
During the audit phase, our AI experts analyzed if there are patterns that can identify whether the audio is of a Human or an Answering Machine. The goal here was to classify the audio input into HA or Non-HA within the first 1 sec of the audio samples provided by Core Nova.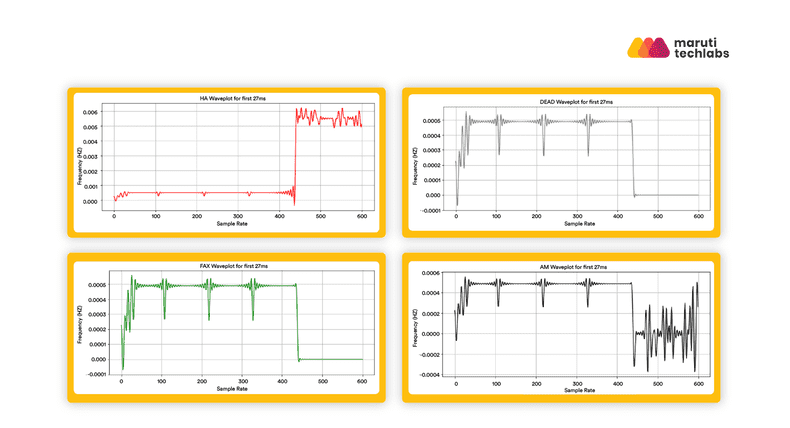 Wave plot: The wave plot represents the frequency at different sample rates for the first 27ms audios.
We worked with a sample of the audio files to determine the feasibility of the desired outcome. After creating the audio training files acquired from the client's database, we filtered, organized, and labeled the dataset to make it search-friendly. Our AI experts studied, matched the sample data, and defined approaches to build the predictive model.
2. Model Development:
The team of data scientists at Maruti Techlabs developed a Python-based predictive model that could predict the audio characteristic as HA or Non-HA with a high success rate, within the first 500 milliseconds of the audio input.
The model enhanced backend operations by integrating with the client's existing tech stack, increasing efficiency, and strengthening the existing systems.
Although the challenge of overlapping audio patterns could not be eradicated, the implementation of our solution made the system faster and more accurate than the client's existing solution.
The team went about the development of the Answering Machine Detection Solution in the following steps -
Dataset Creation - The dataset is composed of audio recordings of 2 categories - Non-Human and Human.

Dataset Preprocessing - The audio recordings are in the form of complete call recordings. These recordings need to be sliced into smaller periods, and the data extracted from these files will be used to feed the model.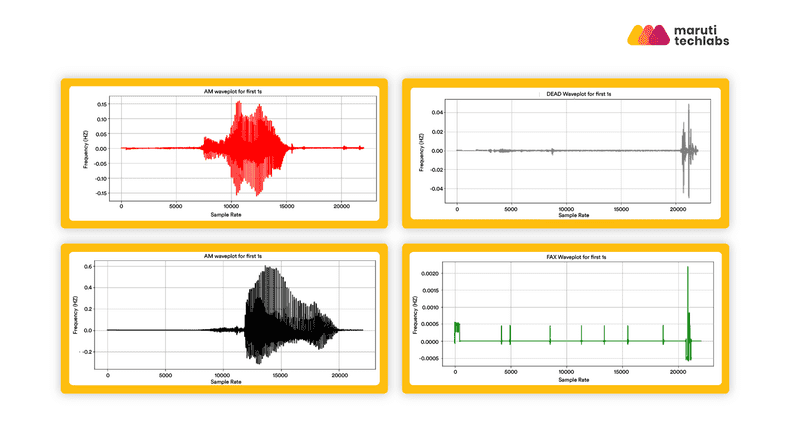 Zero-crossing rate: The zero-crossing rate refers to how a signal changes from positive to zero to negative or from negative to zero to positive.
Model Development & Training - In this step, we developed the model and trained it on the training data.

Model Assessment - This involved testing the model against performance benchmarks.
The team initially built a model for 300ms, 500ms, 700ms, and 900ms, out of which we selected the 500ms model. To verify the new audios and correctly label the mislabelled audios, we constantly communicated with the client.
A final model was created for the live environment through careful correction and further testing.