Who doesn't want to predict what actions could keep your business ahead of the curve? Organizations worldwide have automated some portion of their operations, which has increased overall data points and data collection.
As you can never predict for one hundred percent what the future might hold, some practices come close to help you with the plans for the future. Predictive analytics is one of these practices.
Predictive analytics refers to the use of machine learning algorithms and statistics to predict future outcomes and performances. Technique likes data mining, and predictive modeling estimates the likelihood of future outcomes and alerts you about upcoming events to help you make decisions.
Predictive analytics vendors provide businesses with many product offerings for different domains, which eventually help them to leverage their historical data store by analyzing the complex correlation between unknown patterns and insights. Predictive analytics applications help the business answer questions like "Which marketing strategies might be successful for the product?" or "Is the product acceptable by the customer in the market?".
In this guide, we talk about predictive analytics use cases and the corresponding industry verticals. But before jumping on industry use cases for predictive analytics, let us understand what predictive analytics is.
What is Predictive Analytics?
In simple terms, predictive analytics helps to predict future trends and patterns using historical data. It uses different data patterns and identifies the correlations between the variables. It helps to reduce business risks and costs by predicting the future values of certain variables.
For instance, the organization can determine the profits for the coming months by analyzing the output and revenue of the company. The model focuses on two variables; one is dependent while the other is independent.
There are numerous predictive analytics models such as classification models, clustering forecasts, time series, etc. These models help predict future variables based on the insights and data arranged in multiple ways.
17 Top Use Cases of Predictive Analytics
Today, businesses regularly use predictive analytics to analyze the target customer to gain operational results. The list of predictive analytics applications in various industries is never-ending. Therefore, below are some of the everyday use cases for predictive analysis in multiple domains: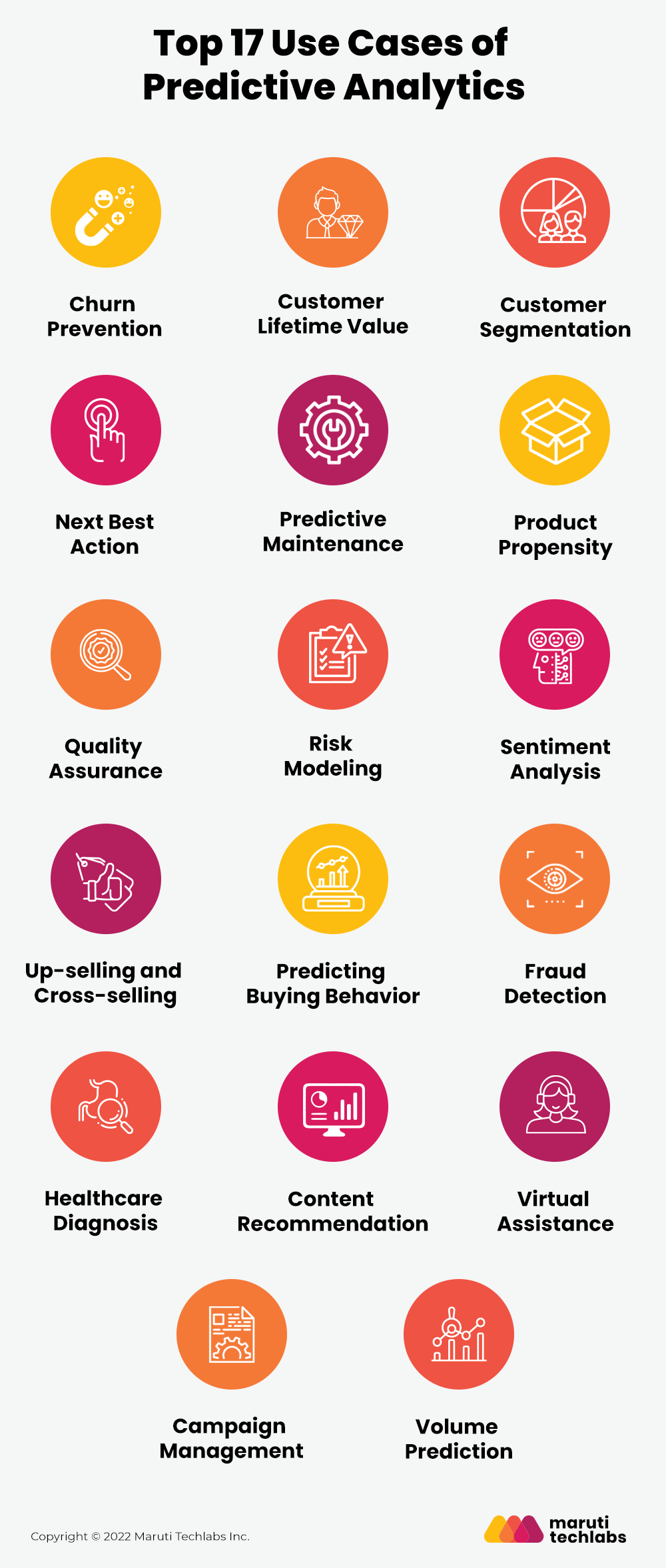 1. Churn Prevention
When a business loses a customer, it has to replace the loss of revenue by bringing a new customer. It proves to be expensive as the cost of acquiring a new customer is much higher than retaining the existing customer.
Predictive analytics models help prevent churn in your customer base by analyzing the dissatisfaction among your current customers and identifying customer segments at most risk for leaving. Businesses can make the necessary modifications using predictive data to keep customers happy and satisfied, eventually protecting their revenue.
Key Industries: Banking, Telecommunications, Retail, Automotive, Insurance
2. Customer Lifetime Value
It is pretty challenging to identify the customer in the market who is most likely to spend large amounts of money consistently over a long period.
This kind of data through predictive analytics use case allows the business to optimize their marketing strategies to gain customers with the most significant lifetime value towards your company and product.
Key Industries: Insurance, Telecommunications, Banking, Retail
3. Customer Segmentation
Customer segmentation enables you to group the customer by shared traits. Different businesses determine their market differently depending on the aspects that offer the most value to their company, products, and services.
Profound use of predictive analytics techniques helps target the markets based on accurate insights and indicators and analyze the segments of those most interested in what your company offers. Using these predictive analytics applications, you can make data-driven decisions for each part of your business. The same data also enables you to potentially identify the entire markets that you didn't even know existed.
Key Industries: Banking, Pharmaceutical, Automotive, Retail, Insurance, Telecommunications, Utilities
4. Next Best Action
Determining your primary marketing goals and customers is a critical use case for predictive analytics. It only provides an incomplete picture of what your marketing approach should be.
Predictive data analytics is the best way to approach such individual customers within given segments and analyze everything, from buying patterns to customer behavior and interactions, which offers you insights into the best times and modes to connect those customers.
Key Industries: Banking, Telecommunications, Insurance, Education
5. Predictive Maintenance
In businesses, maintaining cost plays an essential role in increasing revenue. It is difficult for an organization with a significant investment in equipment and infrastructure to manage capital outlay. It's where predictive maintenance machine learning techniques come in.
By analyzing the insights and metrics of the maintenance cycle of technical equipment, companies can set timelines for maintenance events and upcoming expenditure requirements by streamlining the maintenance cost and downtime. You can simplify your maintenance costs by performing actions that can increase the lifespan of your equipment.
Commonly, most systems become inoperable during maintenance. Predictive analytics use cases will help you with the best time to perform maintenance to avoid lost revenue and dissatisfied customers.
Key Industries: Automotive, Logistic & Transportation, Oil & Gas, Manufacture, Utilities
6. Product Propensity
Product propensity combines purchasing activity and behavior data with online behavior metrics from social media and e-commerce. It enables you to identify the customer's interest in buying your product and services and the medium to reach those customers.
It helps to correlate the data to provide insights from different campaigns and social media channels for your business services and products. Predictive analytics applications never fail to maximize those channels that have the best chance of producing significant revenue.
Key Industries: Banking, Insurance, Retail
7. Quality Assurance
Quality assurance is a key to your customer experience and the bottom line to all your operational expenses.
Ineffective quality control will affect your customer satisfaction scale and ultimately impact the revenue and market share. Also, it leads to more customer support costs, warranty issues, and repairs for inefficient manufacturing. Industries using predictive analytics use cases can provide insights into potential quality issues and trends before they become critical issues.
Predictive analytics use cases can help identify high-risk modules in your application, prioritize critical areas, and reduce time to market through shift-left testing. With predictive analytics, your approach to QA shifts from reactive to proactive.
Key Industries: Pharmaceutical, Manufacturing, Automotive, Logistics and Transportation, Utilities
8. Risk Modeling
Prevention and prediction are two sides of the same coin. Risk comes in various forms and initiates from a variety of sources. Predictive analytics can draw potential risk areas from significant data insights collected from most organizations.
It sorts them to analyze the potential risks and suggests the development of situations that can affect the business. By combining the results of the predictive analytics applications with the risk management approach, companies can evaluate the risk issues and decide how to mitigate those risk factors.
For instance, health organizations generate risk scores to identify the patients who might benefit from enhanced services, preventative care, and wellness consultations.
Key Industries: Banking, Manufacturing, Automotive, Logistics and Transportation, Utilities, Oil and Gas Utilities, Pharmaceuticals
9. Sentiment Analysis
In this era of the online world, it is difficult to be everywhere at all times. Reviewing and capturing everything said about your business or organization is virtually impossible.
However, by crawling tools with customer posts and feedback, you can create analytics that can give you a clear picture of your business reputation within the market. Predictive analytics models provide you with proactive recommendations as the best way to enhance that reputation.
Key Industries: Pharmaceutical, Education, Retail, Telecommunications, Insurance, Entertainment
10. Up-Selling and Cross-Selling
The customer base is the source of your business's existing revenue and revenue growth. Eventually, maximizing the possible revenue opportunities within your product set and target market segment becomes critical.
Purchasing history data can be utilized to determine which goods and services might benefit from being offered together. Predictive analytics use case provides suggestions on market segments to increase your customer value and revenue derived from your customer. The business sales are raised, and your customer walks away with items that work together.
Key Industries: Banking, Retail, Telecommunications, Insurance, Ecommerce

11. Predicting Buying Behavior
One of the popular use cases for predictive analytics is analyzing customers' buying behavior in retail industries. Companies use advanced analytics to identify the buying behavior via customers' purchase history.
Ecommerce retailers incorporate predictive analytics in PoS to predict customer purchase patterns. Walmart is a great example. It uses early data insights to understand buying behavior in certain circumstances, which helps you understand the customer on a personalized level.
Key Industries: Ecommerce, Retail, Banking, Insurance
12. Fraud Detection
Cyber security is becoming a growing concern in today's era, and there are plenty of use cases for predictive analytics in this domain. The most important out of all is fraud detection. The predictive analytics application helps analyze the system's anomalies and detect unusual behaviors and patterns to determine threats.
The basic idea for this process is to make use of predictive AI. It limits hackers' entry and vulnerabilities that might put the system at risk. For example, experts input the historical data of cyber attacks and threats to the predictive analytics algorithms, and when it identifies something similar, it will notify the respective personnel.
Key Industries: Banking, Telecommunications, Automotive
13. Healthcare Diagnosis
The healthcare industry benefits the most from the use cases for predictive analytics. Health data is critical to diagnose depending on the patient's history and current illness. The predictive analytics model enables you to understand the disease by accurate diagnosis based on past data provided. Health organizations leverage this prediction to ensure that patients get the treatment they need.
Keeping in mind the critical health factors, doctors can reach the root cause of the disease with the help of predictive analytics applications. Doctors can identify patients at risk for certain adverse health conditions using predictive analytics use cases. It provides them with timely analytics to start working on treatment early, avoiding severe issues in the future. Predictive analytics applications can assist in stopping the spread of adverse health effects.
Key Industries: Health sectors, Pharmaceuticals
Additional Read – Applications of Machine Learning in Healthcare
14. Content Recommendation
Content recommender systems are one of the most popular use cases for predictive analytics. Entertainment companies can easily predict what users want to watch based on their watch history and predictive analytics techniques.
For instance, Netflix utilizes the predictive analytics algorithm to recommend the content to the user based on their genre, keywords search, ratings, and more.
Key Industries: Entertainment, Retail, Ecommerce
15. Virtual Assistance
Combined with the power of deep learning models, predictive AI works wonders when utilized with virtual assistance. Ok Google, Alexa, and Siri are real-world predictive analytics use cases. Companies use virtual assistants that can act as chatbots. These virtual assistants learn and collect data from users' behavior and deliver accurate results.
It helps to improve customer experience because these bots train themselves from interactions and predict customer response. As they are self-learning, it enables companies to better manage customers without hiring many support staff.
Key Industries: Automotive, Ecommerce, Telecommunications
16. Campaign Management
Predictive analytics applications can help you determine where your campaign is best focused. A campaign launched using email work well as a suggestion at check out or, your customer is turning to your website for information. The analytics tools like word clouds generated from call recording data help you analyze the outreach efforts.
Key Industries: Telecommunications, Retail, Automotive
17. Volume Prediction
By analyzing the fluctuations in the volume, you can severely impact how well you serve your customers. If you predict the increase in inbound volume, you can easily manage the effect of such changes. You can ensure your facilities can be adequately staffed if you know when spikes will occur.
For example, one of the predictive analytics applications for insurance companies is to predict the patterns in plans used for specific providers or demographics. These patterns can further make adjustments to claim workflow and adjust the processes for seasonality.
Key Industries: Insurance, Entertainment, Telecommunications, Banking

Some Industries using Predictive Analytics
Predictive analytics tools make assembling your data and improving your processes easy. Other than the industries mentioned above, some domains apply predictive analytics use cases as a core operating strategy. Below are some specific industries that commonly use predictive analytics use cases to enhance their business: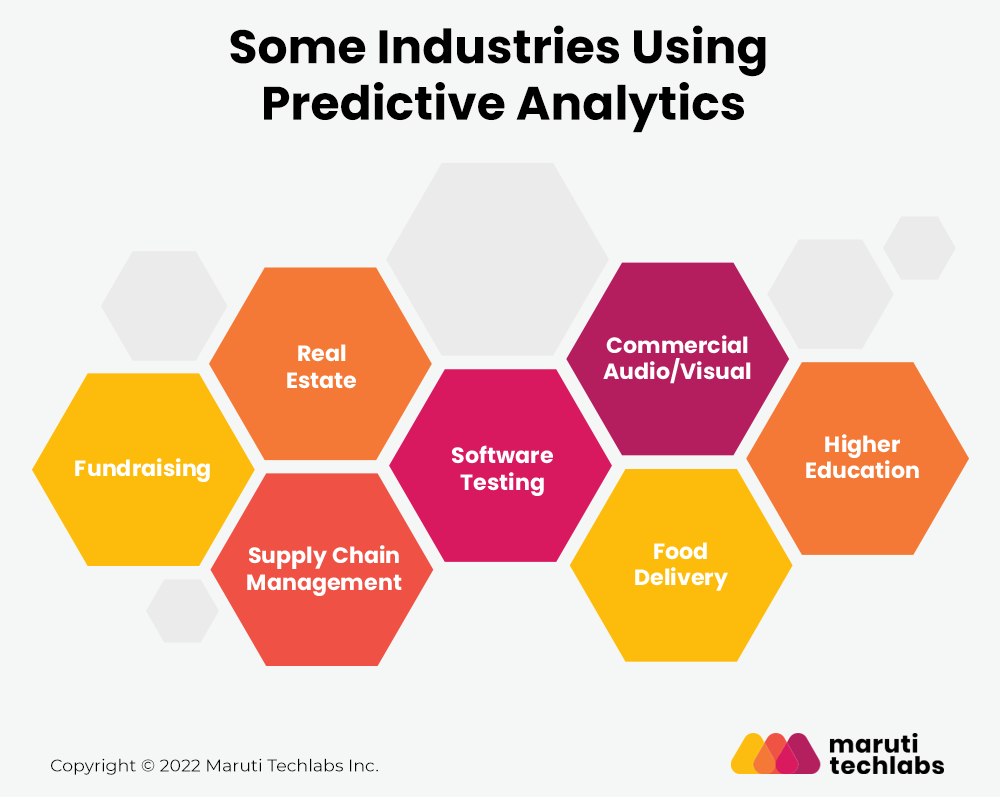 Fundraising
Fundraising depends on the intelligent use of provided data and good old-fashioned relationship building with other organizations in the market. Identifying who to connect with and how to connect with them gives you an edge to leg up and remove the procedure.
Predictive modeling enables you to plan a fundraising strategy and ensure the proper communication with the right people at the right time. Rather than sending the generic appeals, predictive analytics use cases break your donor base down into actionable, and targeting your outreach will save your time and money, eventually leading you to a higher success rate. Fundraising data analyses also help you track your success rate with various fundraising efforts.
Real Estate
Real estate is an industry domain where data is in demand. Predictive analytics use cases enable real estate brokers to provide buyers with projected home values. Real estate analytics is the significant value-add that agents can offer their clients. In the age of overabundance agents, it is an easy way to distinguish yourself.
Predictive analytics match the ready and able buyers with the property sellers who are quite ready to list their properties. The only extra effort you may need is to convince the seller it's time to get their property on the market.
Software Testing
Predictive analytics models simplify analyzing huge amounts of data generated during software testing. Predictive analytics use cases help improve the efficiency of the operation throughout the software testing life cycle. You can keep track of your schedule by monitoring the timelines using predictive modeling and analyzing how delays impact your project.
Predictive analytics use case helps to analyze your customers' mood by social media trends and allows you to get ahead in the market. Instantly measuring the customer experience, insights, and opinions, you can forecast these data and generate immediate feedback to use in your bug-fixing process. Your defect detection and test efficiency improve when you implement predictive analytics use cases.
Commercial Audio/Visual
When it comes to Pro AV, insights allow you additional operational improvements in every aspect of the business. Predictive analytics applications open the door to new sources of revenue by featuring the market sectors that you may not be aware of. The insights strengthen your marketing campaign and highlight your customers' needs in year-based events, conferences, and functions.
The predictive analytics tools enhance your customer service by providing faster and more accurate insights according to your customers' needs and practices. Applying predictive analytics in your Pro AV operations will provide you with a significant edge over competitors who are not taking advantage of opportunities. Through modern devices, which are "always-on" and "always connected," you can leverage a constant data stream to feed your predictive models. It means that your model will depend on the most up-to-date information.
Supply Chain Management
Poorly developed supply chains eventually affect every area of business. You can improve your supply chain by gathering as much information up-to-date as possible using predictive analytics use cases and making all your decisions based on accurate, up-to-the-minute information instead of dated reports.
Predictive data can help you be much more agile in your decision-making since it will help you analyze the impact of various variables on your supply chain's efficiency. Identifying the least efficient areas of your supply chain and making projections to improve their impact allows you to correct the issues before they take effect. It will also help you with a great deal of saving over a long time as your supply chain becomes more efficient.
Click here to read the use cases of machine learning in supply chain management.
Food Delivery
The food delivery industry is a thriving sector in today's market. Everything is quantifiable in this domain, be it delivery times, zip codes, prices, or customer satisfaction. This data can be processed to improve operations and profits while cutting costs.
GrubHub, one of the most prominent players in this domain, uses demographic data to make smart predictions about what offering might lure their customers. Similarly, the other competitor DoorDash focuses on the relationship between the time variables like time of day, time of weekends, etc., to predict when the customer will be more likely to wait for their food.
Other companies also focus on predictive data like how many drivers they will need or incentives to offer when drivers are in demand. They also predict customer satisfaction over the particular items to analyze which food item is most likely to be in high demand soon.
Higher Education
Use cases for predictive analytics in higher education include management, retention, fundraising, and retirement. In all these domains, predictive analytics provides intelligent insights that give you an edge over others.
The predictive analytics application can score each student based on their high school data and inform the administrators on how to support them over their courses best. Predictive analytics provide fundraisers with important information about the best methods and times to reach donors.
With the data provided, the recruiters can accurately target their outreach to lead to success at the minimum cost. This predictive analytics use case can help us understand what factors persuade the students to stick to their original school and not transfer to another.
Concluding Thoughts
Although you can predict future outcomes using predictive analytics use cases, you don't have to dive headfirst with it. You can initiate with a small segment of your organization and test the predictive analytics tools to see how it works. If you see results, you can build them across other segments of your business.
But the question is, what do you need to get started using predictive analytics? The answer to this question is divided into four parts. The first thing you need is to identify the problem you are trying to solve using predictive analytics. For instance, what do you want to know about the future based on the data? What decision will be made using these predictions?
The second thing you need is relevant data to be processed. Your business needs to analyze the abundant data to draw out the predictions. The third aspect is that you need someone who understands both the data and the business problem. How you interpret the data is essential to making important decisions that'll lead to your business success.
The next step is to build a predictive analysis model. You'll need an expert team that can use advanced technology like machine learning to get more out of your data. A machine learning solutions provider can refine your models better and provide the best performing predictive analytics models and algorithms for your business.
Maruti Techlabs as Your Predictive Analytics Consulting Partner
We have implemented predictive analytics solutions for clients across verticals. One such client belongs to the automotive industry. The client is a used car selling company with a buyer network spread across the United States.
The Challenge:
The client faced challenges in accurately predicting monthly sales numbers for different car makes and models. The existing statistical model used to predict monthly average sales failed to capture non-linearity and time series of the buyer patterns of vehicles across the US market.
The Solution:
Our data scientists worked with a variety of datasets, ran them against algorithms, and analyzed the efficiency of each algorithm. We switched from the existing model, i.e., Manual Linear Regression, to other Machine Learning models to automate seasonality prediction of different car makes.
The models are as follows:
Seasonal ARIMA

Seasonal ARIMA with Trend

Auto ARIMA

RNN

Ensembling using ARIMA and RNN
Results of ensembled ARIMA and RNN were significantly better than those of the previous models.
Using predictive analytics to better understand the impact of seasonal trends on our client's overall sales helped accelerate their sales cycles. The client was able to form more informed sales strategies and identify new opportunities using automated seasonality prediction.
Building predictive analytics applications requires a teamwork approach. You need a team that understands your business goals and realizes the potential of your existing data. As a part of our machine learning services, we combine data analytics and business insights and build intelligent self-learning systems that help you understand your target audience, spot hidden threats, and grab new opportunities.
Using the right tools and technology, we bring to life your vision of predicting market trends, buying patterns, and future changes that might affect your business. To make better business decisions based on data, reach out to us here.