The need for effortless yet unique software solutions in business is universal. In a fast-growing trend, more and more companies today are exploring what is low-code development and adopting low code platforms to accelerate their application development process with little coding experience.
Hey there! This blog is almost about 1900+ words long & not everyone likes to read that much. We understand that.
This is precisely why we made a podcast on the topic. Harsh Makadia, Technology Evangelist at Maruti Techlabs, talks to Bikshita Bhattacharyya about using low code technology for building and shipping products.
He also talks about how he implemented low code technology for his client, the tangible benefits they got from the implementation, and more! Check it out!
One of the excellent examples of companies with great success with this technology in terms of improved efficiency and enhanced agility is Colliers International Group Inc.
Colliers is a well-known name in the global real estate services and investment management space. They were specifically struggling with their lean IT operations and needed to revamp the legacy systems.
Colliers began rebuilding their system with a brand new mobile app with direct broker interaction, something which was missing earlier. They decided to go with a low-code route for their mobile app development. They selected OutSystems Inc. because of their proficiency in both dealing with the underlying data and building a modern user interface.
While they started with a broker app, the company soon moved to other specialized apps to offer exceptional customer experience using the low-code development approach.
Many companies have benefited from the increased productivity and accelerated development of low code no code development. IT outsourcing service providers play a vital role in maximizing the benefits of low-code development. Organizations can leverage the expertise, scalability and efficiency of outsourcing providers to maximize the potential of low-code development.
So What Is Low-Code Development?
Low-code refers to a software development approach that enables an organization to deliver faster and minimal hand-coding applications. It simplifies the app development process by allowing users to let go of hand-coding and perform block-based programming instead.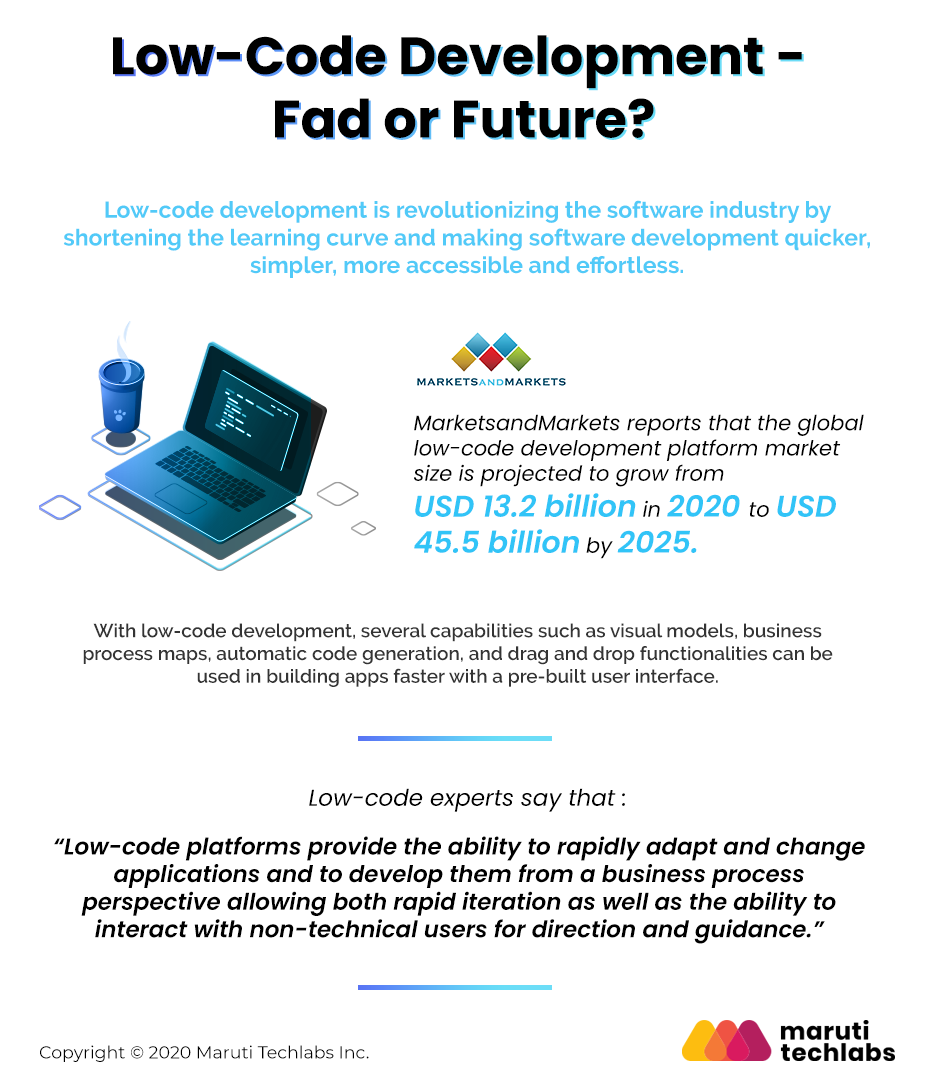 The approach uses visual modeling in a graphical interface to assemble and configure applications, allowing developers to skip time-consuming infrastructure tasks and re-implementation of patterns.
Gartner recently predicted that, by 2024, three-quarters of large enterprises will be using at least four low-code development tools for both IT application development and citizen development initiatives. And, by 2024, low-code application development will be responsible for more than 65 percent of application development activity.
These findings clearly show that in today's era of rapid change and compatibility, low-code application development platforms will continue to rise. They will be unanimously used to offer fast, creative, and efficient visual environments in the cloud for both companies and programmers with a non-technical background.
Benefits Of Low-Code Development
Now that we have discussed what low-code development is and why it is essential, let's know more about the multiple benefits. We have discussed some of these below–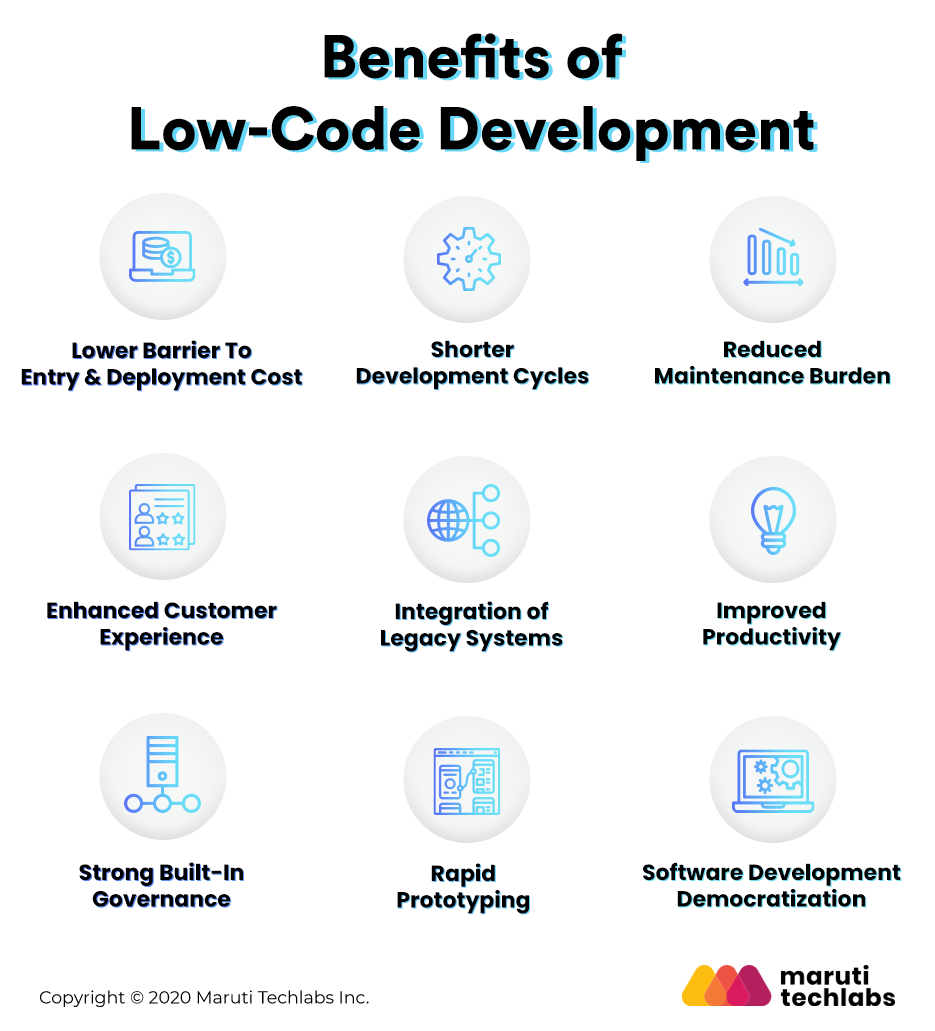 LCNC platforms offer better problem-solving capabilities to non-IT professionals, allowing them to easily and quickly create business apps (both web and mobile) that help them do their day to day jobs. The approach lowers the barrier to entry, time to deployment, and cost.
Another advantage of low-code/no-code platforms is the speed of developing and delivering applications, which is especially crucial in today's digital age, where organizations need to work fast to meet customer demands.
Low-code development reduces the burden of software maintenance by abstracting multiple tedious tasks from day-to-day development. With standardized, pretested, and ready-made components, there are much lesser integration issues to deal with compared to the traditional method. It allows developers to cut down on the maintenance time and focus on more innovative tasks that drive exceptional business value.
Low-code/no-code app development helps in both speeding up the development cycles and lowering the barrier to entry for innovation. Non-technical staff with no coding experience can now quickly build and create digital products. The best part of the platform is that it allows the creation of well-functioning products and visually appealing designs in a matter of a few minutes instead of taking weeks at a time.
The low-code/no-code platform automates multiple operations that are crucial to customer experience. The agility in the app development and the robust business process features help build much better apps, thus improving the overall customer experience.
Apart from increasing agility in app development, low-code platforms are also available to integrate legacy mainframe systems. There are multiple benefits that legacy integration brings, including faster development, the ability to adapt to new requirements quickly, and more resilient solutions.
The low-code platforms help automate the governance capabilities administered and monitored by the professional IT teams in organizations. This means that while users can develop apps as per the organizational requirements, they cannot be deployed without the IT department's final approval.
Low-code/no-code platforms help bridge the gap between IT and business teams, allowing them to solve real issues that impact the company. Using the LCNC approach, business teams can create their applications without having to wait for developers. It eliminates the need for complicated code that increases access to more team members, leading to enhanced productivity.

If you're considering low-code development for your business, having a reliable partner who can help you adapt to the latest technologies and future-proof your investments is important. Our enterprise app development services can help you modernize your applications and infrastructure, reducing costs and improving the end-user experience.
If you're interested in leveraging the benefits of low-code development for your business, consider partnering with our custom web application development company. Our team has experience building website applications using low-code tools and can help you explore the top low-code platforms to find the best solution for your needs.
Low-Code Examples – Applications Built Using Low-code Tools
Here are some of the low-code examples of successful applications built using low-code tools –
1. Consumer-Facing Apps
Bendigo, one of Australia's largest banks, boasts of a whopping customer base of 1.6 million. The bank was looking for solutions to break down silos and connect the various disparate portions of its operations into one unified, exceptional customer experience.
As a solution, they decided to leverage low-code development and adopted Appian as their enterprise BPM platform. They rolled out a slew of 23 mission-critical customer-focused enterprise applications and additional citizen developer apps.
Dallas Fort-Worth International Airport
Known to be the world's 4th busiest airport in terms of traffic, Dallas Fort-Worth International Airport was looking to improve customer experience and achieve excellence in their operations.
They rolled out 18 new apps within 9 months using the low-code approach with an average of one new app every two weeks using Appian's low-code app development platform.
2. Enterprise-Grade Apps
Optum (UnitedHealth Group)
A part of UnitedHealth Group, a diversified health and well-being company, Optum deals with providing information and technology-enabled health services to its parent organization.
The critical challenge that Optum faced was with its claims-processing applications. They wanted to streamline the IT and business coordination to offer quality services to their clients.
The company chose a low-code approach to build various apps and completely revamp their claims processing. The low-code development approach's multiple features helped all the stakeholders at Optum to collaborate seamlessly and work on new applications iteratively.
A part of CVS Health, Bswift, offers cloud-based software and services to streamline HR, benefits, and payroll administration for employers and public and private exchanges nationwide. The company was primarily looking for a robust environment of innovation without any loss of integrity.
The company adopted low-code primarily for its speed and customizability and went with OutSystems because it built the platform to support C# on the Microsoft .NET framework.
Going with a low-code platform helped the company deliver continuous improvement without incurring any additional legacy debt and quick turnaround time.
3. Internal Process Automation
Renowned as both a church and an international charitable organization, the salvation army is a pretty big organization spread across various zones globally. They were looking to build workflow-centric applications that leveraged Microsoft Corp. technologies without increasing their expenses.
They used a low-code application development approach for most of their applications and enjoyed the benefit of a substantial reduction in the application development lifecycle.
Sprint used the Appian Platform and lean startup techniques to drive various digital experimentation in their application development process. This allowed Sprint to introduce non-expensive solutions to experiment with unique digital ideas.
Do you think low code development can be leveraged to ONLY build static websites? Harsh Makadia does a deep dive on how Low Code can help in writing complex business logic, customizations, make API calls, & build mobile friendly applications. Take a look at the video below👇.
A Brief Overview Of Low-Code Platforms
Low-code platforms follow a logical evolution of two varied and well-established existing technologies, as discussed below –
1. Workflow & Business Process Management (BPM)
BPM or business process management is essentially a software platform to automate business processes and organizational workflow. Most of the vendors today who provide low-code application development platforms have evolved from a BPM legacy.
BPM platforms today have various additional tools and frameworks used to build end-to-end business applications.
Examples-
Decision.io is an entirely flexible and integrated workflow creation and management platform. Organizations leverage this platform mainly to streamline their workflows and decision-making processes.
Workato is another intelligent automation BPM platform designed to automate work in businesses. It enables organizations to automate complex business workflows with security and governance. It also helps companies to create robust and business-critical integrations between cloud apps in very little time.
2. Code Generation Platforms
Based on the context, code generation platforms can be used for a productivity boost or critical component of your overall development process.
These platforms provide a visual application development environment to simplify the process of app creation.
The Top 5 Low-Code Platforms
Here is the list of top 5 low-code platforms that can simplify the process of app development for developers –
Appian low-code platform is one of the best development platforms in the category that packs intelligent automation to offer robust business applications within no time.
The platform can be used for various purposes, including operational excellence, better customer experience, and simplifying risk and compliance.
The Low-code based Outsystems platform allows you to develop robust applications that can be seamlessly integrated with existing business systems.
Further, the platform allows the developer to add their custom code as and when needed.
Mendix is one of the most reliable low-code development platforms that can help you build apps without much coding and collaborate with developers in real-time.
The platform is primarily designed with a visual development tool that reuses components to speed up the overall app development process.
Quick Base is another excellent low-code platform that allows you to automate and improve business processes. The platform helps you build mobile solutions required to organize and synchronize your operations.
With a powerful drag-and-drop interface, Zoho Creator makes it easy to build forms and dashboards. Another advantage of this low code platform is that every app comes natively mobile, allowing you to customize separate actions and layouts for smartphones and tablets.
Did you find the video snippet on What is low code development? to be insightful? We have a ~18 min video where Harsh Makadia gets into the weeds, and we discuss how early stage startups can benefit from Low Code Development. Take a look –
Is Low-Code The Future Of Software Development?
Low-code platforms offer an excellent solution to help organizations overcome the lack of coding skills and improve collaboration within their development team.
Not only do they enhance the effectiveness of your cloud-ready applications that are large and fully integrated but are also best for building an MVP and testing your idea in the market.
When it comes to low-code vs custom development, there is no doubt that low-code development proves to be a worthy competitor of custom app development. But deciding to go with custom software development might be the best way when the app becomes more complex.
If you're looking to go with no-code development of your MVP but lack the required expertise, reach out to our experts here at Maruti Techlabs! Please leave your details here, and our team will get in touch with you at the earliest.