Introduction
Insurance companies are finally pacing towards automation, one process at a time. But the real question remains: Is this pace sufficient to weather the digital storm?
Automation has always been at the heart of the industrial revolution. From the invention of the wheel to computers taking over the world, innovative machines have repeatedly changed the course of our industries.
Now that we have stepped into an era of artificial intelligence (AI), automation is once again poised to revolutionize industries in profound ways. Many sectors have already felt the metamorphic shakes brought about by AI, and insurance is no exception.
Though the insurance sector was initially slow to adopt AI, it has steadily embraced transformative technologies. Many insurance companies are leveraging big data analytics, telematics, IoT, machine learning, natural language processing (NLP), and chatbots to improve operational efficiency, precision, and cost-effectiveness.
However, much of the IT investments in the insurance sector were focused on isolated automation and localized solutions, still leaving room for manual tasks to persist. So, even after the digitalization of specific processes, the industry continues to grapple with issues like -
Cognitive overload
Operational inefficiencies
Delay in service
Non-scalability
Talent acquisition
Customer retention
Cost optimization
These challenges led to the innovation of intelligent workflows!
A McKinsey report revealed that insurers could automate 69% of data processing and 64% of data collection by leveraging intelligent workflows. Undoubtedly, Intelligent Workflows in insurance are among the top AI use cases & applications insurers must know.
But what exactly is an intelligent workflow in insurance?
Intelligent workflow uses AI, automation, and data analytics to create an integrated system streamlining various insurance processes. It leverages machine learning (ML) tools and advanced AI algorithms to offer end-to-end optimization in the flow of work.
Megan Bingham-Walker, co-founder and CEO at Anansi Technology, stated, "Initial use of AI in insurance tended to focus on fraud detection. However, the current AI ML use cases in insurance focus more on benefitting the policyholder. A few examples would include - precise risk scoring, streamlined claims processing using computer vision, and personalized customer service via natural language processing.
Thus, adopting intelligent workflows in the insurance sector is gaining momentum as a promising approach. It will speed up the claim process, reduce errors, and save operational costs. It will also drastically enhance the customer experience of buying insurance policies and settling insurance claims. Let's understand how.
Why Introduce Intelligent Workflows?
Automation solves inefficiencies within the insurance industry, where historical processes have relied heavily on manual labor. Intelligent workflow is the ultimate way of attaining automation in insurance.
Some of the most pressing challenges plaguing the insurance sector are –
Complex Internal Processes –

The traditional approach was designed along complex workflows involving multiple stakeholders. Miscommunication, negligence, and human errors often lead to inefficiencies. According to a

McKinsey report

,

about 50 to 60 percent of insurance operations can be automated.

Customer Dissatisfaction – A

Morgan Stanley and BCG

report claims about 60 percent of insurance clients worldwide aren't satisfied with their service providers. This discontent stems from tedious claim settlements, limited accessibility, poor communication, and high premiums. The report also revealed that nearly 50 percent of customers consider turning to digital insurers.

Difficulties in Attracting Young Talent – A study revealed that only 4 percent of millennials are interested in working in the insurance sector. This can be attributed to the burden of manually trawling piles of data. The sector's sluggish pace in adopting modern technologies has deterred this tech-savvy generation from joining the insurance workforce.
Increasing Demand for Digital Capabilities – In the post-pandemic era, consumers are drawn to brands that offer robust digital features. According to a recent

PWC survey

, 41 percent of consumers are likely to switch insurers due to a lack of digital facilities.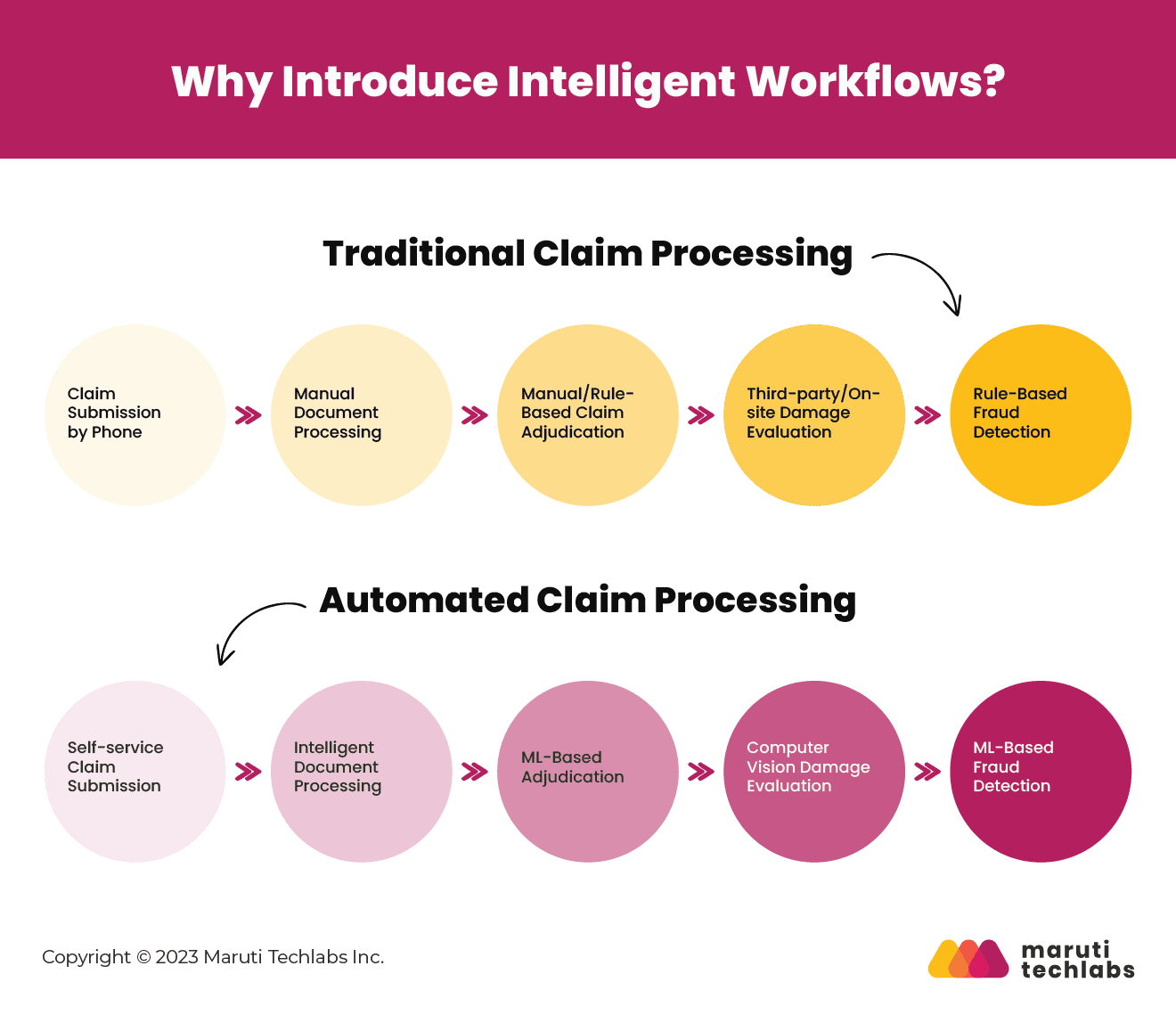 Intelligent workflows present a promising solution to address these challenges, but implementing organization-wide workflow automation is a significant step.
Here are five compelling reasons that underscore the importance of transitioning to insurance claim automation:
1.Enhanced Coordination Between Systems
With intelligent workflows, insurance companies can create a unified system to streamline the entire process from start to end. This eliminates the human dependency on feeding inputs at different levels, thus increasing efficiency, accuracy, and speed.
2.Resource Optimization
Machine learning insurance tools can empower employees with mobile access to information. This improves their accuracy and working speed. Agents can effortlessly access policy information, submit claims through web and app interfaces, stay updated with the latest data, and address customer inquiries in real-time.
3.Superior Record Management
Strategically devised workflow automation can ensure seamless progression of information from one stage to another without interruptions, delays, or information loss. It will eliminate the need for human interventions, thus curbing the losses incurred due to human errors and delays.
4.Improved Business Reach
Intelligent workflows drive efficiency and speed in every step of the claim processing journey, enhancing customer experience and loyalty. It further unravels insights into customer preferences, market trends, and emerging risks, enabling companies to make strategic decisions and target new customer segments.
5.Reduces Business Expenses
Businesses can attain maximum cost savings by automating repetitive tasks, digitizing paperwork, and curbing errors. According to a Harvard Review, optimization and digitization through intelligent workflows can result in as much as 65% cost savings and up to 90% reduction in turnaround time.
In short, intelligent workflows can streamline operations by automating tasks, reducing manual labor, and eliminating inefficiencies. This results in increased efficiency, enhanced productivity, higher speed, and, most importantly, greater customer satisfaction.
Harnessing Technology for Intelligent Workflows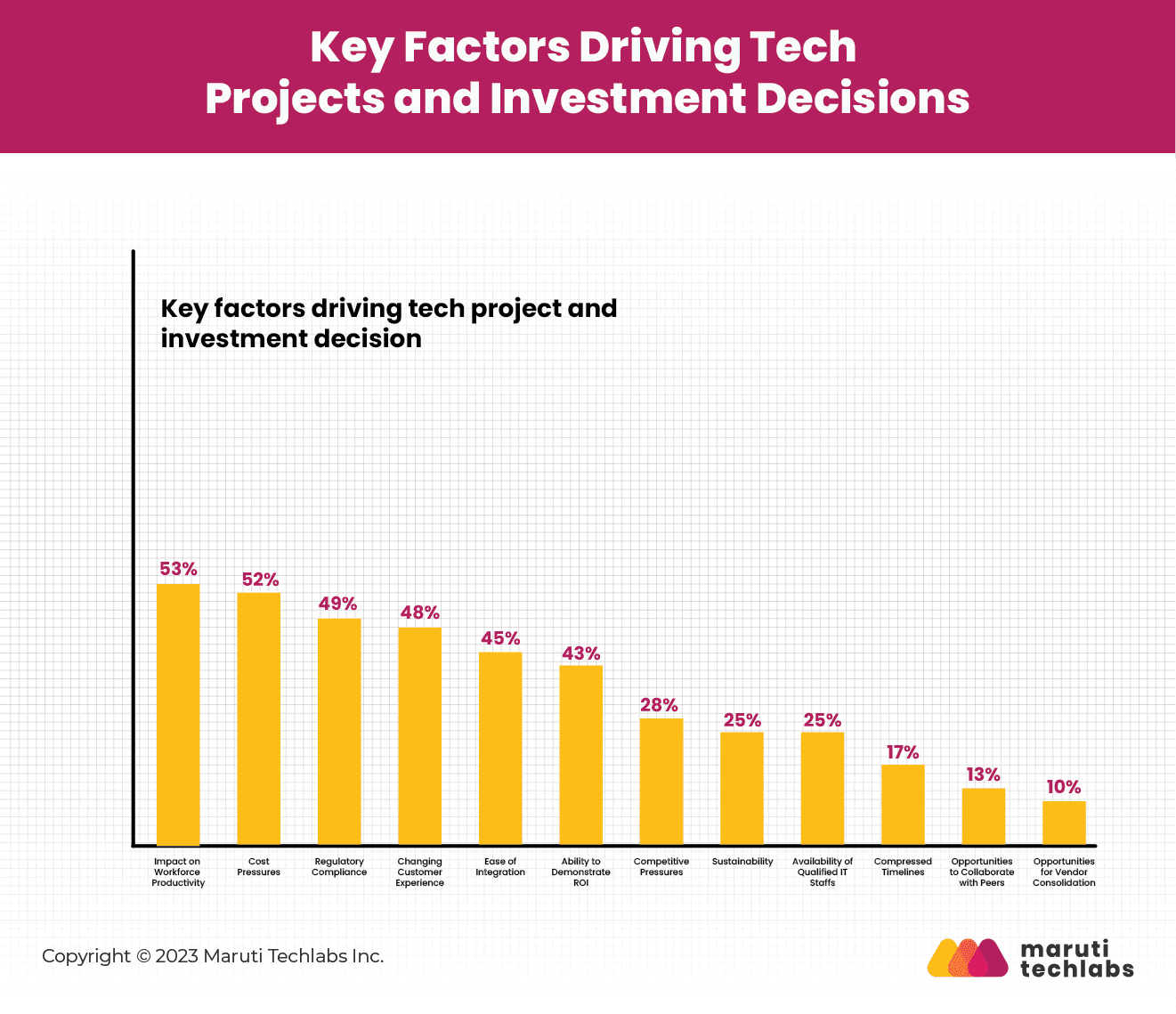 At the heart of the transformation in the insurance value chain lies the strategic utilization of various technologies. Here are some key technologies paving the way for innovative insurtech companies.
Internal Workflow Automation with RPA and Machine Learning
Integrating internal workflow with RPA (Robotic Process Automation) and ML (Machine Learning) can usher in a new era in the insurance sector. From underwriting and onboarding to services and claims processing, RPA in insurance can automate several laborious tasks. McKinsey's research highlights that the insurance sector can automate 50-60% of its back-office functions with RPA.
At the same time, ML facilitates personalized policies, targeted marketing, price optimization risk assessment, and fraud detection. Together, these tools can assist in detecting damage through real-time image processing, facilitating automatic claim initiation, document collection, data validation, and claim assessment.
RPA can inform customers with timely notifications and handle claimant inquiries with real-time responses. Machine learning insurance tools can calculate claim reserves based on assessed damages and policy terms.
Benefits of integrating RPA and ML in insurance workflow automation -
Faster insurance claims processing

Higher customer satisfaction

Increased data accuracy

Rapid cost savings

Protection against frauds

Cross-selling opportunities
Thus, the combined power of RPA and ML can enhance data accuracy, decision-making, and customer service.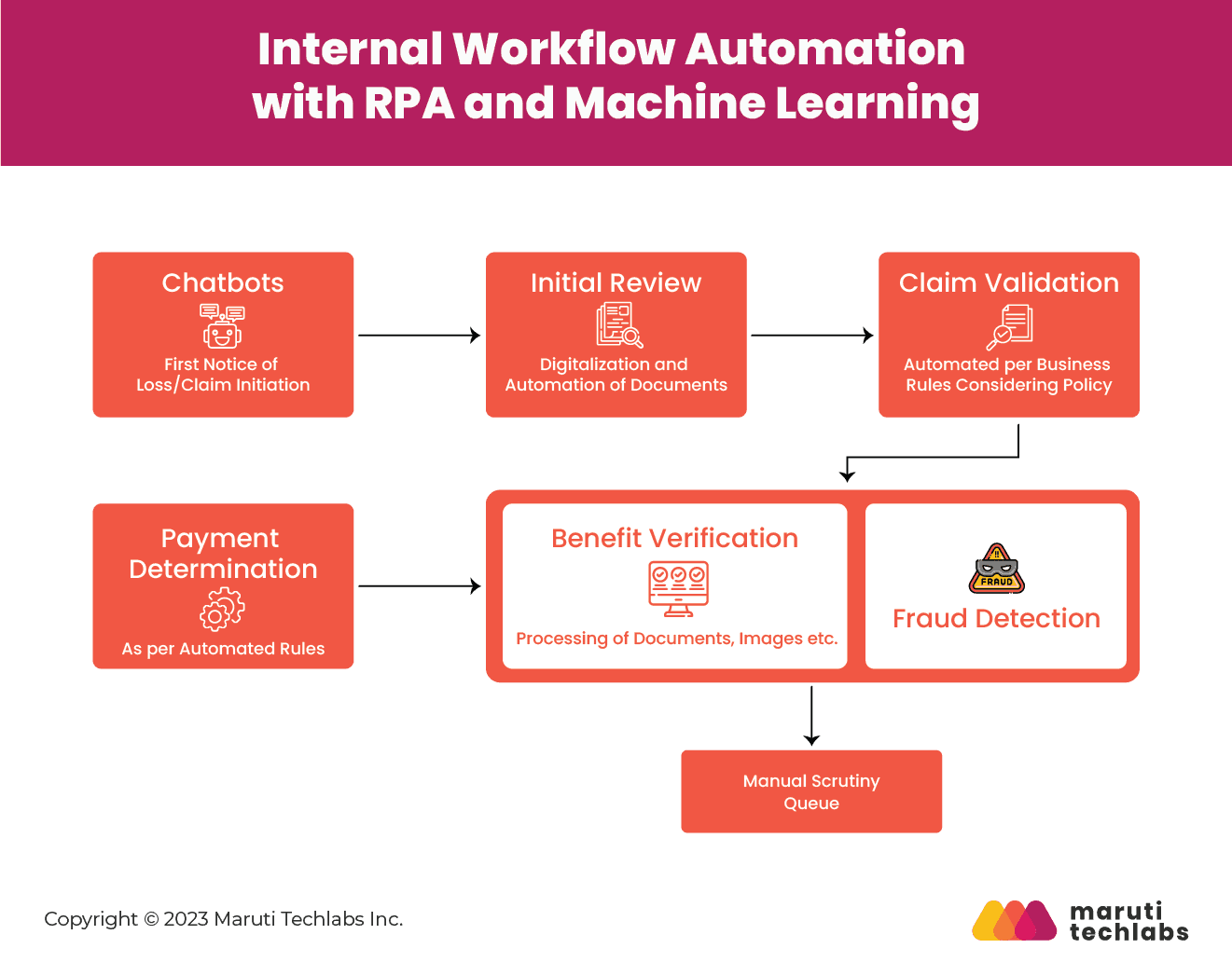 Fukoku Mutual Life Insurance, a Japanese company, is a tangible example of this transformation. They adopted AI to automate payout calculations. This strategic move eliminated the manual workload of 30 employees and led to a remarkable 30 percent increase in productivity, resulting in substantial cost savings.
Digitizing Paper Records with OCR (Optical Character Recognition)
OCR has emerged as a revolutionary tool for the insurance sector that grapples with intensive paperwork. This technology enables insurers to convert piles of paper documents, handwritten texts, and images into digital files in just a few clicks. OCR is also employed in speech analytics to convert audio into text and generate a rich data stream. This transformative technology enables hyper-personalization when it comes to targeted marketing.
However, the benefits of OCR in the insurance industry go far beyond this.
Once the OCR converts the data into digital text, it can be automatically routed through various processes, from claims processing to insurance underwriting and settlement, without manual intervention.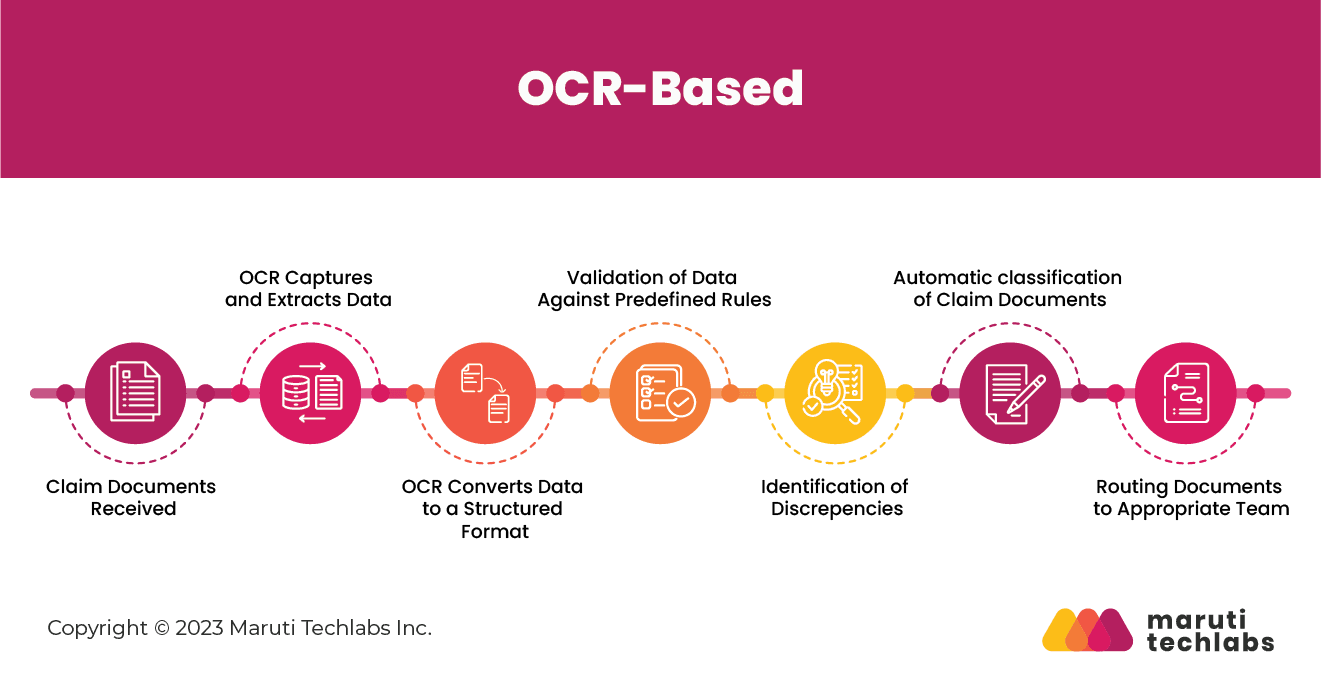 For example, OCR can facilitate automatic number plates, speech, and image recognition. Combined with computer vision systems, OCR is increasingly used in damage analysis for automobile insurance claims. When integrated into automated workflows, these features can facilitate automatic document review.
The system can accurately spot inconsistencies in information and reject claims with faulty documents. This significantly reduces the burden on insurance personnel to go through intricate details in each claim. They can focus only on expediting the settlement of claims that have consistent and accurate data.
Furthermore, OCR can convert customer data that has been collecting dust in paper archives for decades into digital goldmines. Companies can leverage this data to understand their target consumers.
Thus, OCR enables insurers to streamline processes and control their data better. It resulted in significant improvement in speed, accuracy, and customer satisfaction.
Automation of Claims Processing and Policy Management
Intelligent automation proves to be a powerful tool for automating claim processing and policy management. By integrating RPA bots with advanced AI functionalities, companies can achieve greater efficiency and higher customer satisfaction.
AI algorithms analyze extensive customer data and curate personalized policy recommendations. The bots further assist customers in policy selection, purchase, auto-renewal, and upgrades. Such automation in policy management enables a company to serve a more extensive customer base while maintaining high service standards.
Claims processing is another arena where AI is making a significant impact. Claim reporting was one of the most time-consuming tasks, with agents taking ages to visit the site and report the images. With AI, customers don't have to wait for company representatives to submit a claim.
Customers can submit the FNOL ( First notice of loss) by clicking a picture. Insurers can leverage OCR to gather and validate claims information and supporting documentation quickly. NLP bots can automatically upload data into the claim systems. AI fraud detection tools can cross-check data discrepancies, raise a red flag, or pass the settlement claim.
AI-powered chatbots can help customers track claim status in real-time. The bots can further assist them in making necessary adjustments to their claims to avoid rejections or delays.
With blockchain technology and IoT swiftly making their way into the insurance domain, we can expect the entire claim processing to be automated, with zero manual interventions from the client or agents.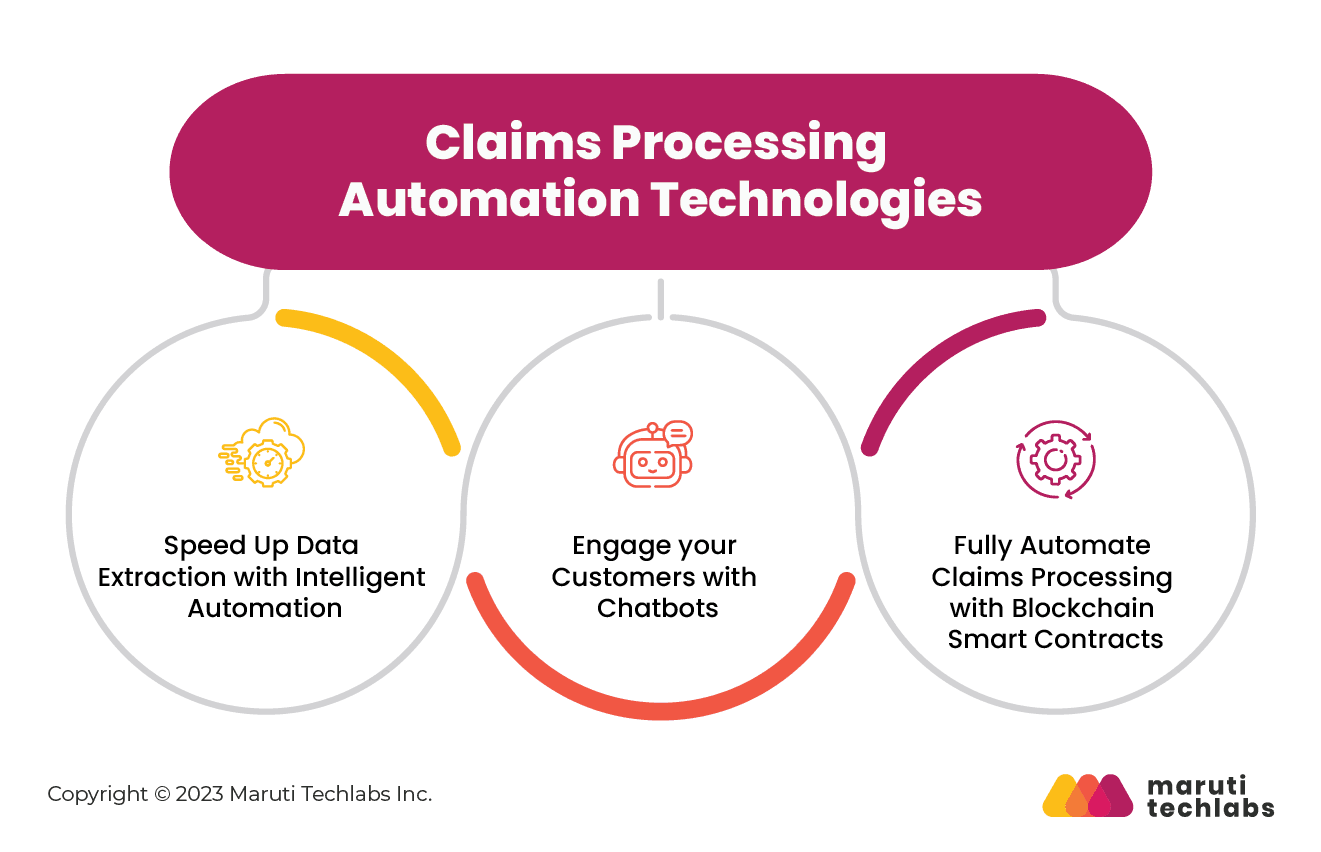 Personalized Insurance Pricing with IoT and Social Media
In the data-driven insurance realm, IoT can enable event monitoring, risk prediction, and the creation of tailored behavior-based insurance plans. With connected devices and access to real-time data powered by IoT, insurers can predict and prevent accidents by notifying customers of the risks.
For instance, the Leakbot system is a dynamic IoT device that can detect even the slightest water leak, promptly alerting the homeowner and the LeakBot's insurtech team. This proactive approach allows for timely intervention before any significant damage can occur. Thus, homes with the LeakBot system can benefit from lower insurance premiums.
Similarly, smart devices can track a customer's lifestyle patterns and fitness routine. This enables health insurers to accurately analyze a patient's health risk, curate a tailored policy, design personalized pricing, and offer tailored product recommendations.
Telematics is another breakthrough IoT product that can help auto insurers get real-time data. The device can track speed, location, time, accidents, and other driving details. Insurers can accurately gauge the risk and calculate the premiums based on these details.
Social media posts also shed light on a person's interests, hobbies, lifestyle, diet, etc. This information can help insurers draw meaningful insights for accurate risk assessments.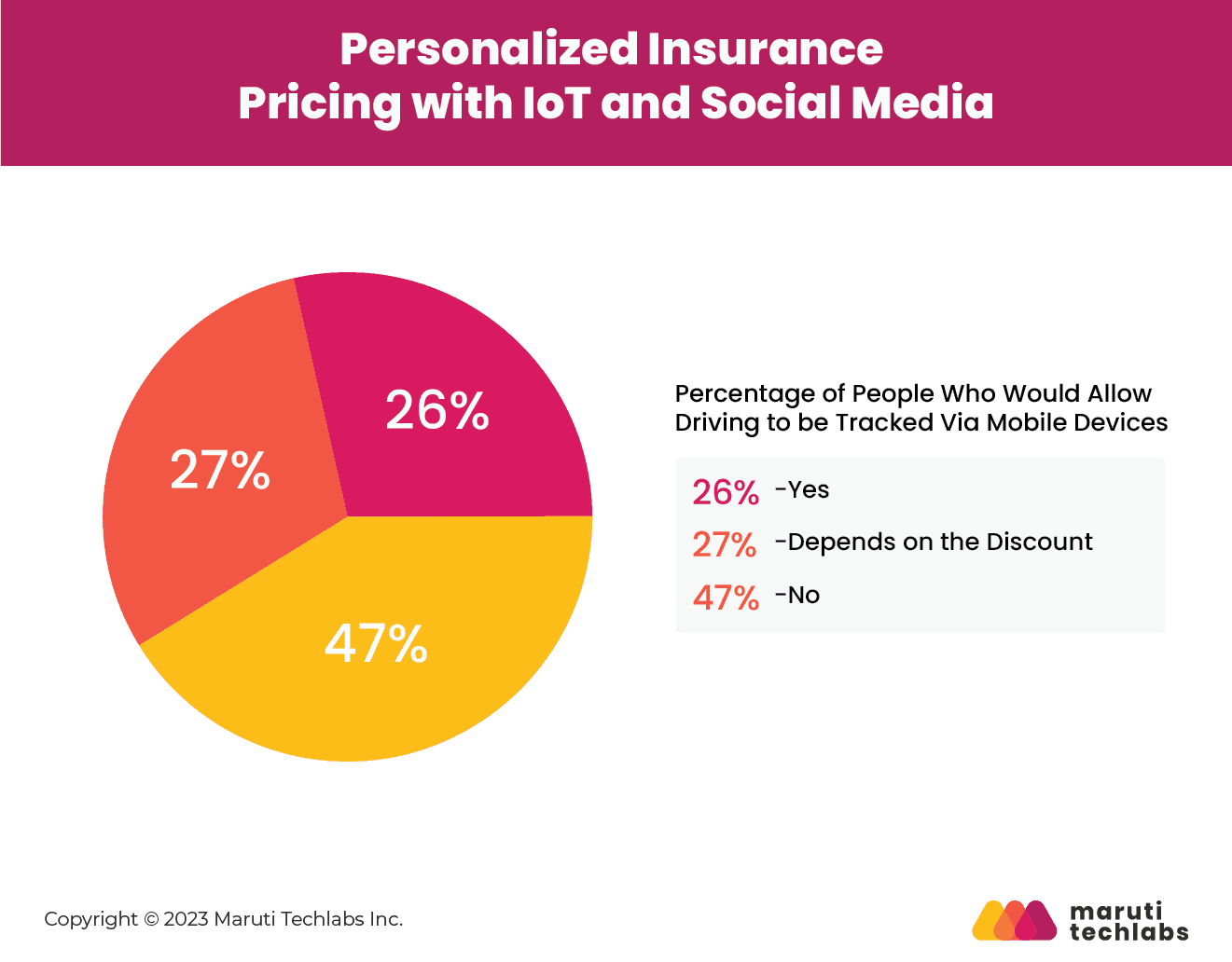 However, the biggest concern in incorporating such a model is privacy. To this, a recent survey by Capco concluded that 72% of customers are open to sharing their data to enjoy discount rates on their premiums. The study further highlighted that –
32% of customers are willing to use smart devices in their homes.

20% have no objections to sharing social media data.

19% of customers are open to installing telematics in their vehicles.
Thus, it's high time for the insurance industry to embrace a digital transformation and harness IoT to create innovative, personalized, and cost-effective solutions.
Chatbots for Insurance
AI-powered insurance chatbots are a game changer. These chatbots leverage advanced AI and NLP to understand complex human queries and accurately provide prompt responses.
Today, many companies feature a chatbot that automatically pops up when a customer visits the site. These bots can be programmed to engage visitors, answer queries, and navigate customers in the right direction. They can handle routine tasks like premium calculations, claim status updates, and policy inquiries.
In addition to customer onboarding, chatbots can expedite claim processing and settlements. They can assist with the initial steps of filing a claim and guide customers through each process step. This simplifies claim processing and enhances customer experience during claim settlements.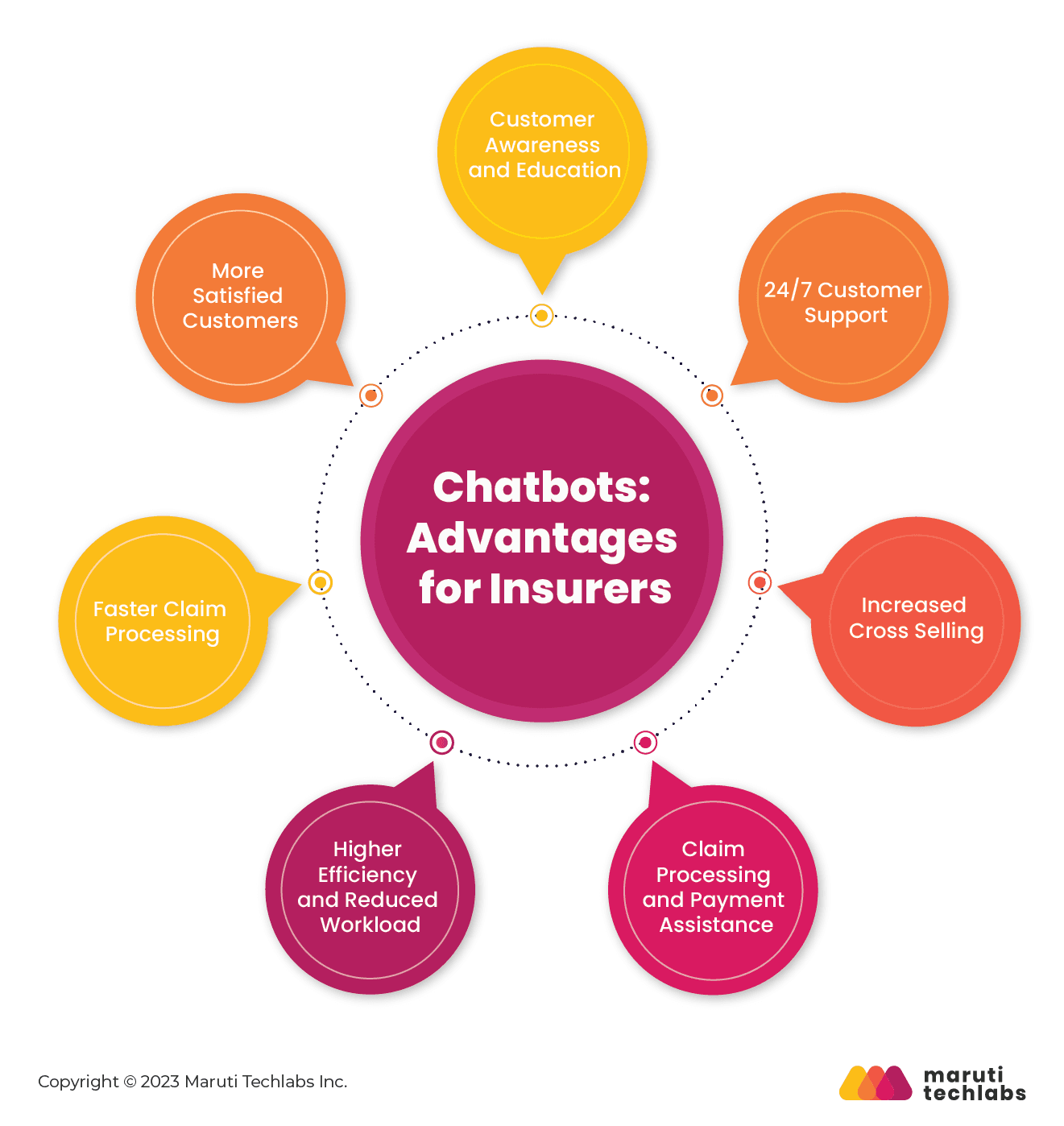 Thus, chatbots are valuable in the insurance sector, where agents are bombarded with policy-related queries. As your chatbot learns more, it will be equipped to manage more of your customer's needs — freeing your employees to shift their attention to more complex tasks.
Many leading insurance companies are harnessing the power of chatbots to simplify policy purchase and claims filing. One such example is Lemonade, an American Insurance Company. Lemonade's proprietary AI chatbot, AI Jim, efficiently handles the sign-up process and claims management, freeing human resources for high-level tasks.
Insurance Data Analytics: Ingestion and Data Pipelines
Insurance companies invested $3.6 billion in big data analytics in 2021. These investments yielded remarkable returns, including a 30% increase in efficiency, 40–70% cost savings, and a 60% increase in fraud detection rates. Notably, around 50% of insurance executives recognize the significance of data analytics in the short term.
Insurance data analytics encompasses data ingression and data pipelines. Data ingestion involves gathering information from various sources, like customer records, claims data, financial details, market insights, and more. This data is then channeled into data pipelines.
Data pipelines perform data extraction, transformation, and loading to cleanse, standardize, and prepare the data for analysis. Data pipelines also offer the flexibility of real-time or batch processing, enabling insurers to analyze current and historical data.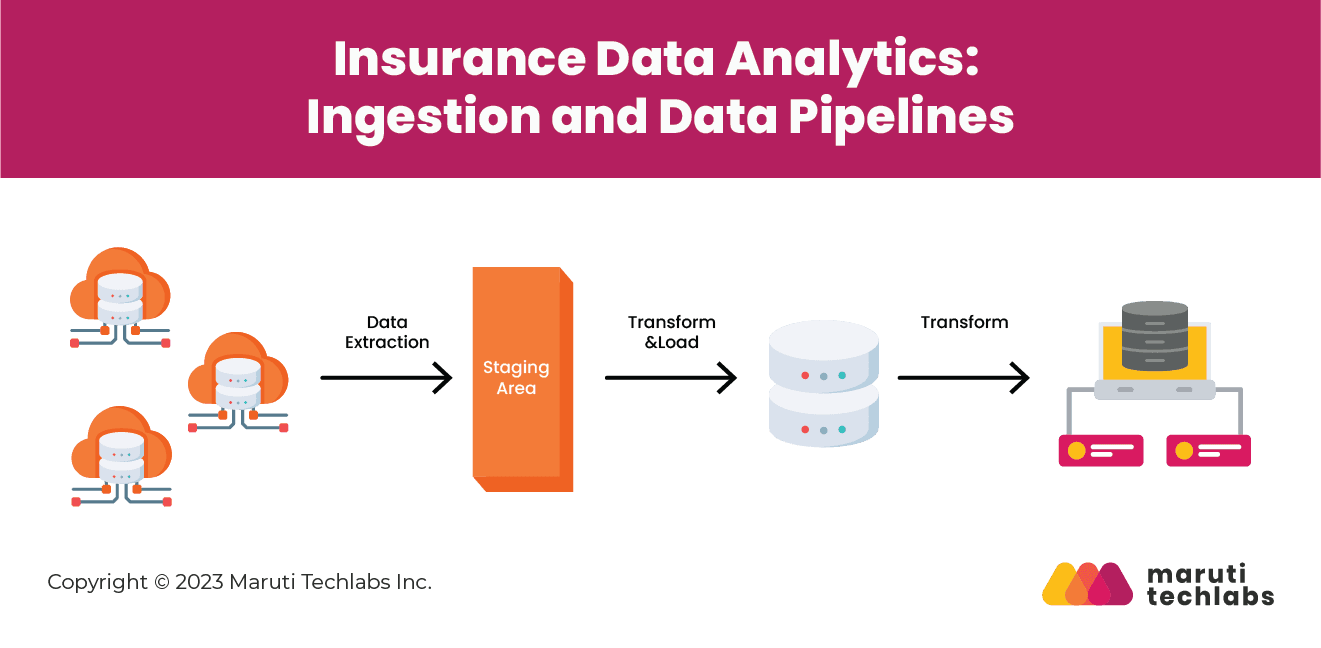 Previously, data ingestion posed significant challenges. However, many data ingestion issues have been resolved with advancements in technology. Today, more focus is needed to design centralized digital pipelines with core capabilities like enhanced OCR capabilities, HIPAA compliance, data warehousing, etc.
In an increasingly competitive insurance market, leveraging data analytics is crucial for success. Embracing a data-driven approach enables insurers to gain insights, improve customer service, mitigate risks, and optimize their business processes.
AI-Driven Applications Within Insurance Workflow Automation
AI in insurance enables the industry to harness vast datasets more effectively. Insurers can leverage AI to create personalized policies, automate underwriting procedures, and offer more precise estimates to customers globally. Customers, in turn, enjoy convenient comparative shopping, swift claims processing, 24/7 service availability, and enhanced decision-making support.
Thus, AI-driven applications are bringing a vast shift in the insurance sector. Here are some of the most impactful AI ML Use Cases in Insurance -
1.Claims Processing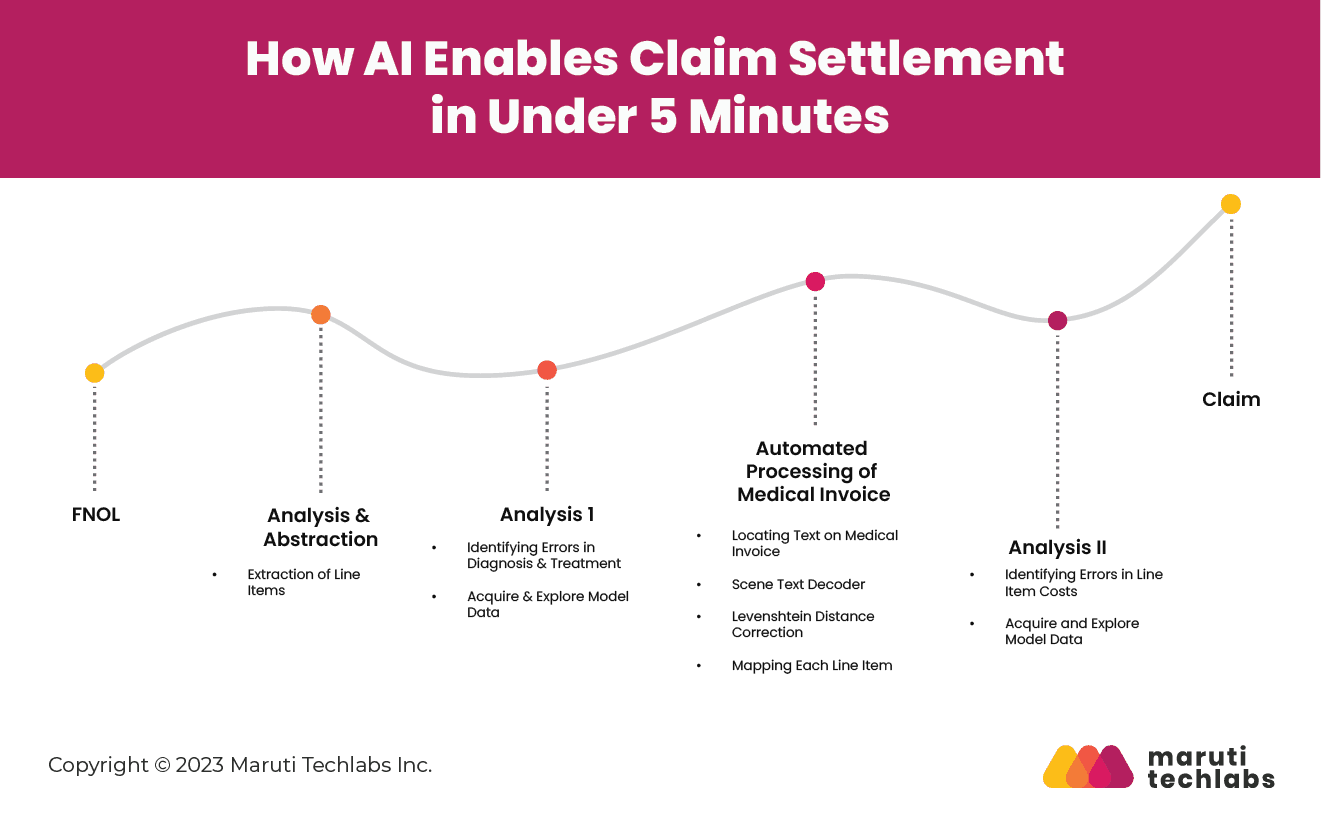 Claim processing is a critical aspect of insurance operations, and for 87% of customers, it's the primary factor influencing their choice of an insurance provider.
Today, customers want to make an informed policy purchase in minutes and settle their claims in hours. For this to happen, everything in between must be executed in seconds, which is humanly impossible. Insurance companies are turning to AI to meet customer expectations regarding claim processing and management.
Surveys indicate that automated claims processing can cut manual labor by 80%, slash processing time by 50%, and substantially boost accuracy. This increased efficiency empowers companies to manage twice as many claims with the same staff resources. Clearcover, a car insurance company, employs AI to customize insurance coverage and simplify claims.
2.Underwriting
Automated underwriting is another forthcoming transformation in the insurance sector, offering enhanced precision and efficiency in this critical operation. Underwriting entails gathering and analyzing data from various sources to assess and manage policy risks.
With advanced telematics, sensors, and detectors, AI tools can continuously track, monitor and extract real-time data. AI algorithms can analyze risks, estimate average cost per claim, adjust premiums, and create more tailored policies. According to McKinsey's predictions, 30% of insurance underwriting roles could be automated by 2030.
BoldPenguin, an integrated digital insurance platform, empowers insurance companies with AI-powered tools to craft standout policies efficiently. It analyzes vast documents to identify crucial data points and insurance clauses for underwriters to create competitive policies.
3.Data Analytics
Data analytics has emerged as another game-changer. Insurance agents must dig through vast data sets in diverse paper and electronic formats daily. The manual processing of this data is time-consuming, impedes resource optimization, and increases the risk of errors and inconsistencies.
Data analytics offers a promising solution to these challenges. Data analytics is pivotal, from crafting personalized policies and engaging potential customers to detecting claims fraud and predicting disasters. It empowers insurers to make well-informed decisions, mitigate risks, and provide tailored services.
4.Decision-Making
AI Insurance augments human decision-making in underwriting, pricing insurance products, marketing, sales, claims processing, and fraud detection. AI-enabled technology, like cognitive computing, analyzes and processes vast amounts of data to extract meaningful insights. Such insights assist insurers in achieving higher accuracy in risk assessment and decision-making.
CAPE Analytics, a data analytics company, employs data science and computer vision to deliver thorough evaluations of properties. It enables property insurers to analyze risks better and make data-backed decisions.
5.Customer Engagement
AI algorithms are pivotal in customer-centric enhancements, offering tailored product suggestions and personalized policy management to elevate customer acquisition and satisfaction. Many digital insurance companies have adopted AI to enhance customer engagement. For example, AI chatbots offer convenient interactions with clients and prospects through SMS, web widgets, or messenger platforms.
Zurich Insurance Group, a global insurance company, introduced ZARA, an AI chatbot to help customers report property and motor claims. The company revealed that with ZARA, customers can report a claim in less than three minutes. This has significantly improved their customer satisfaction rates while bringing operational costs down.
Intelligent Workflows: What Should the Insurance Industry Expect?
Digital insurers are gaining competitive advantages over traditional carriers by leveraging disruptive technology changes. Here are some of AI's biggest benefits that can significantly improve the insurance industry -
1.Greater Cost Savings
According to Boston Consulting Group (BCG), digital insurers can achieve cost savings of up to 10 percent in premiums and 8 percent in claims. This is primarily due to better communication with customers, streamlined operations, improved efficiency through automation, and better risk assessment using advanced data analytics and artificial intelligence.
2.Accurate Risk Assessments
The advent of IoT devices, data analytics, and real-time monitoring enabled insurers to gain deeper insights into policyholders' behaviors and conditions. Such insights helped them to make more accurate risk assessments, create personalized pricing, and offer incentives for healthier or safer lifestyles.
3.Better Customer Experience
Mobile apps, social media, virtual assistants, and chatbots foster a deeper understanding of customer behavior. These tools allow insurers to engage with customers more effectively, gather data on their preferences, and provide instant assistance. From helping customers buy a tailored policy to making settlements within minutes, digital insurance is pushing the boundaries.
4.Swift Decision-Making
Integrating AI-powered wearables and sensors in insurance workflows facilitates a continuous data stream on policyholders' behaviors, health, and activities. This real-time data can enable the hyper-personalization of insurance policies, where premiums and coverage are adjusted in real-time based on individual actions and circumstances. This shift toward real-time data can lead to more accurate risk assessment, proactive risk mitigation, and a more customer-centric approach.
5.Expanding Portfolio
Data analytics aids in customer segmentation that enables insurers to engage with new micro-segments of customers and create highly tailored products. This data-driven approach facilitates innovative product structures like pay-per-use insurance, where policyholders pay only when actively using a product or engaging in specific activities.
6.Fraud Prevention
AI in insurance can be crucial in fortifying insurers against scams and enhancing fraud detection. AI technologies enable real-time data exchange and streamlined communication between insurers, policyholders, and external data sources. As a result, the time it takes to detect fraudulent activities is significantly reduced.
Conclusion
Leading insurers worldwide are already streaming towards intelligent workflows that enable complete automation and swift insurance experience for customers. Insurance apps and agent management software have already driven a positive shift in claim handling and communication. The industry will have a more significant ripple with AI, IoT, Blockchain, API, wearables, and Telematics.
At Maruti Techlabs, we understand the intricacies and complexities of the insurance space. With our full suite of Artificial Intelligence services, encompassing machine learning, natural language processing, chatbot solutions, computer vision, data engineering, and deep learning, we can help implement intelligent workflows across your organization without a hiccup.
With Maruti Techlabs, you can leverage the latest AI solutions to improve customer experience, reduce operational costs, and achieve exponential growth.
Get in touch with us today and leverage the power of AI for your business!