The Customer Age of Business:
Today, be it any vertical, company success and customer experience journeys go hand in hand. A company's relationship with its customers is more than just offering its products and services. Clients and their experience with the company becomes a deciding factor in staying ahead of this competitive curve. Customer buyer expectations have outgrown and what drives a company's success is how they treat their customers. It is true that customer experience has become the pulse of every business – big or small. In this new competitive battleground, customer experience is the last source of sustainable differentiation. Most of the organisations are turning towards being customer centric from company centric.
The Cost of Unhappy Customers:
Before making a purchase of a company's commodity or services, people pay close attention to the customer reviews to have a know-how of the overall experience of the client. This means a negative feedback can create havoc on your company's brand reputation. In order to engage with your customers for long term collaboration and unlocking the full potential as valuable assets for your business, it is necessary that you don't disappoint your customers. A report from Vision Critical explains how negative customer experience spreads faster than positive feedback. And it takes 12 positive responses to soothe a negative experience from a customer. Unhappy customers are a significant loss to some companies and big opportunities for others – by the audience as well as by the bottom line for any organisation. So the crucial formula to keep your business soaring is focusing on an improved customer experience, by knowing the demographics, understanding their buying habits and preferences and delivering excellent services. Engaging customers in different stages of the business and establish a long–term interaction through customer insights. To achieve all these, firms should set customer service as their top strategic priority.
The Need for Contact Centres:
Enterprises are challenged with the growing technology as well as the changing customer expectations over time. The vital element of an effective customer experience is a centralised contact centre software system. Contact centres are the central piece of an organisation where customer contacts are managed. A contact centre includes call centres, including email newsletters, website inquiries, and chats from customers. A contact centre is a subset of an enterprise's overall customer relationship management also known as the CRM. With the help of contact centre software tools, particular focus on contact centre agents and customers can be initiated. The core function being able to route customer contacts to agents for responding to their inquiries or grievances regarding any services. Contact centres also assist in inspecting the reporting of the key metrics of customer interactions. This results in an increased ROI by boosting efficiency and enhancing customer experiences.
The Inception of Cloud Contact Centres over time:
Traditionally contact centres were hosted on the premises which included the hardware and software systems such as computers, telephones and licenses for the software. The cost of on premise contact centres was exorbitantly high, which also included maintenance of complex systems, regularisation of the licenses and upgrades. This affects the scalability of the organisation with growing customers. To keep pace with customer expectations, there was a need to bring a change in technology and optimise the IT investments. The onset of cloud technology set off the new era of Cloud based contact centres. Cloud contact centres are network-based service in which a provider owns and operates call centre technology. Cloud contact centres are increasingly becoming common because of the benefits of the solution made readily available as a service. They eliminate the drawbacks of the on-premise contact centres giving improved customer interaction, driving customer satisfaction, scalability, ease of business operations and at the same time delivering better revenue on your software investments. In cloud based systems, there is no requirement of hardware which ultimately eliminates the problem of maintaining the equipment and its upgrades.
The most important process of a cloud contact centres include: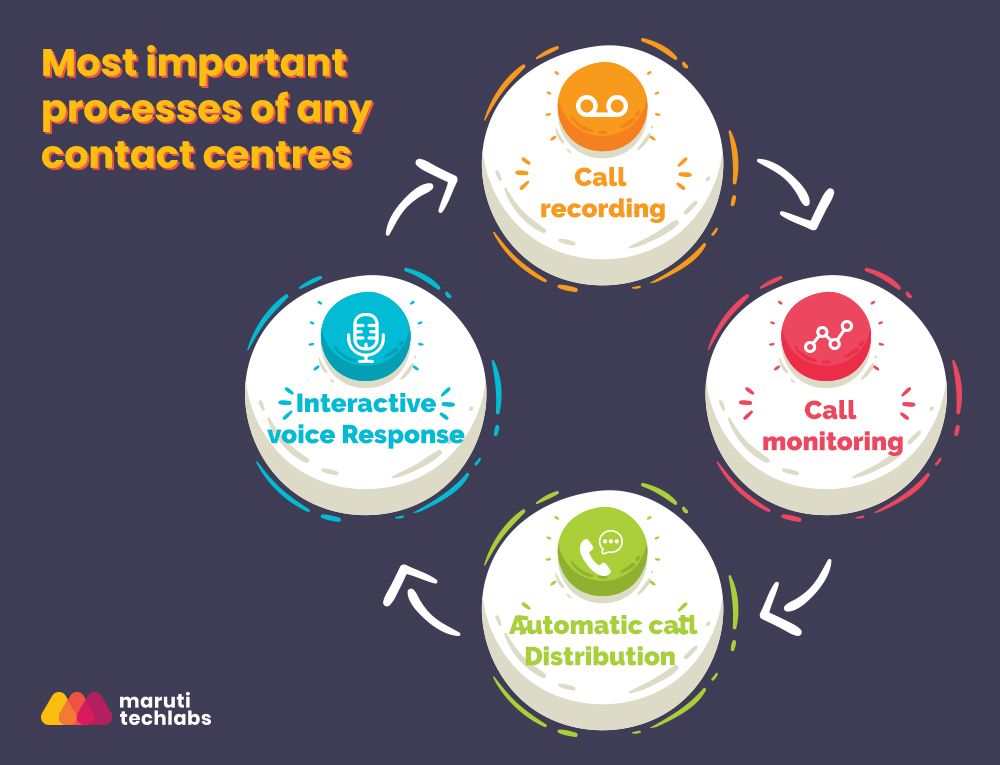 Call Recording
Call Monitoring
Automatic Call Distribution
Interactive Voice Response (IVR)
Call Recording:
Call recording in cloud contact centres allows capturing and storage of every customer interaction due to various reasons such as including quality assurance, compliance and escalations. The recorded files are compressed, encrypted and stored across every customer interaction for future references. The cloud call recording system offers in depth insights and analytics thereby providing a superlative customer experience.
Call Monitoring:
In order to monitor the agent's calls and gain valuable insights, the cloud based contact centres offer call monitoring. As all the monitored calls are available on the cloud servers, it becomes easier to analyse calls and train agents from anywhere anytime. The agent's performance can be ensured for the quality standards with such cloud based contact centres.
Automatic Call Distribution:
An automatic call distribution system is a tool that is used in the telephone industry. The main objective of the automatic call distribution system is to channelize the large volume of incoming calls to customer agents which are a part of routing the calls throughout the contact centre system. In cloud based contact centres, automatic call distributors can be managed, set and prioritised to ensure that urgent inquiries are answered first.
Interactive Voice Response (IVR):
An interactive voice response enables you to create an optimal end to end customer experience that minimises dropped calls and maximises revenue. With cloud based contact centres customers don't necessarily need to wait in the long queues. Automatic call backs ask for their contact numbers, and the ACD calls them back whenever a customer agent is connected to the call.
How Call Centre Analytics Carves a Niche for Cloud Call Centres?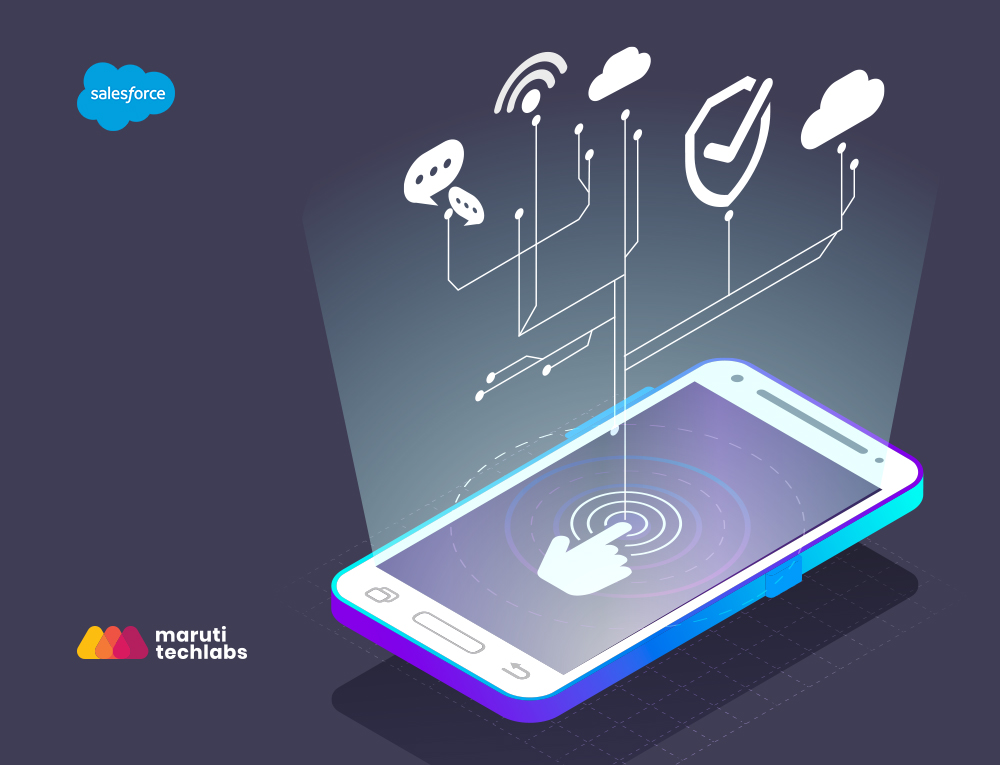 Call centre analytics plays a pivotal role in identifying and deriving inferences about customer satisfaction levels for their products and services. With one eye focused on providing effective customer support and the other on efficiency, call centres need to strike that perfect balance of experience and resources. According to salesforce.com, "Call centre analytics allows for an unparalleled opportunity to monitor and improve a variety of service metrics from call times, efficiency, employee performance and customer satisfaction". The challenge lies in collecting and analysing customer data in a manageable way. With advanced call recording, automated speech analytics and the rise of the latest development of cloud-based solutions have brought businesses immediate access to real-time data that is cost-effective and helps them address several business objectives.
Cloud based contact centres produce an integrated experience that is easier for both customers and agents. Regardless of the web, email, phone or chats, cloud based contact centres have the power to scale to different call centres, allowing agents to increase sales and improve customer experience. With features like data driven routing using ACD, prioritising calls and offering faster customer resolution, eliminating hold times and providing a call back feature, an integrated CRM with cloud based contact centre allows agents to provide a platform for comprehensive access to history, sales, products and complaints by the specific customers.
With features and flexibility offered by a cloud-based call centre solution, businesses can quickly address concerns, implement strategies to prevent them. With call recording feature in cloud based contact centres, you can listen to your customer calls and find out the exact reason of interaction. This ultimately leads to call monitoring of your customer agents and find out areas which can be improved thereby offering a happy customer experience.
Over a period of time, you need to access quality analysis tools to measure customer satisfaction related metrics. These include customer hold time, the number of transfers, type of transfers, how customer issues are resolved and how customer grievances are handled. Quality assurance tools are created with customer service in mind. The crucial goal is analysing the statistics that matter to your business from the calls.
However, understanding these tools and technologies needs a level of expertise. But, hiring a new team of IT experts may not be the most feasible option for many organizations. In such situations, IT staff augmentation services come in handy.
How Cloud-based Call Centres impact Customer Experience?
The common complaints about call centres by customers include the on-call hold duration, slow turnaround times, the distressing number of call transfers and having able to explain the issue multiple times to different agents, resulting in the lack of satisfactory resolution and response.
By reviewing each of these aspects, businesses can look at call volume data by the hour to ensure that they have the workforce to cater the customer requests, thus reducing customer hold time. This allows agents to deal with incoming calls, more time spent with each customer and ultimately more call time to resolve the issue.
Cloud based contact centres are being a part of the organisation clan who believe on high profitability by improving operational costs and quality of the customer service. Organisations are taking the step to focus on streamlining technology to benefit customers by creating a profitable customer engagement hub under low infrastructure costs.
The key benefits that will impact fruitful customer experience from cloud based call centres include: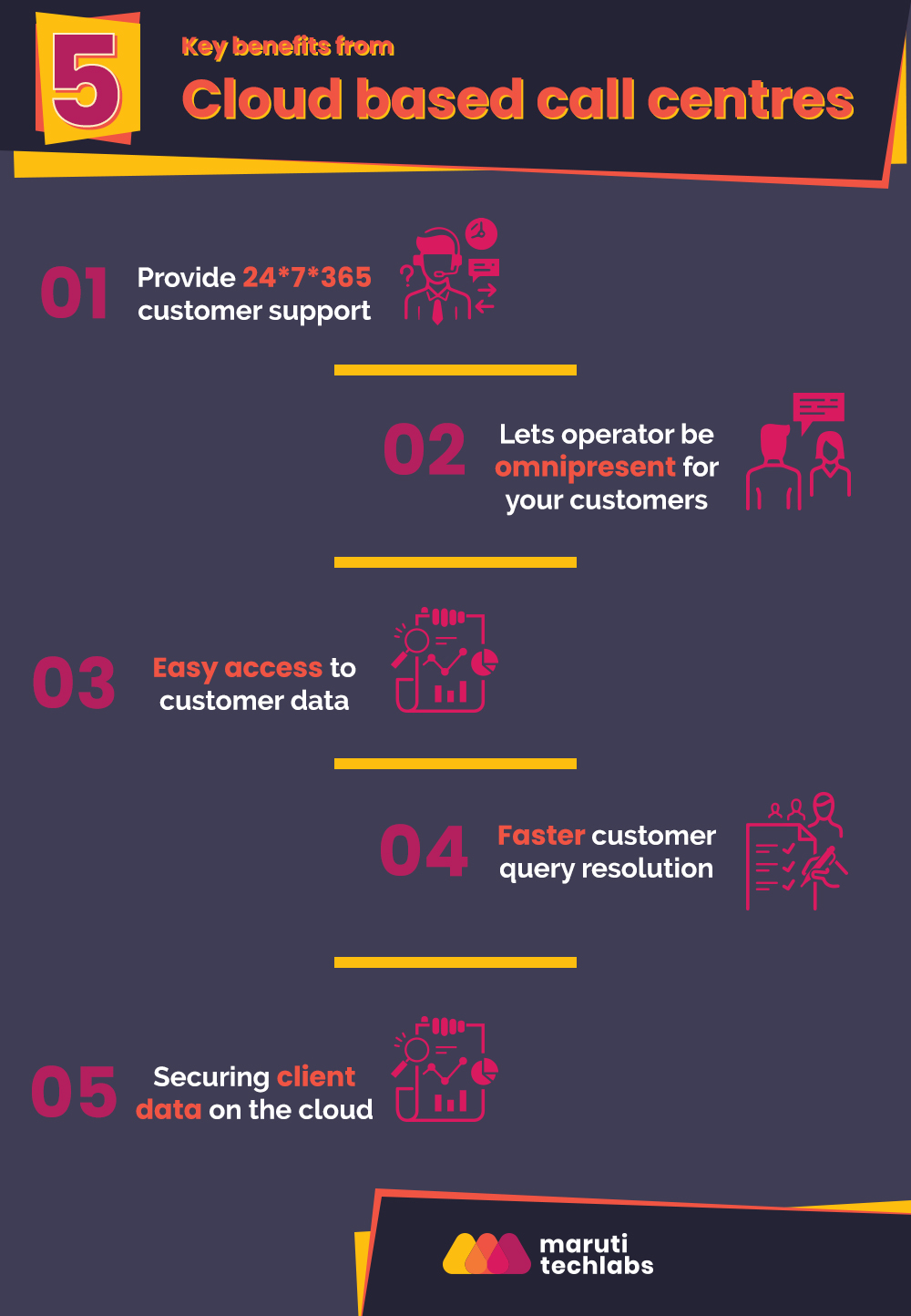 24*7*365 Customer Support: Cloud based call centres can be made available anytime and anywhere without the hassle of hardware systems. Cloud-based contact centres allow agents to work remotely with just an internet connection and headphones. With no hassles in hosting information on servers, enterprises can now have agents working from virtually anywhere with easy access to real-time information.

They deliver 24*7*365 customer service

and boosting agent productivity. Remote working delivers a better working lifestyle for employees and opens up new pools of workers.

Be Omnipresent for your customers: With cloud-based contact centres, your business can interact with their clients on the platforms they are available e.g. the web, email, phone, social media, chat and other mediums. The agents can work on multiple platforms from a single workstation, thereby multitasking and offering comprehensive customer support whenever and wherever.

Easy access to Customer Data: The large volume of customer data can be easily accessed as and when required. This avoids data redundancy and allows documents that are hosted on the cloud to be accessed anytime and on any device.

Faster Customer Resolution: Cloud contact centres typically rely on multiple software systems that include integration with Customer Relationship Management, call script generators and helpdesk tickets. Integrating the data of these systems to your traditional call centre system can be a tedious process. Cloud contact systems offer one-click integrations with dozens of leading business tools. This results in an integrated approach to customer queries which can be resolved with enriched agent experience reducing data redundancy and maximising efficiency and productivity.

Secured Data: Cloud based systems ensure the reputation for

securing client data on the cloud.

The serious concern people fear about is compromising data security. Cloud providers make sure they stay ahead of the security threats. Cloud contact centres empower security much better than the on premise call centre systems.
Today, thousands of companies are turning to Cloud Contact Centre software to significantly cut the operational costs and servicing their customers while delivering a world-class customer experience. With this integrated cloud based contact centres, you can bring the speed, savings and flexibility of the leading-edge cloud contact centre solution. According to your specific needs, your business can understand customers' requirements, tailor deployments to specific needs and perform analytics to improve operations and optimise usage.
Cloud contact centres are a significant asset for enterprises and will continue to play a critical role in the Digital Age. However, its responsibility will broaden, and businesses will have to experience complex inquiries, support new technologies, and take responsibility for effective customer interactions. A new generation of employees and clients will have new needs that the enterprise will need to meet. And there is a real opportunity for businesses to optimise their investments and expertise to deliver new revenue streams. By these changing investments in organisations, companies can decide where an investment is required in order to provide a better customer and employee experience. This will differentiate their business by providing brand-enhancing service, and cope with the demands of their customers.