Wearables seem to have opened up a section in the market which was completely non-existent. Not only this, the technology has helped open an entirely new world of possibilities and now it has come to a point where wearable technology is more advanced than hand-held technology. This is because it provides sensory and scanning features not typically seen in mobiles and laptops. The implications and benefits of wearable technology are immense and can impact several domains like fitness, healthcare, fashion, education, disabilities, media, transportation, gaming, music, tourism and finance. The goal of wearable technologies in each of these domains is to solve day-to-day human problems in real time by integrating functional, portable electronic devices into people's daily lives.
Due to the popularity and demand of wearables across different industries, the demand for custom mobile applications for these smart gadgets is also increasing at a very fast pace. These wearables are forcing a lot of improvements and changes in the development of new mobile applications. A few of such variations in the offing are mentioned below: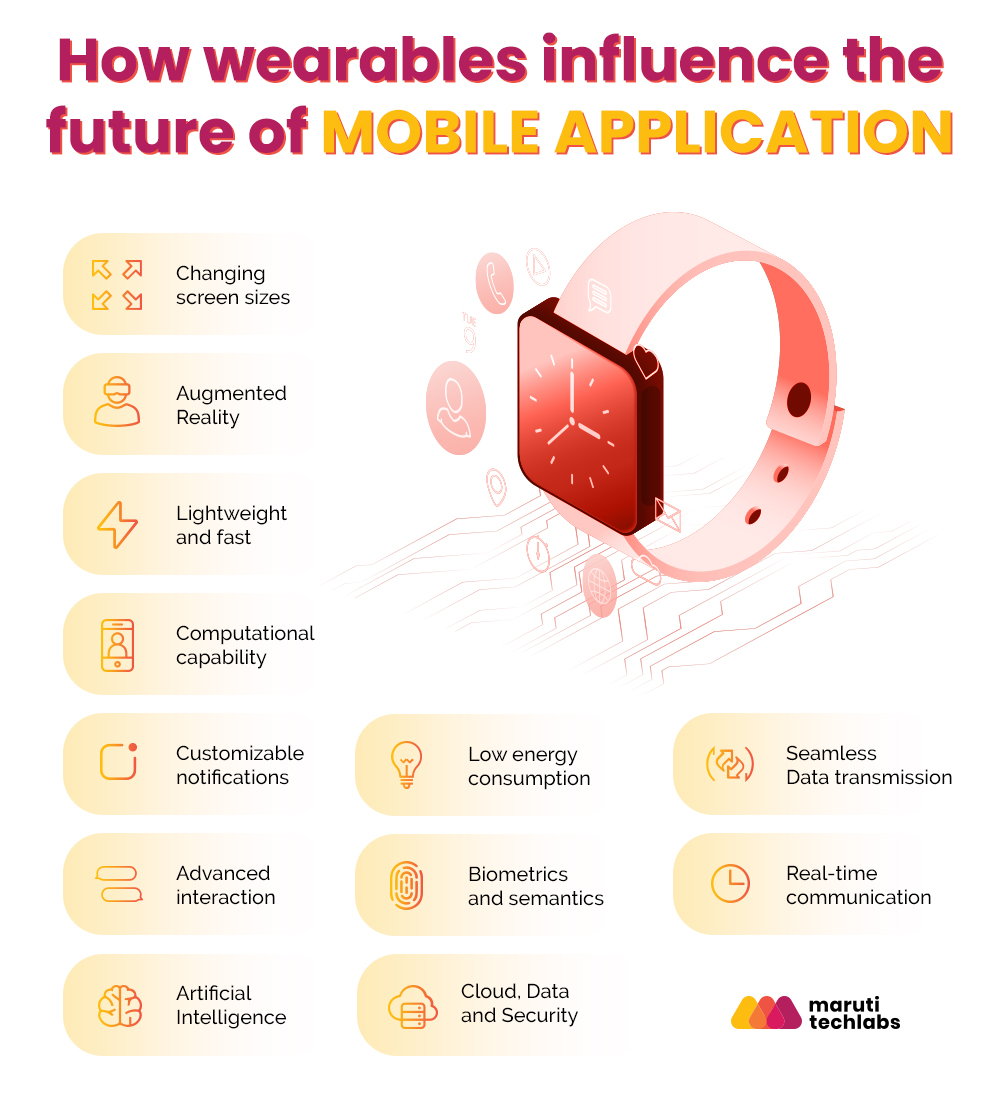 How will mobile applications change due to wearables?
Changing screen sizes
The upcoming mobile applications to be built for the wearable tech ecosystem would present precisely relevant information through dynamic changes in screen sizes. This will help make information design more pervasive and user-friendly.
Ergonomic user interface
The applications being designed for wearables would have user interfaces with highly relevant and precise features. The instructions shown in these applications to users would be concise, and tabs would be ergonomically assembled for easy access by users.
As an essential element of wearable tech, the user interface design needs an experienced team of developers proficient with frameworks such as React.js.
While you might know what you want regarding features, coding it can be arduous. Therefore, it's in your best interest to contact a React.js development company to take care of all your development needs.
There are other alternatives to React.js that can be leveraged for creating exciting designs. One of them being Angular.js. Some of its stand-out features, such as code reusability, cross-platform functionality, and rich UI features, make it the perfect choice for designing interactive user interfaces.
Knowing which tech stack best suits your business objectives may be challenging, a process that can be streamlined with assistance from Angular development solutions providers like Maruti Techlabs.
Lightweight and fast
The mobile applications for wearables would be lightweight so that they can load quickly and respond to individual commands swiftly. The developers are currently developing apps whilst keeping this in mind. With the apps running smoothly, people will feel more inclined to use their wearables.
Computational capability
The future mobile applications for wearable gadgets would have fast computational skills due to real time inputs and requirement of on-the-go outputs. Moreover, some of the inputs would be in the form of big data files which would require a lot of processing through sophisticated algorithms
Customizable notifications
It is a probability that the applications for wearable devices would focus on customizable notifications, such as single word messages, voice memos or different coloured signals; this will give the users freedom to have the app present what they want in the way they want.
Low energy consumption
Due to their real-time usage, next-gen mobile applications for wearable devices would be enabled for low-energy consumption profiles to ensure a longer battery life of those wearable devices. This will mean that the people would be able to use their devices for a stretched period of time without having to run to charge the device.
Seamless data transmission
The applications for wearable gadgets would allow fast and seamless data transmission between smart devices (e.g., Bluetooth smart technology enabled applications). It has been noted that many giant companies are centering their wearable strategy on Bluetooth and WiFi.
Seamless data transmission between wearables and your applications is crucial for real-time data processing, analytics, and a smooth user experience. One of the well-known frameworks to conclude this is ASP.NET.
But, achieving such seamless data transmission necessitates the skills of seasoned Dot Net developers. Bringing them on board provides your app with a competitive advantage, ensuring the delivery of optimal solutions within the defined timeline.
Advanced interaction features
The future mobile applications for wearable devices would also have enhanced human interaction features, such as tapping and swiping or responding to voice commands. This will serve as a breath of fresh air and will sway people into being mesmerised by the app features.

Biometrics and semantics
The new mobile applications for wearables would allow integration of biometrics and semantics-based software that can help interpret emotions, track progress and detect biopotential (e.g., with the sensors available such as a multi-axis accelerometer, developers would have scope for greater innovation and create fascinating gesture detection enabled applications).
Real-time communication
The future mobile applications for wearables would provide real-time modernise to users and concerned professionals (e.g. doctors) about the contemporary state of the users. Such real-time communication can also enable enterprises to monitor and give instructions to staff.
Artificial Intelligence
The future mobile applications for wearables would make use of artificial intelligence algorithms (using big data technologies) to predict user behaviour and make modifications in own execution. In this way, such mobile applications will improve and personalise user experience of wearable devices.
Augmented Reality
The upcoming mobile applications for wearables would make use of augmented reality techniques by enhancing the human senses of seeing, hearing, feeling and smelling. For example, augmented reality can be implemented to magnify voice commands, expand health-related data and improvise navigation through maps.
Wearable technology is rapidly gaining popularity, and creating apps for smartwatches, fitness trackers, and other wearable devices opens up exciting opportunities. You can hire dedicated Android developer from a company like us to build great wearable apps for Android users. Our expertise, knowledge of Android Wear, optimization skills, and focus on user experience creates compelling wearable apps.
Cloud, Data and Security
In the future mobile applications for wearables, the cloud would be the primary data centre as far as data storage is concerned since it will act both as the storing and allocating place of data for the wearable device. In such a scenario, security would become important, and it will be necessary to make sure that secure standards are employed by the application to protect user data. Specifically, in cases of applications that deal with confidential user data in an open source standard environment, having a comprehensive security protocol will be important essential for users. Access to user data in the cloud and the application can be expedited with features such as biometric and voice recognition techniques.
The amalgamation of cloud technology, data, and security forms the basis of well-functioning wearable applications. A feat that is crucial but challenging to achieve. Therefore, as a tech company, we recommend hiring Python developers with expertise in these domains to create robust and secure applications that can efficiently leverage cloud resources and handle sensitive data.

To conclude, the evolution of wearable devices such as watches, spectacles, contact lenses, e-clothes, fitness trackers, headbands, beanies, belts, caps, and jewelry will lead to the development of more sophisticated and advanced mobile applications. These applications for wearables will blur the interface between humans and hardware devices. Effective product management services will ensure that each mobile application for wearables has unique features that align with the industry and use case for which the wearable is built. At Maruti Techlabs, we offer expert product management services to help you navigate the complex process of developing and launching mobile applications for wearables.
From custom product development services to testing and deployment, our expert team can handle all aspects of your project, giving you a seamless and stress-free experience.
As the influence of wearables grows in the world of mobile applications, partnering with a team that has a deep understanding of this technology trend is key. Our team of skilled developers has the expertise to help you navigate this new landscape with our range of custom mobile app development services, including android application development, and more.
"The future of mobile applications is inextricably linked to wearables, and saas platform development is essential to building the infrastructure that will support these new and exciting technologies."