Voice recognition technology has a lot to offer to insurers. It enhances customer experiences, fosters active engagement, and inspires customers along the way. VR technology disrupts the insurance industry through its ability to provide ease, intelligibility, and transparency. Despite the limited applications of voice recognition technology, its contribution to hassle-free experiences cannot be overlooked.
As the world increasingly tilts toward digitalization, agility should make your list while planning business strategies. However, as the demand for customized tech solutions to boost customer satisfaction grows, companies risk falling victim to fraudsters.
With organized fraud rapidly evolving, intelligent software development becomes essential, especially for insurance-related industries.
Insurance companies are an industry that clocks such scams regularly. Though at a slower pace, they, too, are investing in techs that can help them combat this challenge.
AI and machine learning stand at the forefront of this fight against fraud in the insurance sector. AI voice recognition is pushing the limits by offering excellent audio and video data analysis, ensuring that fraud doesn't go unnoticed with such an exponential increase in customer interactions.
Today, the updated anti-fraud measures can analyze voice tone, speech patterns, and emotion using AI voice recognition that can detect fraudulent intent from the first call.
Let's discover how AI and voice recognition are changing the landscape in fighting insurance fraud and automating customer processes.
Are Insurers Ready for Voicetech?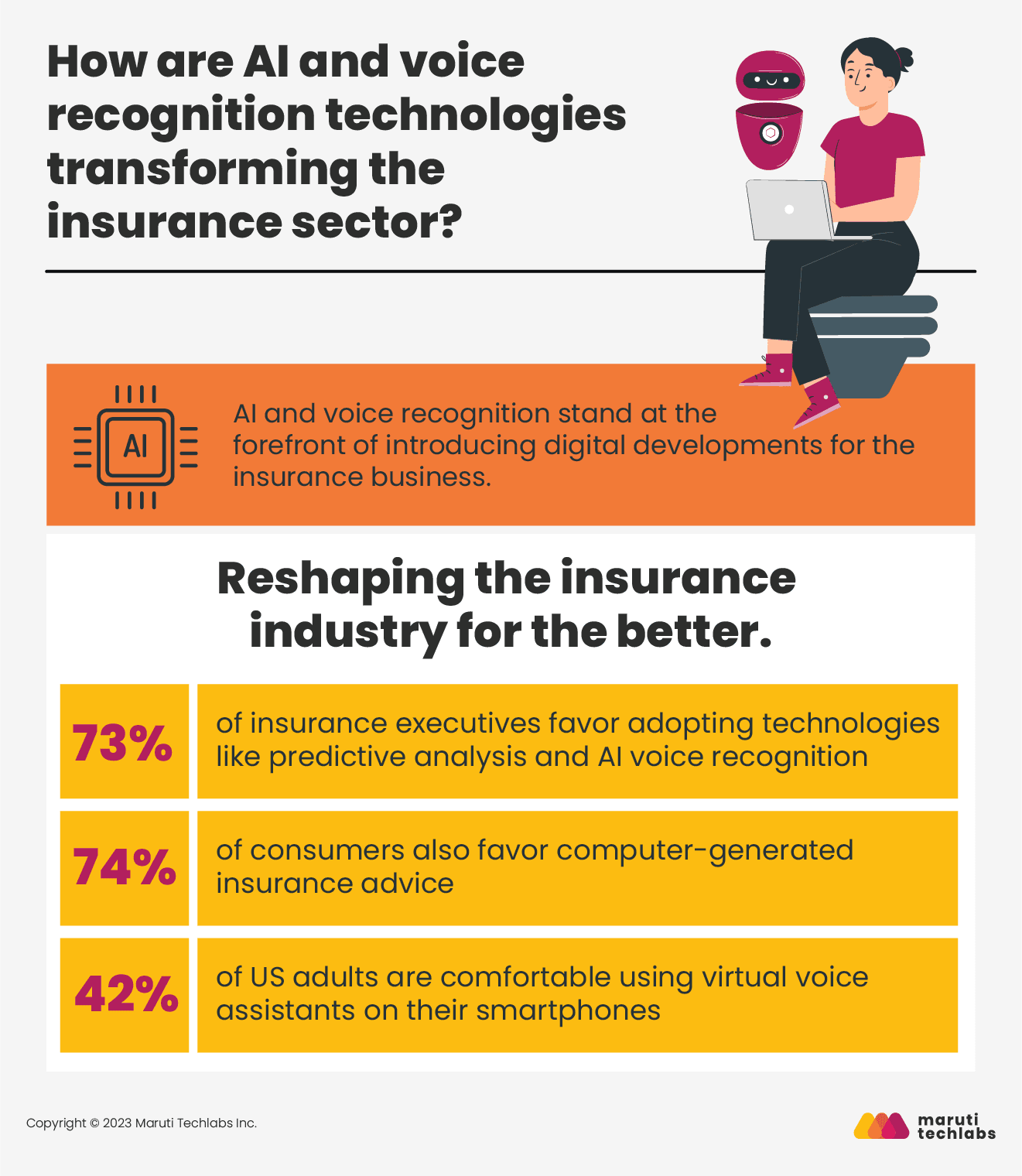 While other industries reap the benefits of digital transformations, insurance companies are slow to catch up.
Yet, in the past decade, the insurance sector has realized that meeting customer expectations while adhering to their traditional operational structures takes time and effort.
A survey shows 73% of insurance executives favor adopting technologies like predictive analysis and AI voice recognition. Furthermore, 74% of consumers also favor computer-generated insurance advice.
We can't deny that this is the era of voice recognition technology. Today, we observe an exponential increase in customer engagement with virtual voice assistants such as Siri, Alexa, or Cortana.
42% of US adults are comfortable using virtual voice assistants on their smartphones.
The statistics show that voice assistants are slowly and steadily finding their way with millennials and the older generation.
AI and voice recognition technology allows users to interact with services without manual input and in their preferred language. Advances in AI voice recognition have automated various processes, eliminating the need for human intervention.
Insurance companies are expected to see improved productivity by using virtual assistants with strong Natural Language Processing skills to handle customer interactions.
As personalized customer service becomes essential for all industries, insurance companies must rethink their strategies to deliver top-notch service. Adapting their business models to combat fraudulent activities by investing in AI and voice recognition technologies is crucial.
Benefits of AI and Voice Recognition Technology for Insurers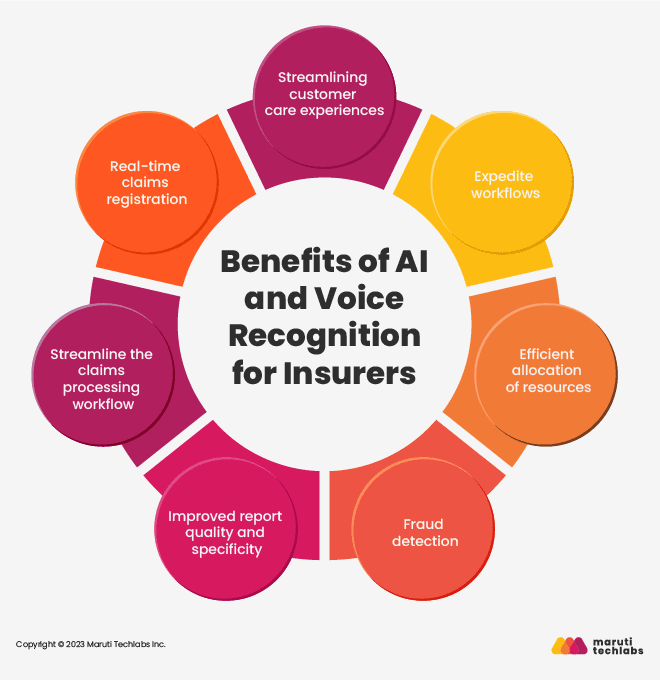 Whether you want to fight fraud detection or increase customer satisfaction, introducing AI voice recognition can empower your insurance business.
Here's a list of the top benefits of AI and voice recognition to insurance companies.
1. Streamlining Customer Care Experiences
AI voice recognition can significantly enhance customer engagement and satisfaction by offering faster and more automated responses to customer calls.
Some areas or processes that are directly benefited are educating customers about their claim processing, underwriting, and learning other relevant policy information. It also plays a huge role in rerouting customer calls to their requested departments.
2. Expedite Workflows
Efficient AI and voice recognition can save precious time by offering higher quality and thoroughness on daily paperwork while managing claims.
As a result, insurance companies can move faster claims and automate tasks improving their customer service experience.
3. Efficient Allocation of Resources
Insurers can automate calls and interactions that typically need human intervention using AI voice recognition.
In addition, AI and voice recognition improve their claims processing by increasing call automation rates and giving employees more time to handle complex and important tasks.
As a result, customer engagement can be significantly increased by allocating resources as and where they are needed.
4. Fraud Detection
Virtual voice assistants play a vital role in detecting fraudulent intentions using behavioral and language features.
AI and voice recognition efficiently identifies speech characteristics and key phrases that hint towards confusion, discomfort, or susceptibility.
When deployed to examine customer interactions, these technologies can flag individuals as vulnerable or at-risk, making additional provisions to ensure they receive the best possible services while enhancing their safety and security.
5. Improved Report Quality and Specificity
Insurance agents often spend significant time meeting with clients, during which they need to take notes, create task lists, and perform various actions.
With the help of AI voice assistants, agents can streamline this process by dictating their notes and generating automatic transcripts directly into Microsoft Word documents when they connect their devices to their PCs or laptops.
This technology enables insurers to securely and accurately log important documents, and the audio files can be easily exported to the cloud or storage devices, facilitating convenient anytime-anywhere accessibility.
6. Streamline the Claims Processing Workflow
A traditional claims processing workflow consists of the following events:
Initial claim report by customer

Inspection of damage by the adjuster

Documenting the facts manually

Claim review by the claims manager

Processing accepted claims

The adjuster mails the cheque to the claimant
When compared to manual typing, this process can be concluded three times faster using AI voice recognition. With automation, adjusters can handle high volumes of claims thoroughly, enhancing customer engagement.
7. Real-Time Claims Registration Through Conversational Voice Bots
Regarding claims registration, customer processes can be a bit complex and detailed. Insurance companies receive a number of inquiries in one single day.
AI-powered chatbots and voice bots can be used to automate and streamline the process of registering insurance claims. This technology allows insurance companies to capture and extract relevant data such as policy numbers, incident descriptions, dates, and other relevant information necessary for claims registration from customer conversations in real time.
This can significantly save time spent on manually entering claims registration details that have already been recorded in an audio format.
Policybazaar, one of the leading insurance providers in India, has leveraged the power of AI and voice recognition to introduce deep expertise in Automatic Speech Recognition algorithms.
Policybazaar records 150,000+ daily call interactions between advisors and customers, covering new and existing policy inquiries.
The company aims to enhance advisor productivity and customer experience by analyzing millions of conversations for valuable insights. This will directly improve advisor performance and boost overall customer satisfaction.
Moreover, Policybazaar is developing advanced speech recognition algorithms to ensure accurate communication in Indian languages, resulting in better customer engagement.
Machine Learning & Voice Recognition in Fraud Prevention
Machine learning focuses on developing algorithms and models that enable computer systems to learn and improve from data without being explicitly programmed. Instead of relying on explicit instructions, machine learning algorithms are designed to analyze and interpret data, identify patterns, and make predictions or take actions based on those patterns.
Machine learning algorithms play a crucial role in analyzing data patterns and trends to identify indicators of fraudulent activity and make predictions or take actions based on these insights. They continuously learn from previous interactions and data, allowing them to improve their functionality over time and adapt to new fraud patterns, thus enhancing anti-fraud intelligence.
Artificial intelligence can log various behavioral and verbal indicators to detect fraud. By leveraging machine learning, these indicators can be spotted in real-time, flagging calls with malicious intent as early as the first interaction. Flagged claim calls can then be monitored and investigated more thoroughly.
AI voice recognition algorithms are rapidly evolving to address challenges like fraudsters using "deep fake" technology, enabling businesses to combat such fraudulent operations effectively.
Subfields of voice recognition, such as Natural Language Processing (NLP), contribute significantly to fraud prevention. NLP facilitates the understanding of human language through computer systems. Integrating NLP with AI and machine learning can create an effective fraud detection system, allowing algorithms to accurately and efficiently process audio and video data while comprehending human language to a greater degree.
This advancement benefits call centers, particularly in online meetings, and aids in conceptualizing regulatory compliance and identifying sales opportunities from the same dataset.
Designing adaptable models using computer algorithms and data collected through AI voice recognition technology allows for self-improvement through experience and additional data. Anti-fraud intelligence technologies such as LexiQal are examples of how machine learning and voice recognition can be used to their full potential. It helps detect fraudulent intent from the earliest possible contact by fortifying contact centers with behavioral analytics.
These combination technologies can work wonders in developing and deploying end-to-end fraud detection strategies.
Bottomline
Voice recognition and AI are vital in addressing the growing need to combat fraud effectively. By modernizing anti-fraud strategies and leveraging more efficient data collection and processing methods, insurance companies can meet these demands while ensuring the quality of customer interactions remains uncompromised.
Some of the major benefits one can reap by investing in the same include:
Streamlined customer care experiences

Expedite workflows

Allocating resources efficiently

Fraud detection

Improve report quality and specificity

Streamline the claims processing workflow

Effortless real-time claims registration
In conjunction with behavioral analytics, AI voice recognition helps increase customer engagement and prevent fraud. Ongoing conversations can be monitored for similar patterns by logging previous interactions exhibiting fraudulent behavior. Fraud detection is further enhanced by leveraging biometric voiceprints, even in cases where callers rarely interact with the same employees.
Integrating these technologies with existing solutions provides comprehensive anti-fraud coverage for insurance companies. This revised approach empowers insurers to meet the demands of fraud prevention without compromising other aspects of customer interactions.
Incorporating AI voice recognition and related technologies into customer-facing solutions becomes crucial to address similar challenges. By doing so, businesses can secure lucrative opportunities, gain a competitive edge, and enhance anti-fraud intelligence.
The insurance industry must leverage the advancements offered by AI voice recognition to protect clients, employees, and companies from harmful fraudulent activities. Meeting consumer expectations for exceptional services is a driving force behind this necessity.
Reshaping your business technologies with artificial intelligence and machine learning services, such as natural language processing, data engineering, and computer vision, can design the perfect digital experience for your customers. Insurers can offer customers a seamless and personalized experience by integrating voice-based services into customer interactions.
How Maruti Techlabs Implemented Audio-Content Classification Using Python-based Predictive Modeling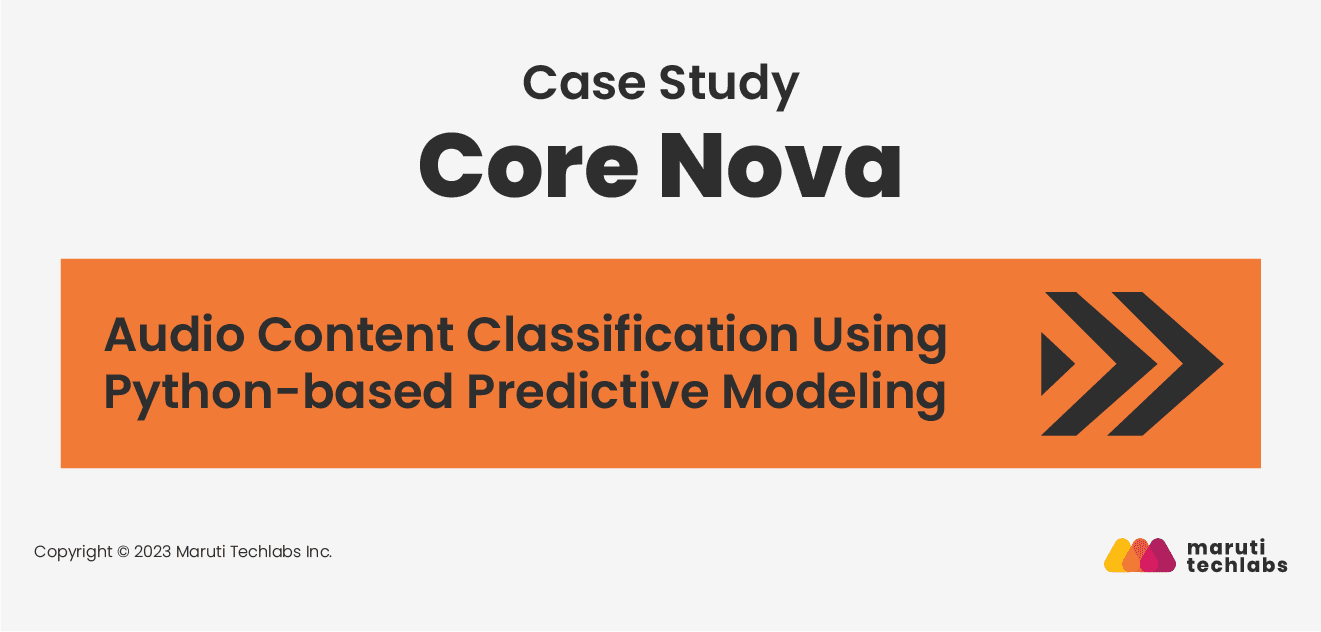 Core Nova, a SaaS solutions provider, wanted to upgrade its voice recognition software to instantly identify (within 1 second) the source on the other side of the sales call (i.e., human or non-human).
Core Nova wanted to overcome this challenge by deploying a predictive model to identify who it was conversing with instantly. Let's observe how Maruti Techlabs approached this challenge.
Core Nova's Challenge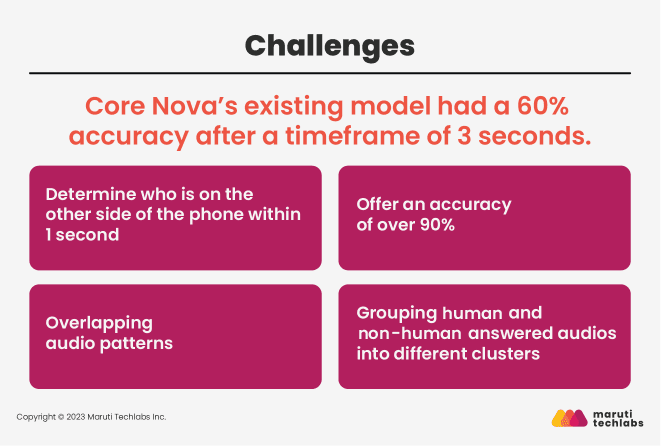 Core Nova's existing model had an accuracy rate of only 60% within a timeframe of 3 seconds. This level of accuracy was deemed insufficient for the client's requirements.

The client desired a model with high accuracy (over 90%) that could determine the probability of whether the audio input was from a human or a machine within one second.

Another critical challenge was that overlapping audio patterns made distinguishing between human and non-human audio inputs difficult.

When tested in a live environment, the audio inputs demonstrated similar characteristics within the first 500 milliseconds.
The Solution We Offered to Core Nova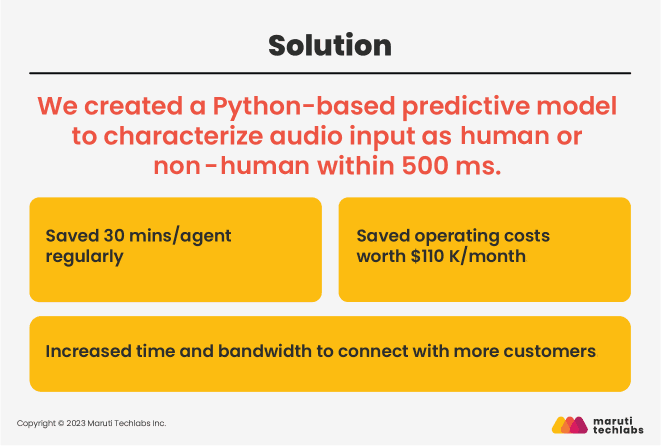 Core Nova sought to improve their audio input detection model built on Asterisk. They aimed for a high accuracy of over 90% within a one-second timeframe. Here's how Maruti Techlabs helped:
Firstly, our AI experts identified patterns that can classify the audio input as Human-Answered (HA) or Non-Human-Answered (Non-HA).

Our experts filtered and analyzed the client's audio training files and labeled these data sets to make them searchable.

Then, our data scientists at Maruti Techlabs created a Python-based predictive model to characterize whether the audio input is HA or Non-HA within the first 500 ms.

We tested and corrected this model through further testing in a live environment before the final deployment.
Automatic speech recognition technology helps transcribe spoken language into written text, enabling the analysis and understanding of audio inputs. By converting the audio signals into text, ASR facilitates the subsequent classification of whether the input was human-answered or non-human-answered. Check out how Maruti Techlabs created a Python-based predictive model to categorize audio input as human and non-human in detail.
Our AI experts can design similar voice-enabled applications for your business that aim to incorporate human thought processes in a computerized model.