Cognitive computing is marking a new dawn in the sphere of legal services. Just as email revolutionized communication, cognitive computing is transforming the very core of paralegal services. This disruptive technology uses artificial intelligence, neural networks, machine learning, natural language processing (NLP), and audio and image recognition to create super-efficient legal assistants.
The legal space has always been notoriously labor intensive. Lawyers, paralegals, and even judges spend hours skimming through tons of documents. Whether it is drafting a legal document or researching evidence for a case, paralegal services are paper-intensive, time-consuming, and prone to human errors, more so in medicolegal cases.
In medicolegal cases, medical records serve as the most important pieces of evidence that could direct a case. However, going through extensive medical documents related to a patient's history is tiresome. In addition to this, there is always a risk of misplacing or missing crucial information that can change the entire course of a case.
How to Determine the Need for Cognitive Computing in Legal Services?
Before implementing cognitive computing into your legal practice, you must understand how this technology can be leveraged to automate recurring tasks, gain predictive insights, and, most importantly, optimize your ROI.
Here are some questions you must ask before incorporating cognitive computing into your legal practice:
What tangible business value can cognitive computing bring in for the client?

What are the key performance indicators to measure the effectiveness of implementing cognitive computing?

Is there an articulable ROI for the user?

Can cognitive computing help avoid the unauthorized practice of law?

Can the client achieve "rapid time to value" with cognitive computing?

Does the tangible business value and "rapid time to value" translate into profitability for the client?
Use Cases of Cognitive Computing in Paralegal Services
Contract Review & Management
Cognitive computing can automate contract review processes, making them more efficient and faster. CRA tools can flag risky contracts, redline errors, suggest changes, and make negotiations just like an expert attorney.
COIN by JPMorgan leverages AI and ML to review agreements and contracts. It was initially developed to address blatant errors in their wholesale contracts. Today, COIN performs 36,000 hours of legal work within seconds.
Similarly, LawGeex's contract review automation tool has helped its client achieve a 209% ROI and save over 6,500 hours in contract review and negotiation. This tool allows law firms to reduce contract review time by 80% and cut costs by 90%.
Document Discovery
Legal firms often spend hours scouring through vast amounts of data to find evidence and build a case. With the explosion of digital communication, this haystack of data is just getting larger, making the process overwhelming, time-consuming, and costly. AI and OCR in the legal industry are transforming document discovery by revolutionizing how documents are processed, analyzed, and searched.
AI algorithms and OCR enable intelligent search within vast document repositories. OCR helps convert scanned documents into editable and searchable text, thus enabling users to search for specific terms within a large corpus of files. AI algorithms further simplify document classification and clustering, which makes document retrieval easy and quick.
Everlaw, the e-discovery software, uses AI, ML, and cloud computing for law firms. It leverages the benefits of OCR technology to upload, review, and produce documents instantly. Everlaw can help in setting narratives, analyzing testimony, and organizing arguments.
Legal Research
Legal research is at the core of paralegal services and can make or break your case. Legal professionals spend considerable time digging through millions of papers, documents, and proceedings. But, AI and cloud computing for law firms have transformed legal research for the better.
ROSS Intelligence is a free tool to do legal research that employs natural language programming. It enables question-based analysis. Lawyers can find case-related documents, laws, and crucial information by asking questions.
Predicting Legal Outcomes
One of the most crucial paralegal services is predicting legal outcomes. Expert attorneys should be able to foresee arguments and provide legal guidance that acts in a client's best interest. However, lawyers often fail to make accurate predictions despite years of legal practice. Cognitive computing in the legal industry can make more accurate predictions based on vast historical data.
RavelLaw offers a predictive analysis that helps attorneys identify outcomes based on relevant case laws, precedents, and judicial rulings by combining data visualization, natural language processing, and machine learning to make predictive analysis based on past data.
CaseText is another predictive AI tool that allows lawyers to forecast opposing counsel's arguments. This software studies previous case arguments by the opposition lawyer and offers a predictive analysis.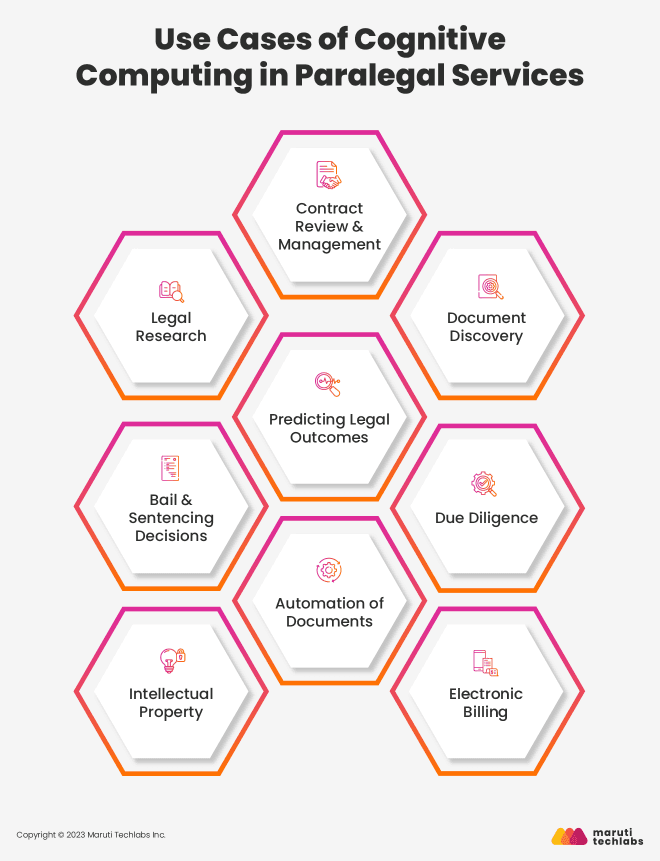 Bail & Sentencing Decisions
Judges have always relied on statistics, data, and probability to make bail and sentencing decisions. For example, a judge must analyze the risks of a defendant escaping the country or committing another crime before granting bail. Similarly, before sentencing, the judge must analyze the defendant's probability of correcting their behavior.
However, with the increasing complexity of data, these decisions face unique challenges. Cognitive computing tools could be the perfect assistant to help judges get all the information they need to make the most sensible decision.
COMPAS (Correctional Offender Management Profiling for Alternative Solutions) is one such AI tool. It is a risk assessment tool that predicts release risk based on age, gender, race, previous records, and several other factors related to the convict.
Public Safety Assessment (PSA) is another predictive AI tool that can predict an individual's future misconduct risk. With this, PSA helps the court decide on the length of sentencing.
Automation of Documents
Paralegal services are paper-intensive, and the manual creation of documents can be exhausting, time-consuming, and prone to errors. As such, legal document automation tools became a boon to law firms.
These tools leverage cognitive artificial intelligence to create legal documents on a large scale. They not only improved efficiency and speed but also resulted in higher accuracy.
SmartShell is AI paralegal software for drafting, formatting, and reviewing documents. Incorporation of this tool resulted in increased profitability, reduced errors, and a better customer experience.
Due Diligence
Due diligence is collecting and assessing all the legal documents to verify their correctness and scrutinizing legal risks. It involves cross-checking minute details in thousands of copies, which can be daunting. However, legal cognitive computing can automate due diligence and increase efficiency and accuracy.
Kira Systems is an AI-powered legal software that supports due diligence. The system can automatically complete up to 40%–90% of the work. It can save 90% of the time spent on manual contract reviews. The system resulted in reduced human errors and higher accuracy.
Intellectual Property
Protecting intellectual property rights is crucial to business success. It includes safekeeping trade secrets, formulas, client lists, logos, slogans, and other intangibles. Paralegal services include analyzing large IP portfolios to spot infringements of IP rights. It is another menial and time-consuming task.
A cognitive computing suite can help handle IP cases more efficiently. AI tools can scroll through vast databases of innovations and initiate discussions between involved parties.
DoNotPay is a revolutionary AI-powered robotic lawyer that helps protect your privacy, find hidden money, and beat the bureaucracy. The tool uses machine learning to highlight important terms of a service agreement. Its AI chatbot can negotiate bills, fight parking tickets, and cancel subscriptions on your behalf like a legal representative. This bot is built on OpenAI's GPT-3 API, which helps generate detailed responses.
Electronic Billing
Electronic billing is another benefit of AI tools in legal practice. In traditional billing, paralegals manually create and send these legal invoices. This, again, is time-consuming and prone to human errors. Law firms can leverage legal billing software to save time, improve invoice accuracy, and offer a client-centric billing experience.
E-billing software allows firms to set templates and create on-time invoices for paralegal services. The software helps save time and money while improving billing accuracy.
BrightFlag's legal invoice software has enabled many legal firms to save time and money on billing. It helps reduce spending by up to 20 % and administrative work by up to 80%.
At Maruti Techlabs, we developed MediScan, which leverages OCR, AI, and ML technologies to analyze, process, and summarize legal documents. From reviewing documents, finding errors, and analyzing huge contracts, our AI paralegal can handle it.
Our system uses intelligent optical character recognition to read contracts in different languages. It also uses NLP and ML to scan, sort, index, and analyze documents. Machine language also helps extract information from a massive database with simple search operations.
What is OCR in the Legal Industry?
Optical Character Recognition, or OCR, is a disruptive technology that has changed the data extraction game. You can digitize any document in seconds without manual data entry with OCR.
OCR can convert law books, handwritten case records, scanned documents, or images into meaningful digital data. It means the contract papers on your desk can automatically be transferred to your desktop without manual typing. Thus, OCR creates a digital repository that forms the basis for cognitive computing.
The importance of OCR in the legal industry is still unraveling. With the higher penetration of AI in legal firms, there is no doubt that OCR will become one of the prime tools for data operations.
Benefits of Using OCR Software in Law Firms
Optical character recognition technology has revolutionized document handling, offering a range of benefits, including higher efficiency and productivity. It has become an increasingly important tool for legal businesses across the world.
Law firms handle large volumes of paperwork that take up time and space. Even in this digital age, law firms receive much information from print media. Law articles, judgments, clauses, legal documents, contracts, and agreements are often handed out in paper format. OCR helps digitize this vast pool of legal data.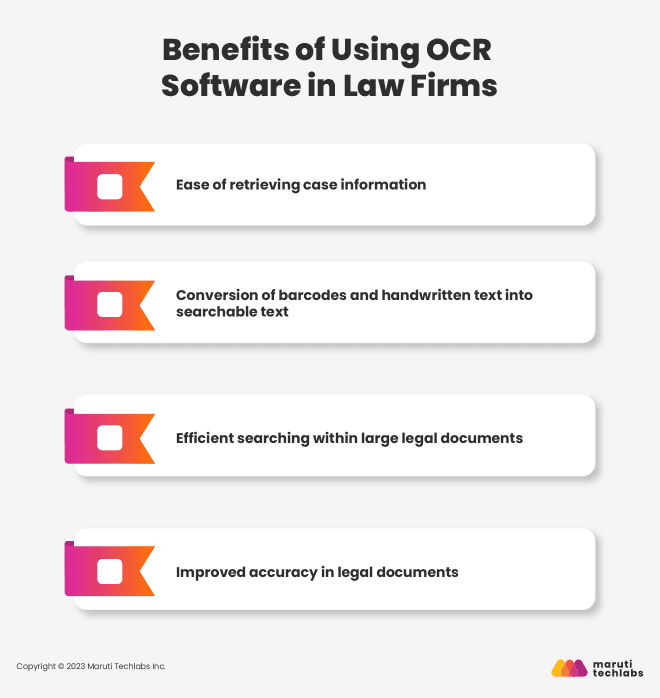 The key benefits of OCR technology are -
Ease of Retrieving Case Information
Paralegal services involve tedious research. Paralegals often skim through a thousand pages to find case history, related clauses, or evidence. This manual data mining can be easily replaced with OCR with a simple search. OCR converts any physical paper into a searchable and editable digital draft.
Conversion of Barcodes and Handwritten Text Into Searchable Text
Legal notes and case histories are often handwritten, making paralegals' jobs even more challenging. OCR can convert both barcodes and handwritten text into searchable text. OCR helps in the easy storage and retrieval of critical data.
Efficient Searching Within Large Legal Documents
Legal documents are often lengthy; finding one particular clause, name, or date within a 500 pages document can take hours. Thanks to OCR, you can do that in seconds. OCR converts text files into searchable files.
Improved Accuracy in Legal Documents
Paralegal services included a lot of manual typing, often resulting in human errors. Filling in the wrong dates or missing a crucial page may, in turn, alter the very nature of the case. OCR in the legal industry ensures better accuracy and more precision as the text is scanned and converted without modification.
Conclusion
With artificial intelligence coming to its terms, we are standing at the cusp of a digital revolution in the legal industry. AI will not only make shifts in the legal sector but will fundamentally reshape the core of legal practice. From increasing efficiency to reducing costs and eliminating errors - AI is the new legal assistance every legal professional needs!
Many law firms have already invested in emerging AI technologies to offer their customers increased support, higher efficiency, and higher odds of favorable outcomes in litigation, all at a much lower cost.
Cognitive computing technology is also crucial in improving resource utilization at law firms by freeing paralegals from menial tasks like document scanning, sorting, and researching. Thus, they can invest their time in more crucial tasks that require deep analysis, expertise, or human connection.
Slowly but steadily, paralegal services are shifting towards AI to conduct due diligence, legal research, contract management, and legal drafting. AI tools that can predict litigation outcomes and handle legal issues, like consumer rights or parking tickets, are soaring in popularity.
Thus, the penetration of AI in paralegal services is inevitable. However, you must understand that AI is not a replacement for an attorney; it is a highly efficient assistant you have always wanted to hire!
How is Maruti Techlabs Incorporating Cognitive Computing Into Paralegal Services?
Document handling is one of the prime tasks associated with paralegal services. The process gets even more complicated for medico-legal cases. In such cases, medical records are the single most important entity. These records can serve as evidence or an effective alibi in medical malpractice and fraud cases.
Navigating through a patient's medical history, diagnosis, treatment, doctor's notes, prescriptions, progress, and the prognosis is difficult for a legal professional. These documents contain medical jargon, a complex lexicon, graphs, and numbers.
However, with AI penetrating into the legal space, automating document processing with NLP can increase speed, efficiency, and accuracy. That's exactly what we did for one of the clients.
At Maruti Techlabs, we developed MediScan, a document analysis and summarization tool built for the medical-legal industry for one of our clients in the legal space. MediScan uses OCR technology and image analysis algorithms to scan contracts and convert different document formats into searchable text files.
The tool further leverages artificial intelligence (AI) and machine learning (ML) to process and summarize medical documents in a way that's easily understandable by legal professionals. The tool can scan and analyze documents with advanced NLP models, and ML algorithms help extract relevant attributes.
MediScan can significantly reduce paralegals' time to organize and review medical documents. The tool automates document scanning, assists in legal research, helps identify key data points, and improves overall efficiency and productivity.
Get in touch with AI Experts at Maruti Techlabs to make your legal practice paper-free!