The success of your mobile app, or any software for that matter, primarily depends on its performance, functionality, usability, and security. The process of testing these factors can decide the fate of your app. Outsourcing mobile app testing to experts ensures quality, and at the same time, saves you time and cost.
Previously, mobile app testing outsourcing was primarily done to cut costs, but now it has become an efficient way to achieve better business outcomes. Here we're going to discuss the reasons why you should outsource app testing against using an in-house testing team or using the same team that developed the app.
Top 11 Reasons Why Outsourcing Mobile App Testing Works Best
Below are the top 11 reasons why you should outsource app testing and software testing:
1. Cost-Effectiveness
Outsourcing software testing services can help you save money, resources, and time. It is a very cost-effective alternative to in-house testing teams (hiring, training, and providing resources to a new or developing team). Here are some specific ways outsourcing helps in reducing costs:
An experienced outsourced software testing team will help you identify problems early on.

By mobile app testing outsourcing, you can save a substantial amount on hiring full-time software testers. You also avoid paying for expensive training to in-house testers.

With testing outsourcing, you would not need to invest anything in additional technology to get testing done as the third-party company will handle all the logistics.

Outsourcing your software testing function also allows you to get a quicker start on your new product development, translating to more opportunities for business revenue generation.
2. Process Efficiency
When you outsource software testing, you get the advantage of qualified testing professionals with core knowledge working on your product. They give you an unbiased and clear view of your software product, along with its various strengths and weaknesses.
Dedicated third-party testing professionals are capable of efficiently mapping your specific testing schedule and working on key parameters such as the types of testing required, various test scenarios, and the need for striking a balance between automated and manual testing.
3. Faster Testing Results
By outsourcing mobile app testing, you will essentially be dealing with testing experts who can finish the testing process in a much shorter time.
Choosing a reliable outsourcing testing provider also allows you to get the advantage of best testing practices, frameworks, and test automation tools to reduce the overall testing time and efficiently address your project requirements and deadlines.
4. QA Automation
Automation in testing is an evolving concept that ensures a seamless multi-device app experience to users. But not everyone can ace at automated testing, and hence, it makes sense to outsource app testing process to an experienced and professional testing service provider with hand-on experience in automated testing.
Software and app testing outsourcing providers rely on advanced test management, test automation tools, bug tracking, and new-age technologies to make the testing process faster and more efficient. Some of the most popular test automation tools used by the professional testers include Ranorex, Selenium, and Microsoft Coded UI Tests.
5. Improved Business Reputation
Releasing poor-quality products can severely damage your company's reputation and make it very challenging for future projects to remain viable in the marketplace.
Hiring an expert CaaS provider to test your software can uphold your company's reputation among customers and competitors. Usually, independent testing is more accurate and impartial as compared to in-house testing.
Further, independent testers can provide specialized testing services across various domains, especially in niche areas such as mobile testing, embedded system testing, cloud testing, web testing, digital testing, and Big Data along with full test coverage with the latest testing tools.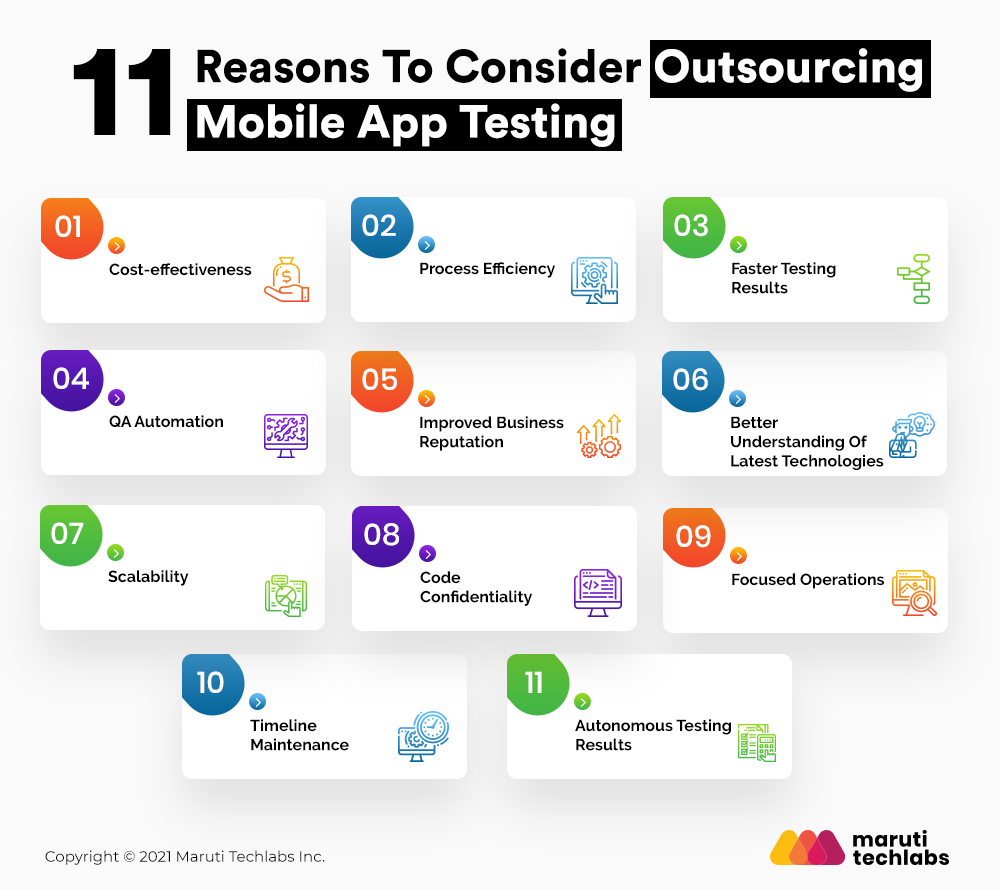 6. Better Understanding Of Latest Trends And Technologies
The rapidly evolving and dynamic market of mobile apps requires companies to stay on top of their game and effectively navigate the tough competition in the market. Outsourcing mobile app testing can help you in accessing the latest tools and technologies without having to invest in these emerging technologies.
Outsourced software testing providers are well-versed with the industry's proven tools, technologies and keep coming up with ideas for continuous improvement in software testing for better outcomes. We can help your company deliver apps with unmatched performance and gain a competitive edge in the market.
7. Keeping Your Code Confidential
Often, companies are worried about the confidentiality of their code or their client's intellectual property, which stops them from outsourcing their software testing process.
But professional outsourcing software testing companies understand that an unauthorized release of your program's information can be devastating for business and hence take security seriously by having numerous measures in place to protect your company from theft, leaks, and other intellectual property violations. They are compliant in every aspect and meet all the required global regulatory requirements.
8. Scalability
Software testing typically encompasses a wide variety of aspects based on the type of product and the scope of quality assurance goals. Outsourcing QA in product development to QA testing companies is also a better idea because different apps require a different number of professional testers to work on them, and testing companies can provide required resources and professionals needed to scale your testing.
Further, third-party software testing providers usually offer a wide variety of services primarily designed to test all aspects of the product, including functionality, security, performance, user experience, and scalability.
9. Ensure Strict Deadlines For Project Completion
Following strict deadlines is one of the primary requirements of any project. This often leads the internal teams to lose focus on testing and worry about the development, thus compromising the quality of the product. With testing outsourcing, business owners don't have to worry about the delivery schedule, and the chances of missing the deadlines are reduced to a minimum.
It is always a wise decision to outsource app testing when you're dealing with strict deadlines. The outsourced app testing team can efficiently manage the entire testing part of the project allowing your internal team to focus completely on the development aspect.
10. Focused Operations
Software testing can be a challenging task for in-house staff. Outsourcing this function to a qualified service provider allows your company to focus on the development process and other core business functions.
It helps reduce the workload of your in-house IT team, giving them the time, bandwidth, and productivity they need to be able to develop impactful and customer-friendly software products. Additionally, the software testing service provider makes sure to adhere to the defined timelines without putting any stress on your internal staff.
11. Autonomous Testing Results
Software testing is best performed when it is done as an independent activity from an unbiased perspective. Testing done by a third-party specialist vendor would always be impartial as they cannot be influenced by either the development or management team.
Also, outsourcing the software testing activity to a competent and qualified vendor would mean that the testing activities will be carried out in a very structured and professional manner. This will then translate to more test coverage, better testing, and better-tested products.
Often, businesses express concern regarding the confidentiality of their proprietary code or their clients' intellectual property. These apprehensions serve as a deterrent to outsourcing their software testing procedures. But, partnering with a reliable provider of app development services can make all the difference in ensuring a seamless and successful app launch.
In Conclusion
Software and mobile app testing from a business perspective can be an overwhelming task unless it is supported by the right resources. Since testing is a recurring process, for many companies engaged in software development, maintaining an optimal-sized testing team may not be a viable option always.
But by outsourcing mobile app testing, you can improve the quality of your final product and acquire your desired process efficiencies. Outsourcing software testing to the right QA service provider is not only cost-effective, but also guarantees you peace of mind.
Giving responsibility for your software testing to an expert team is the most efficient way to leverage your resources toward developing better software products much faster.
By outsourcing your software testing to Maruti Techlabs, you are equipped to scale production when needed, and unlock the various benefits of Agile development—all with our team of QA experts who work in unison with your own IT team. For cost-effective plus stress-free outsourcing of app testing, get in touch with us here.