Advancements in e-businesses have changed the way money is transferred. At a basic level, online money transfer serves as an electronic alternative to traditional paper methods (checks and money order). But it should also be secure, cost-effective and user-friendly. A 'Payment Gateway' is an e-commerce application service provider that authorizes credit card payments for e-businesses, online retailers and bricks & clicks models.
Advancement in Payment Gateways through Gartner Hype Cycle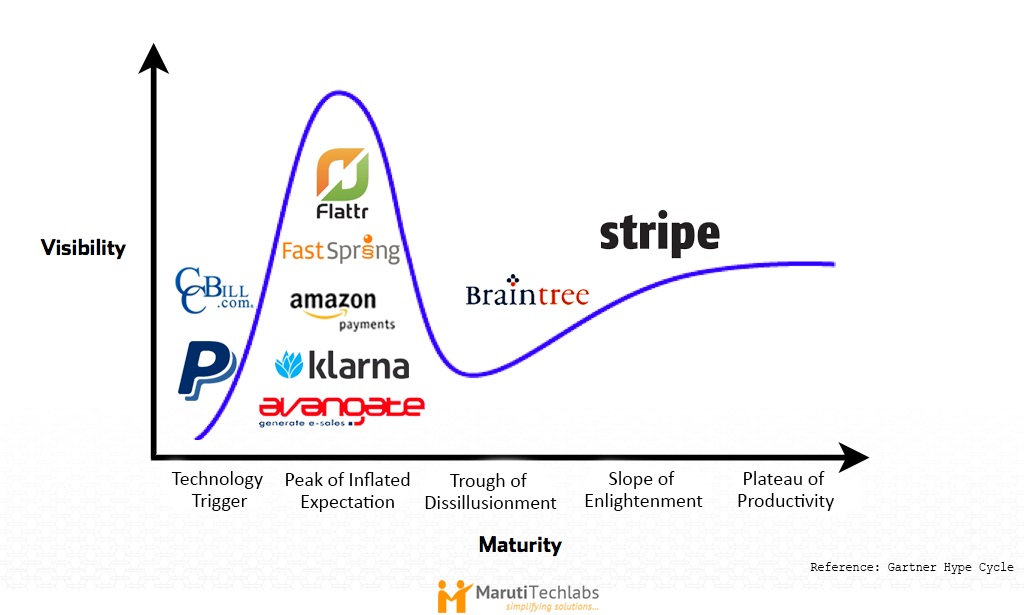 Technology in Payment gateway has come a long way from being only a money transfer portal to a customized payment platform.
Technology trigger
Payment Gateway application started as a solution to facilitate online payments for e-commerce industry. As a simple substitute for physical point of sale Paypal, CCBill and WorldPay were the innovators to enjoy first mover advantage. Paypal is still the largest payment gateway provider.
Inflated expectations
Many niche players followed Paypal to have a local gateway with the same technology. These included Flattr, FastSpring, Amazon payments etc. But these lacked innovation to improve customer experience and security issues.
Slope of Enlightenment
Many businesses are not satisfied with obsolete technology, Braintree and Stripe have taken strides to improve the present technology. Braintree initiated credit card data portability standard in 2010 and provides businesses with the ability to accept payments online or within their mobile application. Stripe with user-friendly API, security and customer service has changed the course of technology. Stripe's software kits support Apple Pay integration in iOS apps, Bitcons and Alipay.
Market Analysis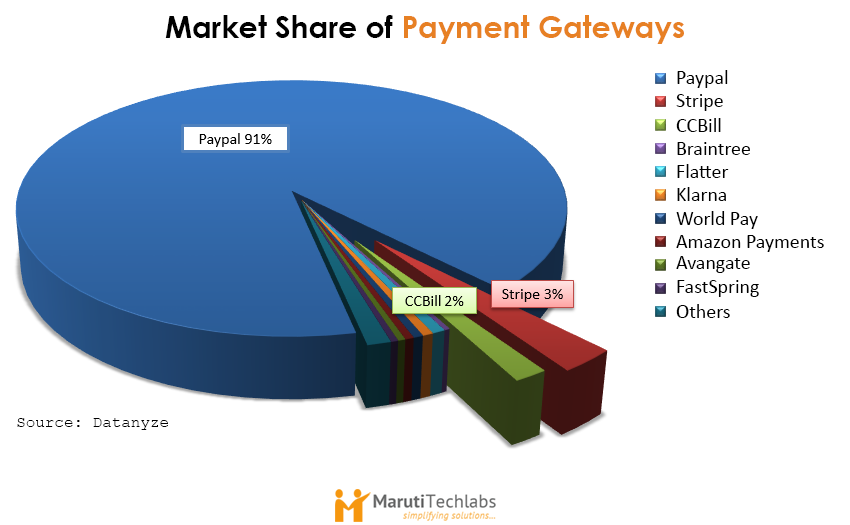 According to BuiltWith® Stripe has been integrated by 3,558 new websites in the year 2015. In comparison, Paypal lost 2,105 customers in the same period. Thus customer preference is gradually shifting towards Stripe, but still Paypal enjoys 91% market share (websites) in payment gateway integration. Currently, PayPal suffers from scale, age, and bureaucracy, whereas Stripe with improved technology is hustling for market share. They're working hard to differentiate with great customer service.
Why can Stripe emerge as Market Leader?
Simple Transaction fee structure
Stripe charges a uniform fee of 2.9% + $0.30 per transaction with no monthly fees or service charge. There are no additional charges for failed transactions, American Express cards, international cards, stored cards, currency conversions, refunds or recurring payments. Incidentally, Paypal also charges the same amount and but it has a complex fees structure (including service charges, cross-border fees etc) which makes it expensive. But, they offer discounts as volume goes up. Stripe's close competitor CCBill charges 3.9% + $0.55 per transaction and higher for specialized business models. Thus, Stripe helps in the projection of sales revenue and processing fees.
Enhanced data security
With the inclusion of Stripe.js, Stripe has gained competitive advantage and encourages good security practices. Stripe.js is Stripe's foundational library for securely sending sensitive information to Stripe directly from the customer's browser bypassing user's server. This feature adds security because breach of your servers won't result in any stolen credit card data. Thus adherence to PCI guidelines is automatically taken care leaving no room for the developer to make wrong decisions. Other payment gateways notably Paypal has taken steps to incorporate security features, but they are nowhere close to Stripe.
Clean and user-friendly API
Stripe gained immediate popularity with a clean, user-friendly and well documented API. Stripe's API is easy to integrate with the website. Stripe's API and documentation saves users' engineering time, at the time of launch and maintenance of integrations over time. Stripe offers amazing user experience through 'Stripe Checkout'. Stripe builds and styles the credit card form for the businesses. Additionally, you can also customize the form to look like your site. Other competitors have complex APIs with different permissions (classic APIs such as Adaptive Payments, Adaptive Accounts, Merchant APIs, etc.). But Paypal has recently launched it's instant Checkout service 'One Touch' for online shoppers to enter credentials only one time and afterward, they'll be able to pay on other merchant sites without having to re-authenticate with PayPal.
Data portability and Customer first approach
Credit card data portability is clearly the best feature from business perspective. If you decide to leave Stripe, they help you in migrating the credit card data in a secure and PCI-compliant way. Thus, your existing customers would not have to sign up again and there is no chance of losing customers. Barring a few new players such as Recurly and Stripe, no popular gateways are offering the feature. Stripe provides excellent customer service through open channels for email support, and they also have an IRC channel (#stripe on Freenode) where developers can chat and get live help from real engineers. This is invaluable if you're working through a tough problem and need some live help.
Powerful Dashboard and Fast Interface
Stripe's interface is fast and clearly shows bank transfers and HTTP request logs. It also provides instant type-ahead search over all your data and makes managing your business simple and enjoyable. Once they get up and running, PayPal users often experience issues with the account management interface. It's slow and hard to perform functions like refunding transactions.
Stripe with enhanced data security adhering to PCI guidelines, user-friendly API and customer-centric approach offers an improved payment gateway solution to businesses. Currently, Stripe, valued at $9.2 billion in a recent funding round, has a customer base that includes OpenTable, Salesforce, and Rackspace. It has also struck deals to handle payments on Facebook and Twitter's sites/apps.
Maruti Techlabs offers Payment Gateway solutions as a third-party integration service. Based on your business needs we analyze and provide the best gateway solution. For more details visit Maruti Techlabs.