Small team, tight budget, inefficient task management and lack of human resource management tool. These are the common features of a startup or growing team. The business might be earning a decent amount of revenue but nonetheless losing more than expected due to lack of management and execution planning. As the business expands it needs proper tools to manage the daily workflow otherwise it is bound to crumble soon. The solution comes in the form of automation tools. As these businesses might not have the capabilities to develop in house tools, Salesforce offers an excellent platform to build customized automation tools.
What are the unique features provided by Salesforce?
Salesforce is ranked No. 1 in the Forbes list 'The World's Most Innovative Companies'. The core components of Salesforce are cloud computing, workflows, communities, collaboration, and analytics. These can be applied to many areas of the enterprise. Also businesses are building custom apps beyond pure CRM to suit their needs. Salesforce.com's multi-tenant architecture allows for optimization of computing resources resulting in savings and significant gains in efficiency for global enterprises even over applications deployed on private clouds.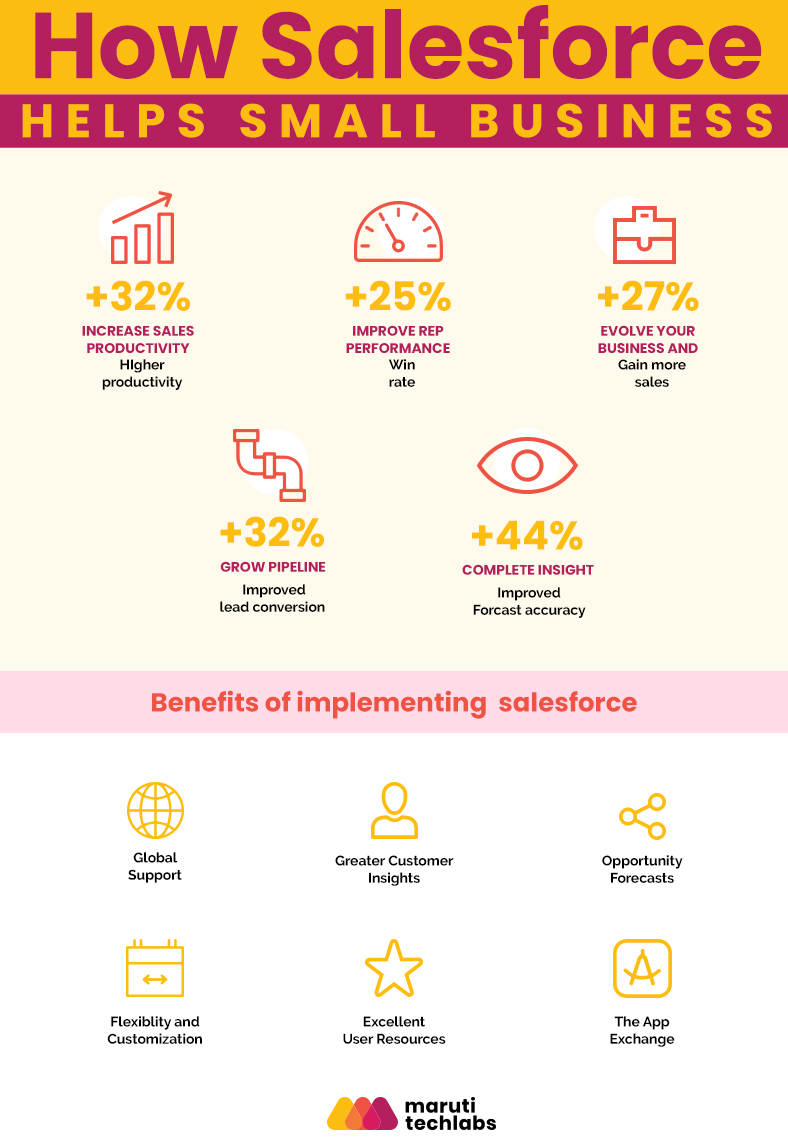 Global Support
Salesforce has proved its ability to achieve global deployment. It has also expanded its global support network. It employes faster, multichannel and predictive support to resolve issues and provide a satisfying experience to customer. Moreover Salesforce.com publishes real-time statistics on system performance and security.
Greater customer insight
Salesforce gives the flexibility to design applications that respond with greater customer insight and intelligence across different devices. Partnering with analytics driven enterprises such as Anaplan and Host Analytics, Salesforce is trying to enable every business user to take a more dynamic, data-driven approach to business planning and performance management.
Opportunity forecasts
As all opportunities are updated in Salesforce CRM, businesses analyse from where sales are coming in and subsequently forecast for next periods. It also helps in targeting of prospective customers. They no longer have to update Excel spreadsheets and mail their forecasts to their managers. Their managers will be happy as well—they can edit the forecasts without needing additional spreadsheets. Trend analysis can also be performed to accurately define a strategy to achieve business goals.
Flexibility and Customization
Salesforce can cater to every segment of business because of it's flexibility and customization potential. User can create new objects, extend existing ones and define relationship between those objects. Salesforce integrates well with different business models because of its ability to provide report and analytics that are tailored to the specific needs of its users. Salesforce being a cloud based system allows accessibility to employee from anywhere, thus providing operational flexibility.
Excellent User Resources
Salesforce offers a wide array of textual and visual resources to suit the user preference. Salesforce posts educational and informative blogs and article; it routinely does educational webinars; its own YouTube channel complete with videos covers a full spectrum of topics, and it also publishes a thoroughly comprehensive web-accessible user guide. Moreover Salesforce employs an excellent, knowledgeable, and customer-oriented service team to solve any doubts.
The AppExchange
The AppExchange is a marketplace of easy to access, download, and install apps made by other users. This concept shows the rapid innovation and competitive positioning of Salesforce. The Apps provides users with more resources, options and expandable functionality. Additionally the AppExchange is a place of new ideas and capabilities that are being developed and fine tuned at a swift pace, giving businesses powerful tools to reach new heights. This helps businesses to have awareness about the customer preference and build deeper relationships.
How to utilize the Salesforce effectively?
Salesforce being essentially Platform as a Service(PaaS) model provides the flexibility to customize its modules to suit the business needs. There are many process management and automation tools available in Salesforce. The frequently used modules are explained in this section.
Salesforce CRM
Salesforce is best known for it's Salesforce Customer Relationship Management (CRM) product which is composed of Sales Cloud, Service Cloud, Marketing Cloud, Force.com, Chatter and Work.com. Sales Cloud manages contact information and integrates social media and real-time customer collaboration through Chatter. Force.com, the company's platform-as-a-service (PaaS) product, allows software developers to create Salesforce.com add-on applications. This the most effective tool for startups and growing companies to keep track of all contacts in the form of leads, opportunities, business associates or competitors
Financial Force
FinancialForce.com is a cloud-based applications company that provides a cloud ERP solution for Force.com. FinancialForce Accounting, cloud financial management application is the flagship application of FinancialForce.com. The application provides an end-to-end accounting solution including reduction in the billing time, audit testing, generating financial reports etc. Professional services automation software is also another cloud-based services solution that is built on the Force.com platform. It allows businesses to manage professional resources, customers, projects and financials in one integrated services management application. Because PSA works natively with Force.com, it utilizes the same data for sales, services and finance on one system.
Human Resource Automation
HR Automation through Salesforce can be achieved by using Salesforce for HR and FinancialForce Human Capital Management (HCM). Salesforce for HR is the recent addition to Salesforce services unveiled on April 23, 2015 . Built on a foundation of cloud, social, mobile and data science technologies, Salesforce for HR utilizes the power of Salesforce's CRM for employee engagement. Salesforce for HR strengthens employee engagement by delivering personalized experiences to empower employees, and provides insights for organizations to attract and retain the best talent.
Also read: What is Robotic Process Automation in Human Resources?
Task Distribution System
Apart from inbuilt applications, Salesforce can be customized easily to suit business needs. Task distribution system can automate, track and distribute project tasks depending on the requirements. The tasks can be prioritized depending on the performer's capabilities and generates an automated to-do list. The system would do time tracking of the events and also perform dynamic distribution of tasks.
Scheduling and Communication system
Using customised Salesforce platform businesses can develop a scheduling system which integrates various applications for better team coordination and project planning. The system can integrate time management web application such Google calendar so that administration can keep track of the meetings. The calendar is linked with payroll system to accurately calculate the salary according to the working hours. Communication system integrates separate communication channels such as mobile, text messaging and video call with the Salesforce CRM. This system can be customized to deliver bulk communication as per process requirements.
This is especially helpful when you have multiple stakeholders working on a project. This tool can bridge the gap between your IT company outsourcing partner, clients, and your internal teams.
Salesforce can definitely transform a small business into sales powerhouse. But the customized features and AppExchange marketplace can take the organization to new heights. Using Salesforce the businesses can become lean to have better time management, customer insights and realistic goals.
Maruti Techlabs specializes as a technology partner in providing Salesforce custom development. We have the experience in integrating customized Financial Force application, task distribution system, HR system and scheduling system using Salesforce. For more details visit Maruti Techlabs.
Maximize the value of Salesforce for your startup with custom web application development services tailored to your specific needs. We can help you utilize Salesforce to its fullest potential, streamlining your processes and providing you with the competitive edge you need to succeed.