In the world of healthcare, medical records are the lifeblood of patient care. They contain crucial information about a patient's medical history, diagnosis, treatment, doctor's notes, prescriptions, and progress. These records are paramount to healthcare providers, legal firms, and insurance companies.
Doctors and caregivers need timely access to patients' medical histories and health reports to make precise diagnoses and develop effective treatment plans. Similarly, legal firms rely on these records to establish relevant facts and prepare a solid case.
However, managing extensive and complex medical records with specialized terminology takes time and effort. Professionals spend hours navigating through stacks of documents, and missing or misplacing crucial information can have serious consequences. This is where medical records summarization comes in.
Medical records summarization concisely summarizes a patient's entire medical history. It highlights all the essential information in a structured manner that helps track medical records quickly and accurately.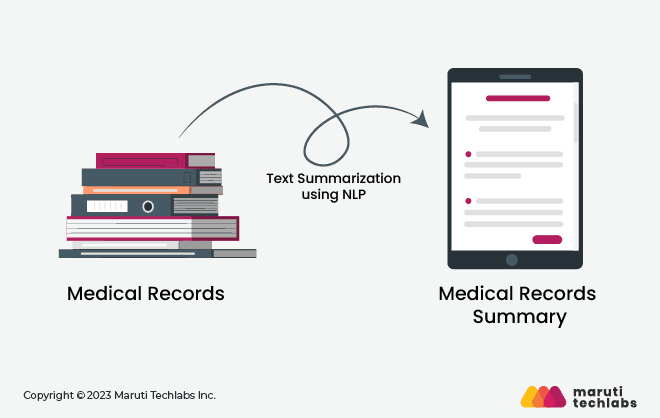 Text summarization is an essential Natural Language Processing (NLP) task that involves constructing a brief and well-structured summary of a lengthy text document. This process entails identifying and emphasizing the text's key information and essential points within the text. The process is referred to as document summarization when applied to a specific document.
Document summarizations are of three major types:
Extractive: In an extractive summary, the output comprises the most relevant and important information from the source document.
Abstractive: In an abstractive summary, the output is more creative and insightful. The content is not copied from the original document.
Mixed: In a mixed approach, the summary is newly generated but may have some details intact from the original document.
The comprehensive and concise nature of medical record summaries greatly contributes to the effectiveness and efficiency of both the healthcare and legal sectors.
Issues With Summarizing Medical Records
Though summarizing medical records has several benefits, they have their challenges. Even automated summary generation for medical records is not 100% accurate.
Some of the most common issues with summarizing medical records include: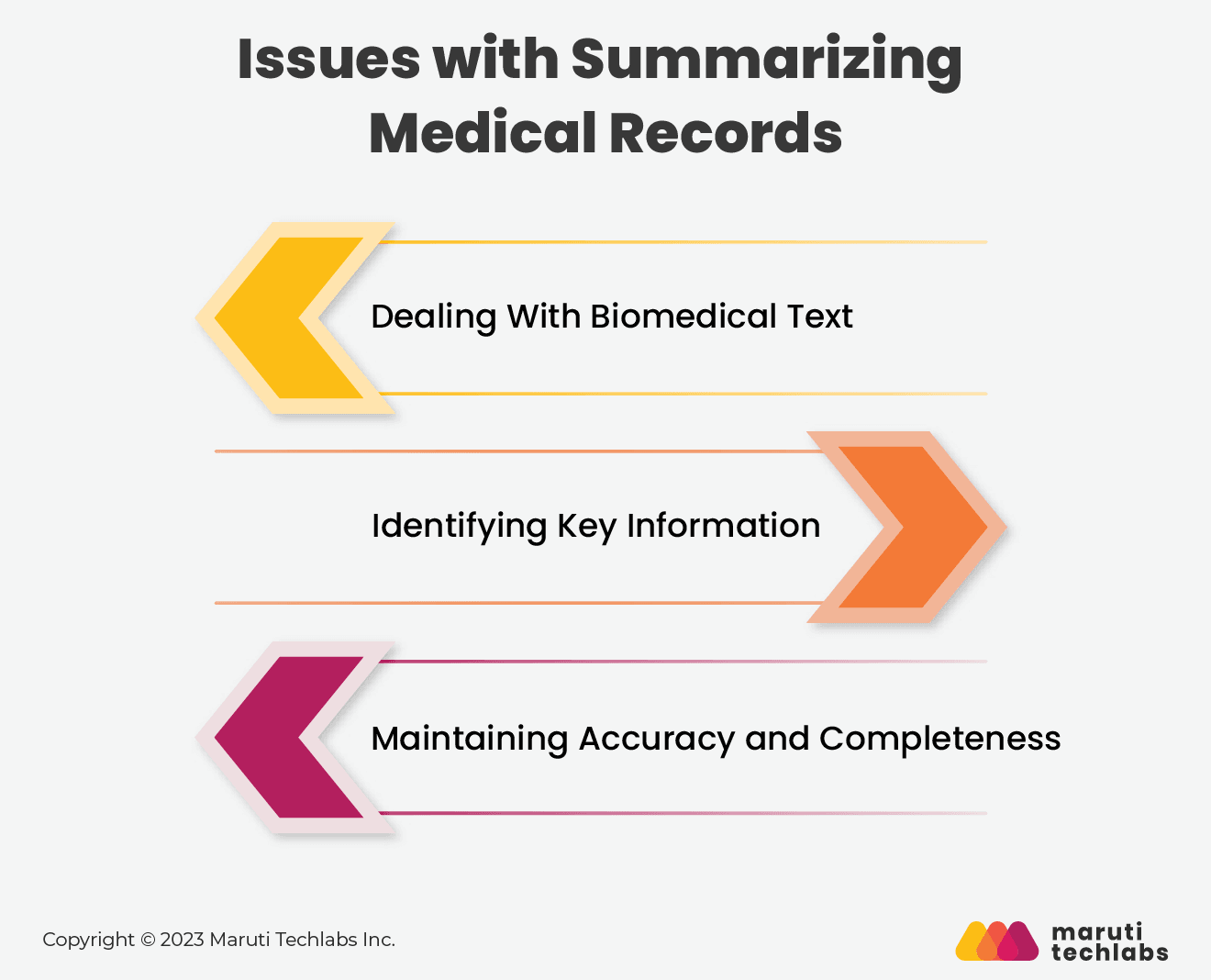 Dealing With Biomedical Text
Summarizing biomedical texts can be challenging, as clinical documents often contain specific values of high significance. Here, lexical choices, numbers, and units matter a lot. Hence, creating an abstract summary of such texts becomes a significant challenge.
Identifying Key Information
Medical records contain a large amount of information. But the summary must only include relevant information that aligns with the intended purpose. Identifying and extracting relevant information from medical records can be challenging.
Maintaining Accuracy and Completeness
The medical records summarization process must include all the key components of a case. The key features include:
Consent for treatment

Legal documents like referral letter

Discharge summary

Admission notes, clinical progress notes, and nurse progress notes

Operation notes

Investigation reports like X-ray and histopathology reports

Orders for treatment and modification forms listing daily medications ordered

Signatures of doctors and nurse administrations
Maintaining accuracy and completeness, in summary, could be a challenge considering the complexity of medical documents.
What Are the Different Types of Text Summarization?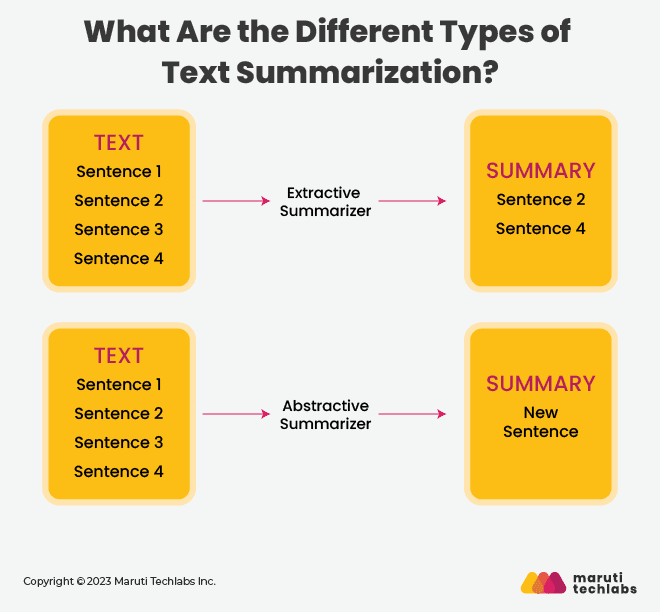 There are two main approaches to getting an accurate summary and analysis of medical records: extractive summarization and abstractive summarization.
Extractive Summarization
Extractive summarization involves selecting essential phrases and lines from the original document to compose the summary. However, managing extensive and complex medical records with specialized terminology takes time and effort. LexRank, Luhn, and TextRank algorithms are among the top-rated tools for extractive summarization.
Abstractive Summarization
In abstractive summarization, the summarizer paraphrases sections of the source document. In abstractive summarization, the summarizer creates an entirely new set of text that did not exist in the original text. The new text represents the most critical insights from the original document. BARD and GPT-3 are some of the top tools for abstractive summarization.
Comparison Between Extractive and Abstractive Summarization
When comparing abstractive and extractive approaches in text summarization, abstractive summaries tend to be more coherent but less informative than extractive summaries.
Abstractive summarization models often employ attention mechanisms, which can pose challenges when applied to lengthy texts.
On the other hand, extractive summary algorithms are relatively easier to develop and may not require specific datasets. In contrast, abstractive approaches typically require many specially marked-up texts.
What Are the Different Approaches to Text Summarization?
Medical record summary services may adopt different summarization methods. But the best implementation method should always cater to the core purpose. Whether you want a legal or a diagnostic perspective, your final output should highlight all the essential insights.
Medical records summarization has two approaches: Frequency-based sentence scoring and transformer-based summarization.
Frequency-Based Sentence Scoring - The Traditional Approach
As the name suggests, in frequency-based sentence scoring, each sentence of the input document gets a score based on its relative frequency. A high frequency indicates that the content is likely to be important. This scoring helps generate extractive summaries.
Transformer-Based Summarization - The Modern Approach
The modern approach involves transformers that help pre-train a model for natural language generation, translation, and comprehension. In this approach, there is no scoring or extraction of sentences based on the scores.
MediScan, the AI-powered medical records summarizer developed by Maruti Techlabs, uses this approach to create original, user-friendly texts through a complex NLP algorithm. The abstract summary generated communicates the details with precision and clarity without making the summary lengthy.
OCR Technology in the Legal Industry
Optical Character Recognition (OCR) is an innovative software tool that can convert different types of documents into editable and searchable files. OCR plays a critical role in medical records summarization. The medicolegal industry involves intensive paperwork, from a patient's history to diagnostic reports, doctor's prescriptions, and treatment notes. Skimming through this enormous amount of paperwork is time-consuming and cumbersome, and the chances of errors and misplacements are also high. That's where OCR comes into play.
OCR automates data extraction from scanned documents and converts them into editable and searchable text.
What is OCR for the Legal Industry?
Legal document management with OCR can transform how legal firms handle data. With OCR, you can easily convert law books, medical images, scanned documents, or hand-written prescriptions into an editable text file.
OCR brings many benefits to legal firms. OCR has revolutionized the legal industry, from saving time and cost to improving accuracy and efficiency.
Benefits of OCR in the Legal Field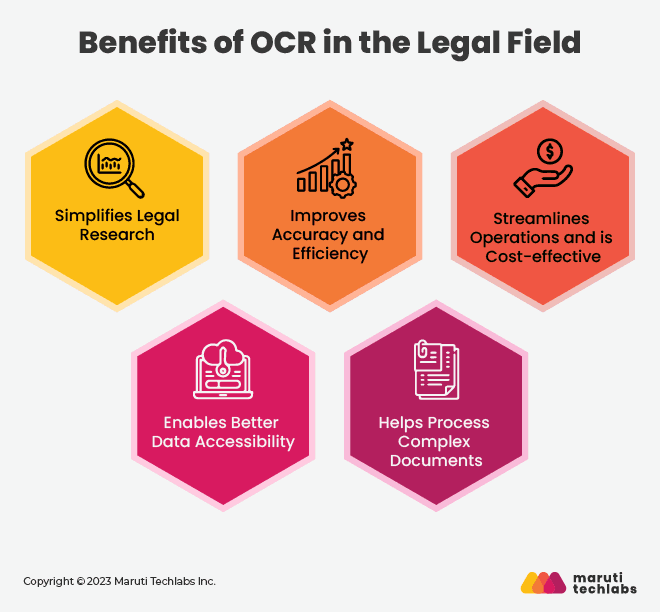 Simplifies Legal Research
OCR facilitates fast and efficient legal research. The tool converts scanned texts, documents, and photographs into simple, searchable, hand-typed text. A simple search can easily retrieve a plaintiff's name, case record, judgment, or legal clause in a 500-page document.
Improves Accuracy and Efficiency
With OCR, legal professionals don't have to spend hours sorting, typing, and skimming paperwork. They can use this time to scrutinize the evidence and build the case. OCR also improves accuracy by eliminating human errors and the misplacement of crucial documents.
Streamlines Operations and is Cost-effective
OCR digitalizes your data. With everything fitting into your digital machine, you don't need any paper, substantial physical space, or a workforce to handle case files, legal books, and records. It also reduces costs incurred in printing, storing, or shipping documents.
Enables Better Data Accessibility
OCR enables quick accessibility of information through any digital medium. Digital data offers a convenient means of sharing information between individuals and locations, especially for legal firms operating across diverse geographic areas with dispersed stakeholders. In addition, digital data transfer eliminates the risk of data tampering and loss.
Helps Process Complex Documents
Manual data entry and basic OCR are inadequate when dealing with intricate document formats, requiring employees to invest significant time in deciphering and extracting relevant information. Advanced AI-powered OCR can accurately recognize and transfer data from various document types, including complex formats.
Use Cases of Optical Character Recognition in the Legal Sector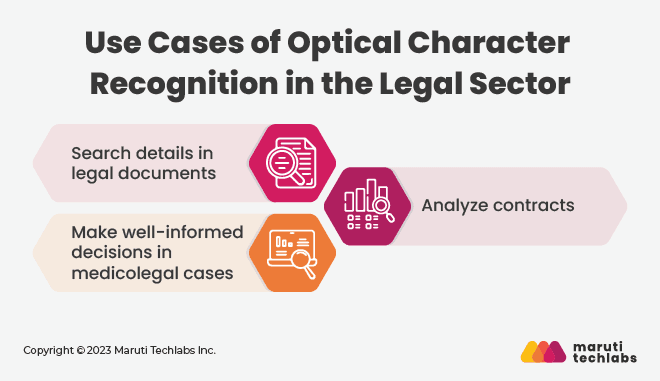 OCR has emerged as an indispensable tool in the legal industry, and it plays an even more intrinsic role in medical records summarization.
Here are some of the use cases of OCR in the legal industry -
Search Details in Legal Documents
OCR technology is often used to conduct thorough legal research. OCR helps convert paper documents into editable text documents. When you put a scanned copy through an OCR tool, the text becomes editable with a word processor like MS Word or Google Docs.
This makes it easy for legal professionals to search for details using keywords, phrases, or citations within legal materials, including case law, statutes, regulations, and legal opinions. This makes legal research much faster and easier.
Analyze Contracts
OCR is often employed in contract analysis and due diligence processes. It assists in extracting important clauses, provisions, and terms from contracts. OCR enables lawyers to quickly review and assess termination clauses, non-disclosure agreements, and indemnification clauses.
Make Well-Informed Decisions in Medicolegal Cases
OCR is crucial to generating tons of medical files in digital format. A medical record summarizer uses these files to extract relevant information and create precise summaries. Legal professionals can refer to these summaries, which are written in an easily understandable language. This helps legal firms make informed and accurate decisions.
Steps To Summarize Records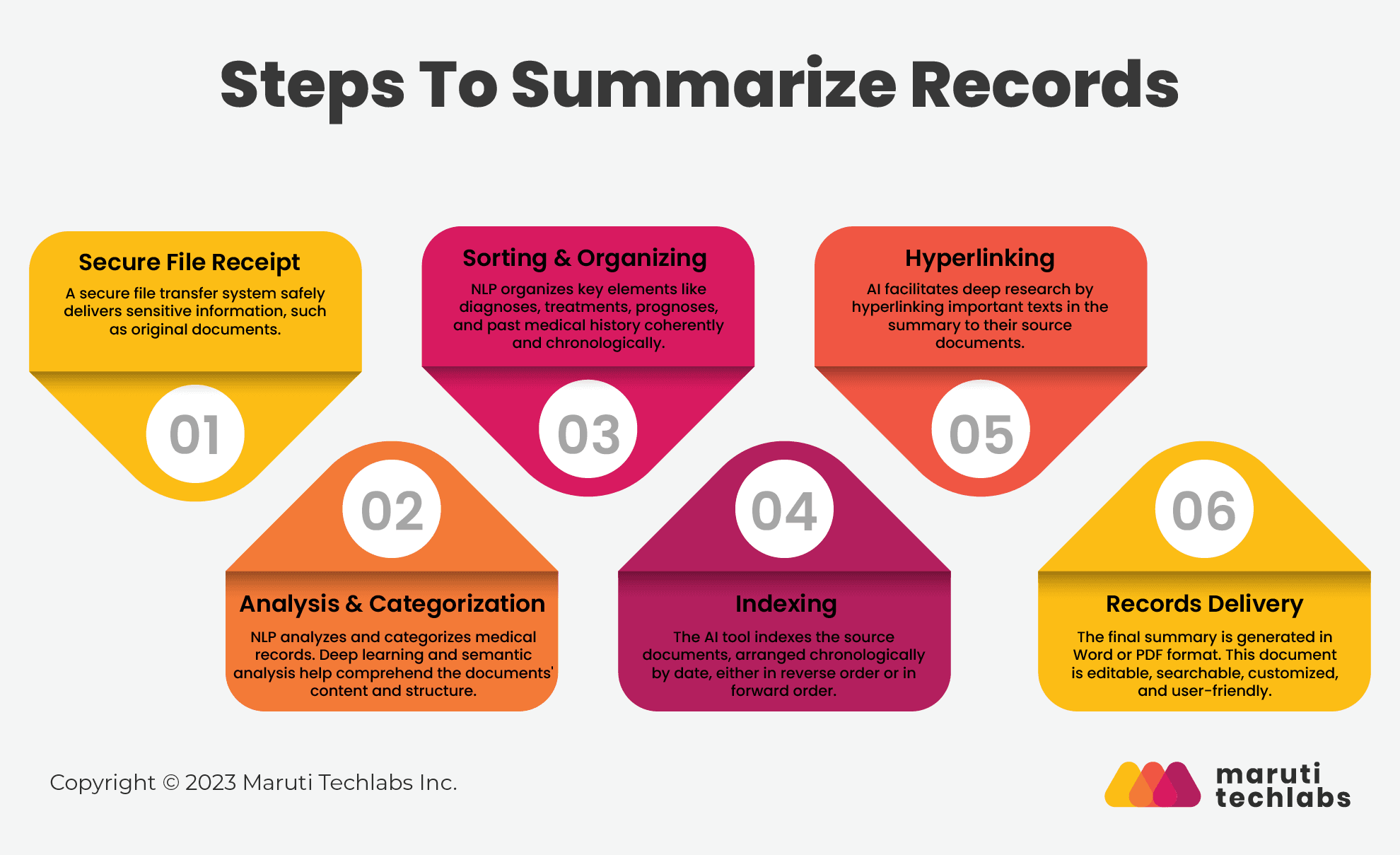 Here are the steps to approach medical records summarization:
Step 1: Secure File Receipt
A secure file transfer system safely delivers sensitive information, such as original documents.
Step 2: Analysis & Categorization
NLP analyzes and categorizes medical records. Deep learning and semantic analysis help comprehend the documents' content and structure.
Step 3: Sorting & Organizing
NLP organizes key elements like diagnoses, treatments, prognoses, and past medical history coherently and chronologically.
Step 4: Indexing
The AI tool indexes the source documents, arranged chronologically by date, either in reverse order or in forward order.
Step 5: Hyperlinking
AI facilitates deep research by hyperlinking important texts in the summary to their source documents.
Step 6: Records Delivery
The final summary is generated in Word or PDF format. This document is editable, searchable, customized, and user-friendly.
Conclusion
Medical records summarization is revolutionizing the healthcare and legal industries. The summarizer analyzes tedious stacks of medical records and creates a concise summary that contains relevant hyperlinks referring to source documents.
Medical records summarization tools leverage OCR technology that helps convert images, handwritten notes, or scanned documents into editable and searchable text. From diagnosis to treatment, prescription to doctor's note, and discharge summaries, all critical information is converted into searchable digital text. This makes it easier for medical and legal professionals to store, access, and research relevant information.
While OCR converts paper texts into editable digital documents, AI-powered medical records summarization helps sort and extract essential information from this data. A medical summary includes details describing the accident or illness, the patient's condition, diagnosis, and immediate care. The summary also describes the detailed course of the doctor's actions, treatment choice, and outcome. Such outlines form the essence of resolving personal injury, medical malpractice, or negligence cases.
Many legal firms and healthcare institutes have already realized the benefits of outsourcing medical record summary services. Automation in medical document processing is the key to saving time, resources, and costs.
How Maruti Techlabs Developed an AI-powered Medical Text Summarization Tool

Handling documents in the legal and medical industries can be error-prone and time-consuming. However, streamlining this process through automation can increase speed, efficiency, and accuracy. Maruti Techlabs has developed a tool called MediScan, which is an AI-powered medical records summarization system designed for the medical-legal industry.
MediScan caters to the needs of paralegals and lawyers by providing detailed information such as diagnoses, treatments, and past medical history from various medical documents. The tool uses OCR technology and image analysis algorithms to convert different formats of documents into editable text files and leverage AI and ML technologies to process and summarize medical documents.
With advanced techniques like deep learning and semantic analysis, MediScan extracts relevant information from various medical documents, including handwritten notes, typed reports, and medical images. The system can flag discrepancies and highlight crucial data points in the summary while providing hyperlinks leading to the source documents.
MediScan significantly reduces the time taken to organize and review medical records, improving overall efficiency and productivity by reducing manual dependencies and human errors.
Contact us today to leverage the power of technology and streamline your bulky medical records.