The Verge reported that the news around Ebola was wreaking havoc in Texas towns. It was spreading like wildfire on the social landscape and these were messages from sources that sounded like newspapers. This happened in 2014 and what followed were trails of fake news sending shock waves across the media and user world.
As per The New York Times, just before the presidential elections in the US, fake news and memes became the tools for perpetrators to influence the outcome of elections. Fake news is rearing its ugly head time and time again. Not for nothing are the tech behemoths, Facebook and Google as well as media companies waging war on fake news. Is there a way to differentiate the fake news from the truth?
The trouble begins when too much of information is shared through the internet – information that needs more than a human mind to identify the fake enjoying the status like the original. In this realm, artificial intelligence and big data have emerged as potent tools to track news stories and identify fake news items playing the trick on the user.
IS ARTIFICIAL INTELLIGENCE-DRIVEN DATA VERACITY THE LENS ON MISINFORMATION?
Any news becomes a fake news if the information presented is incorrect or information doesn't represent facts that it is expected to carry. When it comes to information, it is also about assuring the veracity of information as it is about moving, processing and securing information. In short, fake news and information are more of a big data veracity issue.
When it comes to handling fake news, none have put a braver face than Facebook. With trillions of user posts, Facebook realized that manual fact-checking wouldn't do any good to solve the fake news problem. Facebook turned to artificial intelligence to arrest this problem. Artificial intelligence services are employed to combat the spread of fake news, utilizing advanced algorithms to analyze and verify information in real time, enhancing news integrity and accuracy.
Artificial intelligence is now looked upon as the cornerstone to separate the good from bad in the news field. That is because artificial intelligence makes it easy to learn behaviors, possible through pattern recognition. Harnessing artificial intelligence's power, fake news can be identified by taking a cue from articles that were flagged as inaccurate by people in the past.
As the volume of data grows bigger by the day, so is the chance of handling misinformation as it challenges the human ability to uncover the truth. Artificial intelligence has turned into a beacon of hope for to assure data veracity, and more importantly, identify fake news.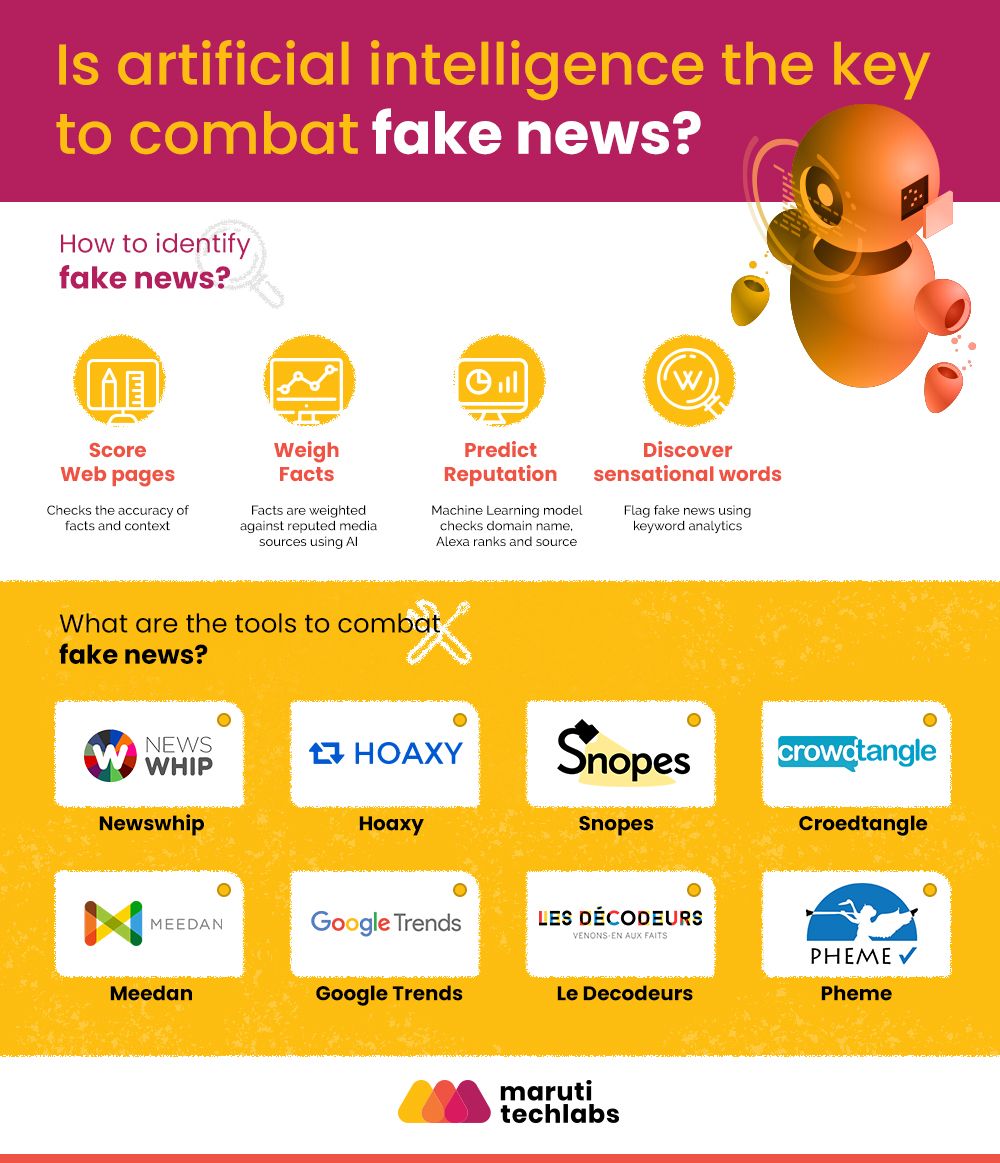 HOW TO DEAL WITH MISINFORMATION DYNAMICS?
Spreading misinformation across the social landscape is not wholly about accidental inaccuracies; it is more about intentional misinformation that is dynamic. Misinformation dynamics is all about connecting fake news to the new big data concept called the data veracity.
Borge-Holthoefer and Berti-Équille came up with the staggering revelation that traditional approaches stand unequal to deal with this intentional misinformation. Where misinformation spreads like fire, dealing with fake news calls for sophisticated approaches based on artificial intelligence to determine data veracity and the authenticity of information.
HOW IS FAKE NEWS UNEARTHED?
As the world gets ready to tackle fake news, technology has set the trend by showing us how to identify fake news. Here are some ways leveraged to fight fake news.
1. Score web pages
Scoring web pages is a method pioneered by the tech giant Google. Google takes the accuracy of facts presented to score web pages. The technology has grown in significance as it makes an attempt to understand pages' context without relying on third party signals.
2. Weigh facts
To combat fake news, it is imperative to weigh facts that the news in context purports to share. Artificial intelligence is now at the core of ascertaining the semantic meaning of a web article. For instance, an NLP engine can go through the subject of a story, headline, main body text and the geo-location. Further, artificial intelligence will find out if other sites are reporting the same facts. In this way, facts are weighed against reputed media sources using artificial intelligence.
3. Predict reputation
Even before eyeballs capture news items, knowing the reputation of the source sharing the news will do a world of good to nip fake news problem in the bud.
The reference to The Wall Street Journal would raise no qualms about the reputation of this source. This becomes stronger when it is compared with another source that is unknown. It is now possible to determine the authenticity of a website. By creating a machine learning model, a website's reputation can be predicted, considering features like domain name and Alexa web rank.
4. Discover sensational words
When it comes to news items, the headline is the key to capture the attention of the audience. It is for this reason that sensational headlines become a handy tool to capture readers' interest. When sensational words are used to spread fake news, it becomes a lure to attract more eyeballs and spread the news faster and wider. Not anymore, as artificial intelligence has been instrumental in discovering and flagging fake news headlines by using keyword analytics.
ARE THERE TOOLS TO COMBAT FAKE NEWS?
To combat negative forces, you will have to fight fire with fire and in this case, fight fake news with robust tools. French news media has already sprung into action by opening a fact-checking service to stop fake news items in their tracks. There are robust tools that have proved useful in debunking false news items. Forbes.com had given a summary of some tools used to fight fake news.
Spike is a tool leveraged to identify and predict breakout stories as well as viral stories. The tool analyzes mountains of data from the world of news and predicts what's going to drive engagement
Hoaxy is a tool that helps users to identify fake news sites
Snopes is a website that helps spot fake stories
CrowdTangle is a tool that helps discover social content early and monitor content
Check is a tool from Meedan that helps verify news breaking online
Google Trends proves its worth by watching searches
Le Decodex from Le Monde is a database that houses websites that are tagged as 'fake', 'real' among others
Pheme has made a technology leap to read the veracity of user-generated and online content
Fake news is now a growing menace in the media world. With artificial intelligence and big data showing the way to tackle fake news items, the belief that truth will dawn on the reader gets stronger by the day. But, this is just the beginning.
We have not yet realized the true potentials of artificial intelligence in combating fake news. The future holds good for more sophisticated tools that harness the power of artificial intelligence, big data and machine learning to stop fake news making ripples in the user world.